Ready to make a big bang in your drawing skills? In this tutorial, we will guide you through the process of drawing a Wall Breaker from Clash of Clans, one of the game's most explosive characters. Follow our step-by-step instructions and soon, you'll have your very own Wall Breaker drawing. So let's ignite those pencils and get started!
The Bombastic Backstory of Wall Breaker
Wall Breakers are undead skeletons with a single, explosive purpose: to blow up walls in Clash of Clans. These skeletal demolition experts have a cold, undead heart that only warms up when they're wreaking havoc on enemy defenses. As a vital part of any attacking squad, Wall Breakers clear the way for ground units with their powerful, wall-shattering blasts.
Tools of the Trade: What You'll Need
Before you start drawing, gather the following materials to set yourself up for success. Remember, these are just recommendations, and you can use any tools that you're comfortable with.
Pencils (HB and 2B)
Eraser
Pencil sharpener
Drawing paper
Fineliner pens (for inking)
Colored pencils or markers (for coloring)
A Step-by-Step Guide to Drawing Wall Breaker
Stage 1: Basic Sketch
Begin your Wall Breaker drawing by creating a basic structure using light pencil strokes. This foundation will help you capture the character's proportions and overall shape before diving into the details. Remember, the red color in the image represents the current drawing step, while the grey color shows the basic proportions sketch, and the black color indicates what has already been drawn.
Stage 2: Refining the Sketch
Now that you have a basic structure in place, it's time to refine your sketch. Add details such as Wall Breaker's skull, helmet, and the bomb they carry. Pay attention to the character's unique features, and adjust the proportions as necessary to ensure accuracy.
Stage 3: Inking
With your refined sketch in hand, start inking your Wall Breaker drawing. Outline the character using fineliner pens or a similar tool. Take your time and use smooth, confident strokes to create clean lines. Once you've inked the entire drawing, let the ink dry before erasing any remaining pencil marks.
Stage 4: Coloring and Shading
Bring your Wall Breaker to life by adding color and shading. Use colored pencils or markers to fill in the character, keeping in mind the game's distinctive art style. Add shading and highlights to create depth and dimension, making your Wall Breaker drawing look more realistic and dynamic.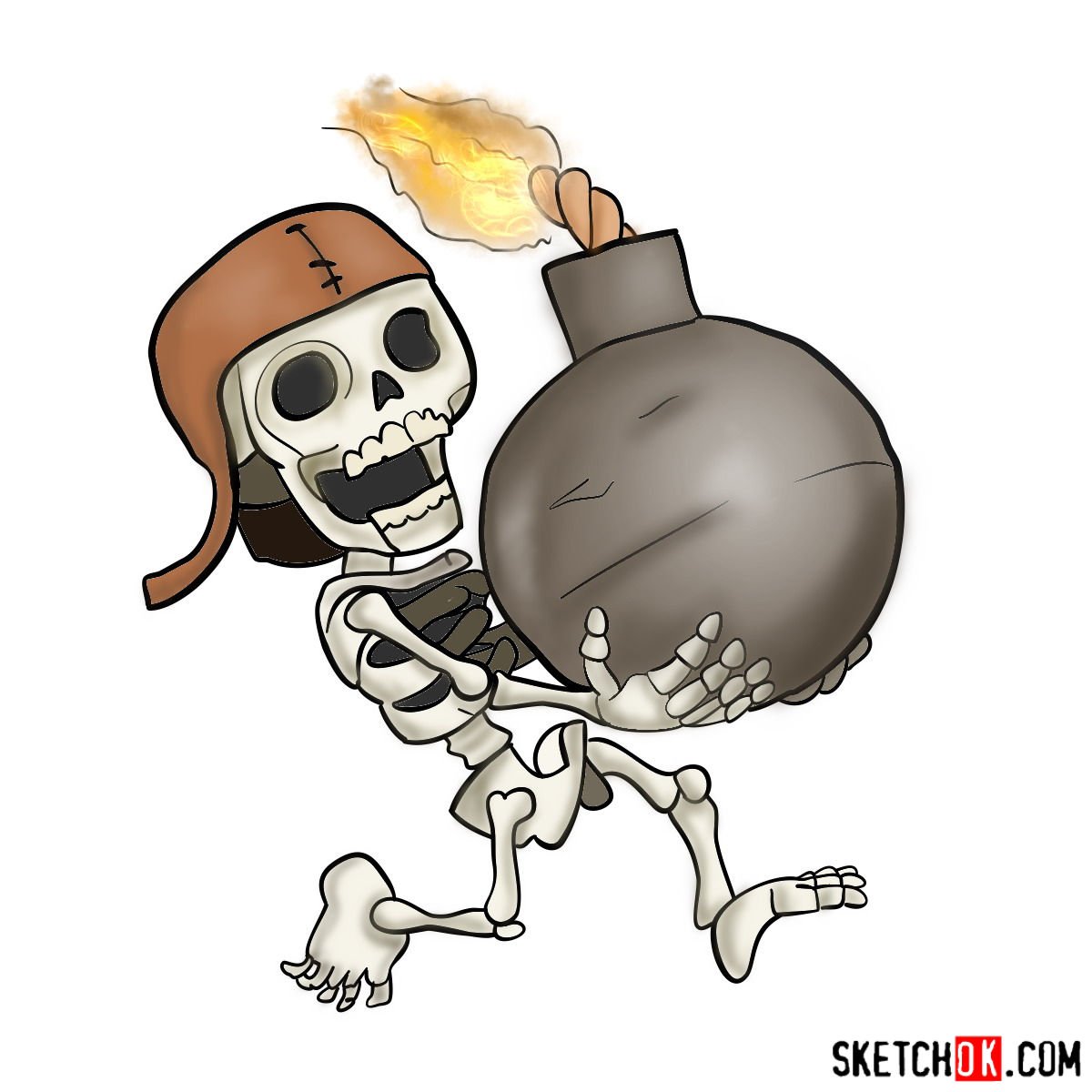 Tips, Tricks, and Techniques to Master Your Wall Breaker Drawing
Here are some additional tips and techniques to help you improve your Wall Breaker artwork:
Practice drawing basic shapes and forms to improve your understanding of proportions and anatomy.
Study the artwork of Clash of Clans and other similar characters like a Giant Skeleton, Bowler or a Minion to develop a better understanding of their design and style.
Experiment with different shading techniques, such as cross-hatching and blending, to enhance your drawings.
Don't be afraid to use references, as they can help you capture the character's appearance more accurately.
FAQ
What are some common challenges when drawing Wall Breaker?

Some common challenges include capturing the character's proportions, accurately depicting the skeletal features, and creating dynamic poses that showcase the explosive nature of Wall Breaker.

What drawing techniques can be used when sketching Wall Breaker?

When sketching the character, consider using techniques like gesture drawing to capture the character's movement and form, as well as contour drawing to define the edges and outline. Additionally, practice shading techniques to add depth and dimension to your artwork.
Congratulations! Now that you've completed this step-by-step drawing tutorial, you should have your very own Wall Breaker drawing from Clash of Clans. Share your artwork with friends and fellow artists, and don't forget to check out other tutorials to continue improving your skills. If you enjoyed this guide and would like to support the regular release of free drawing tutorials, consider donating to SketchOk by clicking here. Your support is greatly appreciated and helps us create more content like this for aspiring artists like you.