Are you a Clash of Clans fan looking to expand your drawing skills? In this step-by-step tutorial, we'll show you how to draw Night Witch, the fearless summoner of flying creatures! With our easy-to-follow guide, you'll master the art of Night Witch drawing in no time. So, grab your pencil, sketchbook, and let's get started!
The Dark Magic of Night Witch
The Night Witch is a Builder Base troop in Clash of Clans, unlocked by upgrading the Builder Barracks to level 8, which requires Builder Hall level 6. She's a splash-damaging ranged troop that periodically spawns Bats, much like her sister Witch spawns Skeletons. Her special ability, Bat Swarm, allows her to explode into bats when she dies, unlocking at level 4. Night Witches have no preferred target when attacking, but they will engage enemy Guard Post troops when nearby.
Assembling Your Art Arsenal
Before you start your Night Witch drawing, gather the following materials and tools:
Pencil (preferably with an eraser)
Sketchbook or drawing paper
Inking pens or fine-tip markers
Colored pencils, markers, or paints (optional)
Feel free to use any tools you prefer, as these are just recommendations.
Summoning the Night Witch: A Step-by-Step Guide
Part 1: Basic Sketch
Start by creating a basic structure for Night Witch using light pencil strokes. Focus on simple shapes to establish the overall proportions and layout. This will serve as a foundation for your drawing and help you maintain accurate proportions as you progress.
Part 2: Refining the Sketch
With the basic structure in place, it's time to refine your Night Witch sketch. Add details like her fearsome facial features, flowing cloak, and the swarm of bats surrounding her. Pay attention to the unique aspects of her appearance and adjust the proportions as needed to accurately capture her essence.
Part 3: Inking
Once you're satisfied with your refined sketch, it's time to ink your Night Witch drawing. Using inking pens or fine-tip markers, carefully outline the pencil lines and add any final touches. This step will make your drawing look polished and professional.
Part 4: Coloring and Shading
Now for the fun part—adding color to your Night Witch drawing! Use colored pencils, markers, or paints to bring her to life. Don't forget to add shading and highlights to create depth and dimension in your artwork.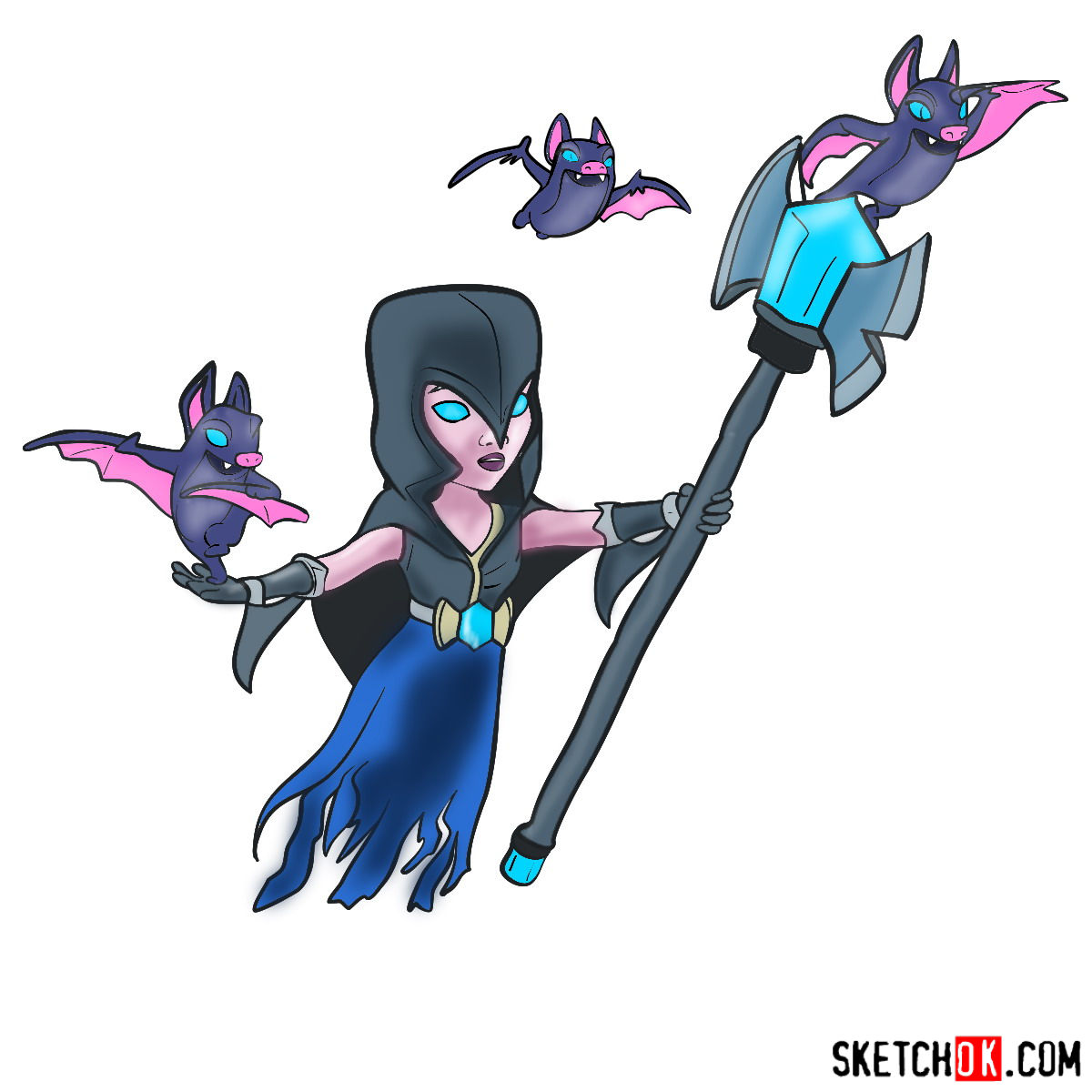 Magical Drawing Tips and Techniques
Here are some additional tips and techniques to enhance your Night Witch drawing:
Experiment with hatching, cross-hatching, and stippling to create depth and texture in your drawing.
Consider using a lightbox or tracing paper to refine your sketch without having to erase too much.
Try using a kneaded eraser for more precise erasing and cleaning up your sketch.
Frequently Asked Questions
Q: What's the best way to create a realistic Night Witch drawing?

A: Study reference images of the Night Witch and pay attention to her unique features, proportions, and colors. This will help you capture her essence in your drawing.

Q: How can I improve my drawing skills for Clash of Clans characters?

A: Practice is key! Draw characters like Night Witch, Archer, and Wizard regularly to hone your skills. You can also watch tutorials and learn from other artists to pick up new techniques.

Q: Can I use digital tools to create my Night Witch drawing?

A: Absolutely! Feel free to use digital drawing software like Procreate, Photoshop, or Clip Studio Paint to create your artwork.
Congratulations on completing your Night Witch drawing! We hope this tutorial has helped you improve your artistic skills and inspired you to create more Clash of Clans character drawings. Don't forget to share your artwork with friends and fellow fans!
If you found this guide helpful and want to support the regular release of free drawing tutorials on SketchOk, consider buying me a coffee here: https://www.buymeacoffee.com/sketchok. Your support is greatly appreciated!
Happy drawing, and may your pencil always be sharp!