Have you ever marveled at the incredible artwork in comic books and wondered if you could create something similar? Well, wonder no more! In this step-by-step drawing tutorial, we'll show you how to draw The Vision from Marvel Comics with ease. By following our detailed guide, you'll soon be able to create an impressive rendition of this iconic superhero. So, grab your drawing tools, and let's get started!
Who is The Vision? The Synthezoid Superhero
The Vision is a synthezoid superhero created by Roy Thomas and artist John Buscema, first appearing in The Avengers #57 in 1968. An android built by the villainous robot Ultron, Vision was initially designed to destroy the Avengers but later became their ally. As an android, The Vision possesses various superpowers and abilities, making him a formidable member of the Avengers team. The character has appeared in numerous Marvel comic books and has been portrayed by Paul Bettany in the Marvel Cinematic Universe.
Over the years, The Vision has evolved both in appearance and story, with notable changes such as a chalk-white appearance and the creation of an android family. Throughout his journey, Vision has been part of various teams like the Defenders and even got married to Scarlet Witch, another popular Marvel character. Understanding the character's backstory will help you bring more depth and authenticity to your drawing.
Tools of the Trade: Preparing for Your Vision Drawing
To create a stunning rendition of The Vision, you'll need the right tools. While you can use any drawing tools that suit your style, here's a list of recommended materials:
Pencils: A range of graphite pencils (H, HB, B, and 2B) for sketching and detailing
Erasers: A kneaded eraser for gentle corrections and a plastic eraser for more precise adjustments
Paper: A good quality drawing paper that can handle various media
Inking pens: Fine liners or brush pens for inking your drawing
Coloring tools: Colored pencils, markers, or digital tools for adding color and shading
Unlocking the Secrets to Drawing The Vision
Now that you have your tools ready, let's dive into the drawing process. Our step-by-step guide will help you create a fantastic representation of the character.
Part 1: Basic Sketch
The first step in drawing The Vision is to create a basic sketch using light pencil strokes. This initial sketch will serve as a foundation for your artwork, helping you establish the character's proportions and pose. Focus on capturing the essence of Vision's stance and body structure, which will later be refined and detailed. Remember, this stage is all about finding the right balance and proportions, so don't worry about perfection just yet.
Part 2: Refining the Sketch
With your basic sketch in place, it's time to refine and improve upon it. In this step, start adding more details to The Vision's appearance, such as facial features, costume elements, and muscle definition.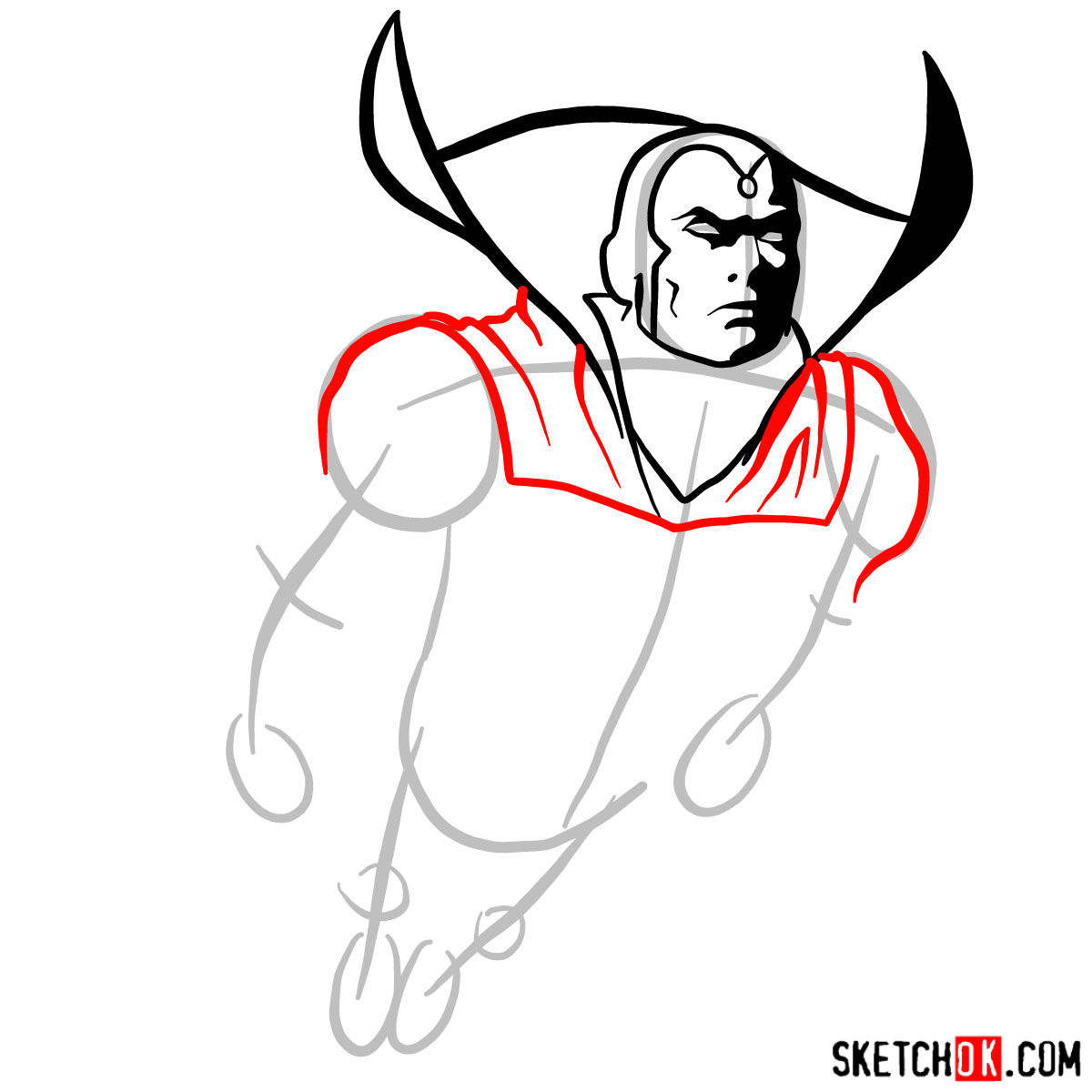 Part 3: Inking
Once you're satisfied with the refined sketch, move on to the inking stage. This step involves outlining your drawing with fine liners or brush pens, which will give your artwork a polished and professional look. Be careful and deliberate as you trace the pencil lines, adding more weight to certain areas to create depth and contrast. Don't forget to erase any remaining pencil marks after the ink has dried.
Part 4: Coloring and Shading
Now it's time to bring your Vision drawing to life with color! Using your preferred coloring tools, start by applying base colors to each section of the character. Once the base colors are in place, add shading and highlights to enhance the three-dimensional appearance of The Vision. Pay attention to the light source and how it affects different parts of the character, giving your drawing a more dynamic and realistic look.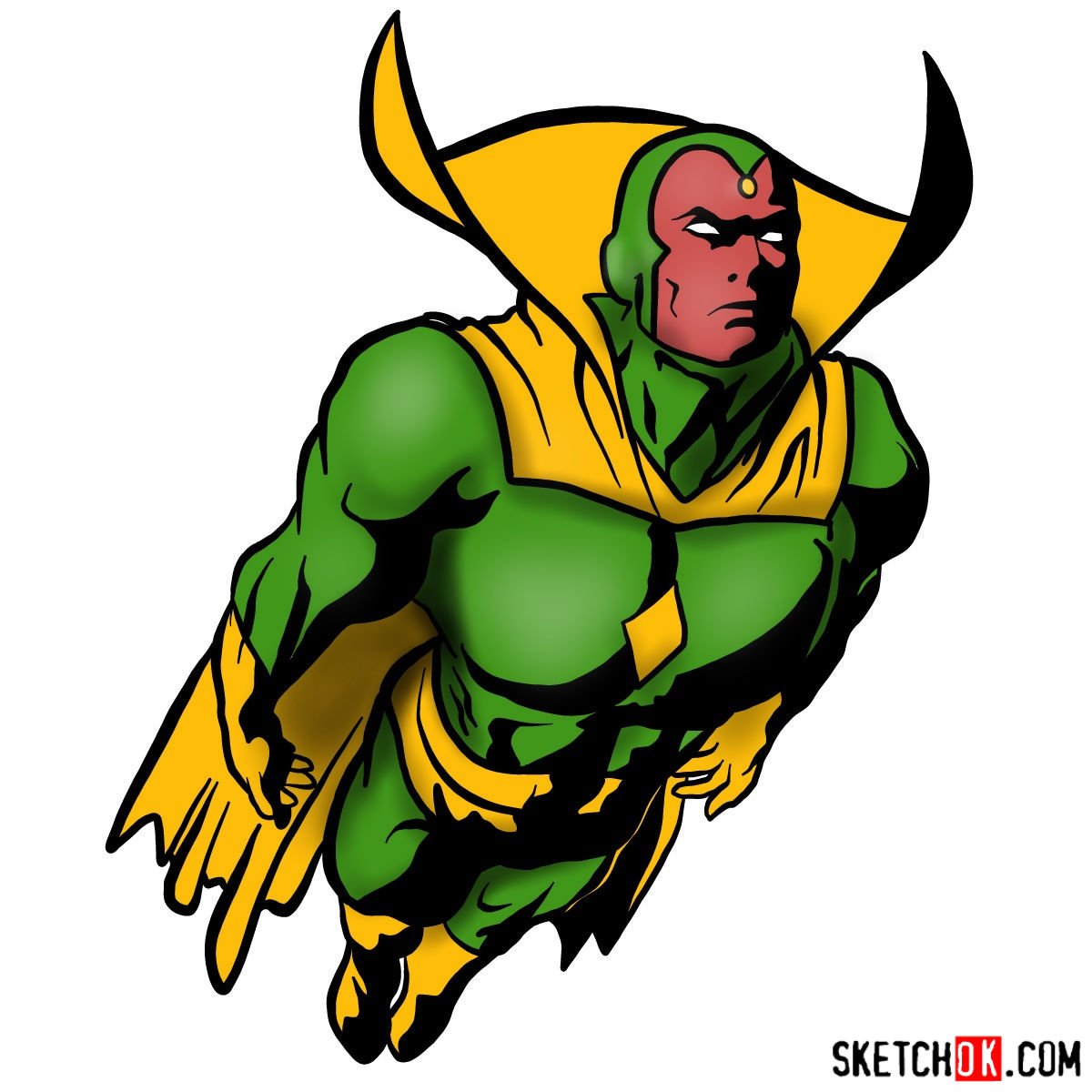 Level Up Your Drawing Skills: Tips and Techniques
As you work on your Vision drawing, keep these tips and techniques in mind to improve your artwork:
Practice basic anatomy and figure drawing to better understand the human form and its proportions.
Study comic book art and other illustrations for inspiration and ideas on composition, perspective, and lighting.
Experiment with different drawing tools and media to find the ones that best suit your style.
Frequently Asked Questions
Q: What drawing techniques can I use when sketching The Vision?
A: When sketching The Vision, you can use techniques such as gesture drawing to capture the character's pose and movement, contour drawing to define the shape and form, and hatching or cross-hatching for shading and texture.
Q: How can I improve the proportions in my Vision drawing?
A: To improve proportions, try breaking down the character's body into simpler shapes and using reference lines to align the various elements. Also, don't be afraid to make adjustments as you refine your sketch.
Congratulations! You've successfully completed your step-by-step tutorial on how to draw The Vision from Marvel Comics. We hope this guide has helped you unlock your artistic potential and inspired you to create even more amazing artwork. Don't forget to share your masterpiece with friends, family, and fellow art enthusiasts!
If you enjoyed this tutorial and would like to support the regular release of free drawing guides, consider showing your appreciation by buying me a coffee. Your support will help keep the creative juices flowing and the tutorials coming! You can donate here: https://www.buymeacoffee.com/sketchok.
Keep practicing, stay curious, and happy drawing!