Welcome to this ultimate guide on how to draw Quicksilver from Marvel Comics! As you follow the steps in our series of images, you'll be amazed at how your drawing skills improve, and by the end of this tutorial, you'll have created your very own Quicksilver masterpiece. So, let's gear up and dive into the world of the speedy Pietro Maximoff!
Quicksilver: Speeding Through Marvel's Universe
First introduced in The Uncanny X-Men #4 in 1964, Quicksilver was created by the legendary duo of Stan Lee and Jack Kirby. Born as Pietro Maximoff, he is the twin brother of the Scarlet Witch and has a long history of being both an adversary and a hero. His superhuman speed has made him a prominent figure in the X-Men and Avengers comics. Known for his complicated family ties, Pietro is the son of Magneto and half-brother of Polaris. He has also made appearances in various movie, television, and video game adaptations, portrayed by actors such as Aaron Taylor-Johnson and Evan Peters.
Get Set, Draw! Gather Your Art Supplies
Before we start our Quicksilver drawing journey, make sure you have the necessary tools and materials. We recommend using:
Pencils (HB, 2B, and 4B)
Erasers
Sharpener
Drawing paper
Fineliner pens or markers
Colored pencils or markers (optional)
Remember, these are just suggestions; feel free to use your favorite art supplies to make your Quicksilver drawing truly your own.
Step-by-Step Drawing Guide: From Sketch to Speedster
Now that you're all set, let's begin our step-by-step tutorial. We'll start with a basic sketch and refine it before inking and coloring our artwork.
Part 1: Basic Sketch
In this first step, we'll create the foundation of our Quicksilver drawing with light pencil strokes. This basic structure will help us maintain accurate proportions and guide us through the drawing process. Focus on capturing Pietro's dynamic pose and muscular physique while keeping in mind the red color in the image shows the current drawing step, the grey color represents the basic proportions sketch, and the black color indicates what has already been drawn.
Part 2: Refining the Sketch
With our basic sketch in place, it's time to refine it by adding details and improving proportions. Carefully examine the facial features, costume elements, and overall shape of Quicksilver. Take your time, and don't be afraid to make adjustments as needed to achieve a more polished sketch.
Part 3: Inking
Once you're satisfied with your refined sketch, grab your fineliner pens or markers and start outlining Quicksilver's figure. Pay attention to line weight and quality, and add final touches like hair strands, folds in clothing, and any other details that will make your drawing stand out. Remember to let the ink dry before erasing any pencil lines to avoid smudging your artwork.
Part 4: Coloring and Shading
Now that your drawing is inked, it's time to bring it to life with color, shading, and highlights. Choose your preferred coloring medium, whether it's colored pencils, markers, or even digital tools, and start adding color to your drawing. Focus on creating depth and dimension by adding shadows and highlights, taking into consideration the light source and the reflective properties of Quicksilver's costume.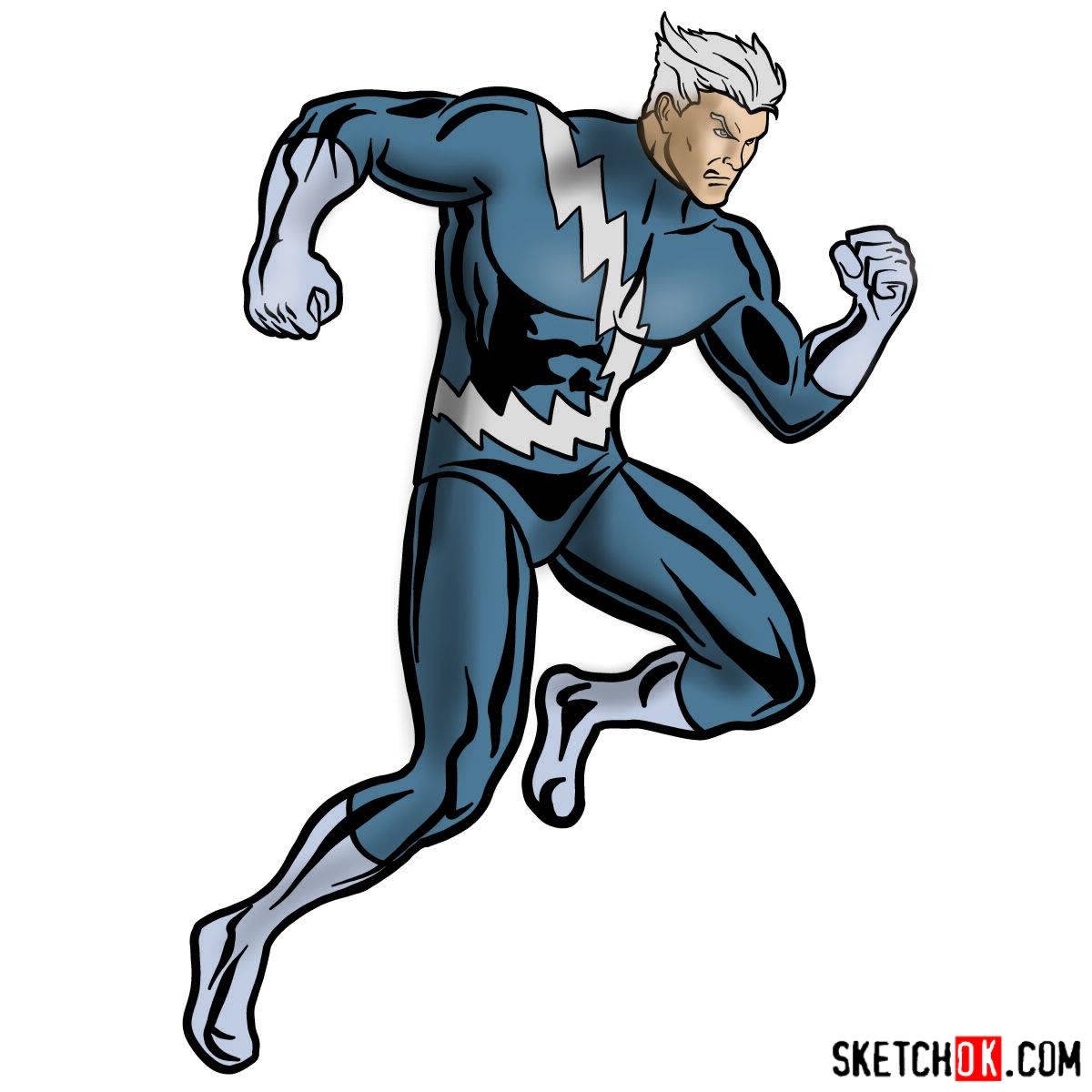 Zooming into Tips and Techniques
As you work on your Quicksilver drawing, consider these additional tips and techniques to improve your artwork:
Study the anatomy and movement of the human body to make your character's pose more dynamic and believable.
Use reference images of Quicksilver from comics, movies, or other sources to help with details and costume design.
Experiment with different shading techniques, such as hatching, cross-hatching, or stippling, to create texture and depth in your drawing.
Frequently Asked Questions
How can I improve my sketching skills when drawing Quicksilver?

Practicing gesture drawing and studying human anatomy will help you create more dynamic and accurate poses. Additionally, using reference images of the superhero from various sources will help you become more familiar with his appearance and costume details.

What techniques can I use for shading my drawing?

Some popular shading techniques include hatching, cross-hatching, and stippling. Experiment with different methods to find the one that works best for you and the medium you're using.
Congratulations! You've completed our step-by-step tutorial on how to draw Quicksilver from Marvel Comics. We hope you had a blast and learned some valuable drawing techniques along the way. Don't forget to share your artwork with fellow artists and Marvel fans. And if you enjoyed this tutorial and would like to support the regular release of free drawing guides, please consider donating on Buy Me a Coffee – your support means the world to us! Now, what are you waiting for? Get out there and show off your speedy Quicksilver masterpiece!