Welcome to another exciting drawing tutorial! Today, we'll be exploring how to draw Winter Soldier, a captivating and complex character from the Marvel Universe. As you may know, Winter Soldier is the alter ego of Bucky Barnes, a former sidekick to Captain America. Throughout his journey, Bucky transforms from a loyal friend to a brainwashed assassin, and eventually back to an ally, making him a fascinating subject for any artist. By the end of this tutorial, you'll have a unique and captivating Winter Soldier drawing to call your own.
A Brief Look at Winter Soldier's Character and Appearance
Before we delve into the drawing tips, let's take a moment to appreciate the intricate design of Winter Soldier, also known as Bucky Barnes. This superhero first appeared in 1941 as a young orphan named James Buchanan Barnes. He eventually became Captain America's trusted sidekick, forming a powerful bond between the two. However, Bucky's life took a dark turn when he was captured and brainwashed by HYDRA, transforming him into the feared assassin, Winter Soldier.
Winter Soldier's appearance is characterized by his distinctive metal arm, which replaced the one he lost during his transformation. He also sports a mask to conceal his identity and tactical gear that reflects his role as a skilled fighter. Despite his menacing appearance, Bucky's journey towards redemption is a crucial aspect of his character, making him a multi-dimensional and fascinating subject for artists.
Introduction to the Drawing Guide: Tips for Drawing Winter Soldier
Now that we've explored the character's background, let's dive into some valuable tips for drawing Winter Soldier. Remember, practice makes perfect, so be patient and enjoy the process!
Tip 1: Break Down the Character into Basic Shapes
Begin by simplifying Winter Soldier's form into basic shapes. This approach will help you establish a solid foundation for your drawing and ensure accurate proportions.
Tip 2: Pay Attention to Details
Winter Soldier's outfit is packed with intricate details, like his metal arm, tactical gear, and mask. Don't shy away from these elements, as they add depth and authenticity to your drawing.
Tip 3: Use Reference Images
Utilize reference images of Winter Soldier from various sources, such as comic books and movies, to help you capture his likeness accurately. Studying different interpretations of the character will also inspire your creativity.
Tip 4: Experiment with Line Weight
Varying your line weight can add depth and dimension to your drawing. Use thicker lines for the character's outline and thinner lines for details and shading.
Tip 5: Don't Be Afraid to Erase and Redraw
As you work on your Winter Soldier drawing, don't hesitate to erase and redraw elements that don't look quite right. This process will help you refine your drawing and achieve a more accurate representation of the character.
Tip 6: Practice Shading Techniques
Shading can greatly enhance the realism of your Winter Soldier drawing. Experiment with different shading techniques, such as cross-hatching, stippling, or blending, to create depth and texture.
Tip 7: Add a Background or Other Characters
To create a dynamic scene, consider adding a background or incorporating other Marvel characters into your drawing. You could include allies like Captain America, Black Widow, or Falcon to showcase Winter Soldier's relationships and connections within the Marvel Universe.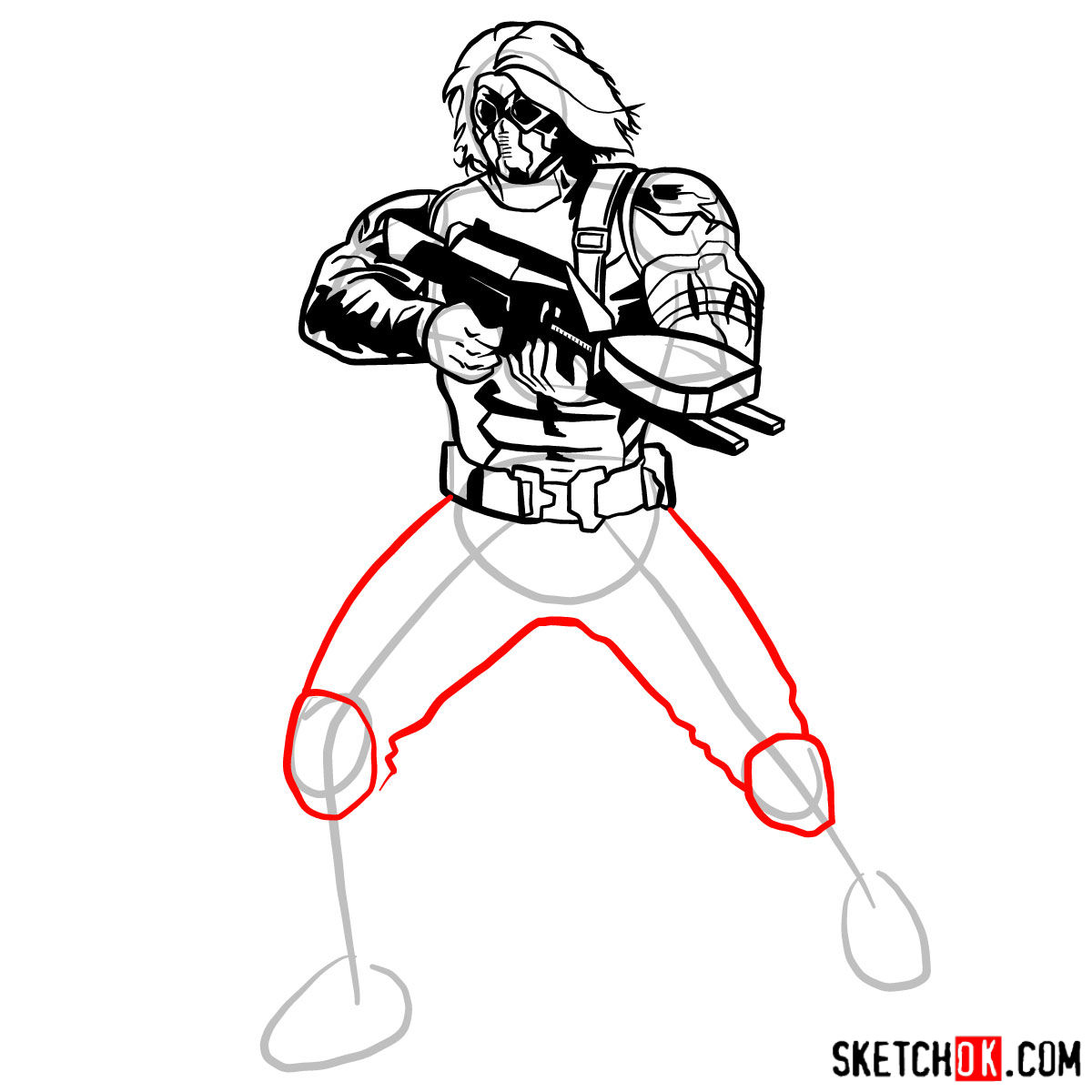 Celebrating Your Artistic Journey with Winter Soldier
As you follow these tips and practice your skills, you'll be well on your way to creating an impressive Winter Soldier drawing that captures the essence of this fascinating character. Remember, art is a journey, so enjoy every step and embrace the learning process. Most importantly, have fun and let your creativity flow!
Once you've completed your Winter Soldier masterpiece, don't forget to share it with friends, family, or on social media to showcase your talent. If you found this tutorial helpful, feel free to explore our other guides on drawing Marvel characters, such as Iron Man, Nick Fury, and Thanos.
Lastly, if you'd like to support my work and future tutorials, please consider buying me a coffee. Your support helps me continue creating valuable content for aspiring artists like you. Thank you, and happy drawing!