Introduction: Dive into the World of Aquaman
Ready to unleash your inner superhero artist? In this tutorial, you'll learn how to draw Aquaman, the legendary DC Comics hero and king of Atlantis. We'll guide you through the process step by step, from constructing a basic sketch to adding the finishing touches. So grab your art tools, and let's make a splash in the world of Aquaman drawing!
Get to Know Aquaman: King of Atlantis and Justice League Member
Aquaman, also known as Arthur Curry or Orin, is a beloved DC Comics character created by Paul Norris and Mort Weisinger. He first made a splash in More Fun Comics #73 back in 1941. The son of a human lighthouse-keeper and the queen of Atlantis, Aquaman is a founding member of the Justice League and has a fascinating story filled with adventure, romance, and political intrigue.
Over the years, Aquaman has battled numerous foes, such as Black Manta and Ocean Master, his half-brother. His adventures often feature a colorful cast of undersea characters, including his wife Mera, mentor Vulko, and sidekicks like Aqualad and Aquagirl. Aquaman has appeared in various animated series, like Justice League and Batman: The Brave and the Bold, as well as live-action films portrayed by Jason Momoa.
What You'll Need: Assemble Your Art Arsenal
To create an awesome Aquaman drawing, you'll need some essential art supplies. We recommend the following tools, but feel free to use whatever works best for you:
Pencil (preferably a light one, like an HB)
Eraser
Inking pen or fine liner
Colored pencils or markers
Paper or sketchbook
Aquaman Drawing Odyssey: A Four-Part Guide
Embark on your journey to draw Aquaman by following our four-part guide. Remember, practice makes perfect, so don't be discouraged if your first attempt isn't perfect. Just keep swimming!
Part 1: Laying the Foundation with a Basic Sketch
Start by sketching a basic structure using light pencil strokes. This step is crucial for establishing correct proportions and positioning. Focus on the main shapes that make up Aquaman's body and pose, using red lines to indicate the current step, gray lines for the basic proportions, and black lines for the completed drawing. This stage is all about getting the general form right, so don't worry about details just yet.
Part 2: Refining the Sketch and Adding Details
With your basic sketch in place, it's time to refine the drawing and add more details. Work on Aquaman's facial features, hair, and costume, paying special attention to his iconic scaled armor, trident, and other distinguishing characteristics Remember to keep your pencil strokes light and make adjustments as needed.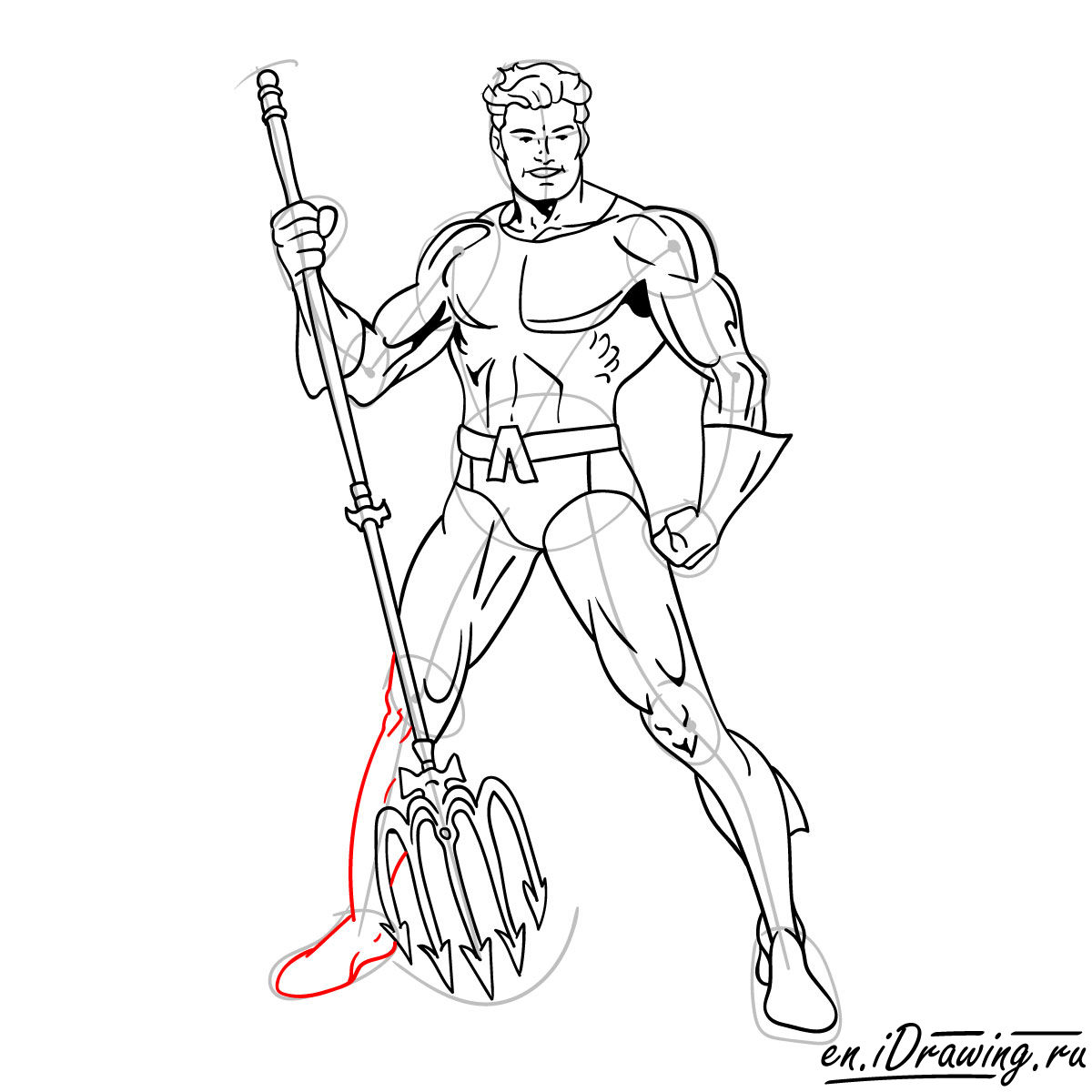 Part 3: Inking Your Aquaman Masterpiece
Once you're satisfied with your refined sketch, it's time to ink your Aquaman drawing. Using a fine liner or inking pen, carefully outline your sketch, adding weight and depth to the lines where needed. Be mindful of line variation, as it can bring a dynamic quality to your drawing. Feel free to add more details and textures during this stage, but make sure not to overdo it. Remember, patience is key when inking, so take your time and let the ink dry to avoid smudges.
Part 4: Coloring and Shading Your Aquaman Creation
Bring your Aquaman drawing to life with color! Use colored pencils or markers to add hues to your artwork. Focus on Aquaman's signature colors, like gold, yellow, green, and orange, and don't forget to include shading and highlights to give your drawing a three-dimensional appearance. Study how light interacts with different materials, such as Aquaman's scaled armor and hair, to create a realistic and vibrant final piece.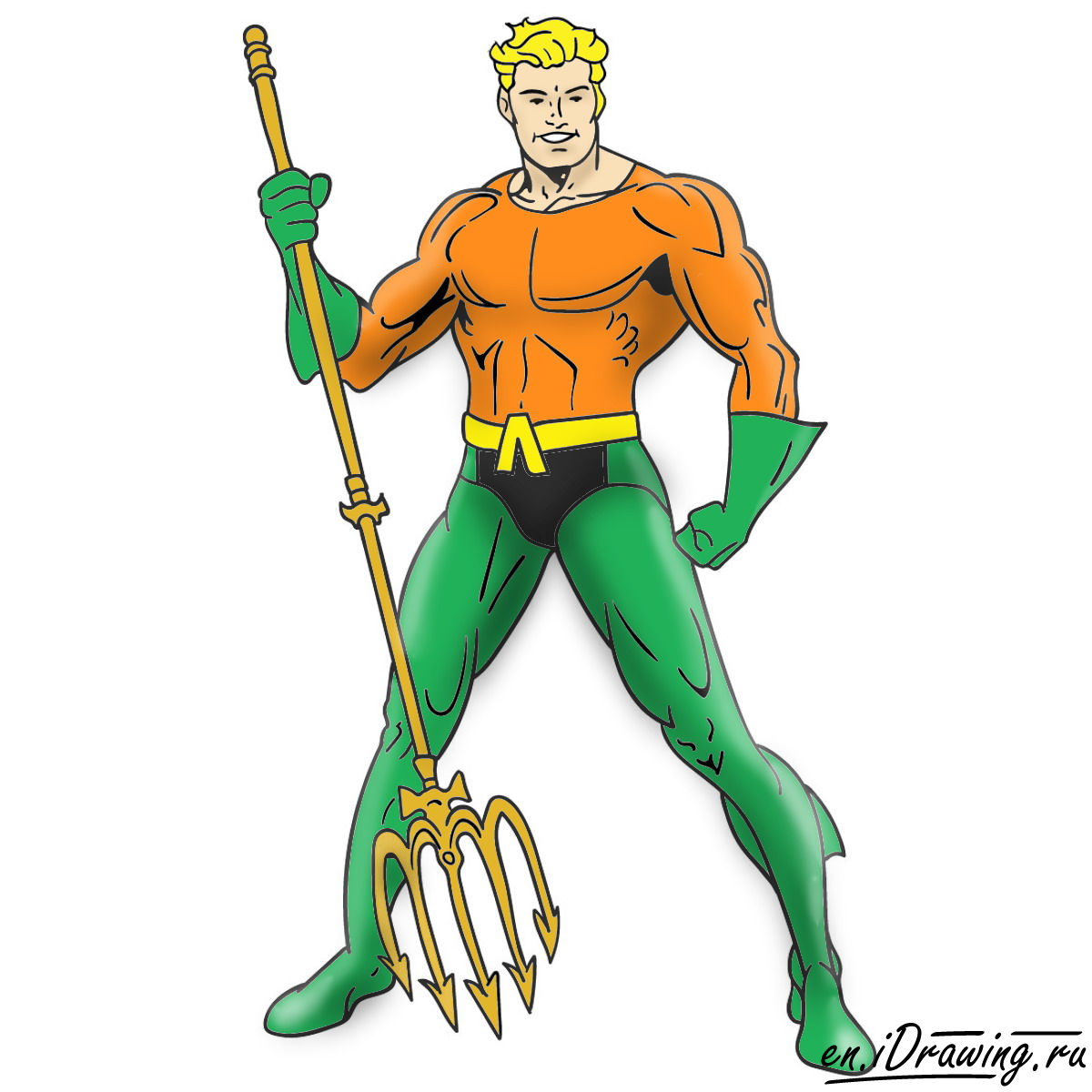 Additional Tips and Techniques for Drawing Aquaman
Here are some extra tips and techniques to help you improve your Aquaman drawing:
Practice drawing basic shapes and human anatomy to better understand proportions and structure.
Take inspiration from other DC characters like Superman, Batman Beyond, and Wonder Woman to understand the style and anatomy of comic book heroes.
Experiment with different shading techniques, such as cross-hatching, stippling, or blending, to find the approach that works best for you.
Frequently Asked Questions
What drawing techniques can I use when sketching Aquaman?

Try using techniques like gesture drawing to capture the essence of Aquaman's pose, contour drawing to define the outline of his body, and blocking in to establish his overall shape and proportions.

How can I make my Aquaman drawing more dynamic?

To create a more dynamic drawing, experiment with different perspectives, foreshortening, and action poses that showcase Aquaman's strength and agility.
Congratulations! You've completed your Aquaman drawing tutorial. Now it's time to share your artwork with the world and inspire others to explore their artistic side. If you enjoyed this tutorial and would like to support the regular release of our free drawing guides, consider donating to SketchOk through our Buy Me a Coffee page. Your support helps keep our content flowing, and we appreciate every drop! Now, go on and conquer the next drawing challenge like the superhero artist you are.