If you've ever wanted to bring the vibrant world of animated cartoons to life, then you're in the right place! In this tutorial, we will guide you through the process of drawing the fun-loving Magilla Gorilla and the ever-frustrated Melvin Peebles. These two characters, with their unique expressions and distinctive personalities, present a fun challenge for artists of all levels.
Understanding Magilla Gorilla and Melvin Peebles
Magilla Gorilla is an anthropomorphic gorilla known for his playful and trouble-prone personality. Always donned in his human accessories, Magilla sports a purple bow tie, red shorts held up by green suspenders, a quaint purple undersized derby hat, and brown dress shoes. His rounded body, expressive eyes, and cheeky grin make him a delight to sketch.
On the other hand, Melvin Peebles, the owner of the pet shop where Magilla resides, is characterized by his small stature. His prominent facial features like his bulbous nose and thin mustache are crucial details to keep in mind while sketching him.
In terms of an interesting composition, you might consider drawing other classic character duos like Yogi Bear and Boo-Boo, Pinky and the Brain, Touche Turtle and Dum Dum, Breezly and Sneezly.
Guide Overview
This guide comprises 18 steps that smoothly transition from constructing a basic sketch to the final detailing of the characters. We will start drawing each character by creating the fundamental structure using light pencil strokes.
The color-coding in the guide is as follows:
Red Color:

Indicates the current step of the sketch you should be focusing on.

Black Color:

Highlights the lines drawn in the previous steps.

Grey Color:

Shows the initial basic sketch lines for proportion and structure.
The final step allows the artist to ink the sketch, enhancing the details and contours of the characters. Remember to wait until the ink has dried before erasing the pencil lines to prevent smudging.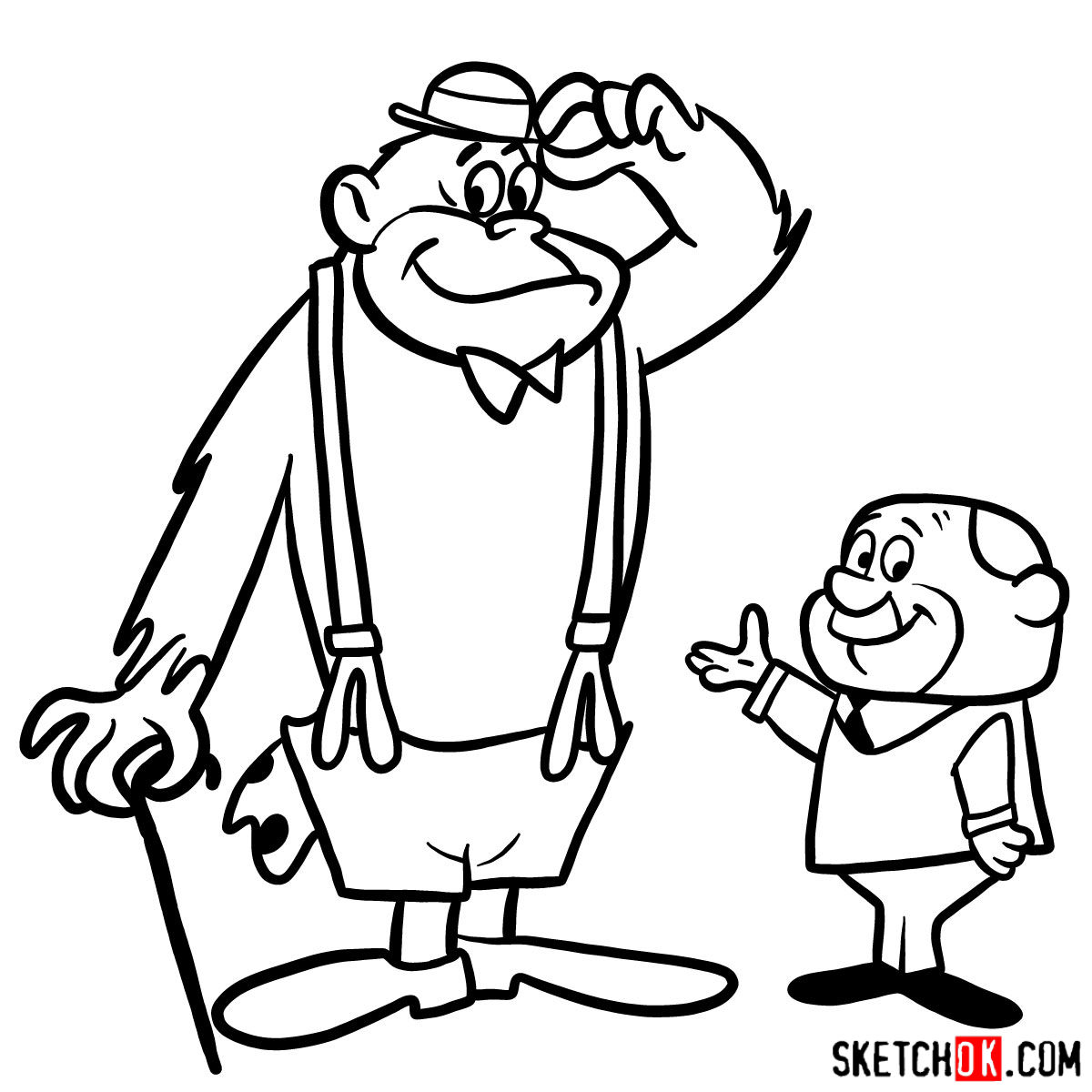 Frequently Asked Questions
Wrap-up
And there you have it – the essentials of drawing Magilla Gorilla and Melvin Peebles! Remember, practice makes perfect. Keep refining your sketching skills and you'll be able to master these characters in no time.
If you found this guide useful, please consider donating to keep the SketchOk project alive. Your contribution will help us continue creating free drawing guides for everyone. Spread the word about us by sharing this guide with your friends and on your social media platforms. You can find us on Facebook, Instagram, and Pinterest. Let's keep the community growing and the art flowing!
Donate to the SketchOk project and help us inspire more budding artists with free and accessible drawing guides.