From the enchanting realms of Pixie Hollow to the rugged adventures of the pirate world, Rosetta's transformation in the fifth film left an indelible mark on fans. Transitioning from a garden-talented fairy to an animal fairy mothering a baby crocodile, her journey is both thrilling and visually captivating. In this guide, we will explore how to draw Pirate Rosetta, the fairy who braved the seven seas with style.
Charting Pirate Rosetta's Distinctive Features
When sketching Pirate Rosetta, remember to capture her defining characteristics:
Swashbuckling Attire: As a pirate, Rosetta dons a distinct outfit, setting her apart from her usual garden fairy look. Focus on the intricate details like an eye patch and patterns of her pirate attire.
Animal Affinity: Given her unexpected switch to an animal fairy, consider adding a hint of her newfound bond, such as the baby crocodile.
Dynamic Hair: Fawn's accidental mischief has left Rosetta with a unique hairstyle. Capture its liveliness and flow in your sketch.
For those seeking to broaden their artistic horizons, consider adding characters like Fawn or other Pixie Hollow inhabitants to create a more intricate ensemble sketch.
Sailing Through the Drawing Guide
Our guide offers a structured approach, divided into 14 distinct steps. The first stage is pivotal in laying down the framework:
Red Color:

This indicates the current drawing step. Keep your attention here.

Black Color:

Represents the lines from prior steps, guiding your progression.

Grey Color:

Highlighting the basic proportions, ensuring the foundation of your sketch is accurate.
By the end of the journey, artists have the option to ink their masterpiece. Inking accentuates the sketch, but it's crucial to let the ink dry thoroughly before erasing underlying pencil marks. This ensures clarity and avoids smudging, preserving the beauty of your Pirate Rosetta.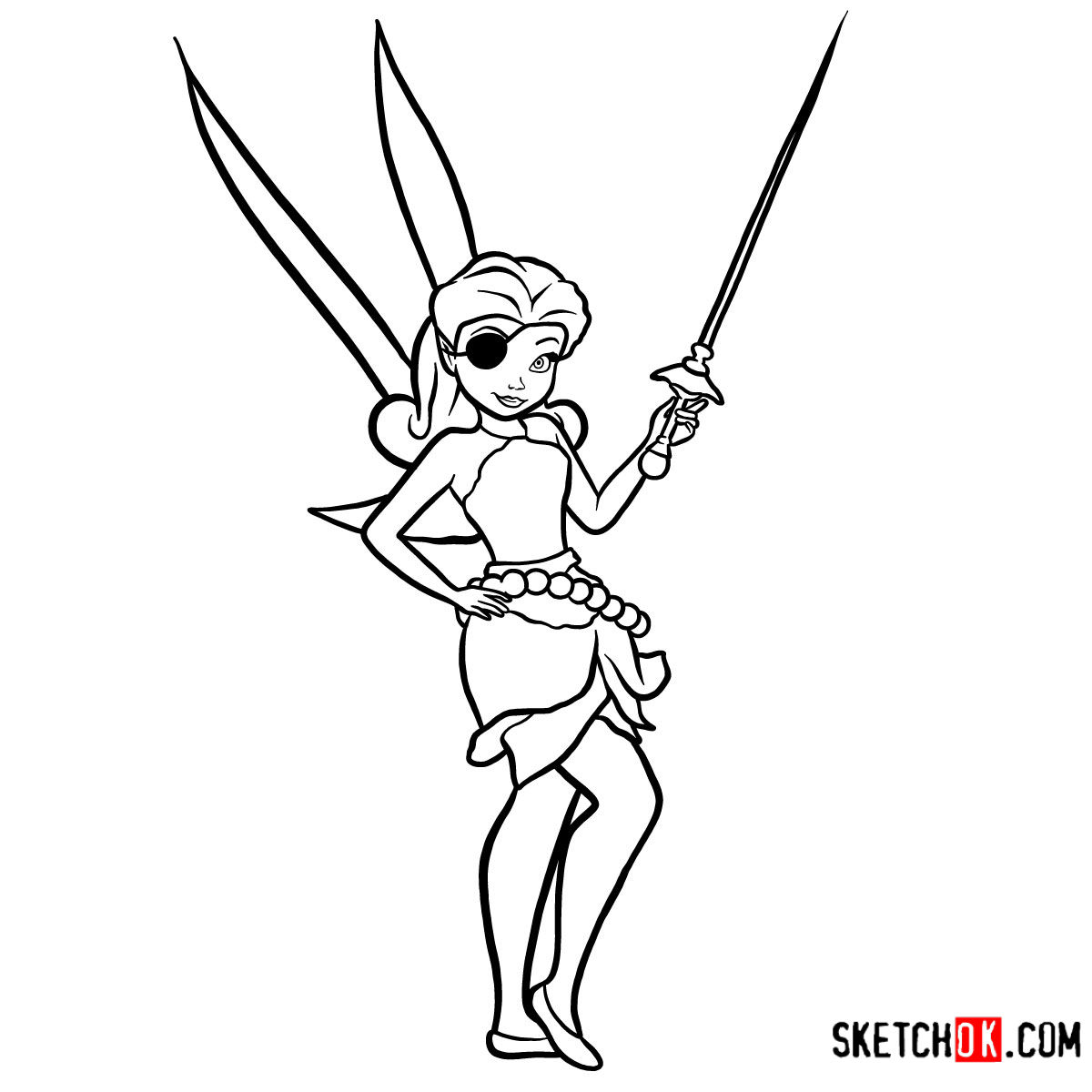 Drawing is more than mere lines on a paper; it's an exploration of creativity and imagination. I hope this guide on how to draw Pirate Rosetta has enriched your artistic journey. By sharing the guide link on Facebook, Instagram, and Pinterest, you bring more budding artists into our community, allowing our shared passion for art to flourish.
If you've found value in this tutorial, consider supporting us by donating. Donations play a pivotal role in sustaining the SketchOk project. Your contributions not only help maintain free tutorials but also allow you to suggest themes for future guides. Let's keep the artistic flame burning bright together!