Mojo Jojo, the notorious villain from the renowned Cartoon Network series "The Powerpuff Girls," has captured the attention of fans worldwide. With his cunning plans and diabolical intentions, he stands as a symbol of conflict against Blossom, Bubbles, and Buttercup. If you're an art enthusiast eager to recreate this infamous character, this tutorial on how to draw Mojo Jojo will guide you seamlessly through the process.
Understanding Mojo Jojo's Key Features:
Brainy Appeal: His large brain, a result of a Chemical X accident, is a prominent feature that demands attention.
Clothing: The white gloves and boots, along with his long dark blue tunic and purple cape, add a touch of sophistication to his otherwise menacing appearance.
Facial Features: Pale pink eyes set on a green skin, surrounded by black fur, gives him a unique look.
Proportions: Over the series, Mojo's proportions have varied. For a classic representation, refer to the earlier seasons. For a more angular appearance, refer to The Powerpuff Girls Movie.
Sketching Tips:
Before you delve deep into the Mojo Jojo drawing process, remember that practice makes perfect. Begin with light pencil strokes for the basic structure, ensuring you get the proportions right. Take your time, especially when sketching complex areas like the brain and clothing details.
Navigating the Drawing Guide:
This Mojo Jojo drawing guide is segmented into 11 high-quality image steps. As you transition from one image to the next, you'll witness the evolution of a basic sketch into a detailed masterpiece. To ease the process, we've incorporated color coding:
Red Color:

Focus on this! Represents the current drawing step.

Grey Color:

The foundational sketch for proportions.

Black Color:

Lines from previous steps. Use this as a reference.
While the initial stage emphasizes building the fundamental sketch, the concluding steps offer the choice to ink your masterpiece. Should you opt to ink, patience is key! Allow the ink to dry fully before erasing underlying pencil marks to prevent smudges and maintain clarity.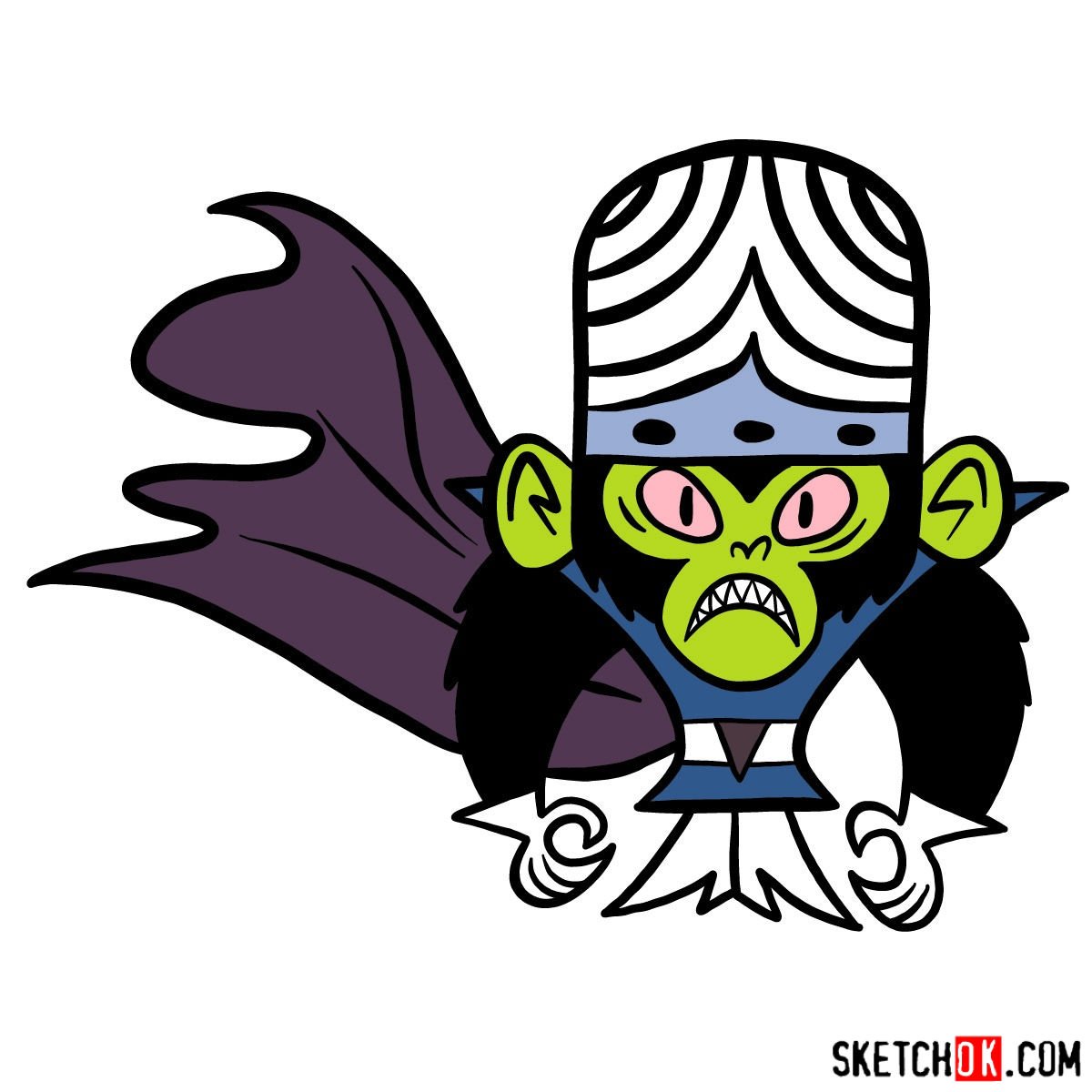 Did You Know?
Mojo Jojo's transformation from Jojo, the Professor's lab assistant, is heavily influenced by the 1968 film "Planet of the Apes." Moreover, his unique design and look were inspired by characters from Japanese Tokusatsu series. These influences and inspirations can provide depth and perspective while sketching, helping capture the essence of Mojo Jojo's character.
In capturing the essence of Mojo Jojo, you not only embark on an artistic adventure but also pay homage to a character that has left an indelible mark on pop culture. As you practice and perfect your sketching skills, remember that every pencil stroke brings you closer to mastering the art of drawing this iconic villain. Once you've completed your masterpiece, consider sharing it with fellow enthusiasts. Feel free to share the link to this "how to draw Mojo Jojo" guide and follow us on Facebook, Instagram, or Pinterest page.