Have you ever found yourself lost in the world of The Owl House, marveling at its enchanting characters? Today, you're in for a treat. In this tutorial, we'll guide you step-by-step on how to draw Adult Willow Park from the captivating Epilogue episode.
Understanding Willow Park's Appearance: Key Elements to Consider
As a major supporting character of The Owl House, Willow Park is a fascinating character. She's known for her natural gift at plant magic, her time spent in the abomination track, and her striking character development.
Hairstyle: In the Epilogue episode, Willow's hair is shorter, but still maintains the symbolic green streak. It's worn with a leaved headband, reflecting her deep connection with plant magic.
Outfit: Willow dons practical clothing, suitable for a determined and adventurous magic student. The design, while simple, can be challenging to replicate due to its detail.
Cardinal Tattoo: One key detail is her cardinal tattoo on the left shoulder, a shared symbol of loss and friendship among her friends.
Remember, the essence of drawing is in capturing the personality and energy of the subject. In this regard, Willow's character poses an exciting challenge, especially when you consider her friends Luz, Gus, and Amity, who could join her in your drawing for a group picture! You also might be interested in drawing Willow from the previous episodes.
Navigating the Guide: A Color-Coded Journey
Our drawing guide is designed to be intuitive and easy to follow. It's broken down into 33 steps, each denoted by a color:
Red Color:

Represents the current step you should be focusing on.

Black Color:

Showcases the lines you've previously drawn.

Grey Color:

Shows the basic sketch for proportions. Remember to draw these lines lightly to easily erase or adjust later.
The first three steps are all about creating the basic structure of the sketch. After you complete your sketch, you may choose to ink your drawing. Remember, always wait until the ink dries before erasing the pencil lines to avoid smudges.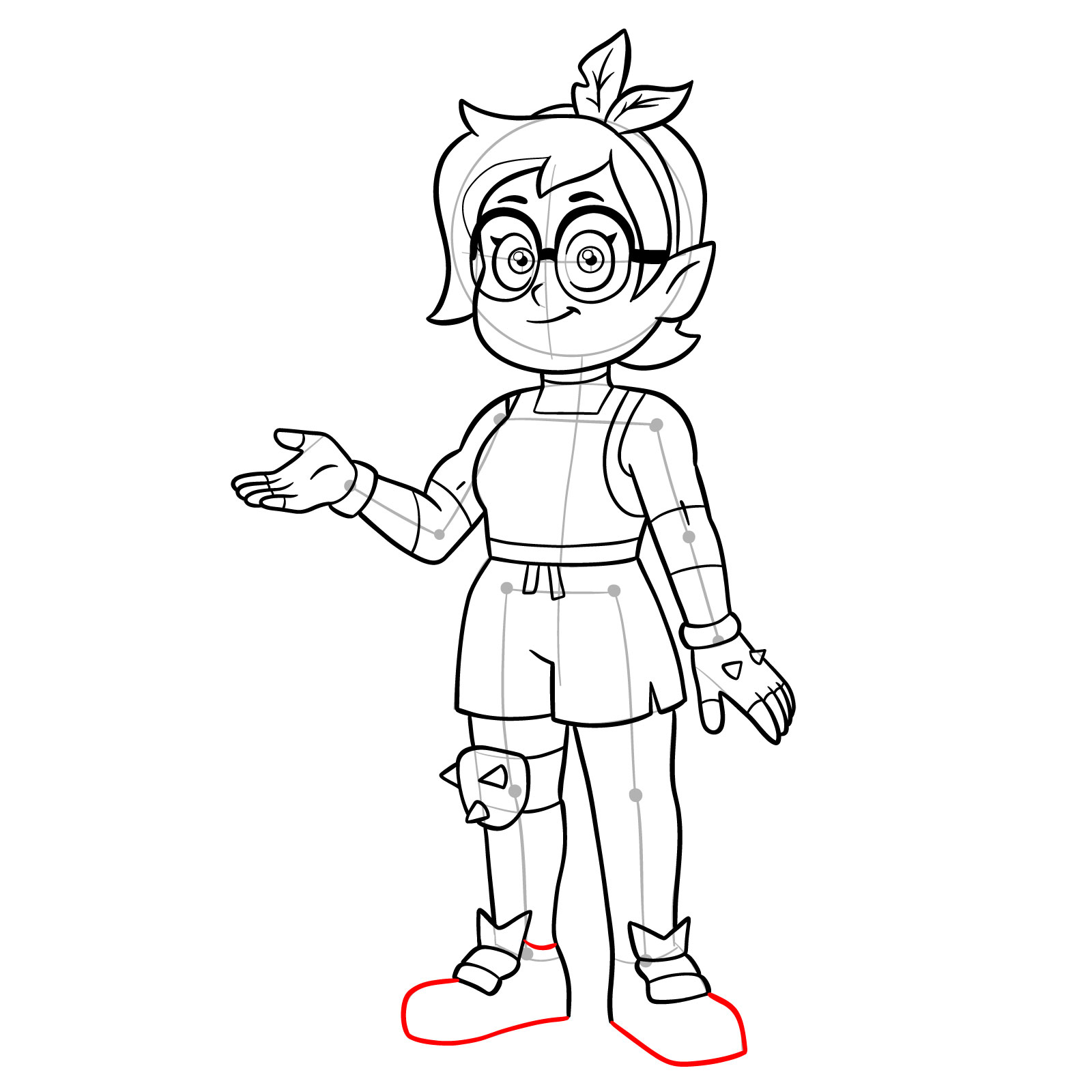 FAQs for Drawing Willow Park
What is the best technique to draw Willow's short hair?
Start by sketching the overall shape of her hair, keeping in mind it's shorter and more tousled in her adult version. Afterward, add the green streak and the leaves in the headband to highlight her affinity for plant magic. Remember, each strand doesn't need to be perfect. The goal is to capture the overall form and flow of her hair.
How do I sketch Willow's outfit correctly?
Start with the basic shapes and lines that form the structure of her outfit, paying close attention to the proportions. Once you have the general form, you can add the specific details of her attire. Take note of any folds, seams, or any other features that stand out. It's these small details that bring the character to life.
How do I capture the details of Willow's cardinal tattoo?
The cardinal tattoo is a small, but important detail. Start with a basic outline of the tattoo, then gradually fill it with black color. Be patient, take your time, and don't rush the process.
Share the Magic
That wraps up our drawing guide on how to draw Adult Willow Park! If you found this tutorial helpful, consider supporting SketchOk by sharing this guide with others, or by making a donation here. Your donation not only helps keep the project alive but also allows you to suggest ideas for new tutorials.
Don't forget to follow us on Facebook, Instagram, and Pinterest to stay updated with our latest drawing guides.
Happy drawing, and remember – every sketch is a step towards becoming the artist you want to be!