Larry the Lobster, SpongeBob SquarePants' robust sidekick, has carved a niche for himself in the heart of fans. This guide walks you through how to draw Larry the Lobster, encapsulating his strength and charisma on paper.
Grasping Larry's Iconic Appearance
Physical Attributes: Larry is a muscular red lobster known for his well-defined physique. His vibrant red hue stands out, making him one of the most recognizable figures in the Goo Lagoon.
Attire: Larry is consistently spotted in his blue or green swim trunks. This outfit is both his casual wear and his professional attire when he serves as a lifeguard at Goo Lagoon.
Character Traits: Larry's strength and popularity among beachgoers make him a standout character. He has a heart for bodybuilding and competes frequently, showcasing his might and determination.
Decoding the Drawing Guide
Embarking on this artistic voyage, you'll navigate through 11 critical steps. Commencing with the foundational task of crafting a proportionate structure with gentle pencil strokes, you'll gradually breathe life into Larry.
Red Color:

Denotes the active step you're currently on.

Black Color:

Showcases lines from the prior steps.

Grey Color:

Highlights the fundamental proportion sketch.
The guide culminates with the option to ink your sketch. It's essential to pause until the ink solidifies before erasing the pencil marks, ensuring a pristine and unblemished finish.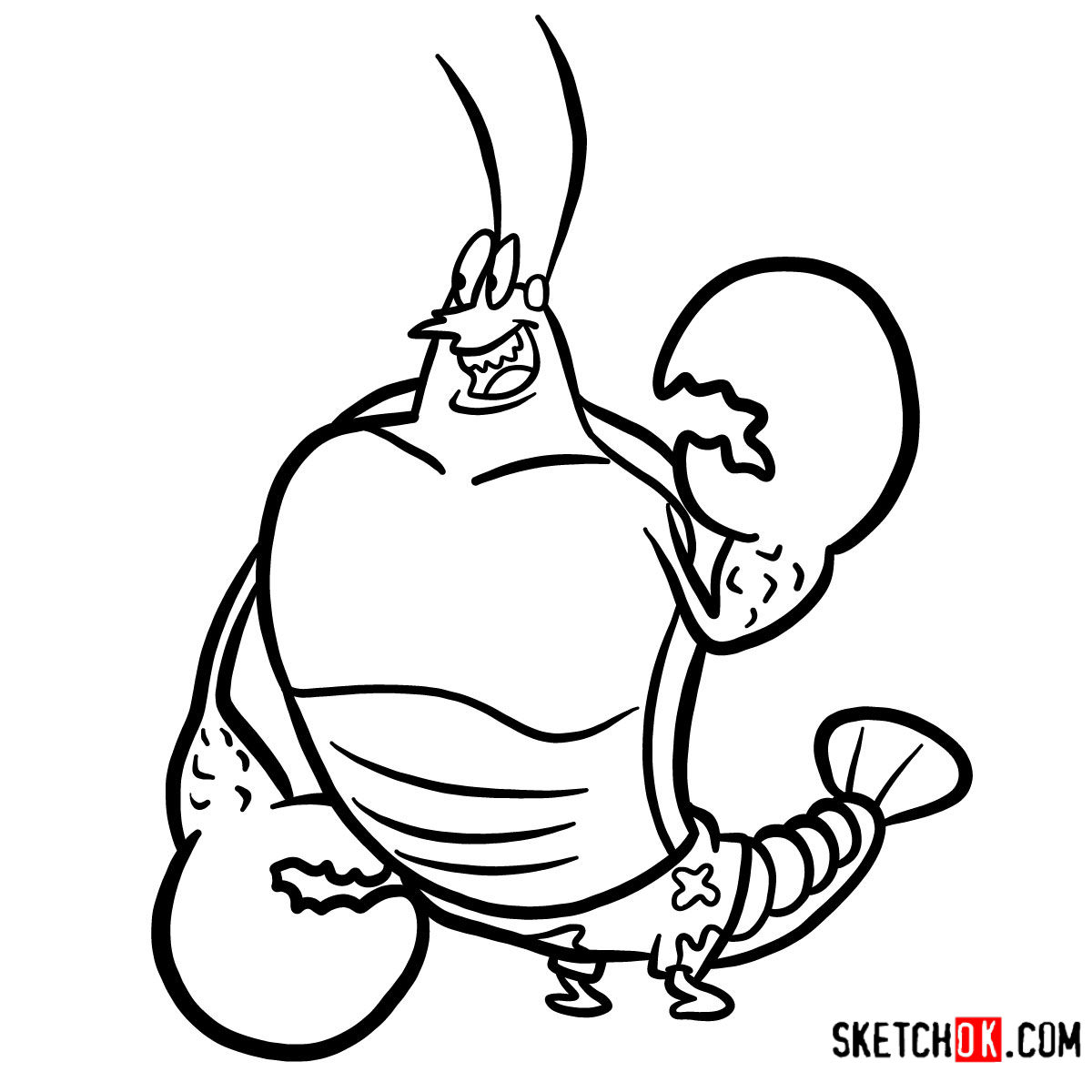 Having journeyed through the process of how to draw Larry the Lobster, you've embraced a piece of Bikini Bottom's spirit. I urge you to share this guide with fellow enthusiasts, allowing them to also immerse in the joy of drawing. If you found value in this tutorial, please consider supporting our initiative at SketchOk. Your contributions fuel our mission to continue offering free drawing tutorials and allow us to explore new subjects based on your suggestions.
For updates, inspirations, or to showcase your Larry the Lobster artwork, connect with us on Facebook, Instagram, and Pinterest. Together, let's keep the artistic flames of Bikini Bottom alive!