Welcome artists and Shaun the Sheep enthusiasts alike! If you're here, you're likely eager to learn how to draw the Naughty Pig, one of the most iconic characters from this beloved animation. But before we dive into the technicalities of sketching, let's immerse ourselves into the world of the Naughty Pig and understand its essence.
Character Insights: Getting to Know the Naughty Pig
The Naughty Pigs, residing next to the sheep's field, are the primary source of chaos and mischief in Shaun's adventures. Driven by greed, naughtiness, and a zest for trouble, they take delight in ruining Shaun's plans. However, it's not all about pranks and sabotage; these pigs are smart! From driving cars to flying airplanes, they've done it all. Yet, they do have their fears – Bitzer being one, and the Farmer's anger being the paramount.
While primarily seen as bullies and tricksters, there are rare moments when they join forces with Shaun's Flock, revealing that beneath their mischievous exterior lies a hidden side. Who can forget their genuine concern for Timmy in 'Turf Wars'?
In the context of drawing, consider adding other characters like Shaun, Bitzer, or even the Farmer for a wholesome scene that showcases their dynamic relationships.
Decoding the Guide: The Colors and Their Significance
Our guide is designed to help you sketch the Naughty Pig efficiently. Here's what the colors indicate:
Red Color:

Marks the current step you should be concentrating on.

Black Color:

Represents the lines you've already drawn in previous steps.

Grey Color:

Denotes the preliminary sketch, which aids in getting the proportions right. Ensure to use light pencil strokes for this.
There are 7 steps in total. Begin with a basic structure sketch to get the proportions. Once you've completed the sketch, if desired, you can ink it. Inking enhances the final drawing, making it pop. However, wait until the ink is dry before erasing any pencil marks to avoid smudging.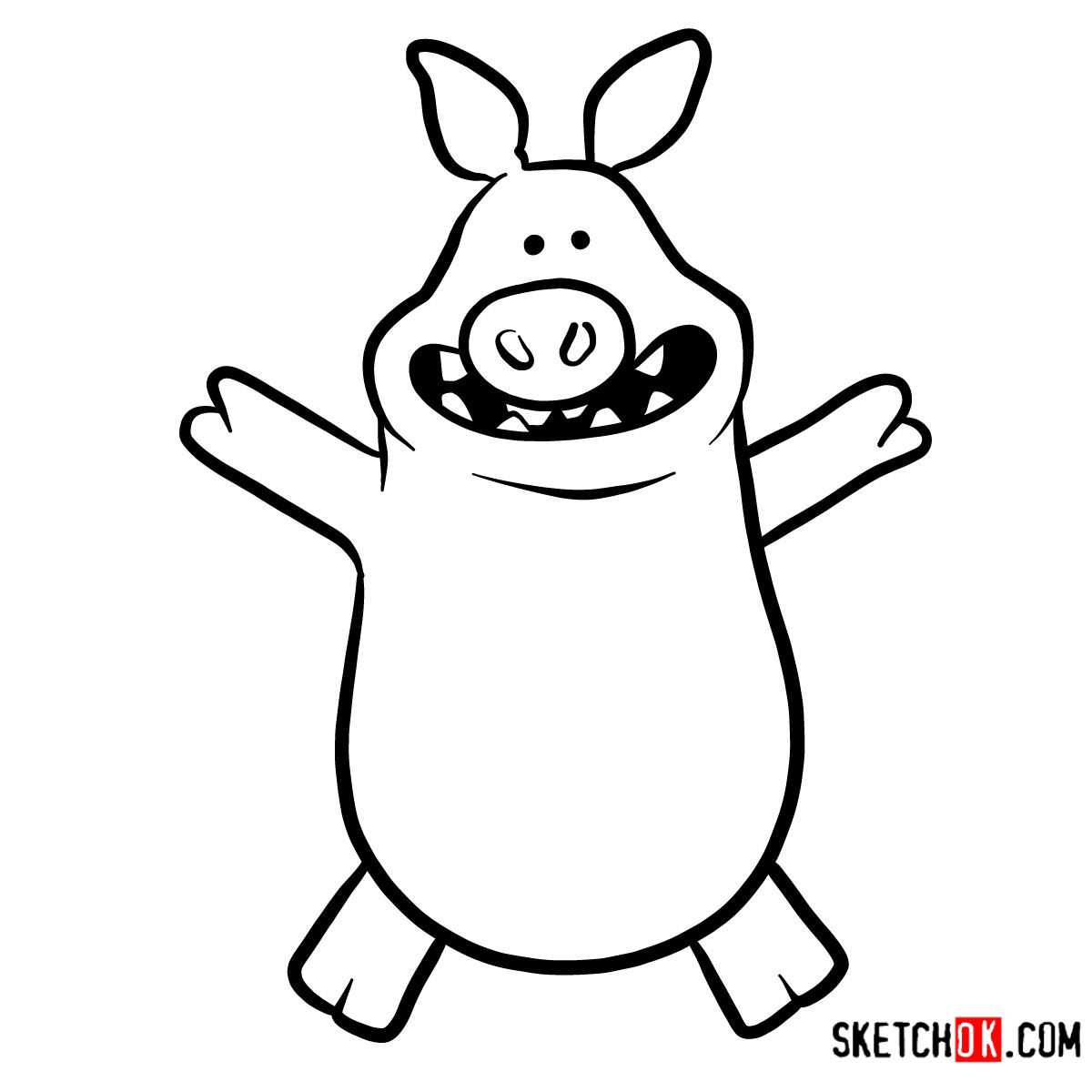 As we wrap up our guide on how to draw the Naughty Pig, I want to extend my heartfelt gratitude for joining us on this artistic journey. If you found this tutorial beneficial, please consider donating. Your donations empower us to create more free drawing guides, and you can even suggest ideas for future tutorials!
Spread the love by sharing this guide with fellow artists and friends. Connect with us on Facebook, Instagram, and Pinterest. Your support keeps the SketchOk project thriving. Together, let's keep the art community vibrant and buzzing!