Do you want to capture the lively spirit and energy of Morty Smith from the hit animated series Rick and Morty in action? Then, you've come to the right place! In this guide, we will explore how to draw Running Morty Smith, bringing his character to life in your artwork. Get ready to embark on an exciting artistic journey as we dive into the world of Rick and Morty!
Throughout the series, Morty Smith, the timid and good-hearted grandson of eccentric scientist Rick Sanchez, often finds himself in chaotic situations as he accompanies his grandfather on interdimensional adventures. Along the way, Morty encounters a colorful cast of characters, such as his sister Summer, his parents Beth and Jerry, and other unforgettable personalities like Mr. Meeseeks, Birdperson, and Squanchy. Drawing Running Morty Smith is an opportunity to showcase his dynamism and interactions with these diverse characters.
Master the Art of Capturing Motion: Drawing Running Morty Smith
Before diving into the drawing process, consider these expert tips that will help you create a dynamic and accurate depiction of Running Morty Smith:
Study the character's anatomy: Familiarize yourself with Morty's proportions, facial features, and clothing to create a believable representation of him in motion.
Gather reference images: Collect screenshots or images of Morty running from various episodes to use as a guide for your drawing.
Understand the principles of motion: To create a convincing running pose, research the basics of human movement and apply them to your drawing.
Use gesture lines: Draw quick, fluid lines to capture the essence of Morty's movement and form the basis of your sketch.
Emphasize weight and balance: Keep in mind the distribution of weight and balance in Morty's running pose to make it look realistic.
Practice makes perfect: Continue practicing and refining your drawing skills to improve your ability to capture motion in your artwork.
Armed with these tips, you're well on your way to creating an exciting and dynamic sketch of Running Morty Smith that any Rick and Morty fan will appreciate.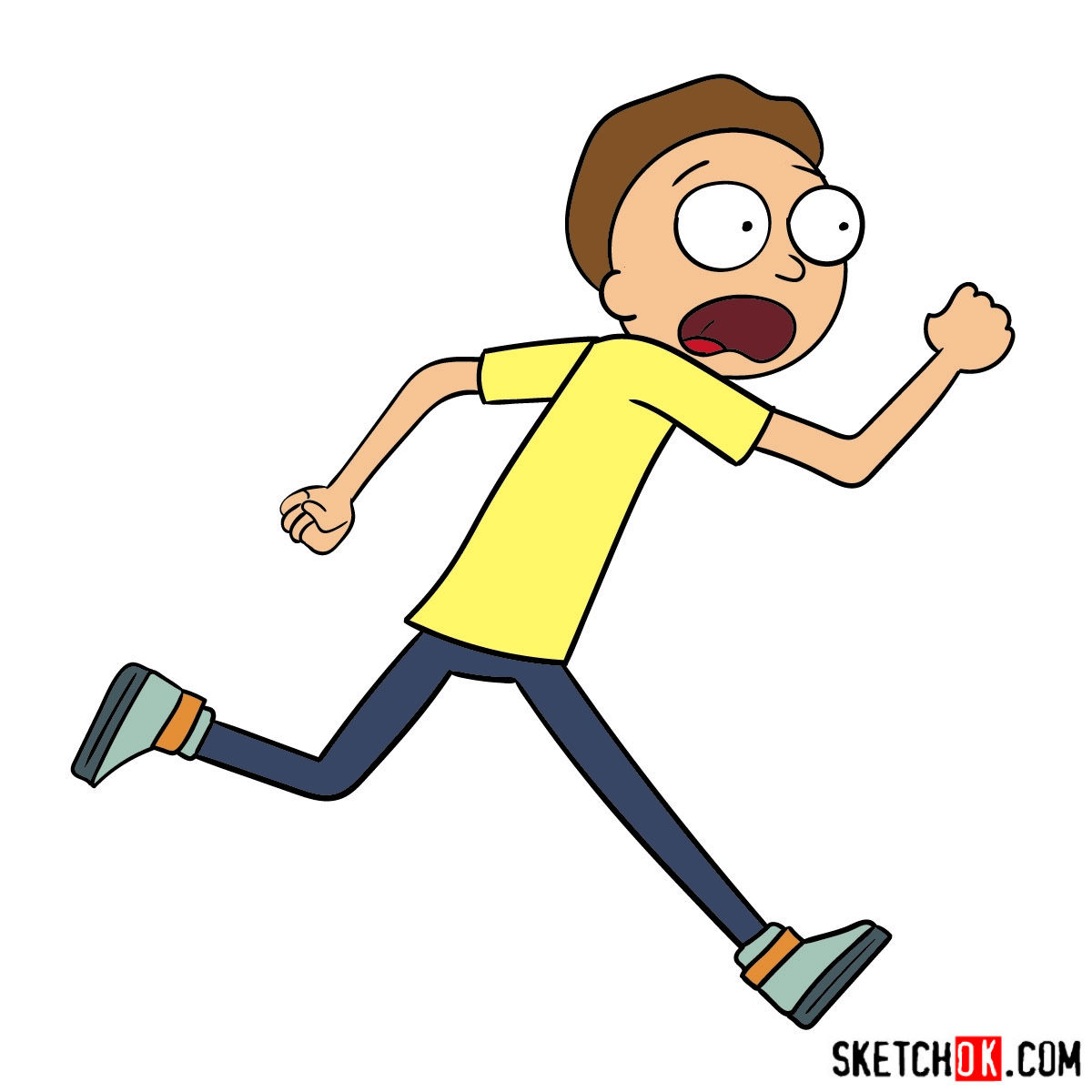 Showcase Your Art: Share Your Running Morty Smith Drawing
Once you've completed your Running Morty Smith drawing, it's time to share your dynamic masterpiece with fellow fans! You might also consider extending your artistic journey within the Rick and Morty universe by drawing other characters in action, such as Rick Sanchez, Summer Smith, or even Mr. Meeseeks. The more characters you draw, the more your artistic skills will grow.
If you found this guide helpful and would like to support our artistic endeavors, please consider buying us a coffee! Your contributions help us create more in-depth tutorials and guides for aspiring artists like you. Keep practicing, stay dedicated, and remember that with passion and perseverance, you can achieve great artistic success!