For many, Count Dracula is a timeless figure of intrigue and mystery. Immortalized in countless tales, the most memorable and charming version might just be from Hotel Transylvania. Whether you're a budding artist or a seasoned sketcher, this guide will show you how to draw Dracula and bring this charismatic vampire to your sketchbook.
Sketching Dracula: Key Features to Capture
His pale, distinctive vampire skin
Slicked-back black hair that exudes authority
Striking blue eyes full of centuries-old wisdom
Iconic long chin and hooked nose
Signature black tuxedo, punctuated by a cape with fuchsia inner-lining
While you're diving into the world of Hotel Transylvania, consider drawing other iconic characters, like Mavis or Jonathan, to complete your artistic collection.
Understanding the Guide's Signposts
Red Color:

Indicates the current drawing step.

Black Color:

Highlights the lines drawn in previous steps.

Grey Color:

Displays the foundational sketch for proportions.
This tutorial comprises 12 progressive steps. Start with a basic sketch, using light pencil strokes for proportionality. After completion, artists can choose to ink their sketch. Remember, after inking, allow the sketch ample time to dry to avoid smudging. Once dried, erase the initial pencil lines to reveal a clean, vibrant artwork.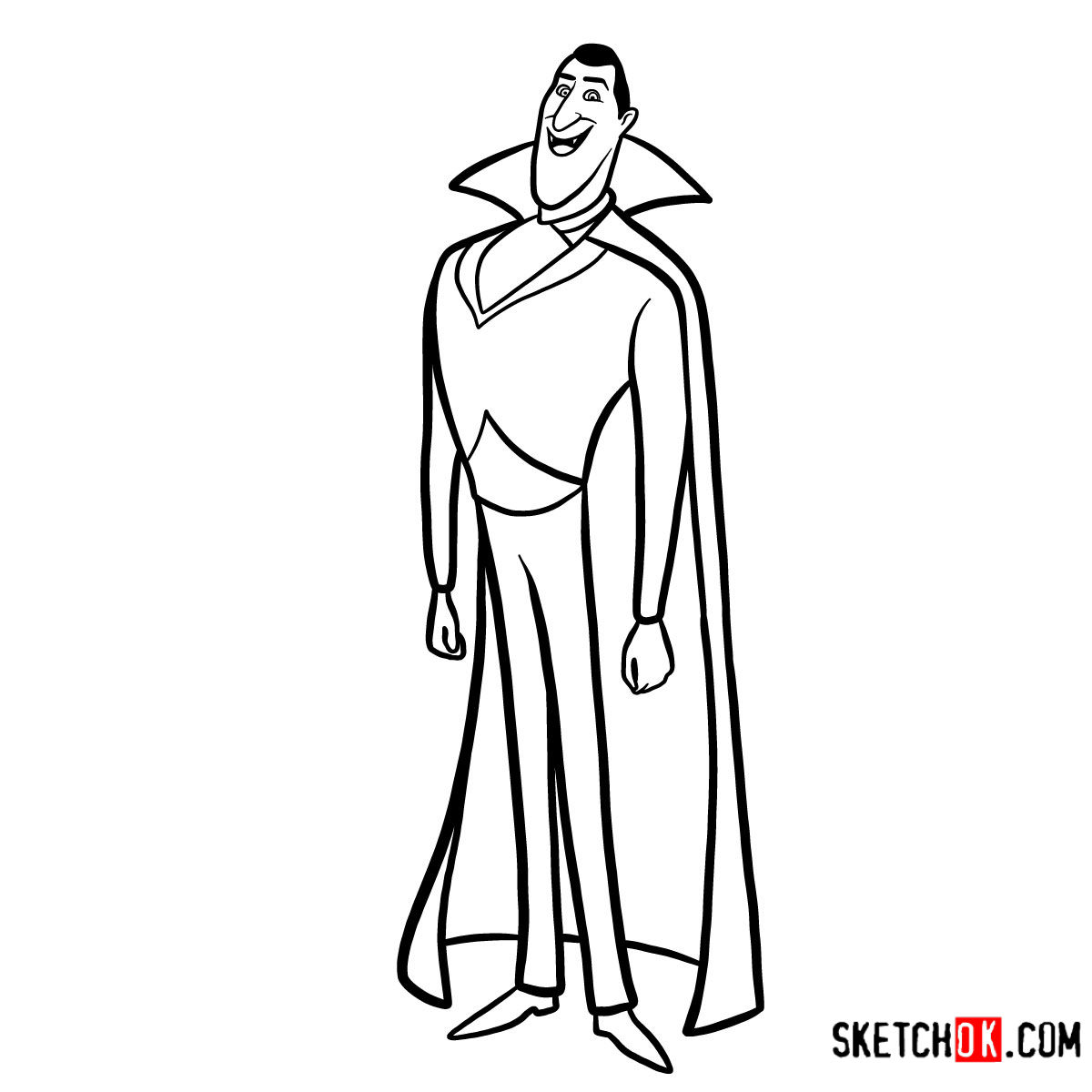 Thank you for embarking on this journey of learning how to draw Count Dracula from Hotel Transylvania. Art is an ever-evolving process, and with every stroke, you hone your skill.
If you found this guide valuable and wish to see more tutorials, please consider donating. Your contributions allow us to craft more guides and cater to your artistic endeavors. By donating, you not only support this project but also have the opportunity to suggest new tutorial ideas.
Feel passionate about your artwork? Share this guide with fellow artists and enthusiasts. Let's spread the love for art. Don't forget to follow us on our social channels: Facebook, Instagram, and Pinterest for more inspiration and updates.