Welcome to our tutorial on how to draw Pacifica Northwest from the hit animated series, Gravity Falls. Pacifica may have started off as a stereotypical blonde popular girl with money, looks, and talent, but her character development throughout the series is something to admire. From her strict upbringing and naivety towards common acts of kindness to her breakthrough moment where she sets herself apart from her family's fraudulence, Pacifica is a complex character that is both relatable and intriguing to draw. So, let's get started with our drawing guide!
Getting to Know Pacifica Northwest
Pacifica Northwest has long blonde hair with bell-shaped bangs and dark blue eyes. She is usually seen wearing a purple jacket with a short lavender dress, a periwinkle belt and black leggings with cream-colored boots. Pacifica wears heavy purple eyeshadow and lavender hoop earrings, giving her a unique style that is both fashionable and edgy. Despite her past behavior, Pacifica's sarcastic attitude and short-temper continue throughout the series, even as she becomes a kind-hearted friend to the common folk of the town.
Drawing Pacifica Northwest: Tips and Tricks for Capturing Her Unique Look
To start drawing Pacifica, it's important to capture her unique features and style. Begin by sketching out her bell-shaped bangs and long blonde hair, adding in her eyes, nose and mouth. Next, draw her signature outfit, including her purple jacket, lavender dress, periwinkle belt, black leggings, and cream-colored boots. Don't forget her lavender hoop earrings.
Here are some helpful tips to keep in mind while drawing Pacifica:
Use light pencil strokes to sketch out the basic shape and features before adding in darker lines for detail.
Pay attention to the proportions of the body and clothing to ensure they look realistic.
Experiment with different poses and facial expressions to capture Pacifica's sarcastic attitude.
Don't be afraid to add your own personal flair to the drawing, such as adding in your favorite color to her outfit or changing up her hairstyle.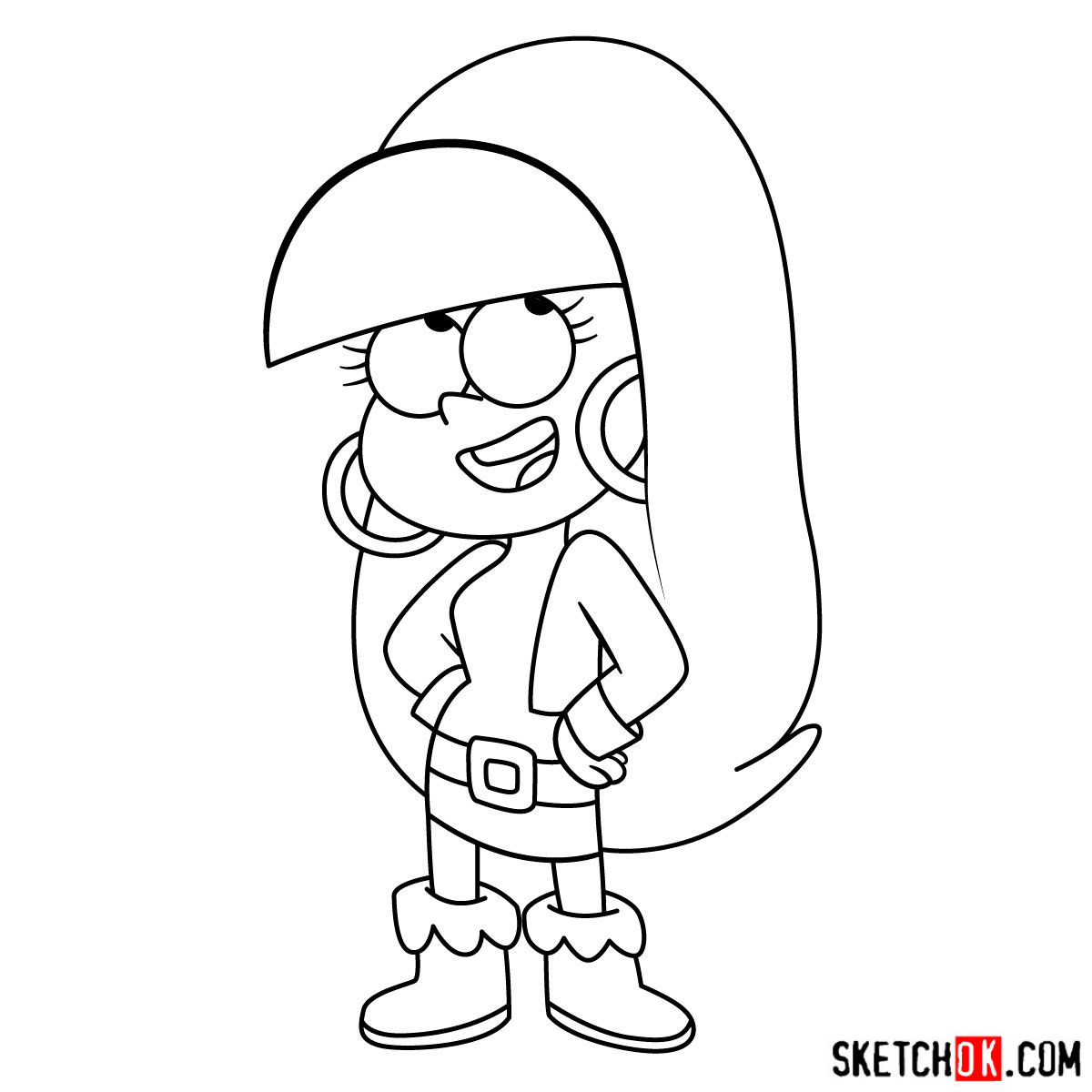 Other Gravity Falls Characters to Draw
Now that you've mastered how to draw Pacifica Northwest, why not try your hand at some other characters from Gravity Falls? Here are some suggestions to get you started:
Congratulations on learning how to draw Pacifica Northwest from Gravity Falls! With this guide, you should have all the knowledge you need to bring this character to life on paper. Remember to practice often and have fun with your artwork. And don't forget to try your hand at drawing some of the other beloved characters from the show. Who knows, you might just discover a new favorite. Thanks for reading, and if you enjoyed this guide, consider supporting me on Buy Me a Coffee to keep the art tutorials coming!