Whether you've been enchanted by the melodies of Frozen or have admired the resilience and charm of its characters, one face stands out in its rugged allure – Kristoff Bjorgman. This guide is your perfect companion on how to draw the face of this beloved character.
Character Snapshot: Kristoff Bjorgman
Origin: From the icy peaks of Arendelle, Kristoff is the tritagonist of the Frozen series, with a heart as warm as the tropics.
Appearance: A stark contrast to the traditional Disney male leads, Kristoff boasts broad shoulders and a muscular build – the result of a life harvesting ice in the mountains.
Companionship: Never seen without his loyal reindeer, Sven, Kristoff's bond with him speaks of adventures shared and memories created.
Physical Features: With shoulder-length, golden-blonde hair, light brown eyes, and a smattering of freckles, Kristoff's face narrates stories of the mountains and cold winds.
Outfits: His attire, ranging from thick dark tunics to burgundy sashes, is reminiscent of his life as an ice harvester, always adapting to Arendelle's unpredictable climate.
If you've mastered how to draw Kristoff, why not add other characters like Anna, Elsa, or even Olaf to create a complete scene?
Guide Breakdown: The Colors and Steps
This guide, comprising 8 meticulous steps, will aid you in sketching Kristoff's face. Here's what each color signifies:
Red Color:

Focus on this! It's the current step in your drawing journey.

Black Color:

These are the lines you've already etched in the previous steps.

Grey Color:

Our basic proportion sketch. Use light strokes here as this will form the base of your masterpiece.
Remember, the first step is all about crafting the basic sketch. Once you've brought Kristoff to life, you may opt to ink your sketch. Just ensure the ink dries properly before you erase the pencil marks, maintaining the sketch's pristine look.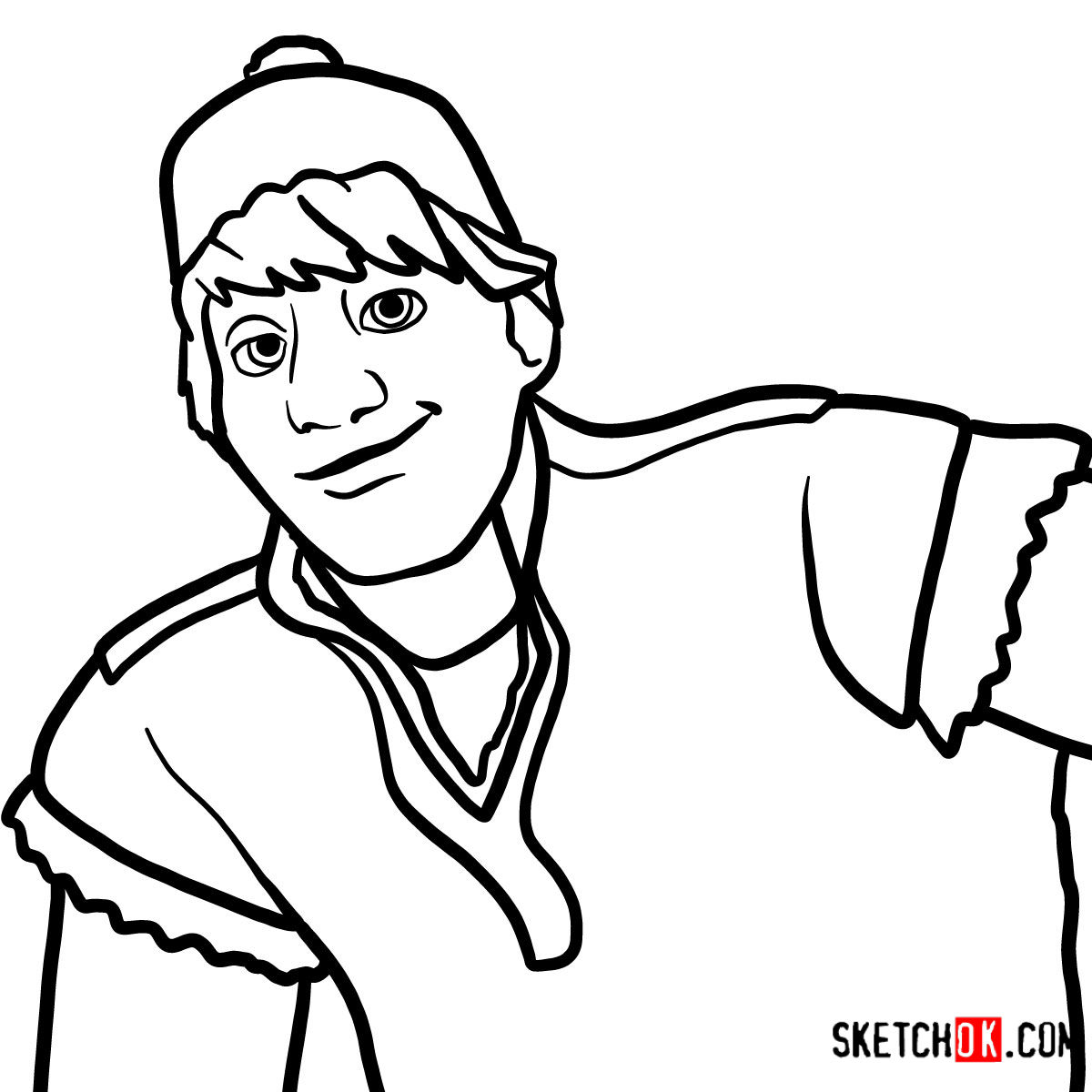 Sketching Kristoff's face is just the beginning. By sharing this guide, you're not just spreading knowledge but also supporting our mission at SketchOk. With every donation, you empower us to create more such guides. Have a suggestion? Your donation lets you pitch ideas for future tutorials.
Every contribution, share, or follow means the world to us. Let's continue this journey of art, step by step, together.