Known for his quirky demeanor, Todd Chavez is more than just BoJack Horseman's laid-back housemate in the series. From his unique fashion choices, his roller coaster of relationships, to his journey of self-discovery, Todd's character offers a compelling and sometimes comedic narrative. If you're aiming to sketch his distinctive features, our guide on how to draw Todd Chavez's face will serve as your perfect companion.
Decoding Todd: Key Features to Focus On
While Todd's ever-present yellow beanie might be the first thing that catches your attention, there's much more to his look that's worth noting:
Distinctive Beanie: Almost never seen without it, Todd's yellow beanie is as much a part of him as his laissez-faire attitude.
Shaggy Blue Hair: Peeking out from beneath the beanie, his dark blue hair is scruffy, short, and unmistakably Todd.
Facial Stubble: Adding a hint of ruggedness to his face, Todd sports black stubble that contours his jawline and chin.
Expressive Eyes: Though cartoonish, his eyes often reflect a world of emotion, from mischief to moments of introspection.
Pair Todd with BoJack for a portrayal of their dynamic or add Princess Carolyn and Mr. Peanutbutter for a more comprehensive Hollywood scene.
Navigating the Guide: Understanding the Method
Designed with clarity in mind, our tutorial comprises 10 strategic steps. From the foundational proportions sketch to the finishing touches, each stage has been crafted for optimal understanding. Here's a breakdown of our guide's color-coded instructions:
Red Color:

Emphasizes the current step to concentrate on.

Black Color:

Highlights the lines drawn in previous steps.

Grey Color:

Represents the initial sketch for proportions. Remember to sketch lightly at this stage.
Initiate your drawing journey with a foundational sketch, ensuring you maintain Todd's proportions. Once the basic form is satisfactory, consider inking the sketch. Remember to patiently wait for the ink to dry thoroughly before erasing any pencil marks. This ensures a clean and polished final product.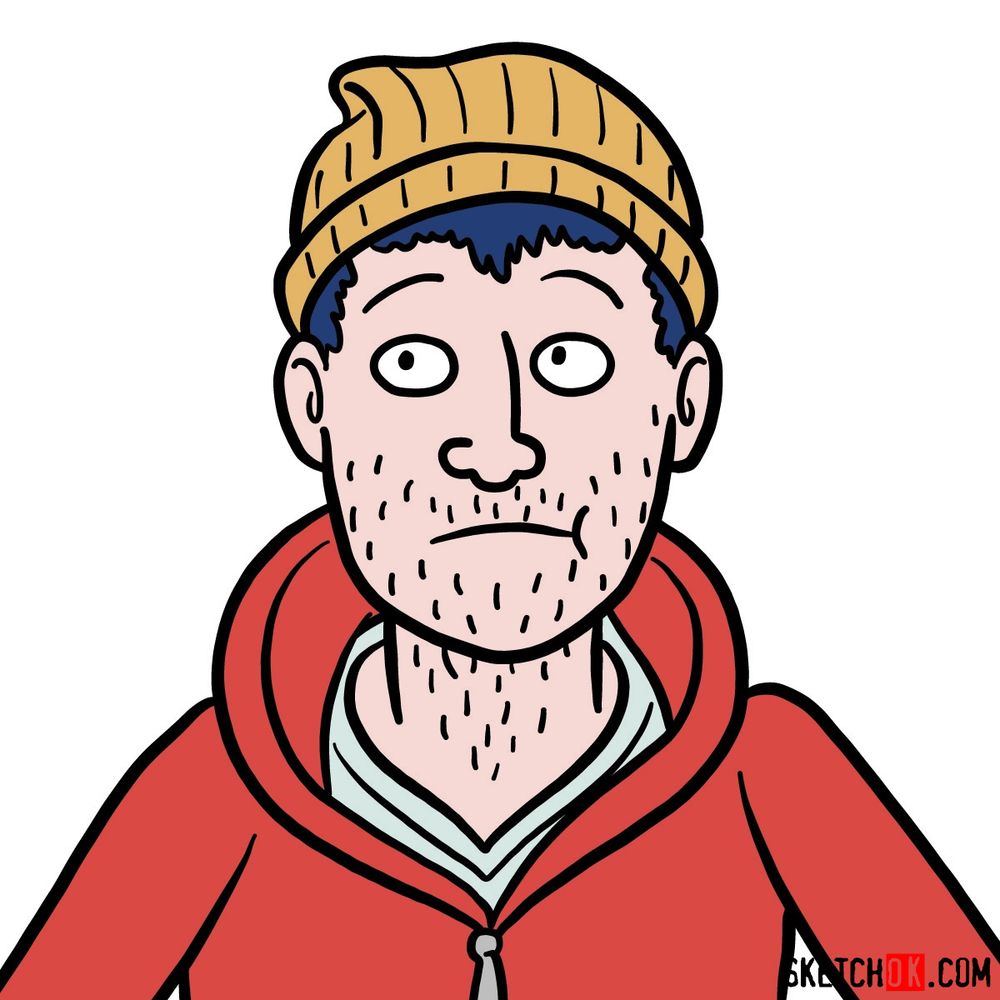 Completing Todd Chavez's face is no small feat, and it's a testimony to your artistic journey. To help us continue providing these in-depth tutorials, please consider donating. Your support allows us to generate more content and even embrace your suggestions for future drawing guides.
Let the world see your masterpiece! Share your rendition on Facebook, Instagram, or Pinterest. By sharing the how to draw Todd Chavez's face guide, you not only showcase your art but also inspire others to pick up the pencil. Join us in fostering a community centered around creativity, growth, and artistic exploration.