One of the most popular recent characters in the world of animation is none other than Mr. Peanutbutter, the cheerful yellow Labrador Retriever from BoJack Horseman. Known for his vibrant personality and the undeniable charm that often rivals BoJack himself, he stands out in the series. Drawing this charismatic character might seem challenging, but with the right approach, it's entirely feasible. If you're eager to learn how to draw Mr. Peanutbutter's face, you're in the right place.
Features to Focus: The Peanutbutter Persona
Facial Structure: With a characteristic Labrador structure, his face is a blend of affable and charismatic features.
Expressive Eyes: Being an animated character, his eyes often display a range of emotions – from joy to surprise.
Muzzle & Nose: A defining feature, his muzzle's shape, and the positioning of his nose is quintessential.
Notable Guests: For an additional touch, consider drawing other significant characters like Diane Nguyen or BoJack, offering a contrasting dynamic.
Guiding Your Artistic Journey
Our guide is segmented into 9 essential steps to help you grasp the essence of the character. Before we delve further, it's pivotal to understand the color codes to facilitate an efficient drawing process:
Red Color:

Highlights the current drawing step.

Black Color:

Represents previously drawn lines that guide continuity.

Grey Color:

Signifies the initial sketch, providing a foundational structure.
The primary step revolves around creating a foundational sketch using light strokes, which is crucial for achieving proportional accuracy. Once you've traced all steps and your character comes to life, consider inking the sketch. It's paramount to wait until the ink dries before erasing the pencil marks to avoid smudging and ensure clarity.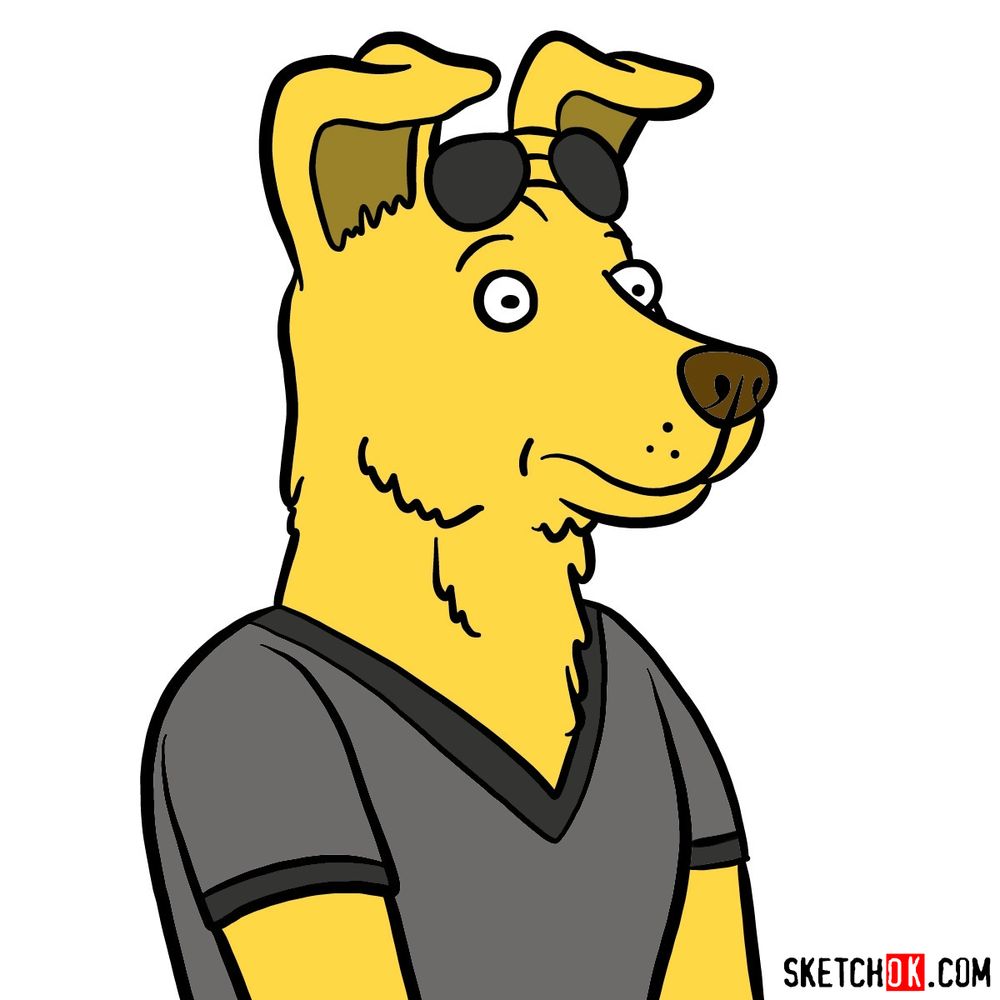 I'm genuinely thrilled to share this guide on how to draw Mr. Peanutbutter's face, and I'm confident it'll inspire countless masterpieces. If you've found this tutorial helpful, consider sharing it far and wide. Connecting with us on our Facebook, Instagram, and Pinterest platforms will keep you updated with our latest tutorials. Donations play a pivotal role in sustaining the SketchOk project, and your support ensures we continue offering free drawing guides. By donating, you can also suggest ideas for future tutorials. Click here to donate and support our cause.