Princess Carolyn, with her striking pink fur and sharp-witted personality, stands as a cornerstone character in the BoJack Horseman series. Whether you're a budding artist or simply a fan wanting to delve into the world of drawing, understanding how to capture her essence on paper is a delightful challenge. Let's embark on a journey to draw the face of the impeccable Princess Carolyn.
Princess Carolyn: A Glimpse at Her Aesthetics
Species & Features: A female pink Persian cat, she's a beacon of charm with her vibrant color palette.
Height: Standing around 4'9″ without heels, she has a petite stature that often contradicts her larger-than-life personality.
Facial Details: Green, weary eyes framed by long, expressive black whiskers tell tales of her adventures in the showbiz world.
Attire: A teal dress adorned with fish patterns, combined with a yellow sweater, and dark pink heels, rounds off her iconic look.
If you're keen on capturing characters from BoJack Horseman, consider adding BoJack himself or delve into sketching the ever-complicated Sarah Lynn, capturing the various nuances of the show's cast.
Decoding the Drawing Guide
Red Color:

Focus on this! It's the current step in your drawing journey.

Black Color:

These are the lines you've etched in the previous stages.

Grey Color:

The foundation of your sketch, representing the basic structure and proportions.
This guide encompasses 11 key steps, with the pioneering stage being about laying down the basic sketch using light strokes. Once you've traversed through the stages, consider inking your sketch for a polished finish. But a word of caution: always let the ink dry before erasing the pencil marks to prevent smudging.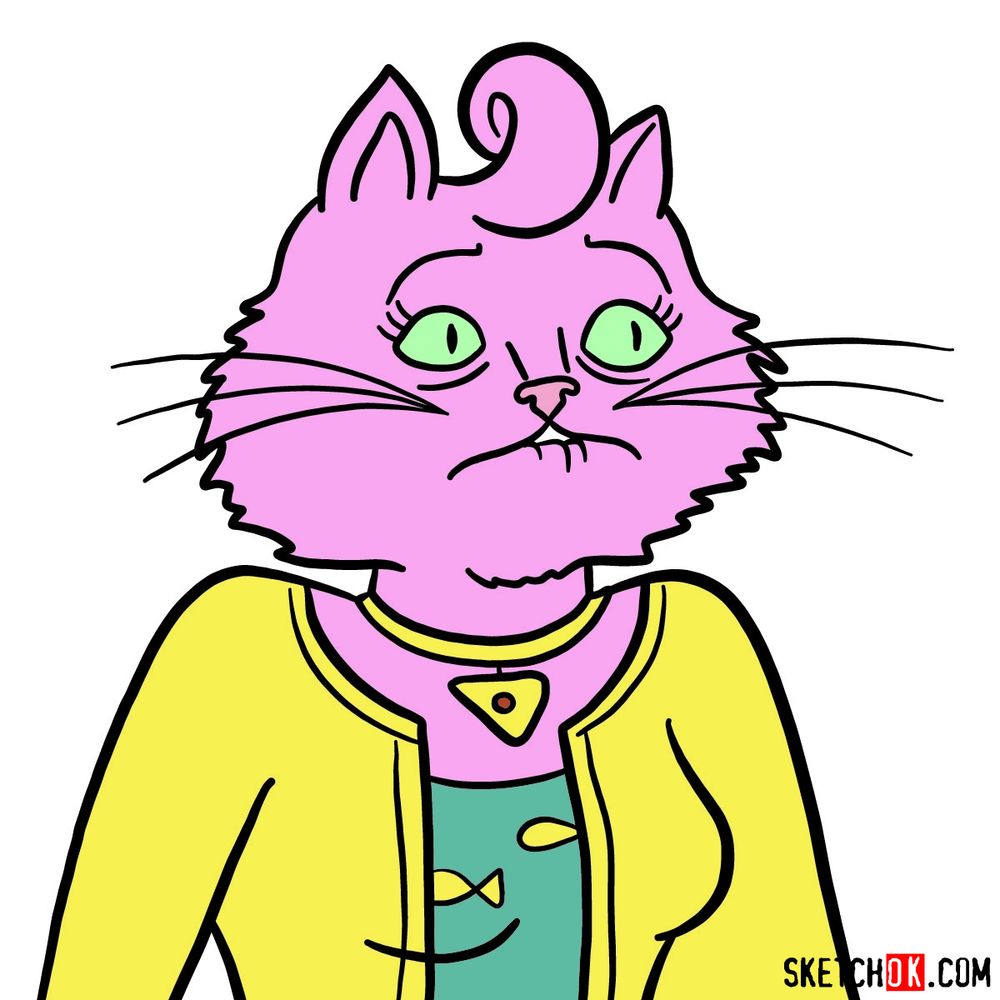 Drawing FAQs
How can I best capture her unique eye expression?
Princess Carolyn's eyes are a mix of fatigue and determination. Use soft shading under the eyes, while keeping the irises bright and full of resolve. It's this juxtaposition that truly brings her character to life.
Any tips on illustrating her distinctive dress pattern?
Start with the base teal color of the dress, then lightly sketch the fish patterns. Ensure each fish is distinguishable but not overpowering. The dress is a statement but should not divert attention from her face.
There you have it – a comprehensive guide on how to draw Princess Carolyn's face. Your support goes a long way in keeping our drawing initiatives alive. By donating, you not only keep the SketchOk project afloat but also pitch in your ideas for future tutorials, ensuring everyone gets access to free art guides. If you found this guide helpful, don't hesitate to share the link with fellow artists or on your social media platforms. Let's spread the joy of drawing!
Find it in your heart to donate and help us grow. Also, connect with us on Facebook, Instagram, and Pinterest.