The world of SPY x FAMILY is rich with intriguing characters, and Yor Forger stands out with her unique blend of elegance, mystery, and unexpected quirks. Whether you're an avid fan or an artist eager to explore new subjects, learning how to draw Yor Forger can be a rewarding experience.
The Enigmatic Elegance of Yor Forger
Physical Appearance: Yor is a tall, graceful young woman with a distinct appearance. Her long, straight, black hair and upturned red eyes make her instantly recognizable.
Attire Details: Typically, she wears a sweater paired with tights, a skirt, brown-heeled ankle boots, a white headband, and gold earrings. When stepping out, she adorns a beige coat.
Personality Nuances: Known for her robotic demeanor, Yor's inner layers unravel as one delves deeper. From her fierce protective instincts to her unique quirks stemming from her assassin background, she's a blend of contradictions.
Tips for Sketching Yor
When drawing characters like Yor, it's essential to capture their essence. Consider her background as the "Thorn Princess" to evoke her assassin aura subtly, even in casual attire. Focus on the details—her distinct hair, the way her clothes fit her frame, and the accessories that complement her look.
Navigating the Drawing Guide
Our drawing guide offers a systematic approach to help you sketch Yor Forger beautifully. Comprising 33 high-quality images, each step is designed to make the process seamless.
Red Color:

Indicates the current drawing phase.

Grey Color:

Represents the basic proportion sketch.

Black Color:

Highlights the previously drawn lines.
The journey begins with a basic stick figure sketch of Yor, paving the way for the more intricate details in subsequent steps. As you progress, you'll refine the drawing, eventually leading to the final inking phase. Remember, patience is key. Allow the ink to dry before erasing any pencil marks to ensure a clean finish.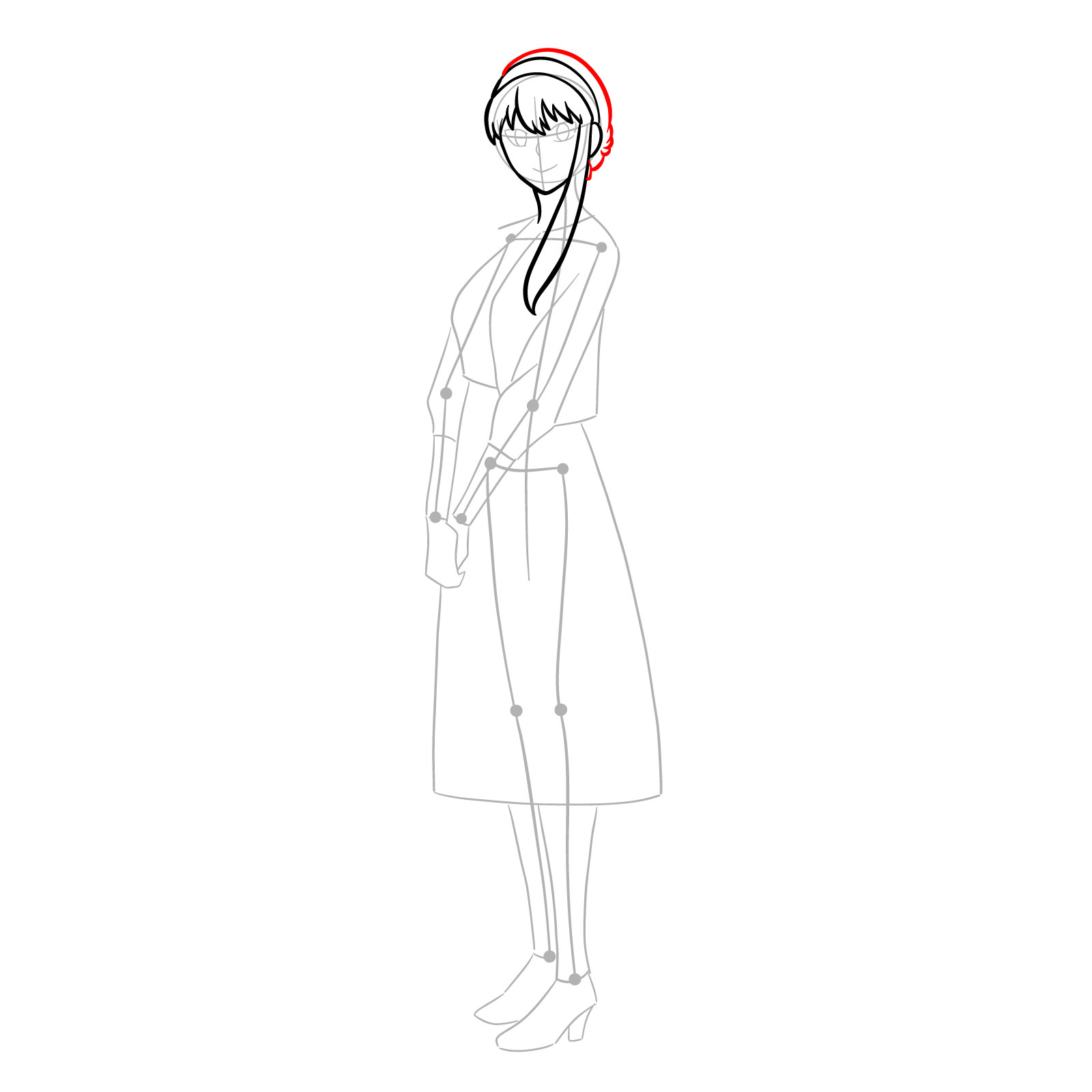 Facts to Enhance Your Drawing
While Yor's elegant exterior may deceive many, her unique personality traits, like being captivated by a guillotine painting or her tendency to solve problems through assassination, can provide an added dimension to your drawing. Let these quirks inspire you to add subtle hints in your sketches, enriching your Yor Forger drawing.
I hope this guide empowers you to draw Yor Forger with confidence and flair. If you found it valuable, please consider sharing our guide's link with fellow artists and enthusiasts. Moreover, stay connected for more drawing insights by following SketchOk on Facebook, Instagram, and Pinterest.