Welcome, budding artists! If you've ever wanted to bring the iconic Pikachu to life on paper, you're in the right place. Today, we're diving into a comprehensive, step-by-step guide that teaches you how to draw Pikachu in a cap. With a friendly wave and a stylish Pokeball cap, this Pikachu drawing is sure to delight fans and add a touch of charm to your artistic collection.
Getting to Know Pikachu
Pikachu, known for its electric powers and adorable persona, is the mascot of the Pokémon franchise. But this isn't just any Pikachu – this Pikachu is ready for a grand adventure, sporting a cap with a Pokeball logo and giving a cheerful wave. Here are some key features to pay attention to when drawing:
Round, chubby cheeks that store electricity
Large, expressive eyes
The signature zigzag tail with a patch of brown at the base
Small, compact body with tiny paws
The distinct cap with a Pokeball logo
As you embark on this drawing journey, remember that you can enhance your Pokémon universe by adding other related characters like Ash, Misty, or Brock. Or perhaps you could even explore drawing Pikachu's evolution, Raichu.
Understanding the Guide
This tutorial is divided into 10 steps, each carefully designed to guide you towards your final masterpiece. The first 2 steps are about creating a basic sketch for proportions. Remember, this stage requires light pencil strokes as it lays down the foundation for your artwork.
Our guide uses a color-coding system:
Red Color:

Represents the current step you should be focusing on.

Black Color:

Showcases the lines you have previously drawn.

Grey Color:

Illustrates the basic proportions sketch.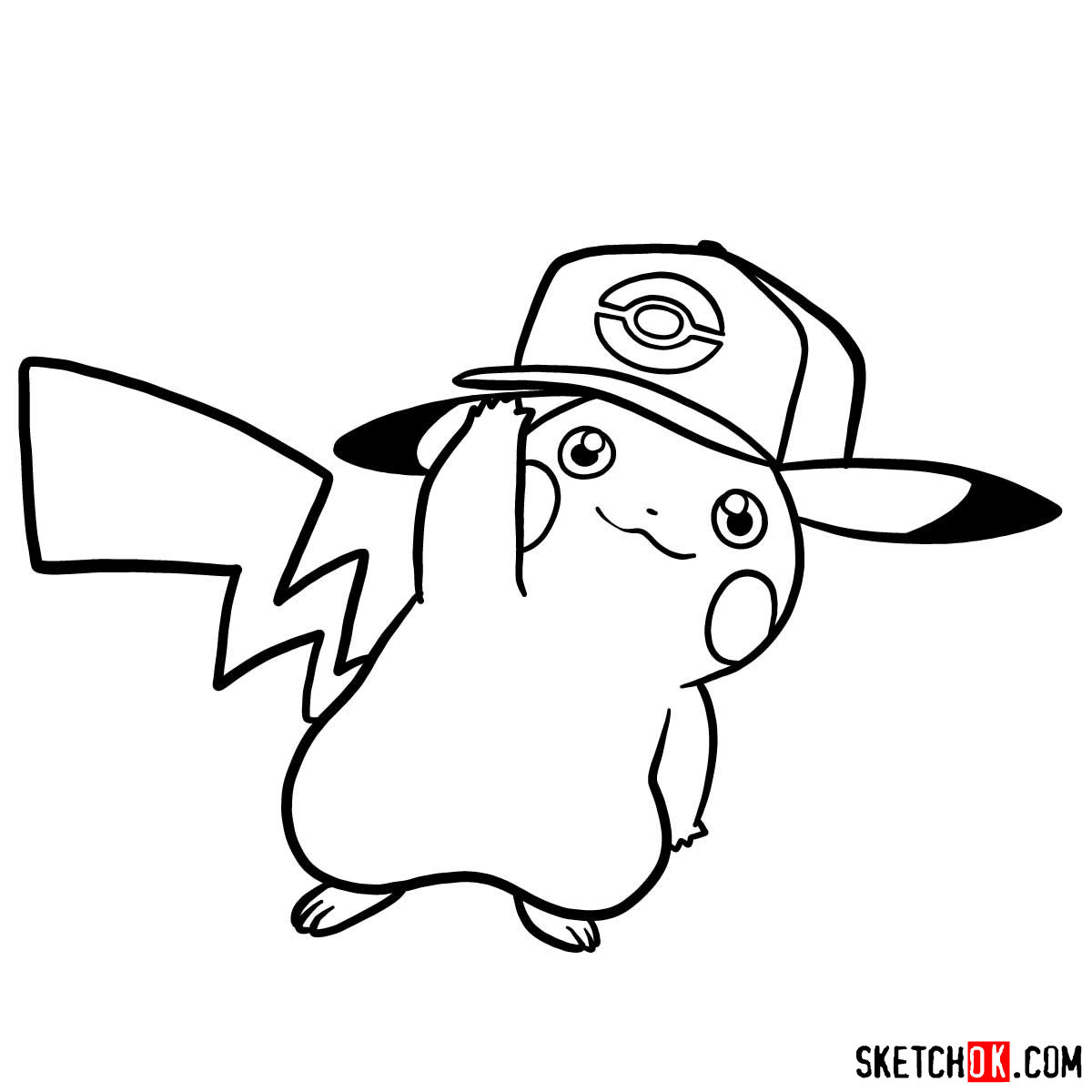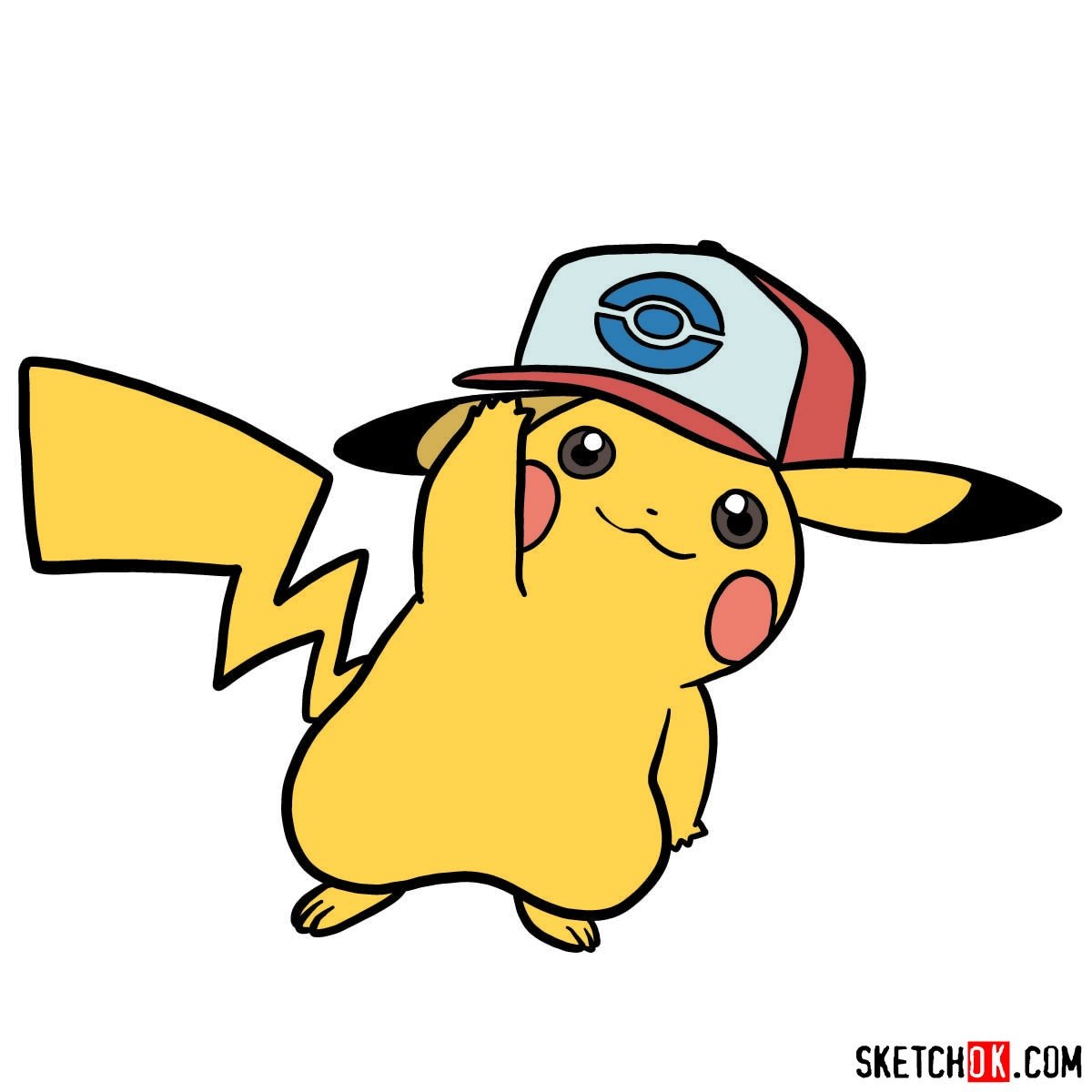 FAQs
What type of pencil should I use for the basic sketch?

For the basic sketch, a hard pencil like an HB or a 2H would be perfect. They produce light lines, which are easy to erase or refine later.

How do I perfect Pikachu's distinctive tail?

Pikachu's tail can be tricky due to its angular shape. Try breaking it down into simple geometric shapes first – triangles for the edges. Refine it until you get the zigzag shape.

How do I draw Pikachu's cap accurately?

Start with a simple cap shape. Add the visor and then draw the Pokeball logo, which is a circle with a horizontal line across the middle and a smaller circle within.
Conclusion
We've reached the end of this artistic adventure, and you've successfully learned how to draw Pikachu in a cap. However, the journey doesn't end here. Share the love and pass on the knowledge by sharing this guide with other aspiring artists on the web.
If you found this guide helpful and want to see more of such content, consider supporting us. Your donations play a vital role in keeping the SketchOk project alive, allowing us to continuously provide free, detailed, and accessible art guides for everyone.
And if you want to stay updated with our latest tutorials, don't forget to subscribe and follow us on Facebook, Instagram, and Pinterest. Together, let's continue fostering a community that embraces art and creativity. Happy drawing!