Welcome to the ultimate guide on how to draw Kishibe from Chainsaw Man. Kishibe is a fan-favorite character known for his enigmatic personality and unique sense of style. Whether you're an aspiring artist or a fan of the manga, this guide will provide you with the tools you need to bring Kishibe to life on paper. With our step-by-step guide, you'll be able to create a stunning drawing of Kishibe that's sure to impress. So, let's get started!
Kishibe: A Brief Look at Appearance and Character Relationships
Kishibe is a member of the Public Safety Devil Hunter organization and is known for his calm and collected demeanor. He has short blonde hair, sharp eyes, and a distinctive scar on his cheek. Kishibe is often seen wearing a overcoat and tie. His relationship with other characters in the manga is mysterious, making him all the more intriguing. Other notable characters in Chainsaw Man include Denji, Makima, Aki Hayakawa, and Power, each with their unique style and personality.
The Drawing Guide – Tips for Drawing Kishibe
To create a successful drawing of Kishibe, it's important to pay close attention to the details and proportions of the character. Here are some pro tips to help you along the way:
Study Kishibe's appearance: Take a close look at Kishibe's facial features, clothing, and posture. Pay attention to details like his collar, the folds in his clothes, and the shape of his eyes and nose. This will help you accurately capture his likeness in your drawing.
Start with a stick figure: Before you begin drawing the details of Kishibe's body, sketch out a basic stick figure. This will help you establish the proportions and placement of his limbs and ensure that your final drawing looks balanced and realistic.
Use reference images: Reference images are a valuable tool when drawing any character, and Kishibe is no exception. Look up images of Kishibe from the manga or anime and use them as a guide for drawing his features.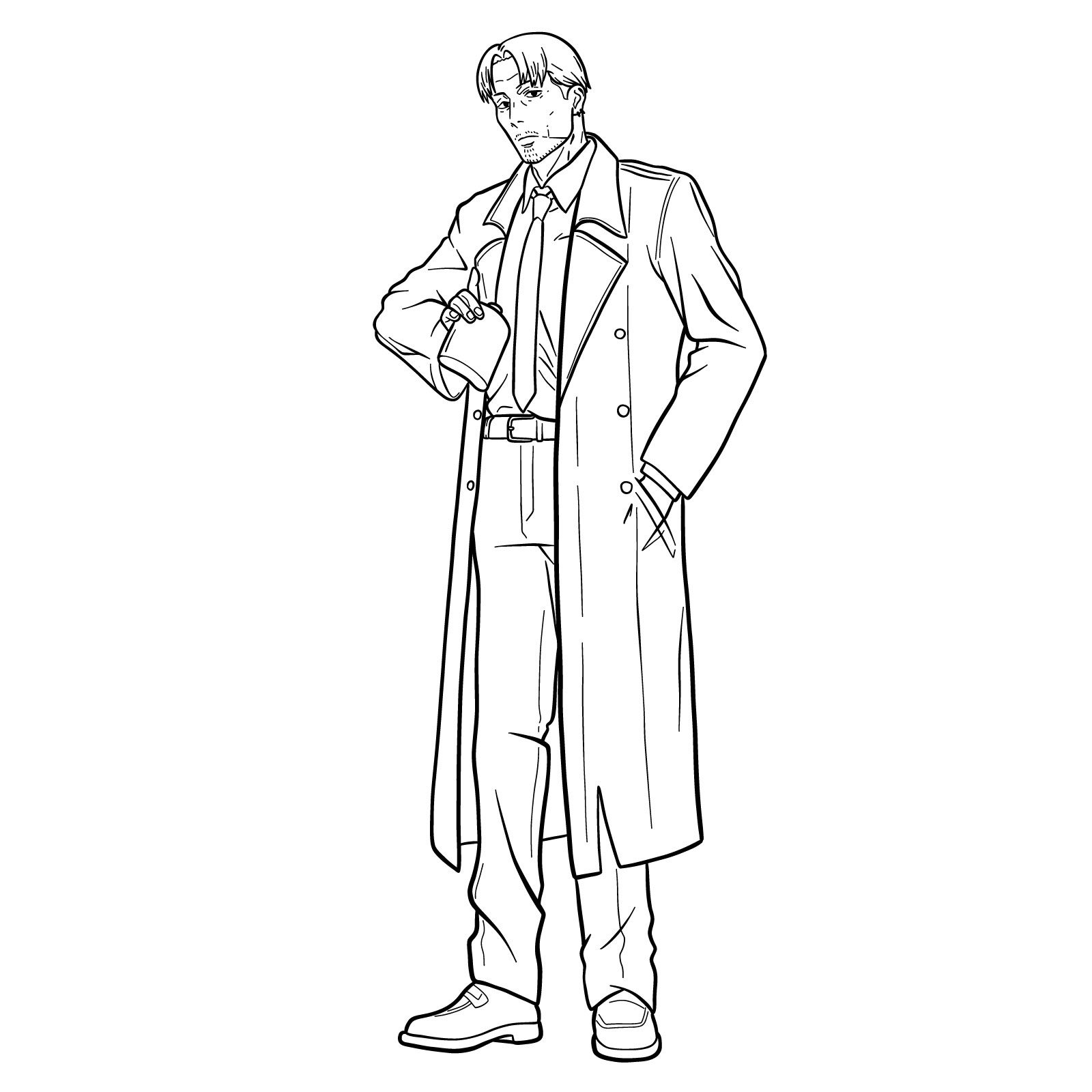 Congratulations! You have successfully completed the guide on how to draw Kishibe from Chainsaw Man. With this guide, you should have a better understanding of Kishibe's appearance, relationship, and the step-by-step process for drawing him.
Remember that drawing is a skill that requires practice and patience. Don't be discouraged if your first attempt isn't perfect. Keep trying, and with each attempt, you'll improve.
If you found this guide helpful and would like to support my work, please consider buying me a coffee. Your support helps me continue to create more helpful content for aspiring artists like you.
Thank you for choosing this guide, and I wish you the best of luck with your future drawings!