If you're a fan of Chainsaw Man, then you know that Power is one of the most iconic characters in the anime series. Her spunky attitude, fiery personality, and striking appearance make her a fan favorite. If you want to learn how to draw Power, then you've come to the right place. In this step-by-step guide, we'll take you through the process of creating a stunning portrait of Power that captures her unique personality and style.
Getting to Know Power
Before we start drawing, let's take a closer look at who Power is. As a devil hunter, she's always ready to take on any challenge that comes her way. Her confident and fearless demeanor is reflected in her outfit, which is a mix of punk and gothic fashion. With her dark hair and striking red eyes, she's a force to be reckoned with.
Tips and Tricks for Drawing Power
Drawing Power may seem like a daunting task, but with a few tips and tricks, you can bring her to life on paper. Here are some key pointers to keep in mind:
Start with basic shapes: Begin with a rough outline of Power's body using a stick figure and simple shapes to sketch the rough outline of her look. This will help you get the proportions right before you start adding in details.
Use reference images: To get a better understanding of Power's appearance, look up reference images from the anime or manga series. Pay close attention to her unique outfit, hairstyle, and facial features.
Experiment with different poses: Don't be afraid to play around with different poses and angles. Power is a dynamic character, so you can have fun experimenting with different ways to show off her personality and style.
Add in details gradually: Once you have a basic outline of Power's body, start adding in details like her clothes, facial features, and accessories. Take your time and work on one area at a time to avoid getting overwhelmed.
Practice shading and highlights: To really make your drawing of Power stand out, practice shading and highlighting techniques to create depth and dimension.
Step 01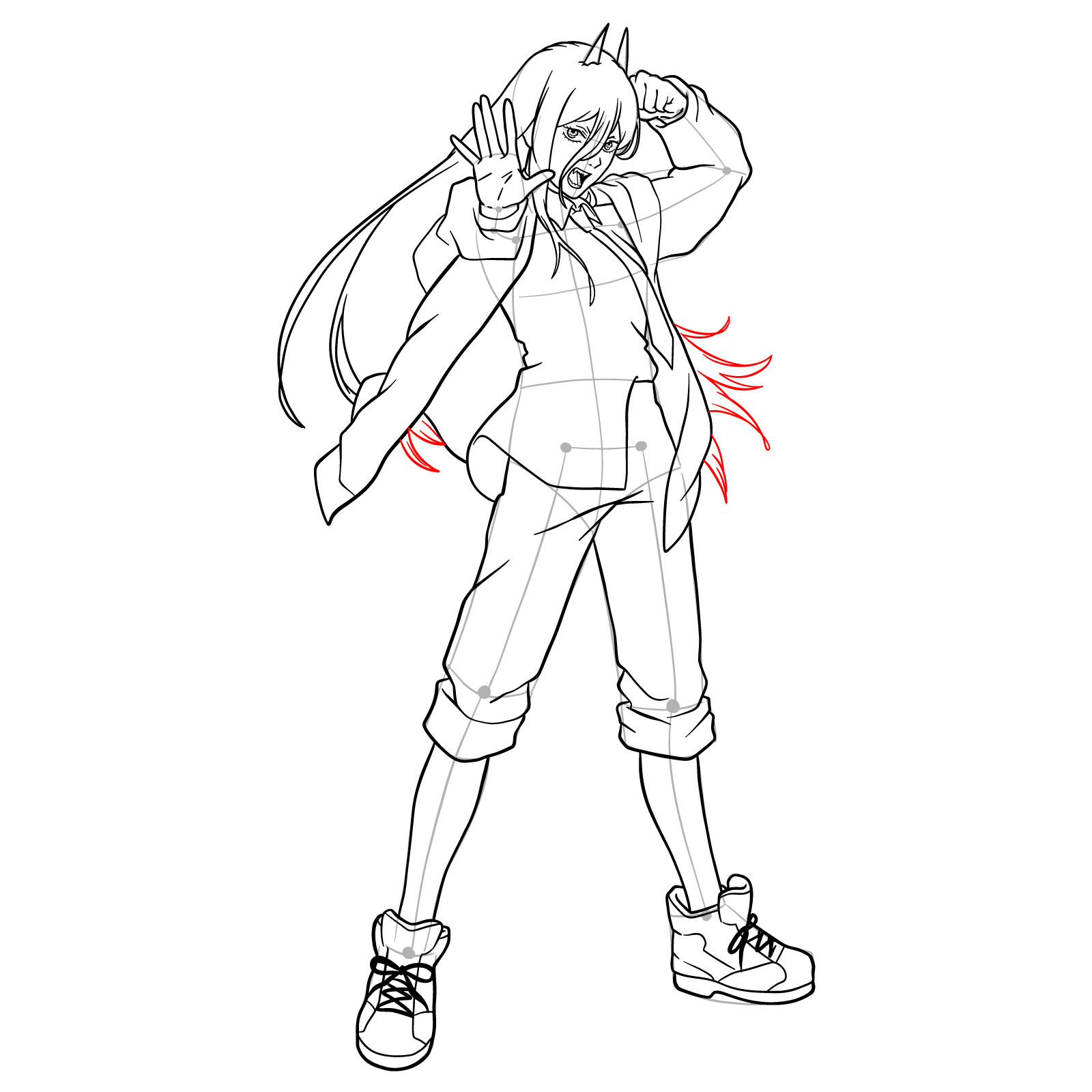 Oh, and just in case you thought drawing Power alone was too easy, let me throw a curveball at you: a tutorial on how to draw Power and Denji together!
FAQs:
Q: What materials do I need to draw Power?
A: All you need is a pencil, eraser, and paper. You can also use colored pencils or markers to add color to your drawing.
Q: Is it okay to take creative liberties with Power's appearance?
A: Absolutely! While it's important to stay true to her basic appearance, feel free to experiment with different poses, outfits, and facial expressions.
Q: How can I improve my shading and highlighting techniques?
A: Please stand by as I'm working on a series of guides on these techniques that will be posted here soon! But if you don't want to wait, look up tutorials online and experiment with different techniques until you find the ones that work best for you.
Overall, drawing Power can be a fun and rewarding experience for fans of the series. Don't be afraid to experiment with different poses and styles to make your drawing stand out. And if you want to see more characters from Chainsaw Man, consider checking out our guides for drawing Denji and Makima as well.
If you found this guide helpful, consider supporting me on Buy Me a Coffee, so that I can continue creating more content like this for fellow anime fans.