The Feline Speedster of ThunderCats: Drawing Cheetara
Ever wanted to bring the fast and fierce Cheetara to life on paper? As one of the iconic characters from the beloved series, ThunderCats, Cheetara's athletic build and distinctive attire make her a thrilling character to sketch. This guide will navigate you through the steps of capturing her essence, using a series of images. So grab your drawing tools and let's embark on this journey of how to draw Cheetara!
Cheetara's Key Features: Know What to Draw
Anthropomorphic Build: Cheetara's design blends human and cheetah characteristics seamlessly. This gives her a unique structure with a hint of wild agility.
Orange Leotard: Her signature one-piece orange leotard is adorned with the ThunderCat emblem right at her bosom. This attire not only signifies her allegiance but also highlights her athletic physique.
Orange Boots: These are not just any boots; they are specifically designed to match her leotard and provide mobility during her rapid pursuits.
Guide Essentials: Understanding the Color Codes
Red Color:

Represents the current drawing step. Concentrate on this!

Black Color:

Showcases lines and parts you've previously sketched.

Grey Color:

Indicates the initial basic sketch, aiding in maintaining proportion and structure.
Our tutorial consists of 17 steps, with the initial one guiding you in crafting the basic structure of Cheetara. By the end, you'll have the option to ink your masterpiece. If you decide to ink, always be patient and allow the ink to dry. This prevents smudges and maintains the crispness of your drawing. Once dried, you can erase the preliminary pencil sketches to reveal a refined piece. Additionally, our last image provides a colorful depiction of Cheetara, ideal for those wanting to paint or color their sketches.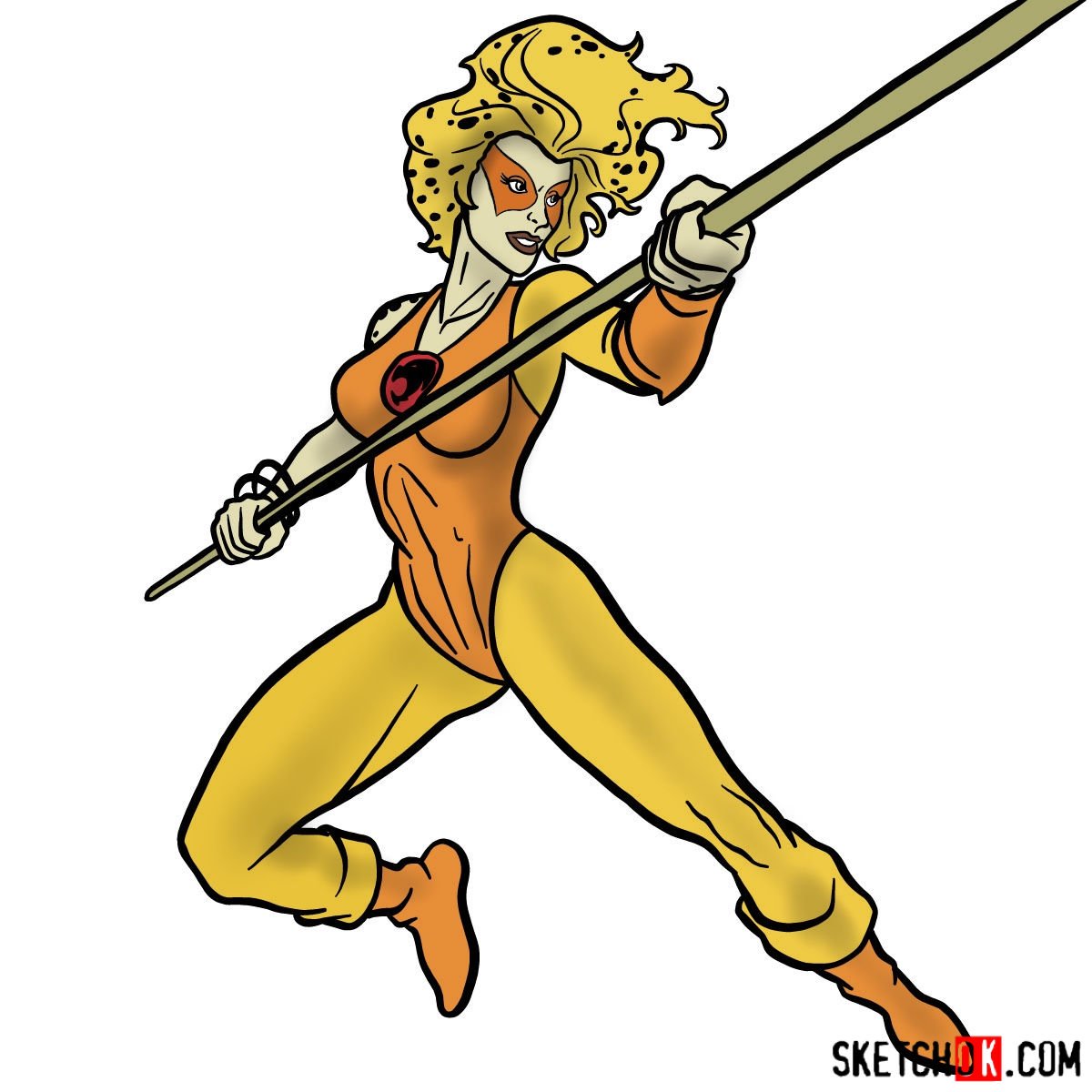 Your Artistic Contribution to the ThunderCats Legacy
Drawing Cheetara is more than just an art exercise—it's a tribute to a legacy. I truly hope you enjoyed the journey of how to draw Cheetara from ThunderCats. If this guide assisted you or if you'd like to see more tutorials, please consider donating. Your contributions directly impact the creation of new free drawing guides and allow fellow artists to suggest ideas for future tutorials.
By sharing this guide on Facebook, Instagram, Pinterest, or any other platform, you're inviting others to learn and grow artistically. Thank you for being a pivotal part of the SketchOk community. Keep drawing and keep growing!