Welcome to our detailed guide on how to draw Iridessa, the beacon of light from Disney's beloved Fairies franchise. By the end of this guide, not only will you have a beautiful sketch of Iridessa but a better understanding of her essence and personality that makes her stand out in Pixie Hollow.
Understanding Iridessa: More than Just a Fairy
Iridessa, one of the luminous characters in the Disney Fairies world, serves as a symbol of light and perfection in Pixie Hollow. Before we delve into the drawing tutorial, it's vital to understand her character for a more authentic portrayal:
Origin: An essential character in the Disney Fairies franchise, Iridessa initially showed discomfort with Tinker Bell's reluctance to accept her tinker role. Voiced by Raven-Symoné, she brings a realistic touch to this ethereal being, making her relatable yet mystical.
Personality: As a light fairy, Iridessa's persona gleams with perfectionism, determination, and optimism. She's meticulous, ensuring everything around her is in flawless harmony. Though often seen as overly cautious, her intent is always to keep her friends safe.
Physical Appearance: With her African features, Iridessa's sunflower petal dress and matching seed on the bodice make her stand out. Her original design had a longer, pale-yellow skirt, giving her an even more regal aura.
If you enjoy sketching Iridessa, consider adding her friends like Tinker Bell or Silvermist for a collective Pixie Hollow masterpiece.
Guiding Lights: Navigating the Drawing Process
Our guide on how to draw Iridessa offers 12 comprehensive steps to ensure a beautiful rendition. However, before diving in, let's understand the color-coded guidelines:
Red Color:

Represents the current step you should focus on.

Black Color:

Highlights the lines drawn in previous steps.

Grey Color:

Indicates the basic sketch, especially crucial in the initial step for accurate proportions.
Once you've successfully sketched Iridessa, you can opt to ink your drawing. Use a fine-tipped pen for precision, and ensure the ink is completely dry before erasing the pencil sketch to avoid smudges.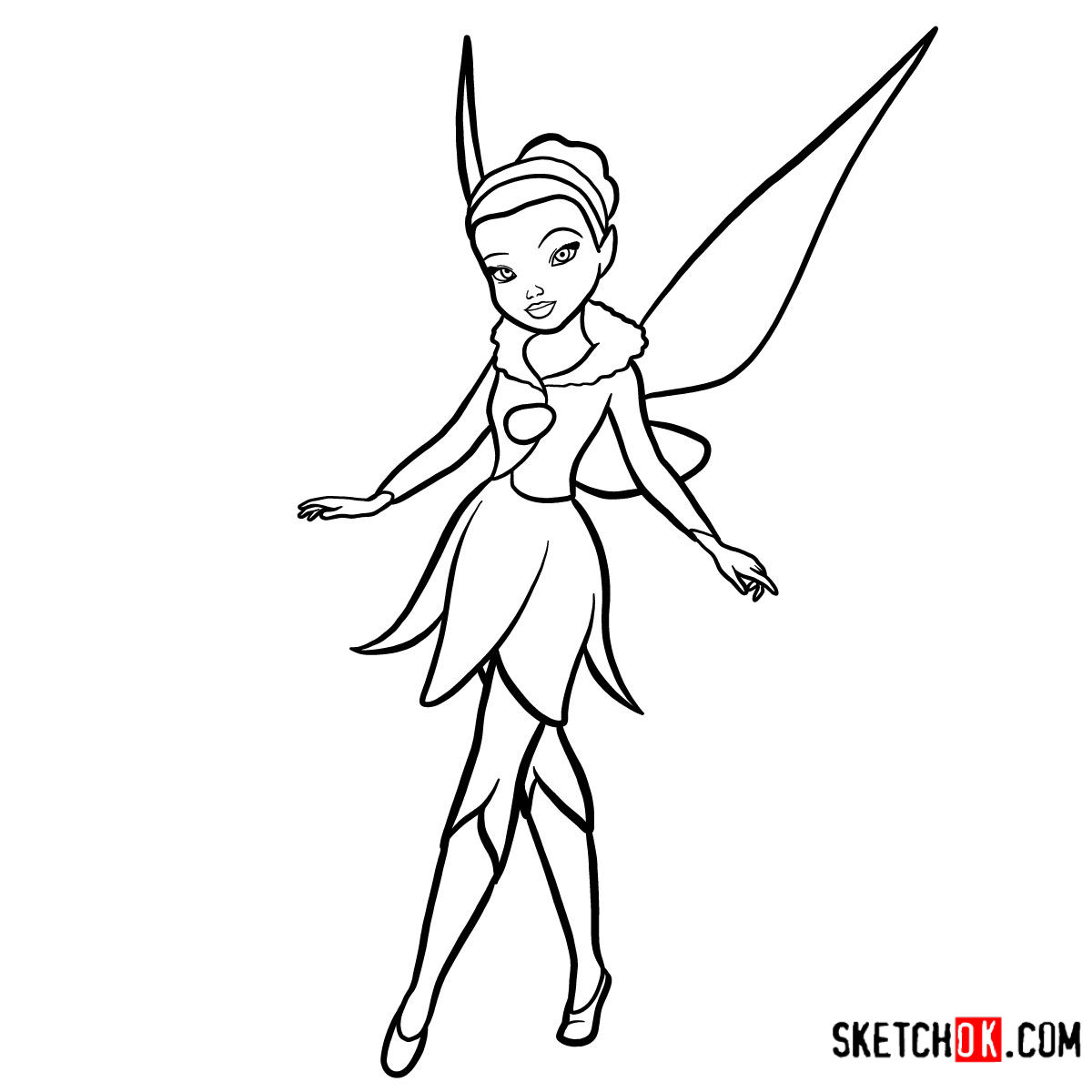 Thank you for joining me on this enlightening journey on how to draw Iridessa. Your support enables us to continue crafting these guides. To suggest ideas for future tutorials or ensure we keep producing free drawing guides, consider donating. Every bit helps!
For more updates, tips, and tutorials, do follow us on Facebook, Instagram, and Pinterest. And don't forget, sharing this guide with friends or on your platforms is a fantastic way to spread the joy of drawing!