If there's a character in the Teen Titans universe that captures the essence of transformation, it's Jinx. From her origins at the H.I.V.E Academy to her growth as an Honorary Titan, her journey is nothing short of riveting. Want to bring her unique essence onto paper? You're at the right spot. Let's learn how to draw Jinx!
Understanding Jinx's Unique Aesthetics
Facial Features: Pale grey-white skin, pink blush marks, and those distinguishing pink eyes with cat-like pupils.
Hair Design: Distinctive pink, horseshoe-shaped style, curving outward with metallic bands for added flair.
Attire: Black, long-sleeved dress with jagged edges, accompanied by violet-striped leggings and high-heeled boots.
Drawing Jinx could also open up avenues for you to experiment with her comrades and relationships. Consider adding Kid Flash, her boyfriend, or perhaps Cyborg and Bumblebee to create a comprehensive scene.
Unpacking the Guide: What to Expect
Our tutorial consists of 26 meticulously crafted steps. To help you through the process, we've color-coded each phase:
Red Color:

Represents the current step of the drawing.

Black Color:

Highlights the lines you've already drawn.

Grey Color:

Demonstrates the basic sketch, which is crucial for proportions.
The initial stages emphasize constructing the basic sketch with light strokes, which lays a strong foundation. As you approach the concluding steps, you have the liberty to ink your sketch. However, remember to let the ink dry before erasing the pencil outlines to ensure a clean and professional look.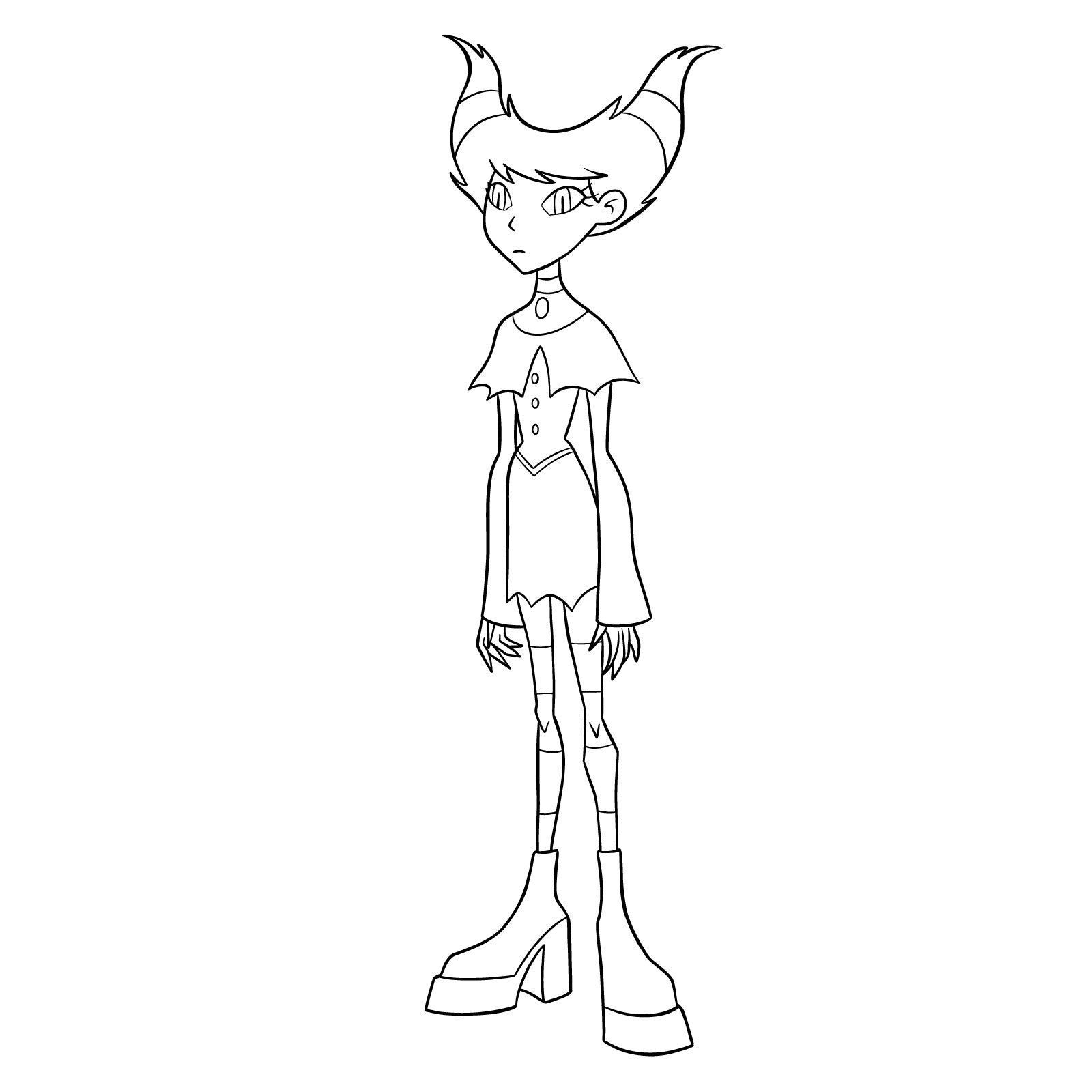 Frequently Asked Questions
What's the best technique to capture Jinx's distinct hair?
Jinx's hair is unique and requires careful attention. Start with the basic shape, focusing on the horseshoe curve. Once you've got the base, work on the details, such as the outward curve and the metallic bands. Using varied line weights can add depth and dimension to her hair.
How can I effectively sketch Jinx's outfit?
Begin with the basic silhouette of her dress, emphasizing the jagged edges. Gradually add details like the violet collar and her leggings. Her boots are chunky; thus, ensure you portray that weight in your drawing. Using reference images can be beneficial.
Any tips for capturing her dynamic expressions?
Jinx's expressions play a crucial role in her character. To capture them, pay close attention to her eyes and mouth. The cat-like pupils and her trademark grin can instantly bring her character to life. Practice various expressions to understand her range of emotions.
Congratulations on taking this artistic journey in learning how to draw Jinx from Teen Titans. If you found this guide insightful and wish to support more such content, consider donating to SketchOk. Every donation not only aids in creating more tutorials but also lets you suggest future tutorial topics. I prioritize these suggestions, so your desired topics might come to life faster! Share this guide with fellow art enthusiasts, and if you wish to stay updated with our tutorials, don't forget to follow us on our social media platforms.
Thank you for your constant support. Happy sketching, and keep exploring the fascinating world of art!