When we talk about magical characters that resonate with youthful spirit and joy, Shimmer stands out. This lively genie from "Shimmer and Shine" not only represents a world of wishes but also the essence of fun, love, and eternal optimism. If you're looking forward to learning how to draw Shimmer, you're in for a magical art journey.
Character Highlights: Understanding Shimmer's Appearance
Genie Aura: Shimmer's whole persona radiates a certain genie magic. Her fair skin, combined with her hot pink hair tied in a high ponytail, gives her a distinct look.
Facial Details: Her sparkling light blue eyes, adorned with five thick lashes, capture attention instantly.
Signature Outfit: Donned in a light purple genie outfit, Shimmer rocks matching shoes and a belt. Her golden wrist cuffs and green teardrop-shaped gem accessories (headpiece, earrings, necklace) complete her enchanting appearance.
Guidance on the Guide
Before diving into sketching, it's essential to understand our guide's color coding. This ensures a smooth drawing experience:
Red Color:

Highlights the current drawing step.

Black Color:

Indicates the lines drawn in the previous steps.

Grey Color:

Demonstrates the basic sketch for proportions.
Our guide comprises 10 comprehensive steps. The very first 2 steps are crucial as they lay the foundational sketch. Upon completion, artists have the choice to ink the sketch. Remember, after inking, wait for it to dry thoroughly before erasing the pencil marks to avoid smudging.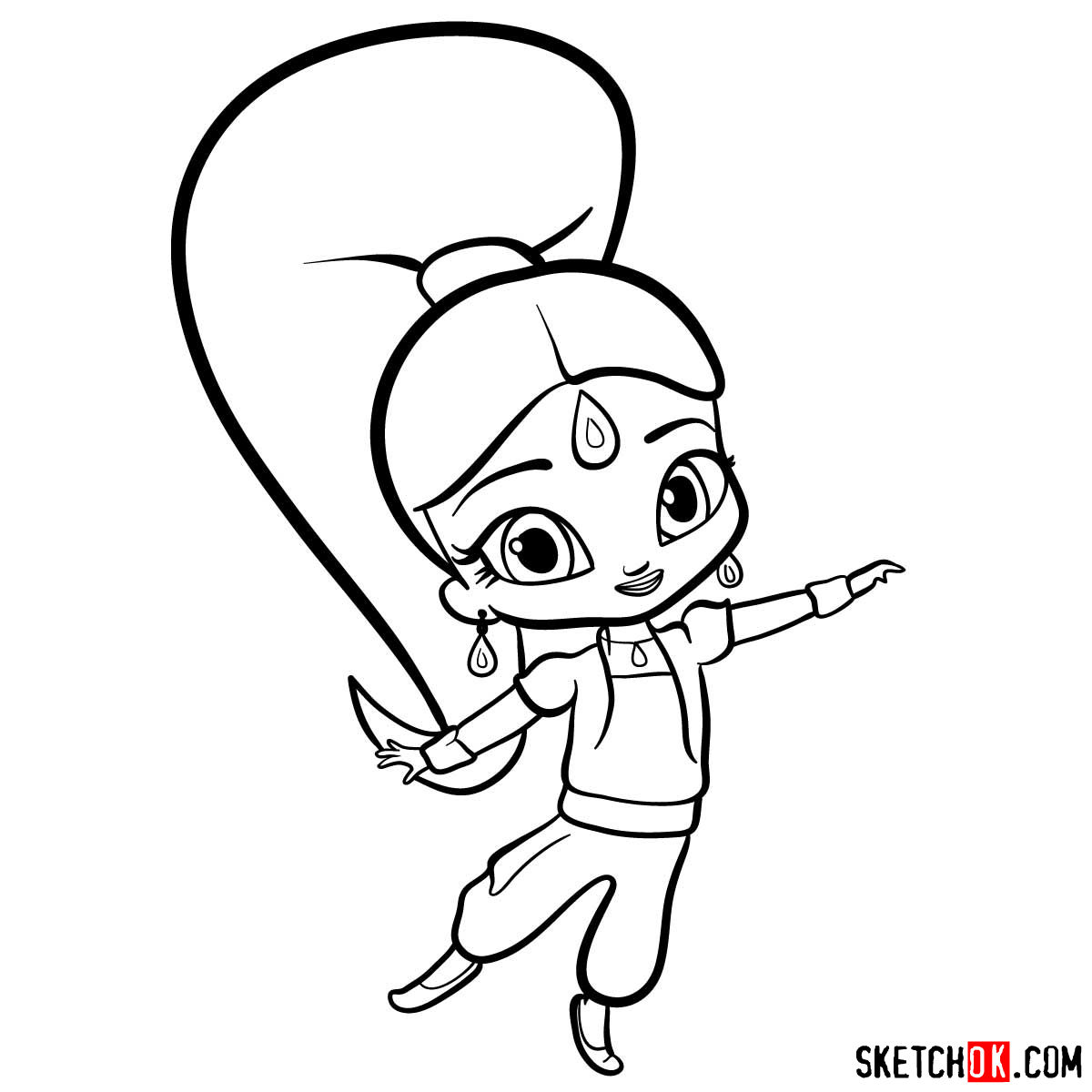 Wrapping up Your Genie Journey
Having ventured through this artful escapade, I hope you've grasped how to draw Shimmer. Sharing this guide with fellow art enthusiasts can help spread the magic. Also, by donating, you not only support our initiative but also contribute ideas for upcoming tutorials. Such gestures enable us to continue crafting free drawing guides for everyone.
Stay connected with us and share your masterpieces on Facebook, Instagram, and Pinterest. Every sketch counts, and we love to see them!