Renowned and cherished by kids (and adults) globally, Peppa Pig is a symbol of childhood innocence, adventure, and joy. While her escapades often include jumping in muddy puddles, today we'll illustrate her indulging in a different delight – enjoying an ice cream. Join us in this delightful journey and learn how to draw Peppa Pig with the ice cream.
Get Familiar with Peppa's Distinct Features
Color: Peppa is a light pink pig with a shade of brighter pink on her cheeks and lips.
Facial Features: Peppa has small ears, a classic pig snout, and a curly tail, making her unmistakably endearing.
Attire: More often than not, she sports a red dress, accompanied by black shoes. But like all of us, Peppa enjoys dressing up, especially when the weather calls for it.
If you find joy in drawing Peppa, consider adding her family members like George, Mummy or Daddy to create a fun scene around her!
Guidelines and Color-Coding Insights
Red Color:

Denotes the current drawing step, ensuring you stay on track.

Black Color:

Showcases the previously drawn lines, helping you keep a reference.

Grey Color:

Illustrates the basic sketch for proportion.
This drawing tutorial consists of 9 methodical steps. The beginning step is dedicated to crafting a foundational sketch. By the end of the guide, artists can opt to ink their sketch. Remember, after inking, patience is crucial. Wait for the ink to dry completely before erasing the pencil traces to avoid any smudging.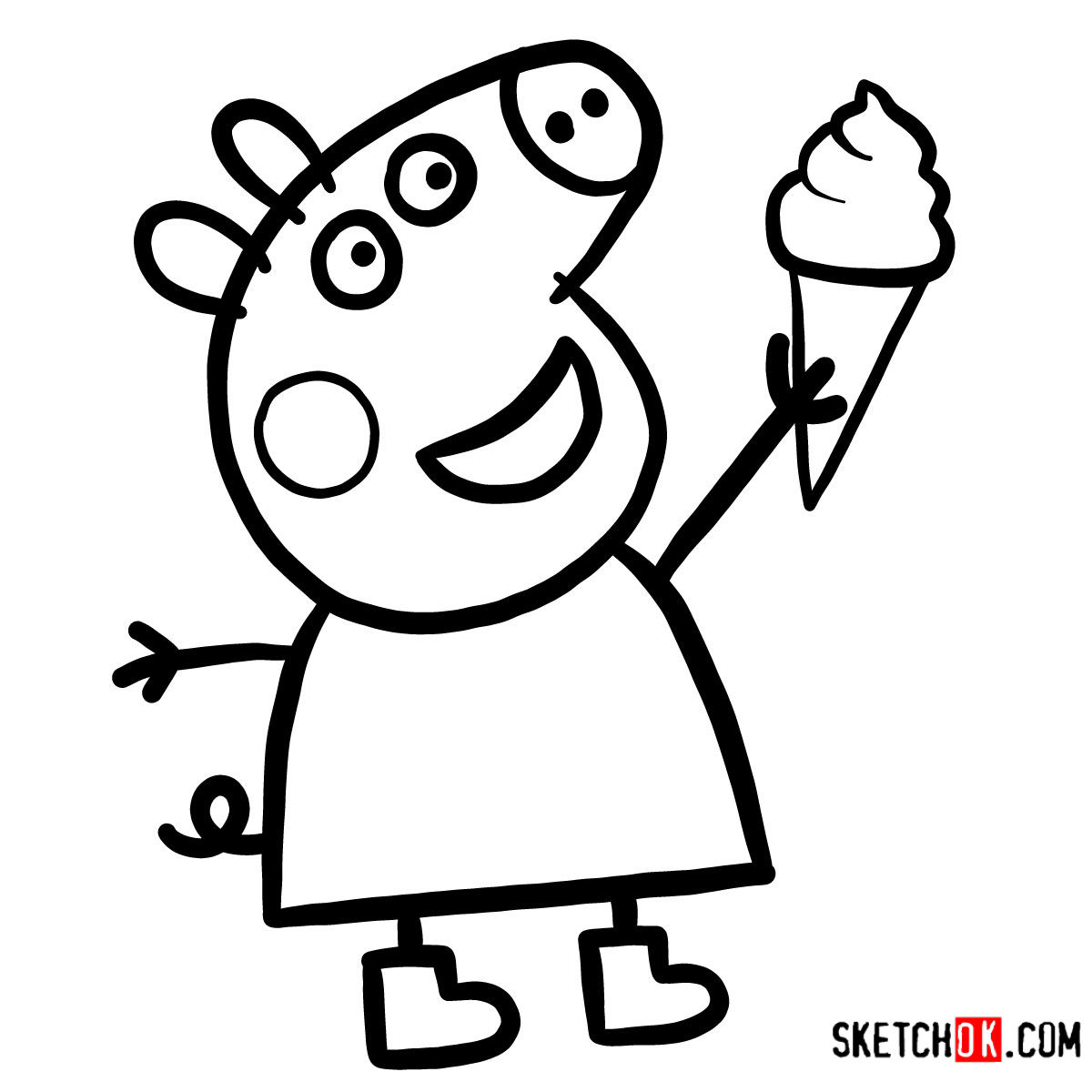 Frequently Asked Queries
What's the trick to drawing Peppa's snout?
The key lies in simplicity. Begin with a circular shape, slightly tilted. Make sure it's proportionate to the face. Add two small circles/dots for nostrils, and you have Peppa's snout!
How to achieve the perfect ice cream cone for Peppa?
Start with a small semi-circle for the ice cream scoop. Below it, sketch a long triangle for the cone. Add some texture to the cone, and maybe a little drip for realism!
Concluding Thoughts and a Warm Thank You!
I hope you enjoyed learning how to draw Peppa Pig with an ice cream as much as we enjoyed curating this guide for you. Should you wish to support our cause and desire for more tutorials, kindly consider donating. Your contributions assist us in crafting free drawing guides and allow you to suggest future tutorial ideas! Moreover, don't hesitate to share our guide across the web and join us on Facebook, Instagram, and Pinterest. Together, we can make the world sketch a little brighter each day.