Ever been enchanted by the charm of Ponyville's beloved teacher? Now, learn how to draw Cheerilee from My Little Pony with finesse and detail. This guide will walk you through the nuances of sketching this delightful character, ensuring your drawing is brimming with life and accuracy.
Grasping Cheerilee's Distinct Appearance
Cheerilee is not just any earth pony; she stands out with her specific features. To ensure your drawing of Cheerilee is as authentic as possible, it's essential to keep these elements in mind:
Facial Expression: Always cheerful, and radiating positivity.
Coat: A vibrant shade of mulberry that reflects her character's energy.
Mane: Flowing in hues of cotton candy and pig pink, with the latter forming a center streak.
Eyes: Alight with wisdom and joy, and painted in a captivating green.
While drawing Cheerilee, it might also be fun to include other characters like Carrot Top or Twilight Sparkle for added context.
Deciphering the Guide's Color Coding
This guide, tailored to assist budding artists, employs a color-coded system to simplify the drawing process:
Red Color:

Represents the current step.

Black Color:

Denotes the lines previously drawn.

Grey Color:

Illustrates the basic proportions and initial sketch.
This tutorial contains 13 methodical steps. The initial step emphasizes crafting a rudimentary sketch, with light pencil strokes to get proportions right. As you near completion, consider inking your sketch for a polished look. However, ensure the ink dries thoroughly before erasing the pencil sketch, to maintain the drawing's integrity. Finally, the last image showcases a vividly colored drawing of Cheerilee, serving as a color reference for enthusiasts looking to breathe life into their sketches.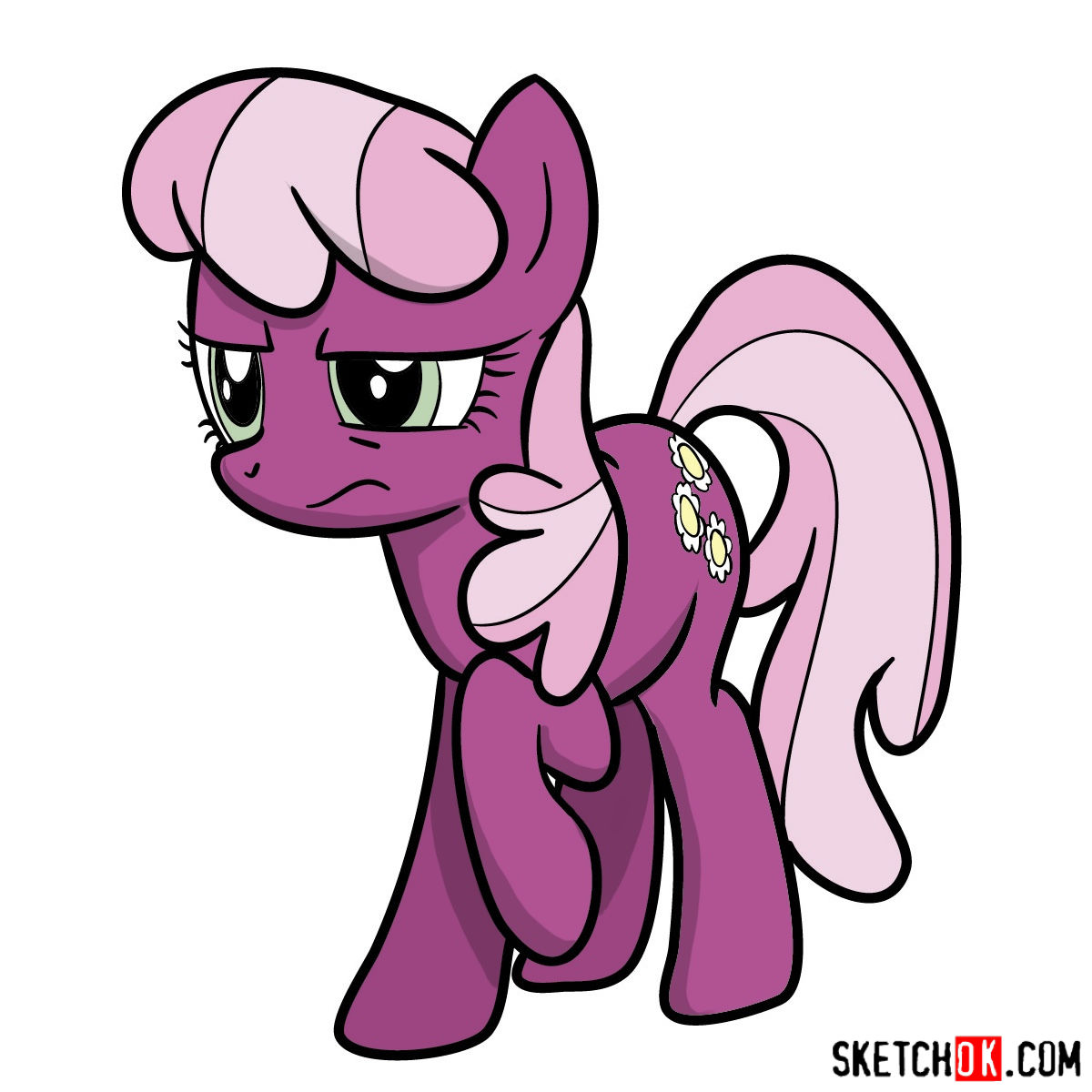 Frequently Asked Questions
What technique should I adopt to capture Cheerilee's unique mane?
Given Cheerilee's distinctive cotton candy and pig pink mane, start by drawing the basic outline. Focus on creating wavy and voluminous locks. Introduce the pig pink streak at the center, ensuring it's visibly distinguished from the other shades. Gradual shading can help bring depth to the mane, making it look more realistic.
By now, you should be well-equipped on how to draw Cheerilee from My Little Pony. But remember, art thrives in community. If you've benefited from this guide, please consider donating to support the creation of more free drawing tutorials. Your contributions allow you to suggest ideas for new tutorials and ensures the sustainability of the SketchOk project.