Monster High is known for its diverse and unique cast of characters, and one of the most memorable scenes features our today's characters riding a scooter. In this guide, we will show you how to draw Slo Mo with Ghoulia Yelps on a scooter and capture the essence of this iconic moment.
Getting to Know Slo Mo and Ghoulia Yelps
Before starting your drawing, it's essential to understand the characters and their relationship. Slo Mo, or Sloman Mortavitch, is a zombie and one of the smartest students at Monster High. He has cool-toned grey skin, dark blue hair, and typically wears a Monster High uniform jacket, dark blue jeans, and blue and white running shoes.
Ghoulia Yelps, also a zombie, is known for her intelligence and love for her scooter. She has blue hair, glasses, and often wears a red and black striped top, a blue skirt, and knee-high boots. Ghoulia and Slo Mo share a special bond, with mutual romantic feelings that make their scooter adventures even more endearing.
Creating Your Slo Mo with Ghoulia Yelps Drawing
As you begin learning how to draw Slo Mo with Ghoulia Yelps on a scooter, start with a basic sketch to establish the proportions of the characters and the scooter. Next, add details to their clothing, facial features, and the scooter. In the images, red color indicates the current drawing step, grey shows the basic sketch and black is about previously drawn lines.
Once the sketch is complete, begin inking your drawing to solidify the lines and finalize the appearance of Slo Mo, Ghoulia, and the scooter. Finally, bring your drawing to life with color, paying close attention to the color palette used for their skin, hair, clothing, and the scooter.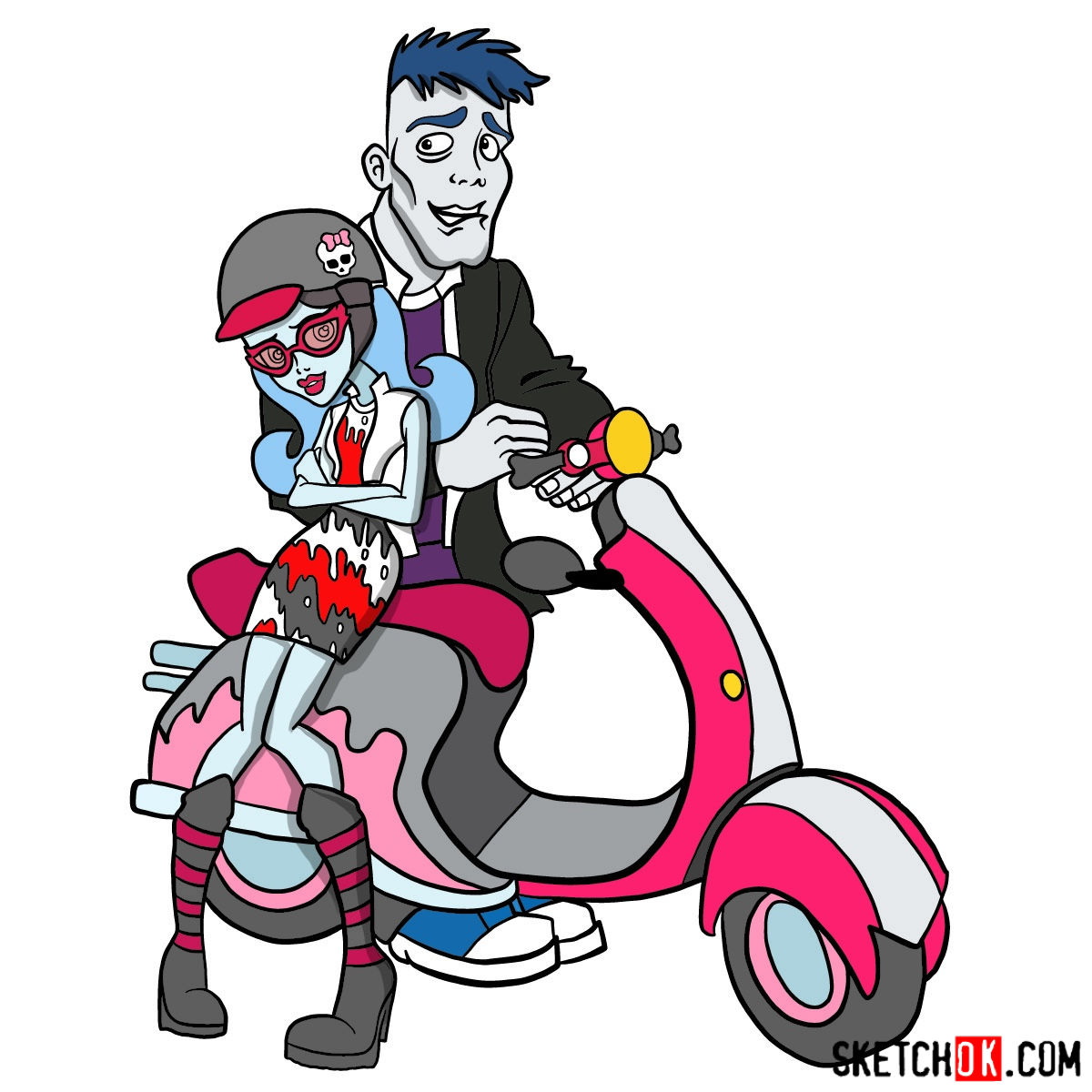 Incorporating Related Characters
For a more dynamic drawing, consider incorporating related characters from Monster High. Some characters to include might be Cleo de Nile, Ghoulia's close friend who helps her retrieve her stolen scooter; and Toralei Stripe, the antagonist in Ghoulia's scooter storyline.
With practice and patience, you'll soon master the art of drawing Slo Mo with Ghoulia Yelps on a scooter and capture the magic of their iconic Monster High moment. Keep refining your sketch, inking, and coloring techniques to improve your overall drawing skills. As you become more confident in your abilities, you can experiment with different poses, expressions, and interactions between Slo Mo, Ghoulia, and other related characters. By following these guidelines and embracing your creativity, you'll be able to create stunning, memorable artwork featuring Slo Mo and Ghoulia Yelps on their scooter adventures. Happy drawing!