Art is a journey, and today, our journey plunges into the deep, mystical waters and ghostly realms of Monster High. If you've ever wondered how to draw Sirena Von Boo, the enchanting mermaid ghost of the school, you're in the right place. With every stroke and shade, we'll bring her to life on paper, capturing her ethereal beauty and unique heritage.
The Allure of Sirena Von Boo: Key Features to Capture
Stark White Skin: Sirena's spectral skin tone is a beautiful shade of stark white, blending seamlessly into her shimmering tail.
Mesmerizing Tail: Her tail is a magnificent gradient, transitioning from silver to blue, and finally to black at the tip.
Ultramarine Hair: Cascading past her waist, her ultramarine locks are infused with soft lavender streaks, partially coiled and twisted while the rest flows in elegant side-curls.
Ethereal Eyes: Her captivating blue eyes reflect the depths of the oceans she loves.
Ghostly Arms: From the elbows, her skin fades into an otherworldly black, symbolizing her ghostly lineage.
Chains and Accessories: True to her underwater treasure-hunting spirit, Sirena adorns herself with chains around her tail, a chain necklace, and unique double round chain earrings.
For those looking to expand their drawing repertoire, consider sketching Sirena alongside her hybrid pals like Avea or Neighthan, creating an ensemble of Monster High's most distinctive characters.
About This Guide: Colors and Steps
Before we embark on this artistic adventure, it's crucial to familiarize ourselves with the guide's color-coded cues:
Red Color:

Signifies the current step in your drawing process.

Black Color:

Highlights the lines you've drawn in the preceding steps.

Grey Color:

Demonstrates the basic sketch and proportion outlines. For these, gentle and light pencil strokes are best.
Comprising 18 steps, the initial image sets the basic sketch's foundation. Once your sketch comes alive, artists have the option to ink it for enhanced definition. It's vital to patiently await the drying of the ink before erasing underlying pencil strokes, ensuring a smudge-free masterpiece. Ultimately, the last image serves as a colored reference, helping to infuse life into Sirena.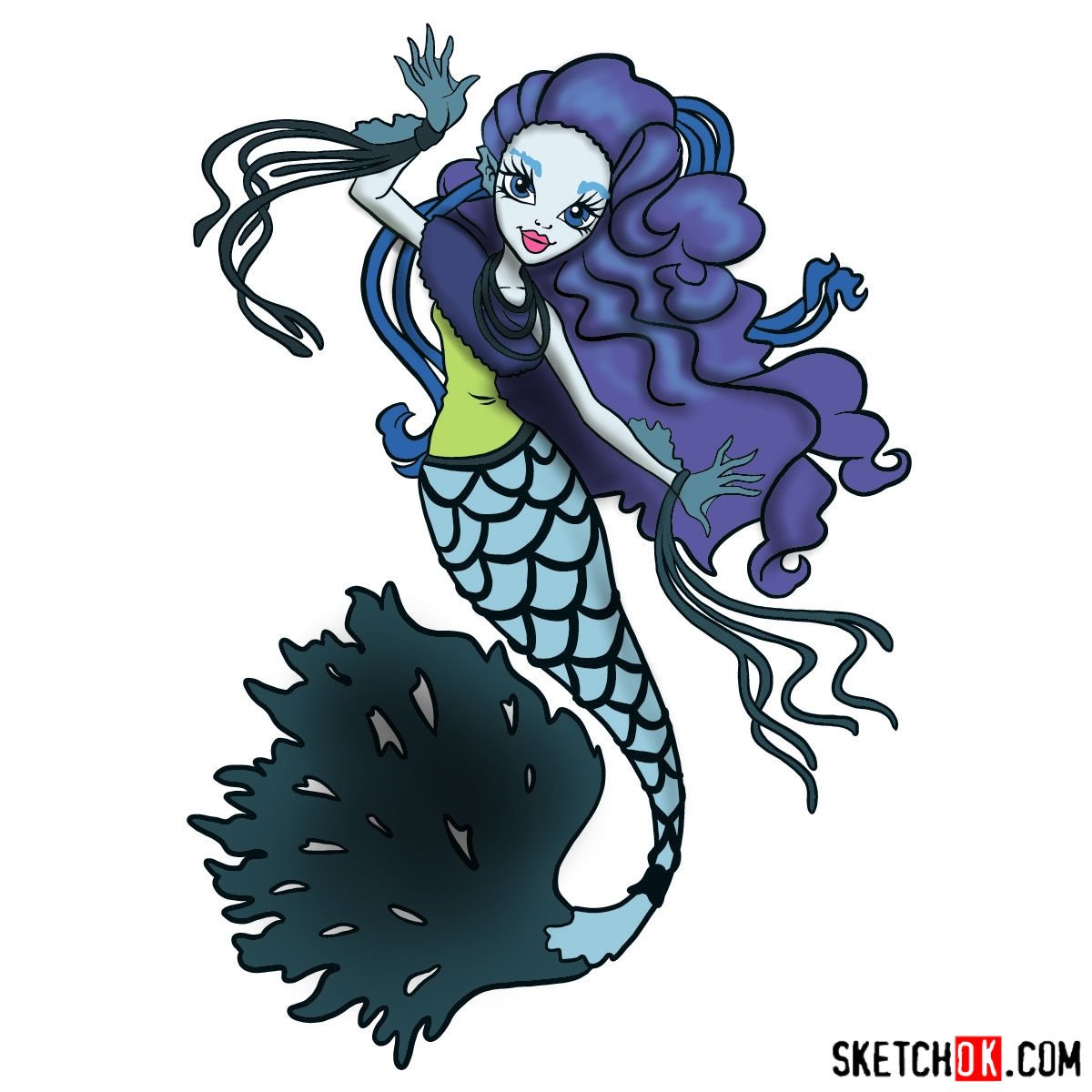 As I look at this beautiful guide, I'm reminded of the endless possibilities art offers. By learning how to draw Sirena Von Boo, you're not just sketching an image; you're capturing a story, a spirit, and an essence. If this guide has ignited your artistic flame, consider spreading this joy. Share this tutorial far and wide, introduce others to the magic of drawing.
Your support keeps the passion alive. By donating, you play a pivotal role in sustaining free drawing tutorials, empowering others to suggest fresh tutorial ideas, and ensuring the SketchOk legacy continues.
Stay connected and inspire others with your creations! Follow us on Facebook, Instagram, and Pinterest.