Are you a fan of Monster High and looking for a fun and creative project? Look no further! In this tutorial, we'll show you how to draw Deuce Gorgon, the handsome son of Medusa, and one of the most popular characters at Monster High. With our simple tips and tricks, you'll be able to create an impressive rendition of Deuce in no time!
A Brief Overview of Deuce Gorgon
Deuce Gorgon is known for his cool, relaxed demeanor and his unique appearance. He has green, scaly hair with snakes forming a "snake-hawk" on top of his head. He also sports green eyes that can turn people to stone, which is why he wears sunglasses. Deuce is a talented athlete and an excellent cook, making him a well-rounded and intriguing character.
Getting Started: Materials and Color Guidelines
Before diving into the drawing process, gather your materials such as pencils, erasers, paper, and coloring tools (markers or colored pencils). As you follow the tutorial, pay attention to the color guidelines: the red color in the image shows the current drawing step, the grey color represents the basic proportions sketch, and the black color indicates the previously drawn lines.
Creating Deuce Gorgon Step-by-Step
Now that you're ready to draw Deuce Gorgon, let's break down the process into four main stages:
Basic Sketch: Start by creating a basic structure of Deuce Gorgon using light pencil strokes. This will help you establish the correct proportions and serve as a foundation for the rest of the drawing.
Adding Details: Once you have the basic sketch, begin to refine it by adding details like the snake-hawk, sunglasses, and facial features.
Inking: After your sketch is complete, outline the drawing with ink or a darker pencil to define the lines and make the image stand out.
Coloring: Finally, add color to your drawing using your preferred coloring tools. Pay attention to Deuce Gorgon's signature green scales and snake-hawk, as well as his sunglasses and clothing.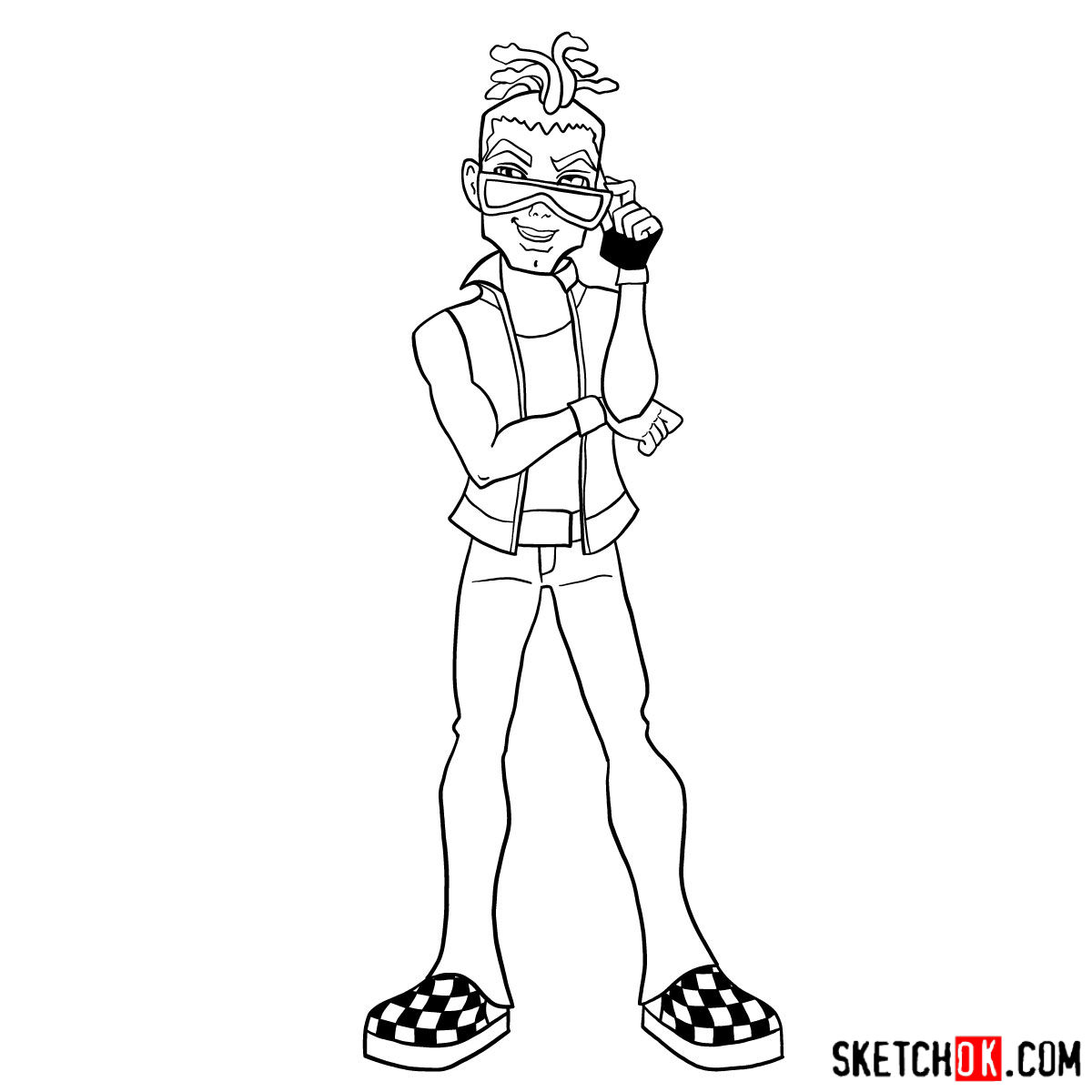 Remember, practice makes perfect! The more you draw Deuce Gorgon, the better you'll become at capturing his unique appearance and personality.
Now that you've learned how to draw Deuce Gorgon, it's time to show off your artistic talent! Share your masterpiece with friends, family, or even online. And don't forget to explore other Monster High characters and improve your drawing skills even further. Keep practicing and have fun!