Who could resist the charm and wit of King Julien XIII? As one of the standout characters in the Madagascar franchise, this lemur has danced and schemed his way into our hearts. But how do you capture such charisma on paper? Whether you're an avid fan or a budding artist, our guide on how to draw King Julien promises to be a fun artistic journey.
King Julien's Signature Look
Species Distinction: King Julien is a ring-tailed lemur, recognizable by his distinct black, white, and grey tail bands.
Unique Features: Unlike other lemurs in his kingdom, King Julien boasts pointed ears, a thin snout, a slim physique, and a particularly small face. These characteristics give him a regal and handsome appearance.
About the Guide
In this tutorial, we offer a systematic breakdown into 10 definitive steps to sketch King Julien. Before we venture further, let's understand the color coding:
Red Color:

This signifies the current step in your drawing.

Black Color:

Represents lines you've drawn in previous steps.

Grey Color:

Denotes the basic proportionate sketch, which should be crafted with light pencil strokes. This foundational sketch will ensure the final image is proportionally accurate.
The first stage of the process is vital as it lays down the basic structure of King Julien. And if you're looking to ink your sketch, ensure you do so only after the ink is dry. This way, erasing the pencil lines later becomes a breeze without smudging the inked outlines.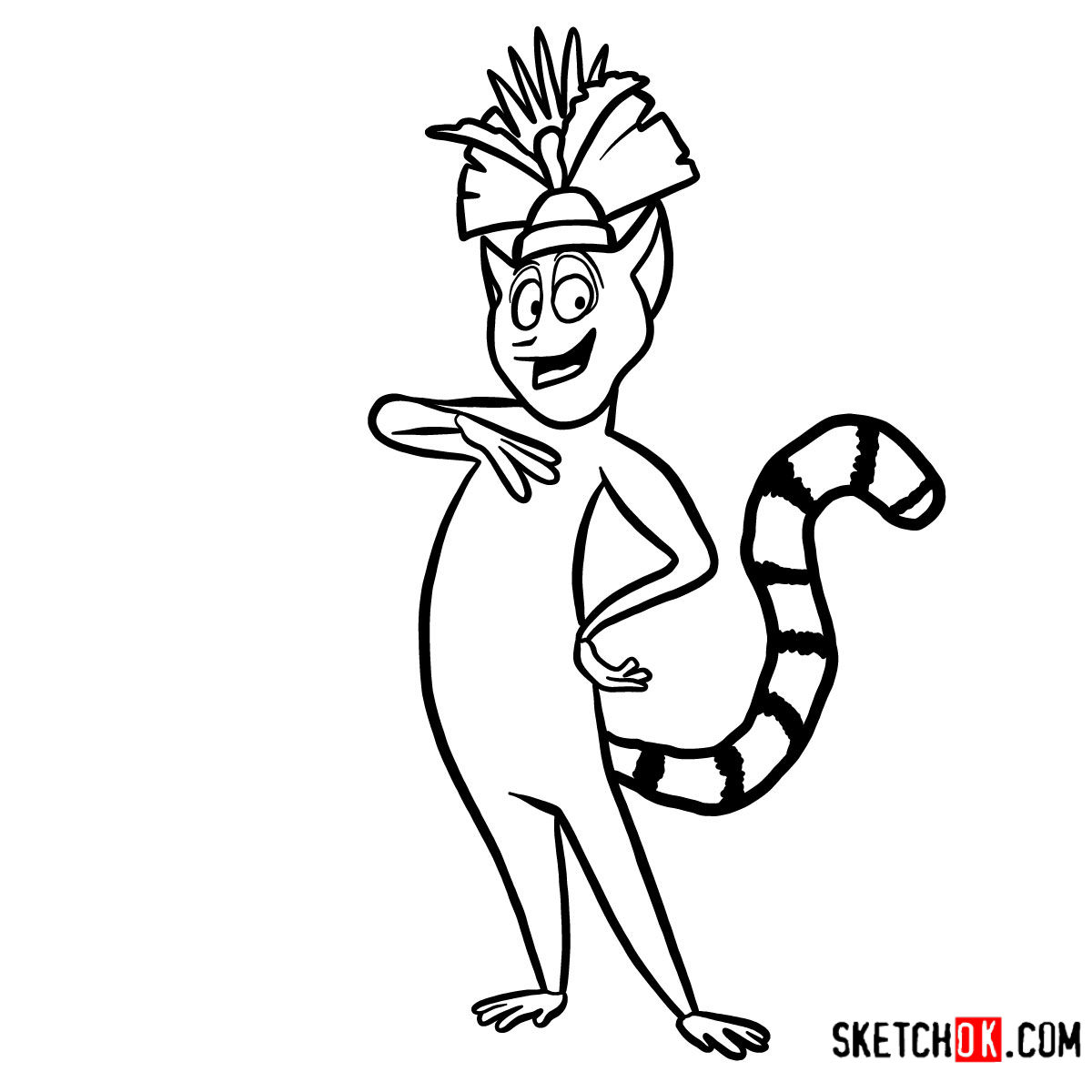 Concluding Your Artistic Quest
As we conclude our guide on how to draw King Julien, remember that every sketch is a unique rendition of the artist's perspective. If you've enjoyed this journey, consider sharing the guide with fellow art enthusiasts. Your support breathes life into this initiative, and if you wish to contribute further, consider making a donation. Each donation brings with it the privilege of suggesting topics for future tutorials. Your suggestions will be our primary focus, promising faster and tailored tutorials.
Thank you for joining us, and here's to many more sketches and artistic adventures ahead!