Among the animated heroes who have captured our hearts is Diego Beltrán Márquez de León, an 8-year-old Latino action-adventure enthusiast. With a mission centered on saving animals and their habitats, he's not just a cousin to Dora but a standalone hero in his own right. If you've ever been intrigued by how to draw Diego, our guide will pave the way for you, unraveling each step for a perfect rendition.
Unraveling Diego: Key Features and Drawing Essentials
Skin: Diego has a dark-tan complexion, which brings warmth to his character.
Eyes: Deep brown eyes that are expressive and full of wonder.
Hair: Short, brown hair which complements his youthful appearance.
Outfits: Ranging from a dark blue shirt and green cargo shorts to a red sweatshirt and black cargos, Diego's attire is both vibrant and functional.
Accessories: Don't forget his gadgets, gizmos, and varying watches across episodes.
Once you've nailed the drawing of Diego, considering adding other characters like Boots, Isa, or Benny for an adventurous composition! As this guide primarily focuses on the sketch, we won't delve into the colors but will ensure the lines capture Diego's essence.
Decoding the Guide: Colors, Steps, and Techniques
Red Color:

Highlights the current drawing step for your immediate attention.

Black Color:

Indicates the lines you've already drawn in previous steps.

Grey Color:

Showcases the basic proportionate sketch, your foundation for the detailed drawing.
Across the 12 deliberate steps, we initiate with the basic skeletal structure. By the concluding stages, you have the liberty to ink the sketch. It's crucial to ink with patience, allowing it to dry completely before erasing the pencil marks, ensuring a neat finish without smudges.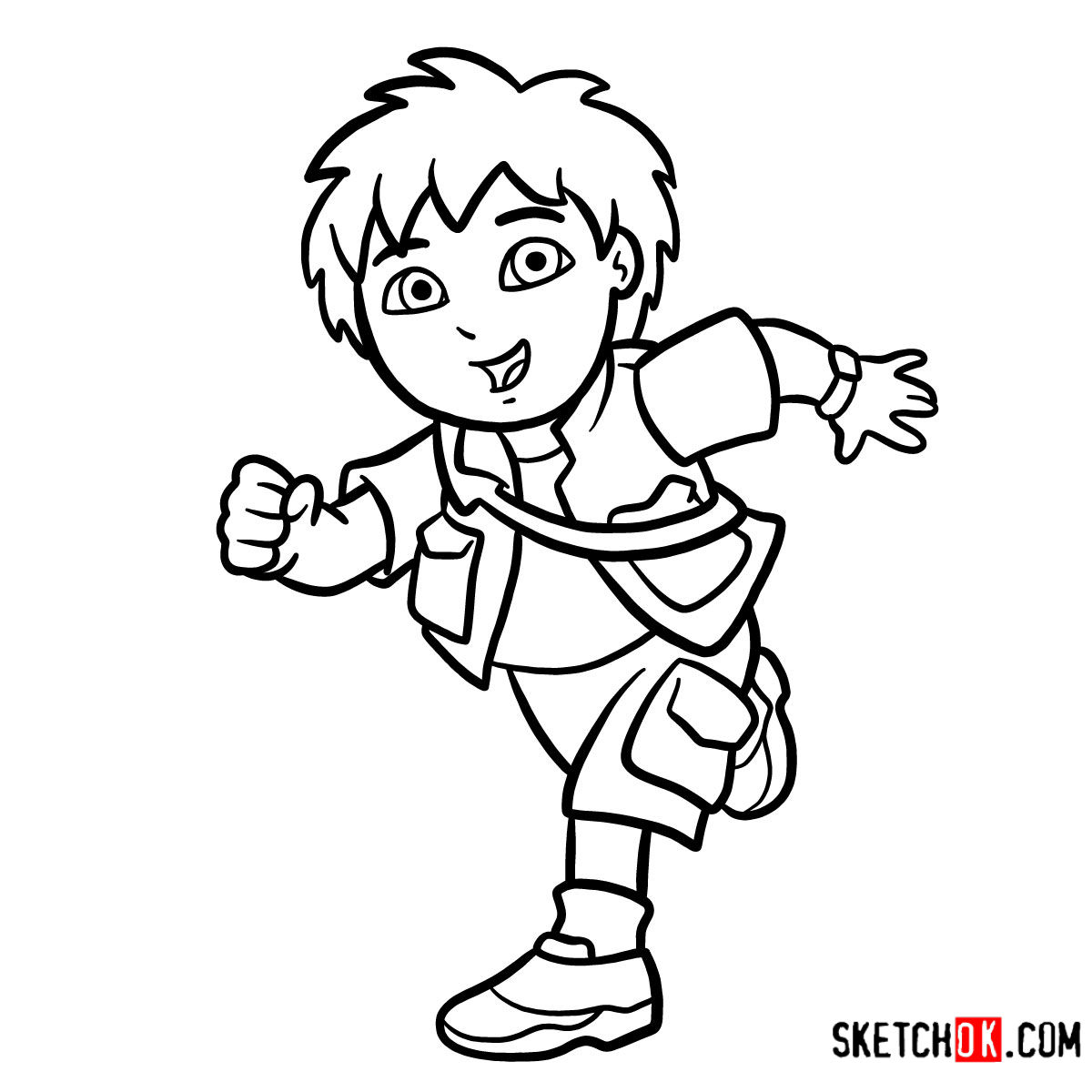 Bringing Diego to life on paper is a rewarding journey, a blend of understanding character nuances and refining your drawing skills. By following this guide on how to draw Diego, you've taken a significant stride in artistic mastery. Should you wish to further support my efforts and even suggest topics for future tutorials, I wholeheartedly welcome it. Your support can be expressed through a generous donation on Buy me a coffee, where your suggestions will be given prime consideration. Sharing this guide with fellow enthusiasts, or connecting with us on Facebook, Instagram, or Pinterest goes a long way in strengthening our community. Here's to many more drawing adventures together!