For fans of the ever-entertaining world of 'Archer', the iconic character of Woodhouse holds a special place. His commitment, patience, and unwavering dedication to Sterling Archer not only added a layer of depth to the series but also made him a beloved figure. If you've ever wanted to encapsulate his charm in a sketch, you're in the right place. This guide will walk you through the process of how to draw Woodhouse, the unforgettable valet.
Woodhouse: A Stalwart in the Chaotic World of Archer
Facial Features: His age is evident in his features. Wrinkles, deep-set eyes, and thinning hair are his distinctive characteristics.
Posture: Often seen in a poised stance, embodying his role as a dedicated valet.
Attire: Typically dons a suit or a formal valet outfit that aligns with his role.
Companions: If you're looking to add depth to your drawing, consider adding a younger Sterling Archer, highlighting the deep bond and history between the two characters.
Deciphering the Drawing Guide
Before we jump into the drawing, it's essential to understand the guide's color-coding:
Red Color:

Represents the current drawing step. Focus on this!

Black Color:

These lines showcase previously drawn steps.

Grey Color:

This indicates the basic proportion sketch. Remember to sketch lightly!
Our tutorial comprises 9 carefully curated steps, starting with the basic proportion sketch. As you conclude the drawing, there's an option to ink your sketch. Inking not only adds finesse but also prepares the drawing for coloring, should you choose to proceed. Remember to let the ink dry before gently erasing the pencil marks to avoid smudging.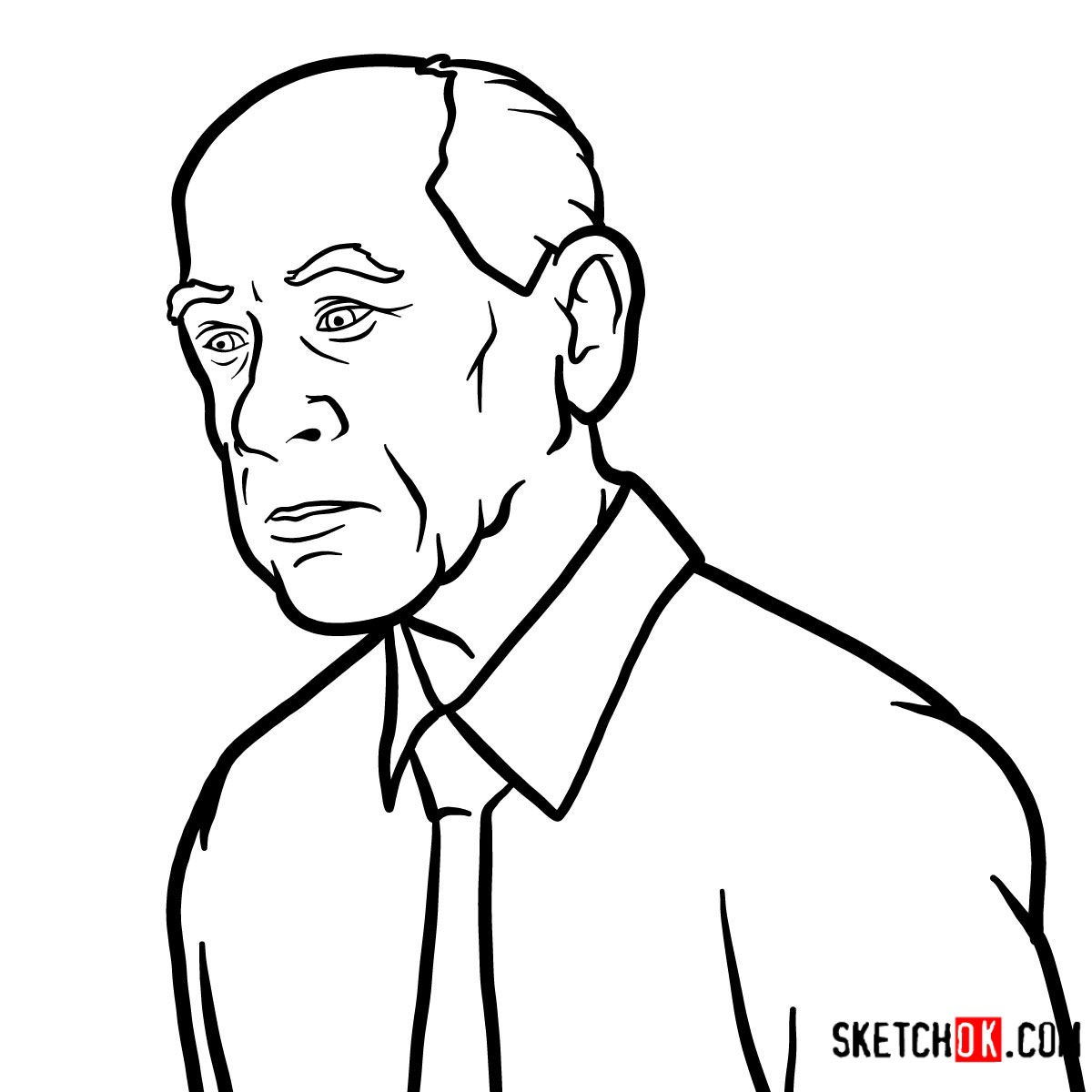 Sketching Woodhouse is not just about drawing a character; it's about encapsulating a persona. And with this guide on how to draw Woodhouse, you're well on your way to mastering it. However, to keep such tutorials flowing and aid passionate artists like you, we need your support. Your donations go a long way in keeping our SketchOk project alive and allow you to suggest ideas for future guides. The world of art thrives on sharing, so don't forget to share this guide with others. Spread the joy of drawing and let's continue creating together!
Support us here: Donate
Stay connected and get updates on our tutorials:
Facebook |
Instagram |
Pinterest