Welcome to our comprehensive guide on how to draw Princess Cookie. Drawing may seem complex at first, but with our easy-to-follow instructions and images, you'll craft your very own Princess Cookie sketch in no time.
Understanding Princess Cookie: Key Features and Companions
Princess Cookie, often simply called Cookie or Baby Snaps, is a unique Candy Person in Adventure Time with a poignant backstory. Before diving into the drawing process, let's get familiar with the character's significant attributes:
Form: A light brown cookie.
Distinct Features: Dark brown chocolate chips dotted across his body.
Facial Details: Large, expressive eyes with black pupils and a noticeable mouth.
Physique: Thin arms and legs, highlighting his delicate nature.
Considering adding more depth to your drawing? Think about including other related characters like Princess Bubblegum, the reason behind Princess Cookie's actions, or even the Banana Guards that play an essential role in his story.
Navigating Through Our Guide: Symbols and Steps
Our guide is designed to provide a seamless drawing experience. Here's what you need to know:
Red Color:

Indicates the current drawing step.

Black Color:

Represents the lines you've previously sketched.

Grey Color:

Demonstrates the basic proportion sketch. Start with light pencil strokes for this initial step.
We've broken down the drawing process into 8 manageable steps, with the first step focusing on establishing the basic sketch. Once you've followed through with the steps, you can opt to ink your drawing. If you decide to ink, it's vital to let the ink dry fully. This will prevent any smudging and ensure a clean result. After the ink settles, gently erase the initial pencil sketch. And remember, our final image serves as a reference for color, should you wish to paint or color your artwork later.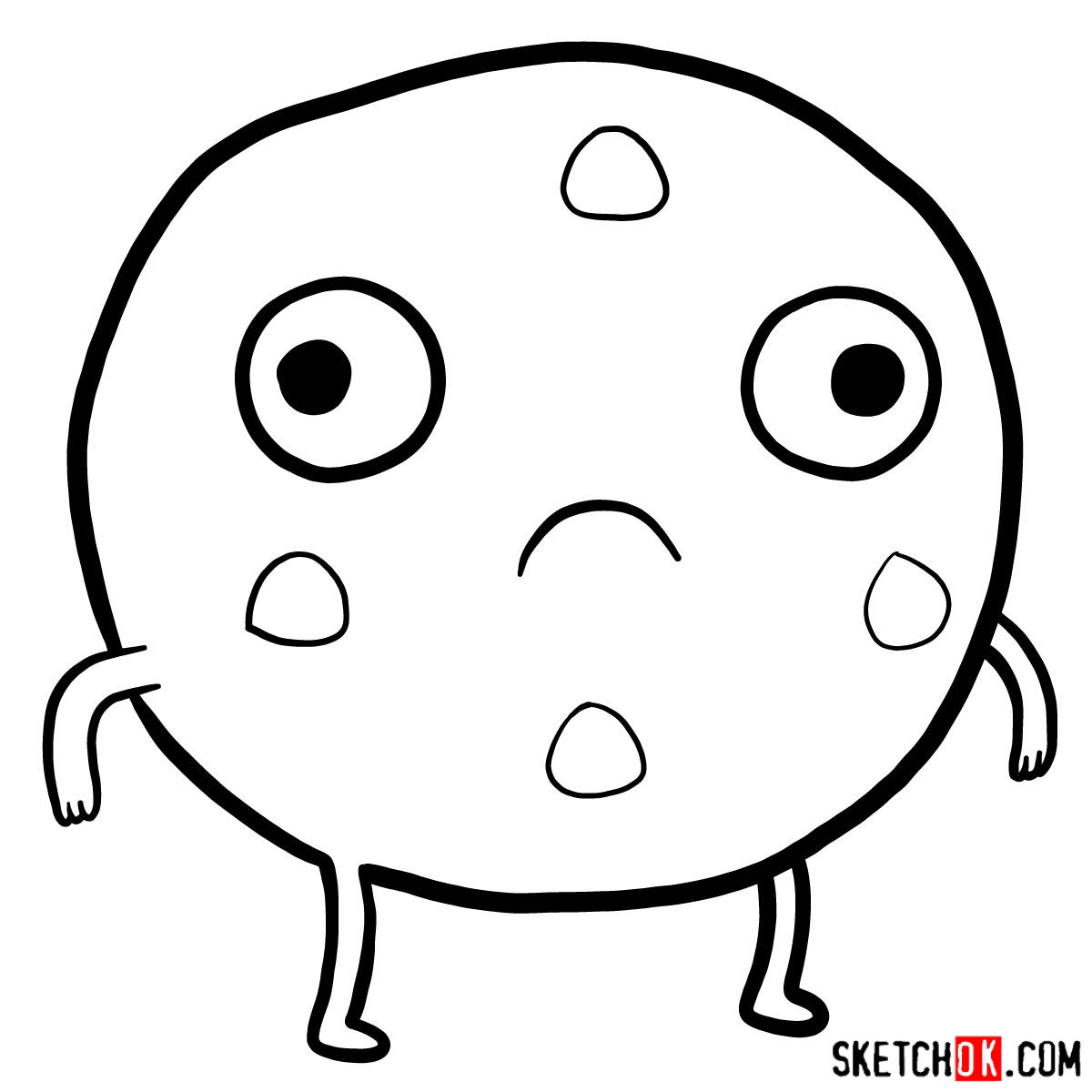 From the heart of the artist behind SketchOk, I urge every art enthusiast and follower to share this guide. Whether you're an amateur or a seasoned artist, sharing helps in spreading the joy and beauty of art. By donating, you not only support the SketchOk project but also play a pivotal role in suggesting ideas for future tutorials. Your contributions aid in crafting more free drawing guides, ensuring that the art community flourishes.
Stay connected with us and never miss an update! Follow us on Facebook, Instagram, and Pinterest.
In conclusion, mastering how to draw Princess Cookie is not just about perfecting the lines and curves but also about understanding the emotions and stories of the characters. Dive into this artistic journey and unveil your unparalleled creative side. Remember, every artwork is a masterpiece, and every artist has a unique story to tell.