Embarking on a new artistic journey? There's no better way than exploring the vibrant world of Adventure Time! Among the colorful inhabitants of the Candy Kingdom, one stands out both for its unique appearance and its role in protecting Princess Bubblegum: the Banana Guard. This guide will provide you with an insight into how to draw a Banana Guard, ensuring every detail is captured with finesse and precision.
Getting to Know the Banana Guard: Key Features
Armor Design: Resembling cut bananas with chocolate drizzled atop, the armor of the Banana Guards is distinctive and intricate.
Stature: Towering over many characters, these guards project an imposing presence in the Candy Kingdom.
Weaponry: Equipped with long bronze sticks topped with diamond-shaped gems, these are more than just ornamental.
Unique Features: Popsicle stick feet.
While you're delving into the Candy Kingdom, consider adding other characters like Princess Bubblegum or even the adventurous Finn and Jake to complete your artistic canvas!
Guide Highlights: Color Coding & Techniques
As you dive into this tutorial, understanding the color guidelines will be pivotal:
Red Color:

Represents the current step. Focus here to progress your drawing.

Black Color:

Illustrates the lines you've drawn in previous steps. It's a reminder of your progress.

Grey Color:

Showcases the basic proportion sketch. Remember, start with light strokes!
This guide will walk you through 11 steps, beginning with the foundational sketch. By the final stages, you'll have the opportunity to ink your sketch. It's crucial to wait until the ink dries fully before gently erasing the initial pencil sketch to avoid any smudges. And as a finishing touch, the last image showcases a colored version of the Banana Guard, serving as a perfect reference for artists who wish to paint their masterpiece.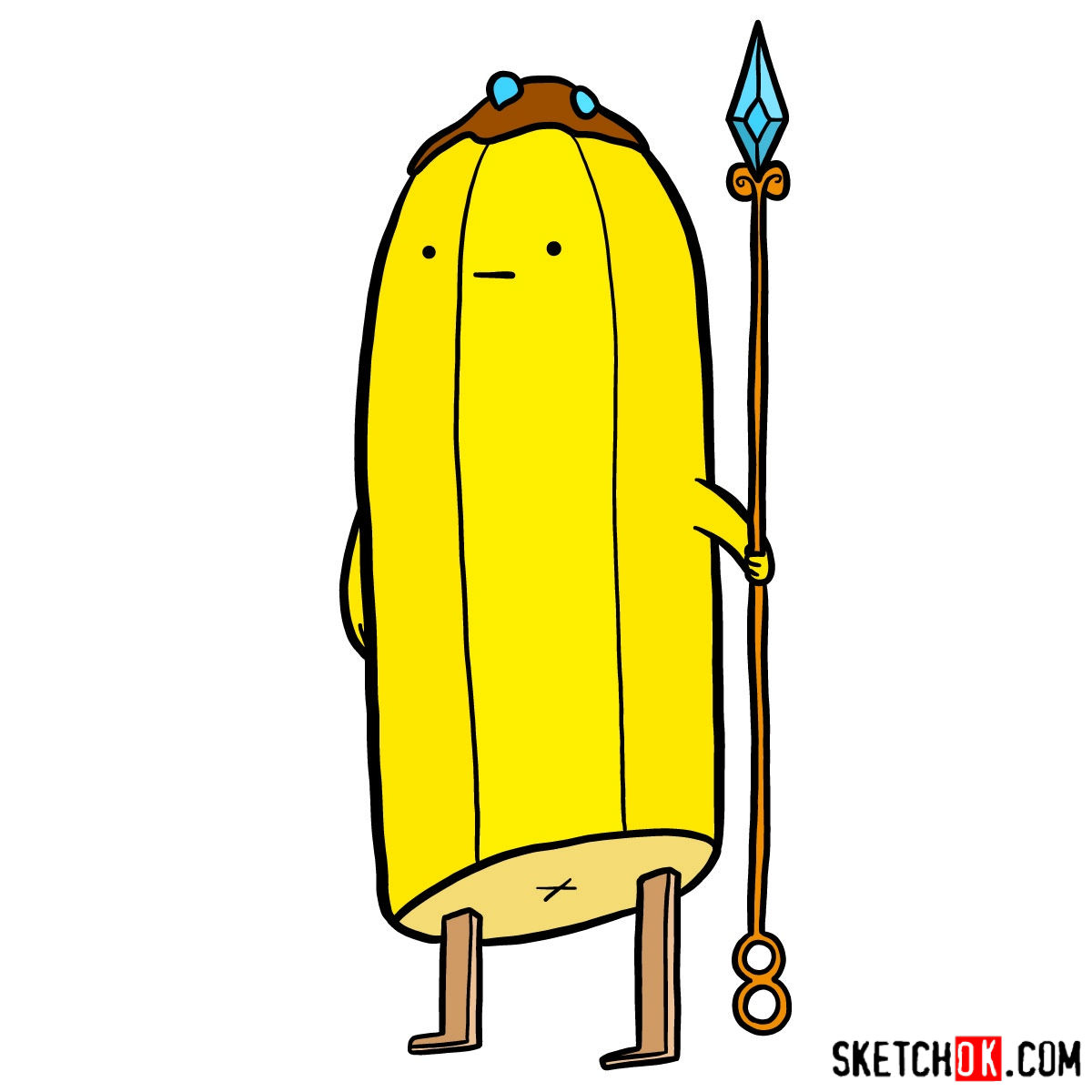 I'm truly grateful for the opportunity to guide fellow artists like you in mastering the art of drawing. By sharing this tutorial, you're not only helping others improve their skills but also supporting the continuation of these free guides. If you've found value in this, consider donating. Donations empower the SketchOk project and allow you to suggest ideas for new tutorials.
Stay updated with the latest tutorials by following us on our social platforms:
Facebook,
Instagram, and
Pinterest.
Remember, every sketch is a step closer to mastering the art. So, pick up that pencil and discover how to draw a Banana Guard today!