Hello there, fellow artists! Welcome to this exciting step-by-step drawing tutorial where we'll learn how to draw the adorable chibi version of Kirito from Sword Art Online. Whether you're a fan of the series or just love drawing cute characters, this guide is perfect for you.
Materials and Tools
Before we begin, let's gather the recommended materials and tools for this drawing tutorial:
A sketchbook
Pencils (preferably light ones for sketching)
An eraser
Fineliners or pens for inking
Coloring tools of your choice (markers, colored pencils, or digital software)
Step-by-Step Drawing Guide
Now, let's dive into the step-by-step process of drawing chibi Kirito. In the tutorial images below, the red color represents the current drawing step, the grey color depicts the basic proportions sketch, and the black color indicates previously drawn lines.
Part 1: Basic Sketch
Our first step is to create a basic structure for our chibi Kirito. Use light pencil strokes to lay out the overall proportions, capturing the cuteness of the chibi style. Focus on getting the head shape, body proportions, and pose just right. Take your time and make adjustments as needed. This initial sketch will serve as the foundation for the rest of the drawing.
Part 2: Refining the Sketch
Now that we have the basic structure, it's time to refine our sketch by adding more details and enhancing the proportions. Pay attention to Kirito's distinct hairstyle, facial features, and clothing elements. Smooth out any rough lines and ensure everything looks cohesive. This step is all about bringing out the character's charm and capturing Kirito's essence in the chibi style.

Step 03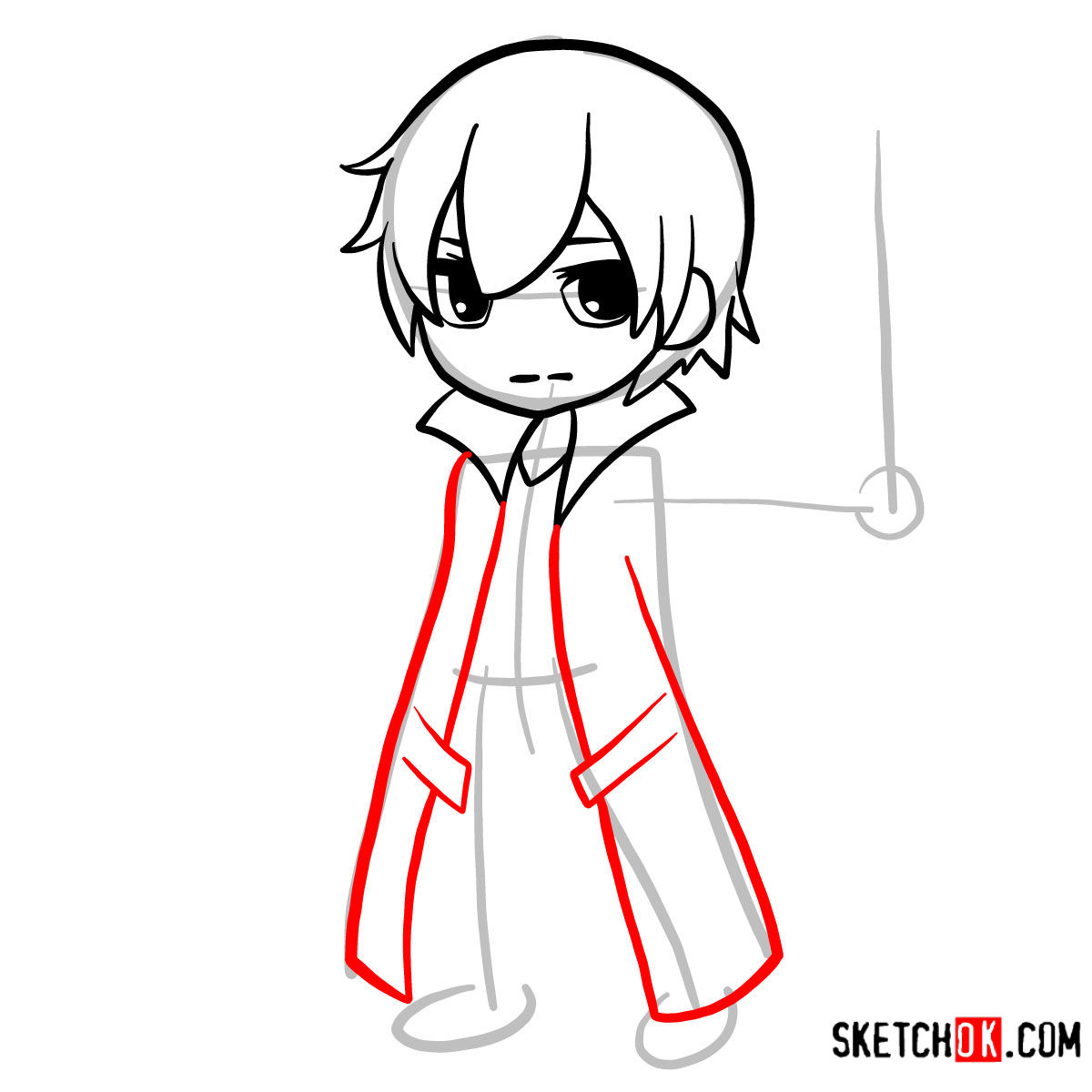 Part 3: Inking
Once you're satisfied with your refined sketch, it's time to ink your drawing. Grab your preferred fineliners or pens and carefully outline the final lines, emphasizing the most important details. Remember to add the iconic accessories and the distinctive patterns on Kirito's clothing. Use bold, confident strokes to give your chibi Kirito a clean and polished look.
Part 4: Coloring and Shading
Now comes the fun part—coloring your chibi Kirito! Choose your favorite coloring tools, whether it's markers, colored pencils, or digital software. Bring Kirito's outfit to life with his signature black trench coat, silver accessories, and any additional colors you'd like to incorporate. Experiment with shading techniques to add depth and dimension to your drawing. Highlight key areas to make your chibi Kirito pop off the page!
Related Characters: Exploring Artistic Possibilities
it's always exciting to explore other characters within the same universe or similar themes. Here are a few related characters you might consider drawing:
Feel free to choose any of these characters as your next artistic endeavor or use them as inspiration to expand your creative horizons.
Frequently Asked Questions
Q: How do I make my chibi Kirito look adorable?
A: To make your chibi Kirito look even more adorable, focus on emphasizing the large head and eyes, creating a cute and chibi-like facial expression. Play with rounded shapes, soft lines, and don't forget to add those signature accessories that make Kirito instantly recognizable.
Congratulations on completing your chibi Kirito drawing tutorial! Remember, practice is key to improving your drawing skills, so keep sketching and exploring the world of chibi art. Don't forget to share your artwork with others and spread the joy of drawing!
If you enjoyed this tutorial and would like to support our content creation, consider sharing the link to this guide with your friends and fellow artists. You can also show your support by following us on our social media accounts:
Additionally, if you appreciate our work and would like to contribute, you can buy us a coffee here. Your support helps us continue creating helpful tutorials and content for aspiring artists like you!
Remember, the world of chibi art is full of endless possibilities, so let your imagination soar. Keep practicing, stay inspired, and enjoy your artistic journey!