Are you an aspiring artist and Pokémon lover looking to combine your passions? Our step-by-step tutorial on how to draw Serperior – the grand Grass-type Pokémon of the Unova region – is here to help you unleash your creativity!
A Look at Serperior
Serperior, a very large reptilian snake-like Pokémon, exudes an aura of grace and majesty. It's known for its regal, stoical demeanor, despite its fierce-looking, bright red eyes. Serperior's striking appearance includes the following key elements:
A white neck and face with a pointy snout
Pale-green designs on top of its head with two yellow leaf-like extensions
Dark green body with a pale-green underside and two swirly yellow designs
Green, leaf-like collar, green on the outside and yellow inside
Two small leaf-like hands that stay mostly behind its back
Serpentine form necessitating slithering for movement
Long, green tail with three small green leaves sprouting from it
You might want to pair your drawing of Serperior with other Pokémon from the Unova region like Chandelure, Zoroark, or Eelektross for a collective showcase!
About the Guide
This guide, consisting of 11 steps, starts with creating a basic sketch of Serperior in the first step. The lines drawn in each step are color-coded for ease of understanding:
Red Color:

Represents the current drawing step.

Black Color:

Showcases the lines you have previously drawn.

Grey Color:

Shows the basic sketch.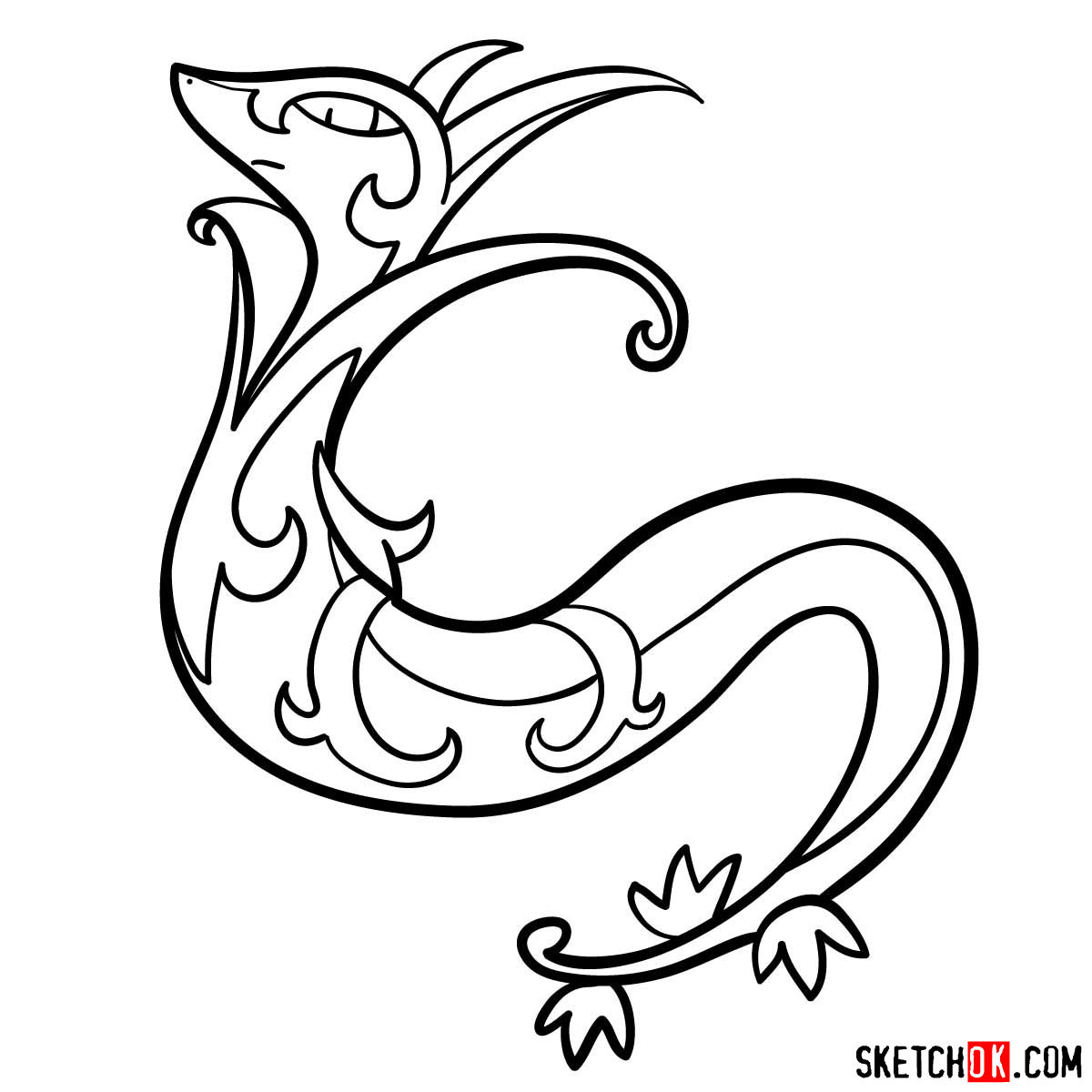 FAQ Section
Q1: What type of pencil should I use for the basic sketch?
A: For the initial sketch, it's best to use a lighter pencil, such as a 2H or HB, so the lines can easily be erased or adjusted.
Q2: How can I make my drawing of Serperior more realistic?
A: Pay attention to the proportions and key features of Serperior like its leaf-like extensions, serpentine form, and the intricate designs on its body. Try to replicate the texture and shape of these features as closely as you can.
Running SketchOk involves effort, time, and costs. We rely on the generous support from our users to keep creating quality content. If you found our guide on how to draw Serperior helpful, consider donating to help keep this project alive. No contribution is too small!
But if you're unable to donate, you can still support us by sharing our guide on your social media platforms. Remember, sharing is caring! Here are our official accounts:
Let's keep the SketchOk community thriving. Together, we can create, learn, and grow!