Portgas D. Ace, popularly known as the "Fire Fist" Ace, isn't just another pirate; he's an icon, a symbol, a character that has left an indelible mark in the One Piece universe. This guide will aid you in mastering how to draw Ace, from his fiery eyes to his trademark tattoos.
Character's Appearance and Key Points
Facial Features: Ace's curly black hair, pronounced freckles inherited from his mother, and his skeptical expression characterized by a raised left eyebrow. One might even say he bears a youthful resemblance to his biological father, Gol D. Roger.
Tattoos: His tattoos are essential. The Whitebeard symbol on his back and the "ASCE" (with the S crossed out) on his upper left bicep stand out. Remember, these aren't just designs; they tell a story.
Attire:  His iconic orange hat with two blue smileys.
Understanding the Guide
This guide employs a unique color coding system to aid in your drawing journey:
Red Color:

This represents the current step you need to focus on.

Black Color:

Showcases lines drawn in previous steps.

Grey Color:

Indicates the basic sketch you should begin with.
The guide comprises 13 comprehensive steps. Initiate with a basic sketch, which aids in keeping the proportions accurate. Remember to use light strokes during this phase. By the end, you'll have the option to ink your sketch, but ensure you wait for the ink to dry before erasing any pencil lines to prevent smudging.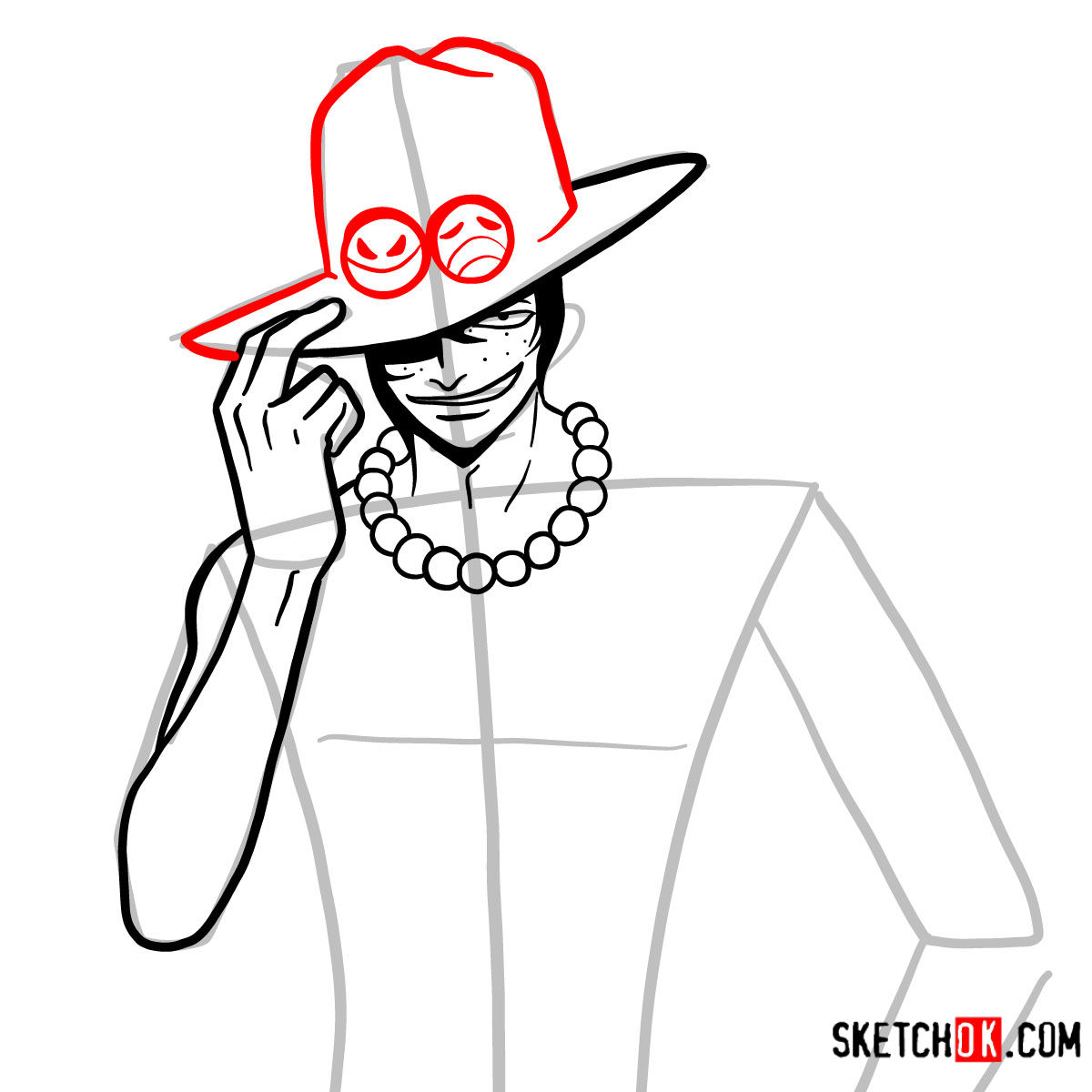 Drawing Ace is more than just an exercise in art; it's a journey through the life of a character that has resonated with many. If you've enjoyed this guide and found it helpful, consider donating. Your support not only keeps this platform alive but also allows you to suggest topics for future tutorials, putting them in primary focus. Moreover, sharing this guide with fellow artists or subscribing to our channels on Facebook, Instagram, and Pinterest will ensure you never miss out on new content. Remember, every sketch starts with a simple line, so pick up that pencil and discover how to draw your favorite characters.