The realm of goblins and adventurers is rich with tales of valor, but one name stands out among them: Goblin Slayer. This silver-ranked Adventurer, known for his peculiar appearance and relentless pursuit of goblins, has captivated the hearts of many. As we venture into the world of artistry, let's embark on the journey of learning how to draw Goblin Slayer in battle stance.
A Glimpse into Goblin Slayer's Appearance
Signature Armor: Goblin Slayer's armor, though seemingly unkempt, is a leather ensemble equipped with chain mail underneath. It's his choice of battle wear, with a unique helmet that used to sport horns, and a red fabric trailing behind it.
Strategic Neglect: Due to goblins' acute sense of smell, Goblin Slayer intentionally avoids cleaning his armor. Freshly cleaned armor would emit a strong metal scent, thereby alerting goblins of his presence.
Mocked Appearance: Many fail to appreciate the practicality behind Goblin Slayer's chosen appearance, ridiculing him instead. This grimy look, combined with his basic equipment, often leads others to mistake him for an undead.
Weapons Ready: On his right arm holds a versatile, disposable short sword, accompanied by a small round targe on his left arm, which doubles as a cutting weapon.
About This Drawing Guide
Our guide encompasses a comprehensive 42-step process. The initial three steps focus on setting up the basic proportions sketch, where it's advisable to use light pencil strokes for better precision. Here's a breakdown of the color guidelines you'll encounter:
Red Color:

Highlights the current drawing step.

Grey Color:

Denotes the basic proportion sketch.

Black Color:

Illustrates the lines you've previously drawn.
Once you've completed the sketch, you can ink it. But remember, patience is key! Ensure the ink dries thoroughly before erasing any underlying pencil marks to achieve a clean finish.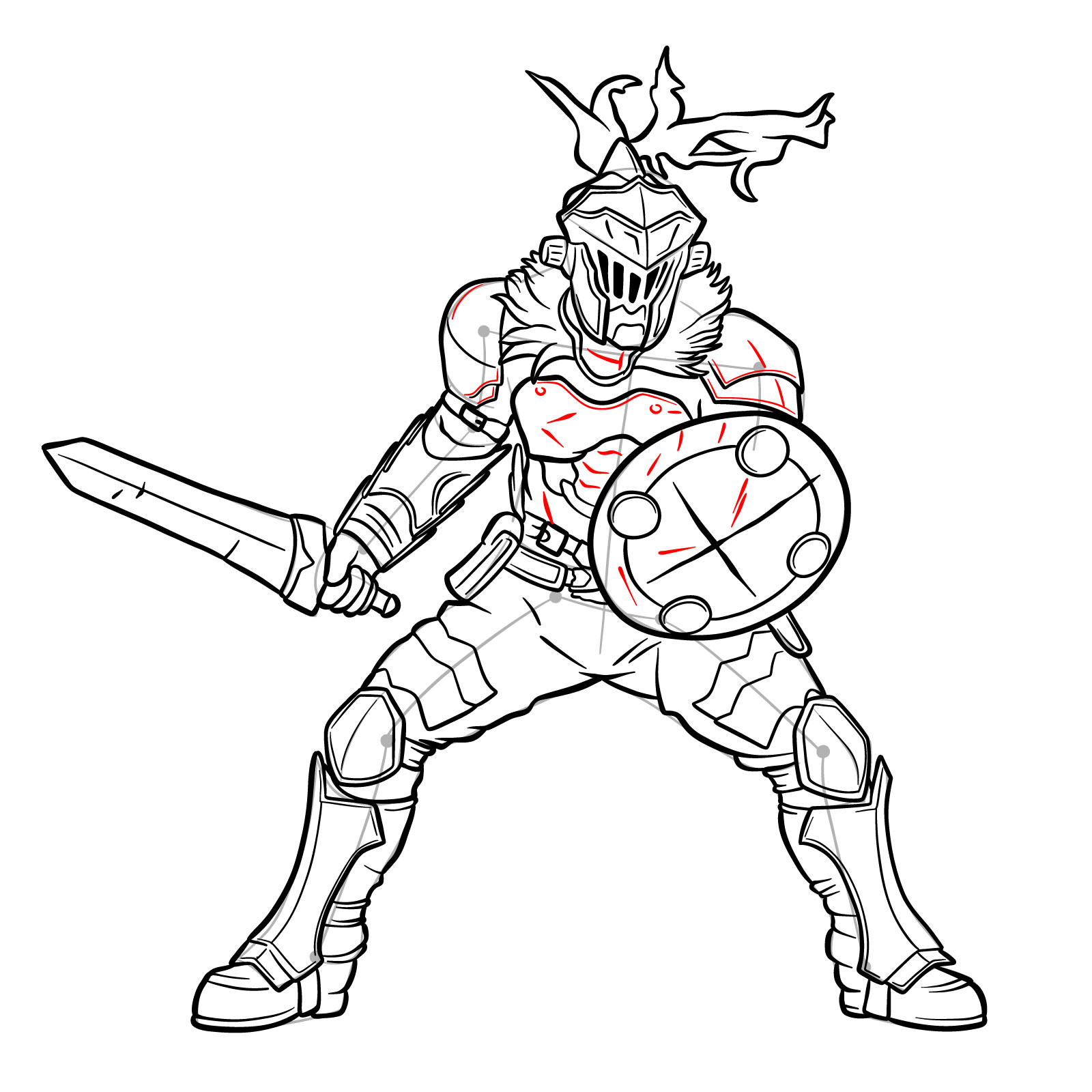 Drawing FAQs
What's the best technique to capture Goblin Slayer's unique helmet?
To sketch Goblin Slayer's helmet, start by focusing on its distinct shape. It envelopes his head entirely and features a red fabric detail behind it. Remember, the helmet's grimy and worn-out appearance is vital to depict his character's essence.
What are the key aspects to remember when sketching his armor?
Goblin Slayer's armor is practical yet grubby. The leather armor with chain mail underneath should be depicted with a slightly worn-out look. The lack of cleanliness is strategic, so make sure it doesn't appear shiny or new.
As I guide you through how to draw Goblin Slayer in battle stance, I urge you to share this tutorial with others. Spreading the word can help budding artists perfect their skills. If you found this guide beneficial, consider supporting the SketchOk project. With your kind donations, not only can we keep these tutorials free, but you also get to suggest ideas for future guides.
By supporting us, you're fostering a community of art lovers and helping us create more content for you. Find us on our social platforms, and stay updated with our latest tutorials: