For countless Evangelion fans around the world, Mari Makinami Illustrious is more than just a character; she embodies the spirit of resilience and determination. If you've ever desired to sketch her in the famed Plugsuit 3.333, you're in the right place. This guide will steer you on how to draw Mari Makinami Illustrious, capturing her essence in every stroke.
Focusing on Mari's Distinct Appearance
Mari's brunette hair, neatly tied into expressive twin-tails, provides a unique silhouette.
Her teal eyes, brought to life behind glasses, capture a world of emotion and purpose.
The indigo headband, marked with a robotic white design, adds an extra layer of complexity to her appearance.
Mari's Plugsuit 3.333, a blend of vibrant pinks, dark purples, and striking red highlights, presents an intriguing challenge for any artist.
Other characters like Asuka Shikinami Langley and Rei Ayanami could also be a delightful addition to your drawing, bringing the world of Evangelion right onto your canvas.
Decoding the Drawing Guide
Before diving into the actual sketching, it's crucial to understand our guide's color coding:
Red Color:

Represents the current step in the drawing process.

Black Color:

Highlights the lines you've drawn in previous steps.

Grey Color:

Lays down the basic sketch, essential for maintaining proportions.
There are 30 well-defined steps in this guide. The initial phase revolves around creating a basic sketch using light pencil strokes. By the final stage, you have the option to ink your masterpiece. However, it's imperative to wait for the ink to dry thoroughly before erasing the pencil marks. This ensures your artwork remains pristine, capturing Mari's vivacious spirit.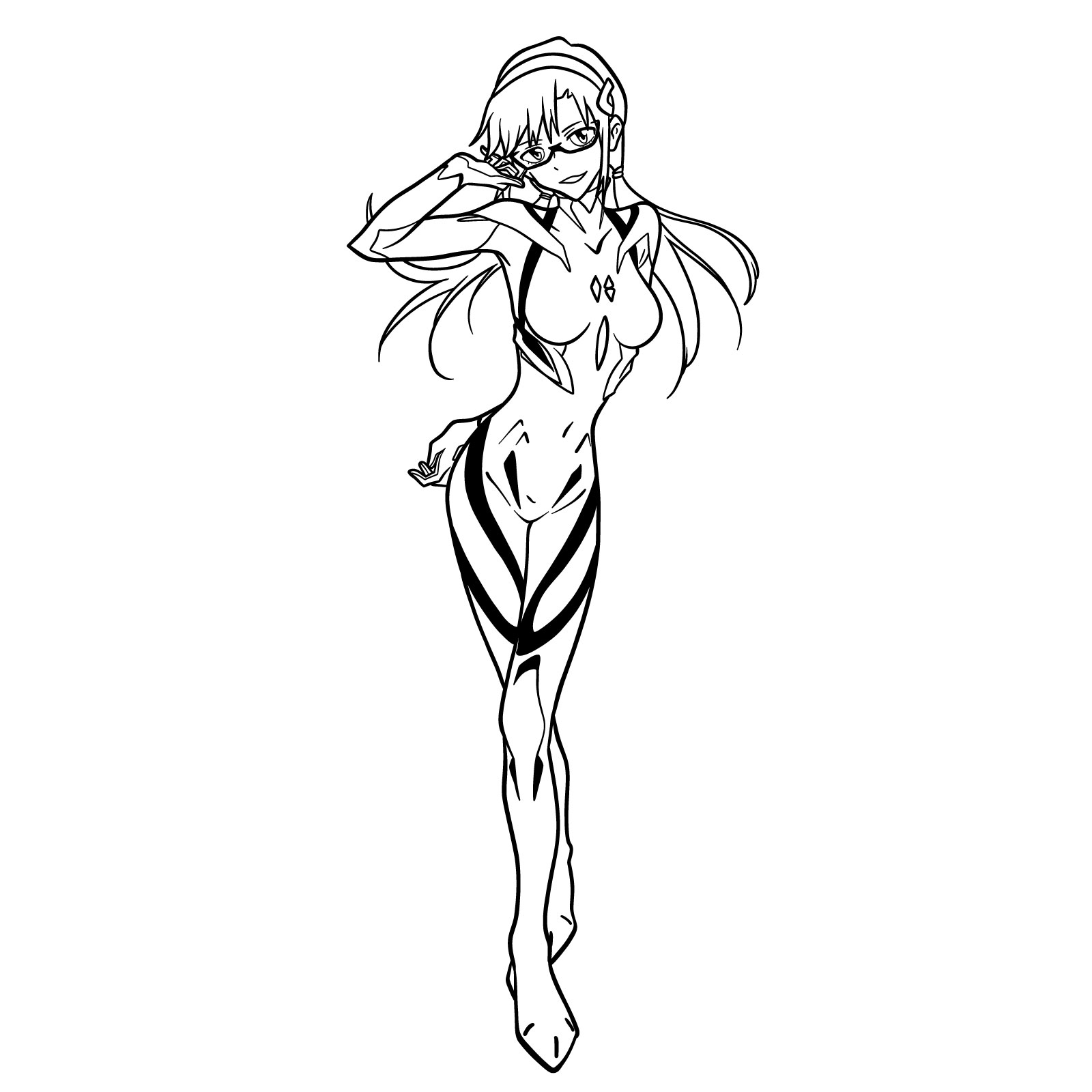 Drawing FAQs
What's the best technique to sketch Mari's iconic twin-tails?
Drawing Mari's twin-tails requires a combination of gentle curves and volume. Start by outlining the general shape, focusing on the flow and movement. Once satisfied, add volume by drawing the strands, ensuring they complement the initial structure, giving her hair its characteristic bounce and life.
How can I accurately represent the colors in her Plugsuit 3.333 while sketching?
Since this guide emphasizes sketching, focus on representing the different shades and tones using varying pencil pressures. Light strokes for the light pink, medium pressure for the darker shades, and firm strokes for highlights. This technique captures the essence of the Plugsuit without delving into actual coloring.
Mastering the art of how to draw Mari Makinami Illustrious in Plugsuit 3.333 is a journey, one filled with learning and growth. Should you wish to support SketchOk further, consider making a donation. Not only does it fuel the creation of more tutorials, but it also gives you a voice. By donating, you can suggest topics for future guides, ensuring your artistic desires are at the forefront. So, why wait? Dive into the world of sketching and share your masterpieces with the world. Connect with the SketchOk community on Facebook, Instagram, or Pinterest. And if you're feeling generous, you can always buy me a coffee.