Welcome to our guide on how to draw Tengen Uzui's full body. In this tutorial, we will delve into the intricacies of capturing the essence of this dynamic character in a sketch. Tengen Uzui, also known as the former Sound Hashira, is a prominent figure in Demon Slayer: Kimetsu no Yaiba. His distinctive appearance and flamboyant personality make him a captivating subject for any artist.
Character's Appearance and Key Focus Areas:
When drawing Tengen Uzui, pay close attention to the following aspects to capture his unique presence and style:
Focus on Tengen's tall and muscular physique, emphasizing his broad shoulders.
Pay attention to his slanted eyes and thin eyebrows that add to his intense gaze.
Portray Tengen's flamboyant attire, including his sleeveless Demon Slayer uniform and the various accessories such as golden rings, finger-less gloves, and head-wrap adorned with gemstones.
While this guide focuses on drawing Tengen Uzui's full body, we have a separate tutorial specifically dedicated to capturing the intricacies of his face, ensuring understanding of his character.
Drawing Guide of Tengen Uzui:
In this drawing guide, we will walk you through the step-by-step process of drawing Tengen Uzui's full body. With a total of 36 detailed steps, you'll learn how to bring this captivating character to life on paper.
Color Scheme:
Red

represents the current drawing step, guiding you through each stage of the process.

Grey

denotes the basic proportions sketch, helping you establish the overall structure and placement of Tengen's body.

Black

signifies the previously drawn lines, providing a reference for the progressive development of the sketch.
Throughout the tutorial, you'll gradually refine your drawing, adding intricate details and capturing Tengen Uzui's distinct features. Let's dive in! Remember, the first three steps focus on creating the foundation with a basic sketch.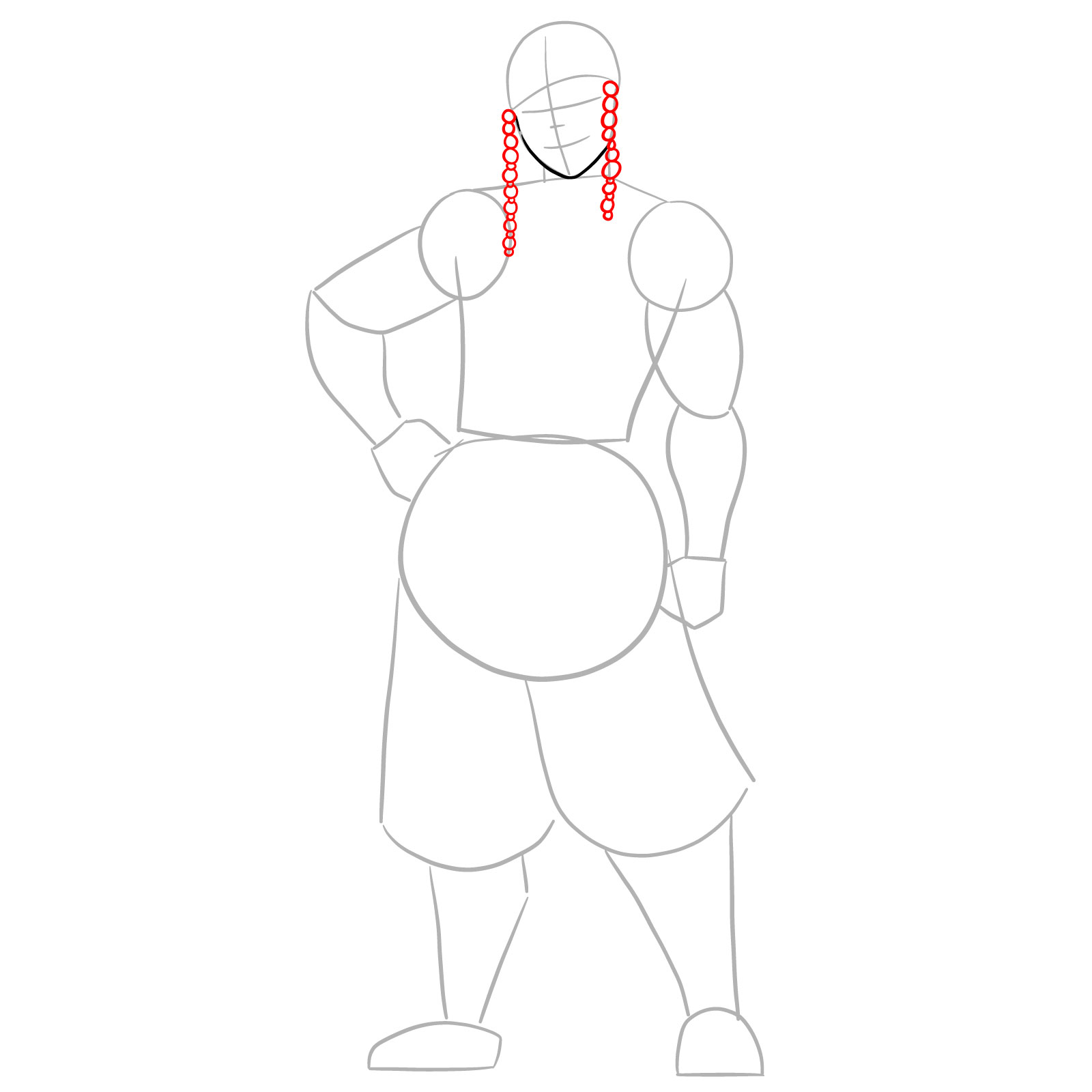 Similar Characters to Draw Next:
Looking to expand your artistic repertoire? Once you've mastered drawing Tengen Uzui, why not challenge yourself with other intriguing characters from the Demon Slayer universe? Explore the captivating personalities and unique designs of characters like Tanjiro Kamado, Nezuko Kamado, and Giyu Tomioka. Each character offers its own set of artistic challenges and opportunities to further refine your skills.
Support SketchOk and Stay Connected:
I hope you found this drawing guide on Tengen Uzui full body helpful and enjoyable! If you appreciate the effort and dedication that goes into creating these tutorials, please consider supporting the project. Your generous donations help me continue providing quality content and expand the collection of drawing guides. If you'd like to contribute, you can donate through Buy Me a Coffee. Every contribution is greatly appreciated and goes a long way in supporting the artistic endeavors.
Don't forget to share the link to this tutorial with your fellow artists and anime enthusiasts. Sharing is caring, and together we can inspire and encourage more people to explore their artistic talents.
For more drawing guides and updates, follow SketchOk on:
Thank you for your support, and happy drawing!