What's up, fellow anime enthusiasts? Today, we're diving into the world of Chainsaw Man to explore the alluring Reze, also known as Lady Reze or Bomb Girl. As a Bomb Devil, Reze is one of the most powerful characters in the series, and her striking appearance has captured the hearts of fans around the world. Whether you're a seasoned artist or a beginner looking to improve your skills, we've got you covered with a step-by-step guide to drawing Reze's gorgeous face.
The Alluring Reze: Her Appearance and Relationships
Reze is not just a pretty face – she's also a complex character with a rich backstory and relationships that are integral to the plot of Chainsaw Man. Her striking looks and confident demeanor make her stand out among the other characters, but her mysterious past and connections to other key players in the series make her even more intriguing.
One of Reze's most notable features is her short, a little wavy hair. Her large, expressive eyes and thin eyebrows add to her striking appearance, while her delicate nose and full lips give her a feminine touch. Despite her beautiful features, Reze is no damsel in distress – as a Bomb Devil, she's a fierce and formidable opponent, and her relationships with other characters in the series reflect her strength and independence.
Reze's backstory is a mystery, but we know that she has a history with the series' protagonist, Denji, and she has also worked with other key players in the series, including Makima, Aki Hayakawa, and Quanxi. Understanding these relationships is key to understanding Reze's character and motivations, and it can also provide inspiration for your own fan art and creative interpretations.
Drawing Guide: A Brief Introduction
Before we dive into the step-by-step drawing guide, let's go over some basic tips and techniques that will help you create a stunning portrait of Reze. First, gather your materials – you'll need a pencil, eraser, paper, and any additional art supplies you like to use, such as colored pencils or markers.
Next, take the time to study Reze's appearance in detail. Look for reference images online, pay attention to her unique features and proportions, and sketch out some basic outlines to get a feel for her facial structure. This will help you create a more accurate and detailed portrait when you start your final drawing.
A Step-by-Step Guide to Drawing Reze's Face
Alright, it's time to put our artistic skills to the test and bring Lady Reze's explosive personality to life! In this step-by-step drawing guide, we'll take you through the 17 steps it takes to create a stunning portrayal of the Bomb Girl herself.
So grab your pencils and let's get started, because it's about to get bombastic!
Step 1-2: Start with a basic outline of Reze's head and shoulders, including lines for the center of her face, eyes, nose, and mouth placement.
Step 3: Draw the chin to start the facial structure.
Steps 3-6: Add in Reze's hair, which should be filled with black color.
Steps 7-8: Draw the eyes and eyebrows, adding in details such as eyelashes and highlights.
Steps 9-10: Draw the nose and mouth, paying attention to the shape and size of each feature. Add a series of scratchy lines above her nose and under her eyes.
Steps 11-16: Add in Reze's neck and visible clothing, including the upper part of her backpack.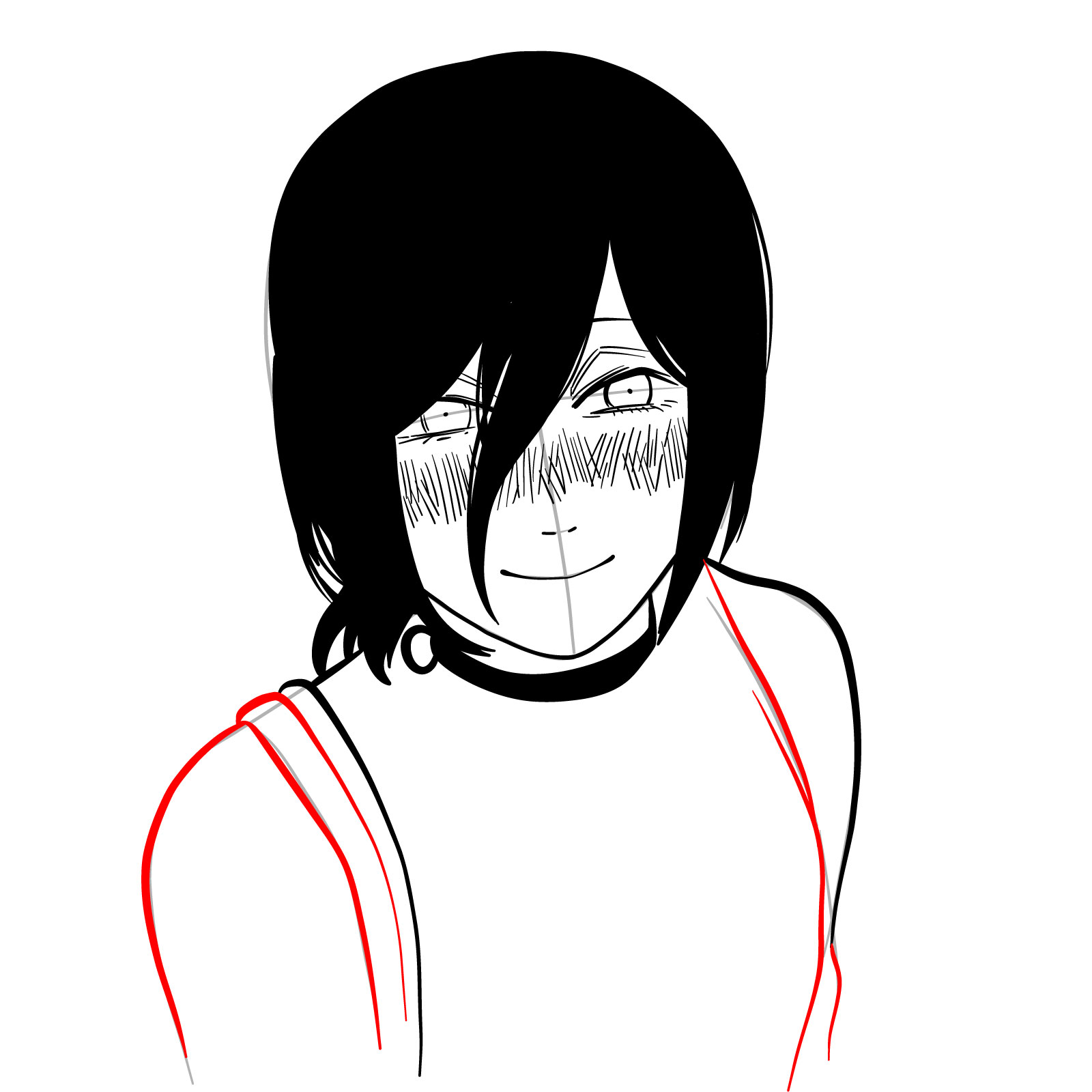 Step 17: Remove the basic outline from the first two steps and marvel at the beautiful face of Reze that you have just created!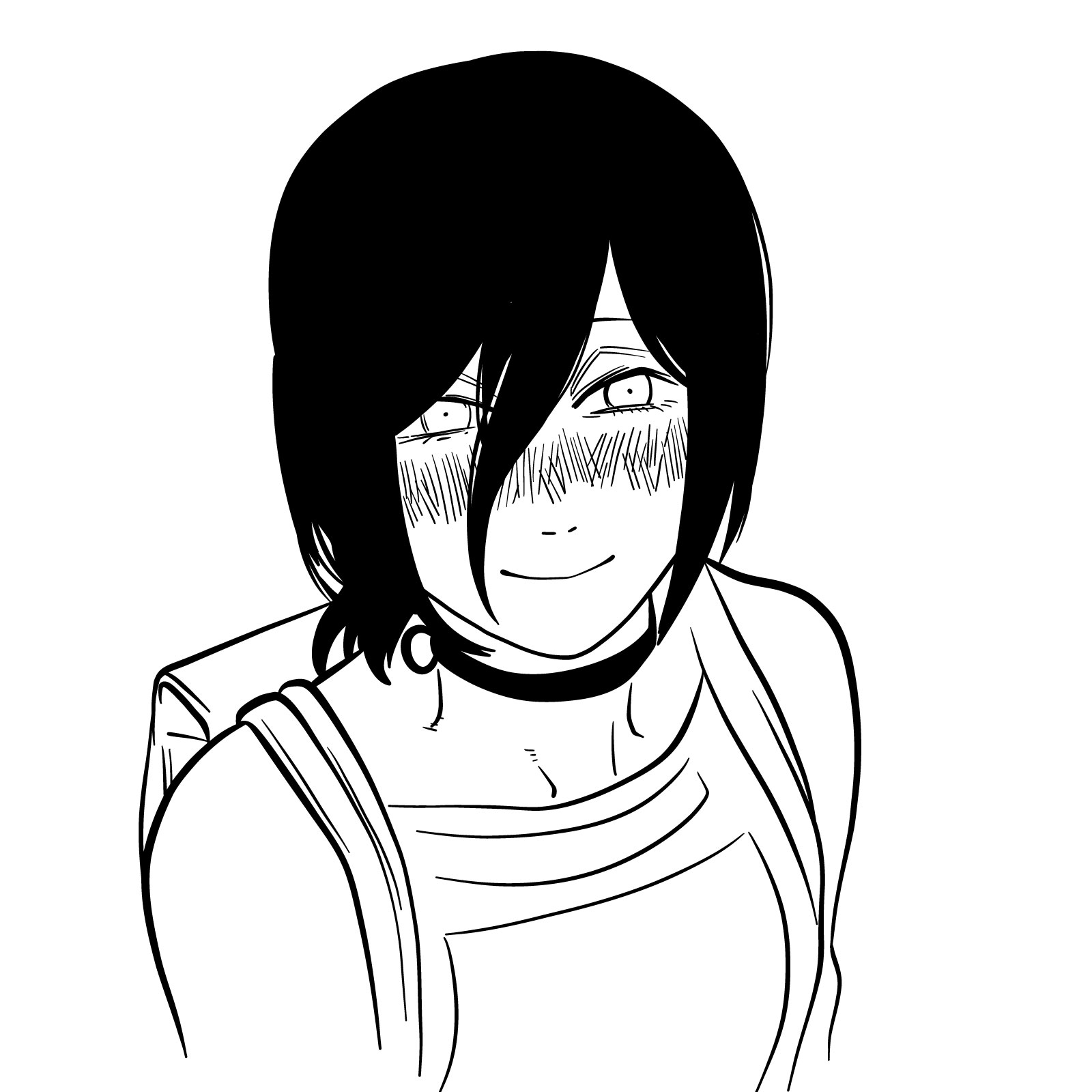 But wait, there's more! Now that you've mastered the art of drawing Reze's face, why not try your hand at drawing the rest of her body or even the other characters from Chainsaw Man?
With practice and patience, you can become a pro at drawing your favorite anime characters and impress all your friends with your artistic skills. Who knows, maybe one day you'll even be able to create your own manga series!
Hey there, you've made it to the end of our drawing guide for Reze's face! If you found this helpful and want to support us, consider buying us a coffee (or maybe a few) to help fuel our caffeine-addicted artist brains and create more awesome drawing guides like this one. And who knows, maybe one day we'll even be able to draw Reze's entire bomb devil form! Thanks for reading, and stay tuned for more awesome content.