Ever wondered how to draw Bobobo-bo, the swarthy, muscle-bound hero with an iconic golden afro? This enigmatic protagonist, whose personality is as wild as his hair, stands out in the world of manga and anime. Whether you're a beginner or have been sketching for years, our guide will help you master the intricacies of bringing Bobobo-bo to life on paper.
Key Features to Focus on While Drawing Bobobo-bo
Golden Afro: Bobobo-bo's signature look isn't complete without his massive, 24-karat gold afro. Remember, some argue it's yellow or blonde, so be mindful of the shade you choose.
Sunglasses: Adding that mysterious touch are his ever-present sunglasses. Perfectly placed atop his nose, they exude an air of 70's American flair.
Muscular Build: Beyond his hair, his bodybuilder physique is a key element to capture.
Eccentric Expressions: From serious to outright goofy, Bobobo-bo's expressions vary. It's essential to capture his unpredictable nature in your sketches.
Advice for Sketching Bobobo-bo
When starting, use light pencil strokes to lay down the basic proportions. This approach makes adjustments easier and ensures that the refined sketch remains clean. As Bobobo-bo has numerous intricate features, breaking down the drawing process step-by-step will assist in achieving a more accurate depiction. Moreover, looking at references from both the manga and anime can offer varied perspectives on his design and posture.
About This Drawing Guide
This guide is crafted to take you through 39 comprehensive steps, leading to a polished sketch of Bobobo-bo. The color-coded stages will aid in distinguishing each phase:
Red Color:

Represents the current step of the drawing.

Grey Color:

Highlights the basic proportion sketch. Ensure this is done with light strokes for easy adjustments later.

Black Color:

Shows the lines drawn in the previous steps, helping you track your progress.
Once the sketch is complete, you may decide to ink it. If so, wait for the ink to dry thoroughly before gently erasing the underlying pencil marks, ensuring a clean, standout final piece.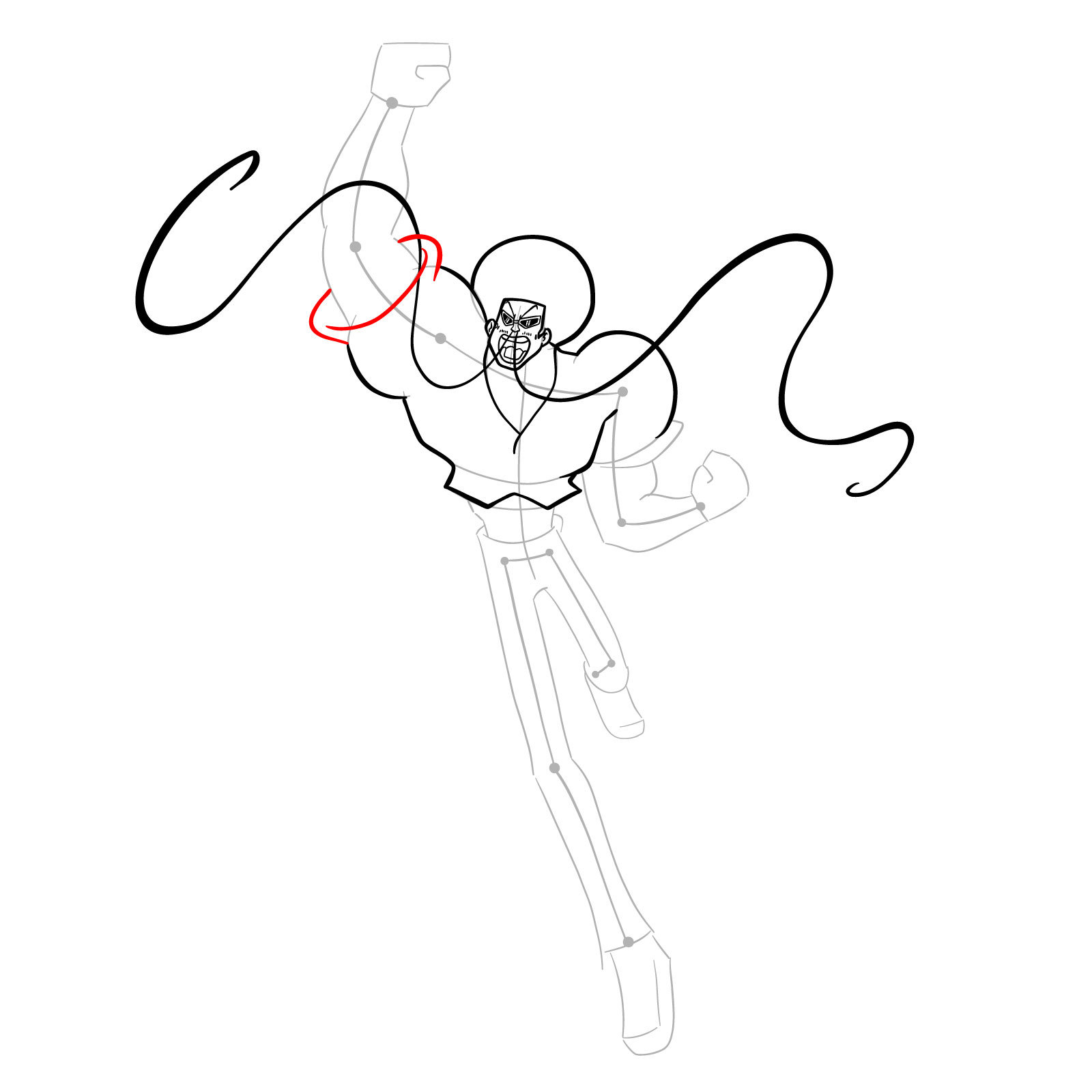 Did You Know?
Bo-bobo's full name, when written in kanji, is "母母母ー母・母ー母母". This unique name and his striking resemblance to the Japanese stereotype of a 70's era American adds another layer of intrigue to his character.
If you've enjoyed this guide on how to draw Bobobo-bo and wish to support the continuous effort behind these tutorials, consider donating at Buy me a coffee. Every donation not only supports the work but also gives you a chance to suggest topics for future tutorials. I'll prioritize these suggestions, ensuring you get to learn what you're most passionate about!
Stay connected and updated with our latest tutorials by following us on Facebook, Instagram, and Pinterest.
Conclusion
Bobobo-bo is a fascinating character, and drawing him can be a delightful experience. With this guide, I hope you've gained insights and inspiration to create your rendition of this iconic figure. Embrace the challenge, enjoy the process, and most importantly, have fun sketching!