Prepare your pencils, fellow artists, as we embark on an exhilarating adventure into the world of automotive sketching. Our muse for today is none other than the bold, powerful, and ruggedly handsome 2022 Chevy Silverado. This beast of a truck demands respect, and we'll give it the artistic tribute it deserves.
Silverado Snapshot: Comparing the Beast with its Automotive Brethren
Before diving into the world of sketching, let's take a moment to appreciate the sheer power and presence of the 2022 Chevy Silverado, and see how it stacks up against some other noteworthy cars in the automotive realm. With its robust frame, dynamic grille, and muscular stance, the Silverado is a true icon of strength and reliability, distinguishing itself from competitors like the Ford F-150 and the GMC Sierra.
While it's easy to focus on the Silverado's brawn, it's also essential to acknowledge its more refined attributes. The interior boasts a level of comfort and technology that rivals luxury sedans such as the Mercedes-Benz E-Class or the BMW 5 Series. No wonder the Silverado is a favorite among truck enthusiasts who value both power and sophistication!
As we prepare to sketch this remarkable truck, keep in mind how it holds its own against other esteemed vehicles in the industry. This exercise will not only enhance your appreciation for the 2022 Chevy Silverado but also enrich your understanding of automotive design as a whole.
The Art of Automotive Sketching: Essential Tips and Tricks
To capture the essence of the 2022 Chevy Silverado on paper, we must first master the art of automotive sketching. Keep these essential tips in mind as you unleash your creativity:
Start with light, fluid strokes to establish the foundation of your drawing.
Break the vehicle down into simple geometric shapes for easy rendering.
Use reference images to ensure accuracy in proportions and details.
Gradually refine your sketch, adding in key features like headlights, wheels, and the iconic Chevrolet emblem.
Embrace the process, and remember that practice makes perfect!
Step-by-Step: Sketching the 2022 Chevy Silverado
With our newfound knowledge and a steady hand, let's begin our journey to create an awe-inspiring sketch of the 2022 Chevy Silverado:
Laying the Foundation: Begin by sketching the basic shapes and lines that will form the body of the Silverado.
Adding the Details: Gradually refine your drawing by incorporating features like the grille, headlights, and mirrors.
Shaping the Wheels: Draw the wheels and tires, ensuring they're proportionate to the body of the truck.
Fine-Tuning: Erase any unnecessary lines and add shading to give your drawing depth and dimension.
Sign and Share: Proudly sign your masterpiece, and don't hesitate to share your work with fellow artists and truck lovers!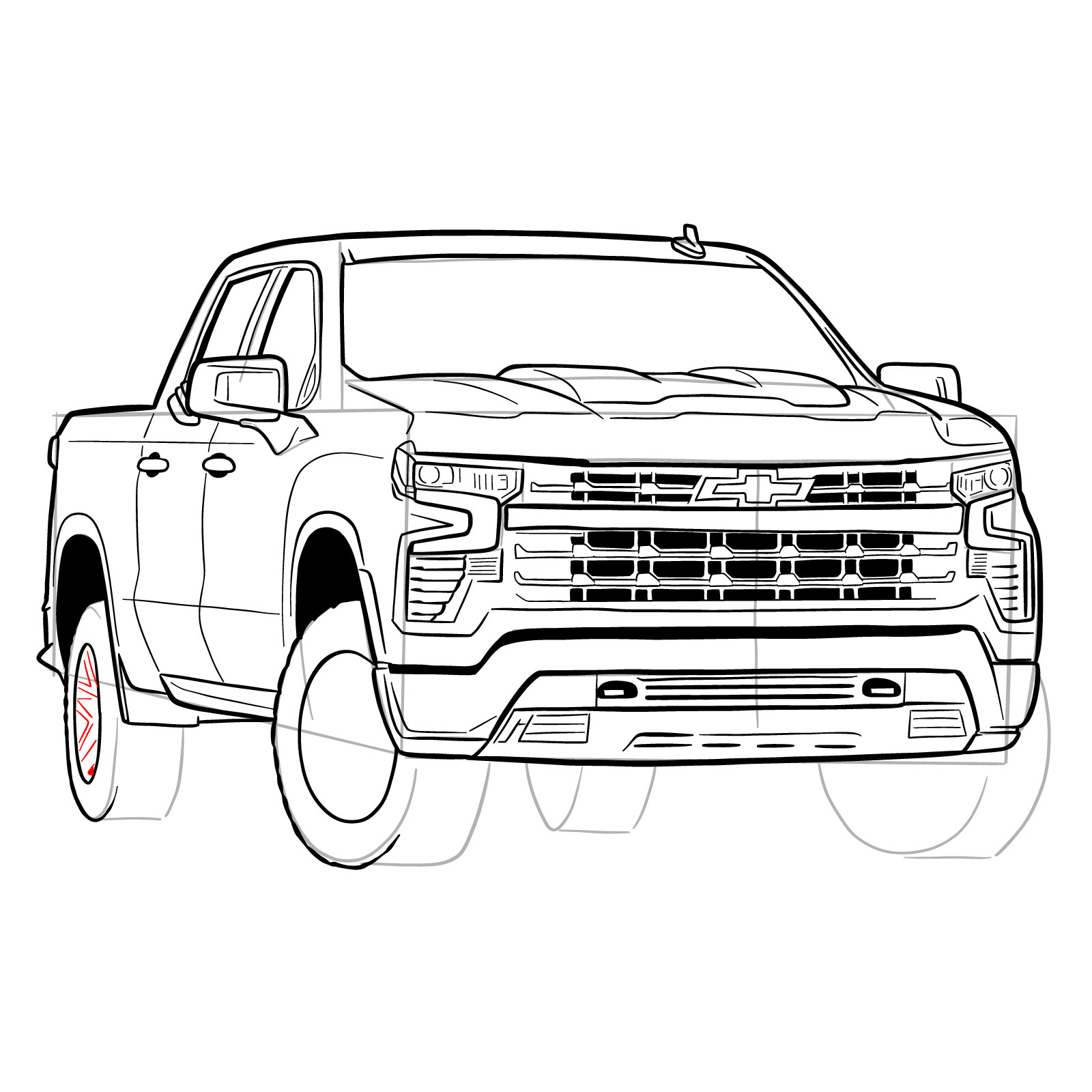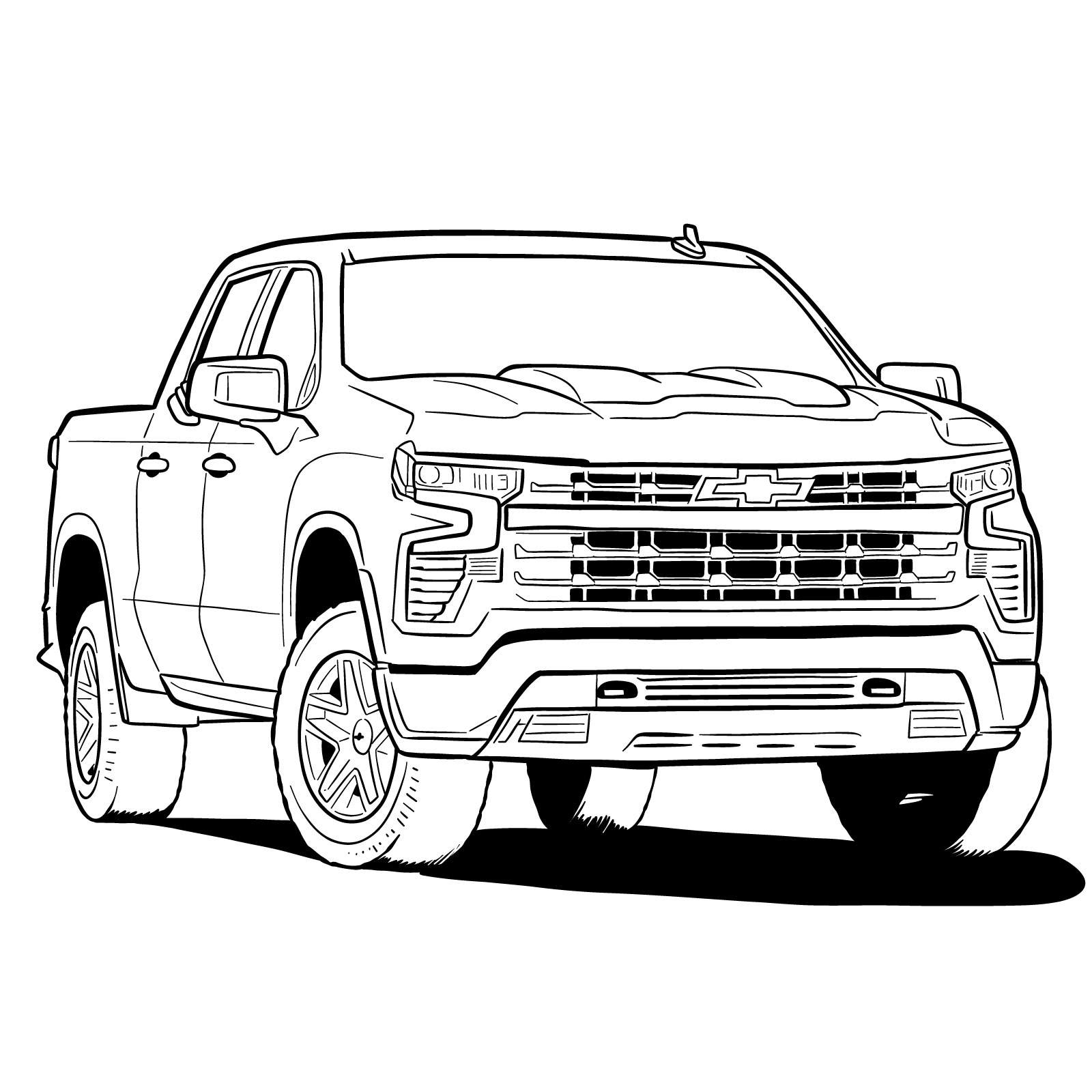 Conclusion: Honoring Your Artistic Journey and the Road Ahead
As we bring this sketching endeavor to a close, take a moment to appreciate the progress you've made in capturing the essence of the 2022 Chevy Silverado. Through dedication and practice, you've not only paid tribute to a remarkable vehicle but also refined your artistic skills and deepened your understanding of automotive design.
Your support means the world to me as I continue to create informative and inspiring content for aspiring artists like yourself. If you've found value in this guide and would like to contribute to my artistic journey, please consider supporting me through a Buy Me a Coffee platform. Your contributions enable me to dedicate more time and resources to creating quality content, providing you with the tools and insights necessary to elevate your art.
As you continue exploring the captivating world of automotive sketching, remember to stay persistent, practice regularly, and embrace the challenges that come with mastering this intricate and rewarding art form. Keep pushing the boundaries of your creativity, and never stop pursuing excellence in your craft. Happy drawing!