Hello there, art enthusiast! Whether you've always wanted to sketch roses but didn't know where to start, or you're looking to refine your skills with more intricate details, you've come to the perfect place. This set of "How to Draw Roses" guides, complete with 8 step-by-step drawing tutorials, is designed to turn your floral doodles into blooming masterpieces.
Table of Contents
Structured Approach to Drawing Roses
In this series, we'll start off with six easy-to-follow guides that will introduce you to the joy of drawing roses in a simple yet stylish way. These initial guides are perfect for beginners or those looking for quick and delightful rose sketches. As you breeze through these, you'll gain the confidence to tackle more complex structures.
As we progress to the final two guides, we'll delve into the nuanced world of realistic rose and rosebud drawings. With close attention to natural form, these guides are structured to provide a slightly more challenging yet thoroughly rewarding experience.
Color Coding for Clarity
Each guide is visually captured with high-quality images, a total of 97 hand-drawn steps across all tutorials, ensuring clarity and precision in instruction. And here's the fun part: every guide uses a clever color-coding system to make your learning process as smooth as a petal. The current step you're on is highlighted in vibrant red, while the completed steps fade into black, providing a clear roadmap of your progress.
So, grab your sketch pad and let's start learning how to draw roses, from the whimsical simplicity of stylized roses to the rich complexity of lifelike blooms. Ready to see your skills blossom? Let's get started!
Drawing Guide #1: Stylized Rose in Side View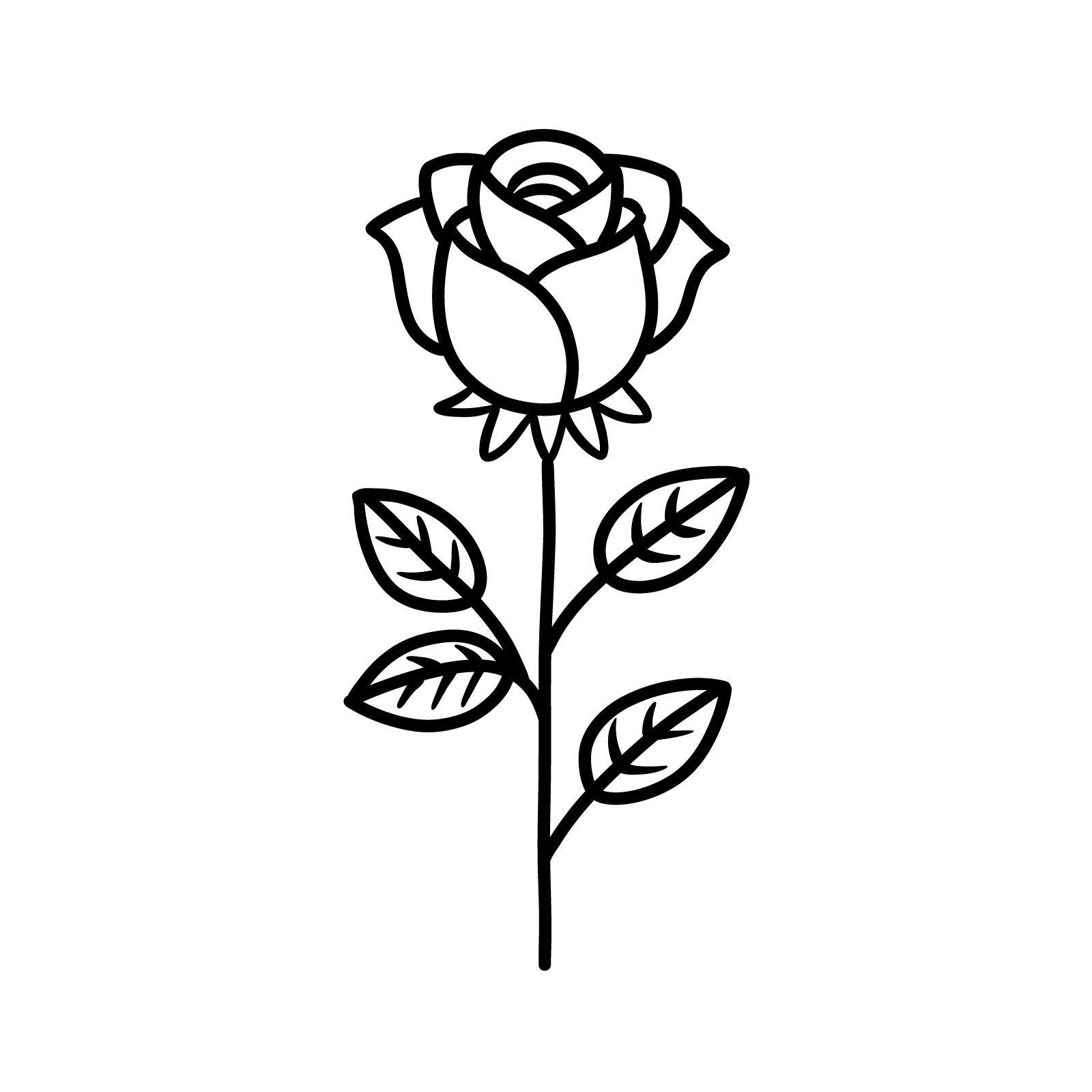 Embark on your artistic journey with the simplest of blooms in our first tutorial, "Stylized Rose in Side View". This guide is tailored for ease and simplicity, inviting beginners to confidently start their drawing experience. With a straightforward side view, it captures the essence of a rose's beauty without delving into intricate details. The design includes a central rose figure complemented by four simple leaves, creating a balanced composition that's easy to follow. Each stroke is designed to be replicated effortlessly, making it ideal for those seeking a guide which shows how to draw a rose and provides an easy approach. Whether you're a budding artist or simply looking for a creative pastime, this guide offers a satisfying and achievable project that promises a beautiful result with just a few steps.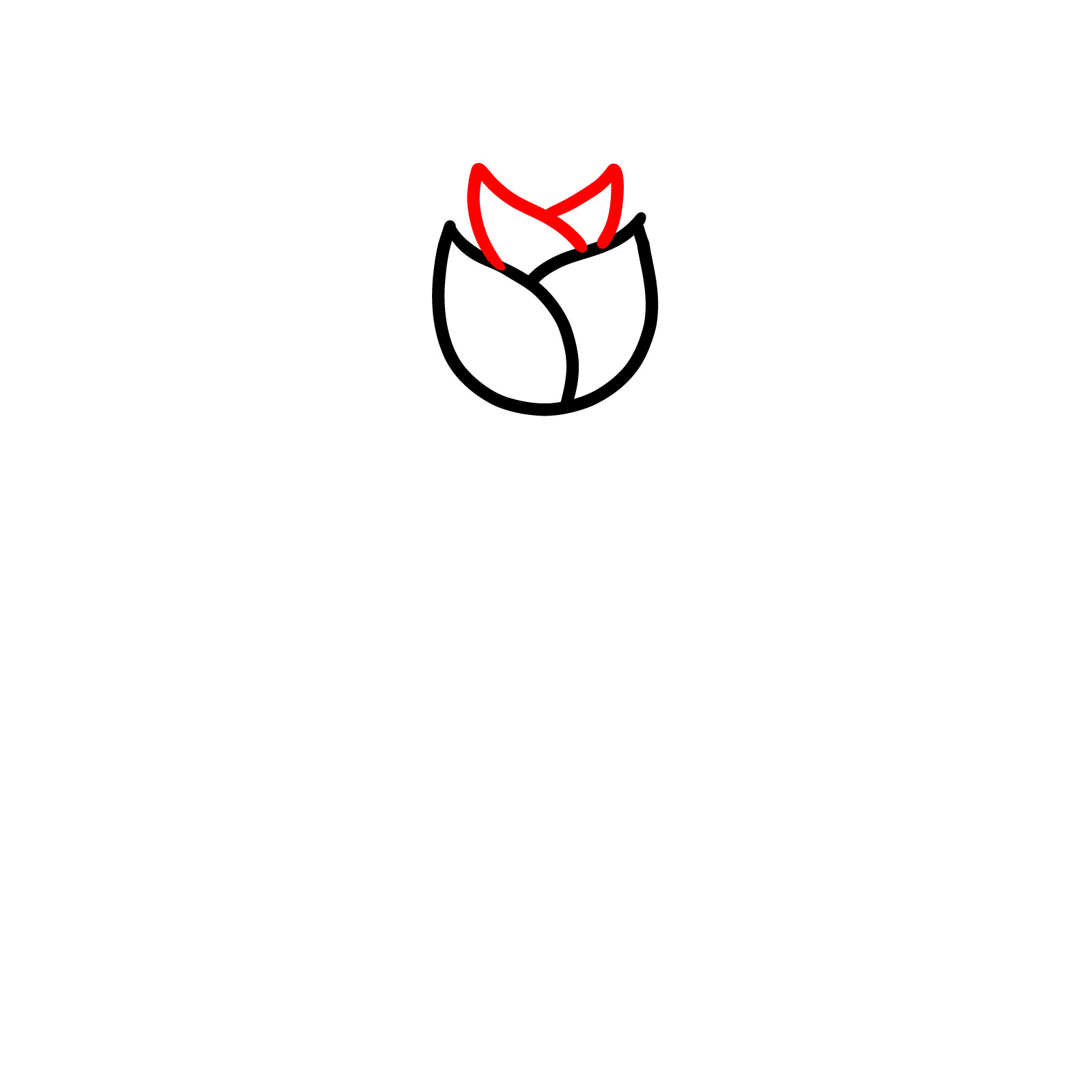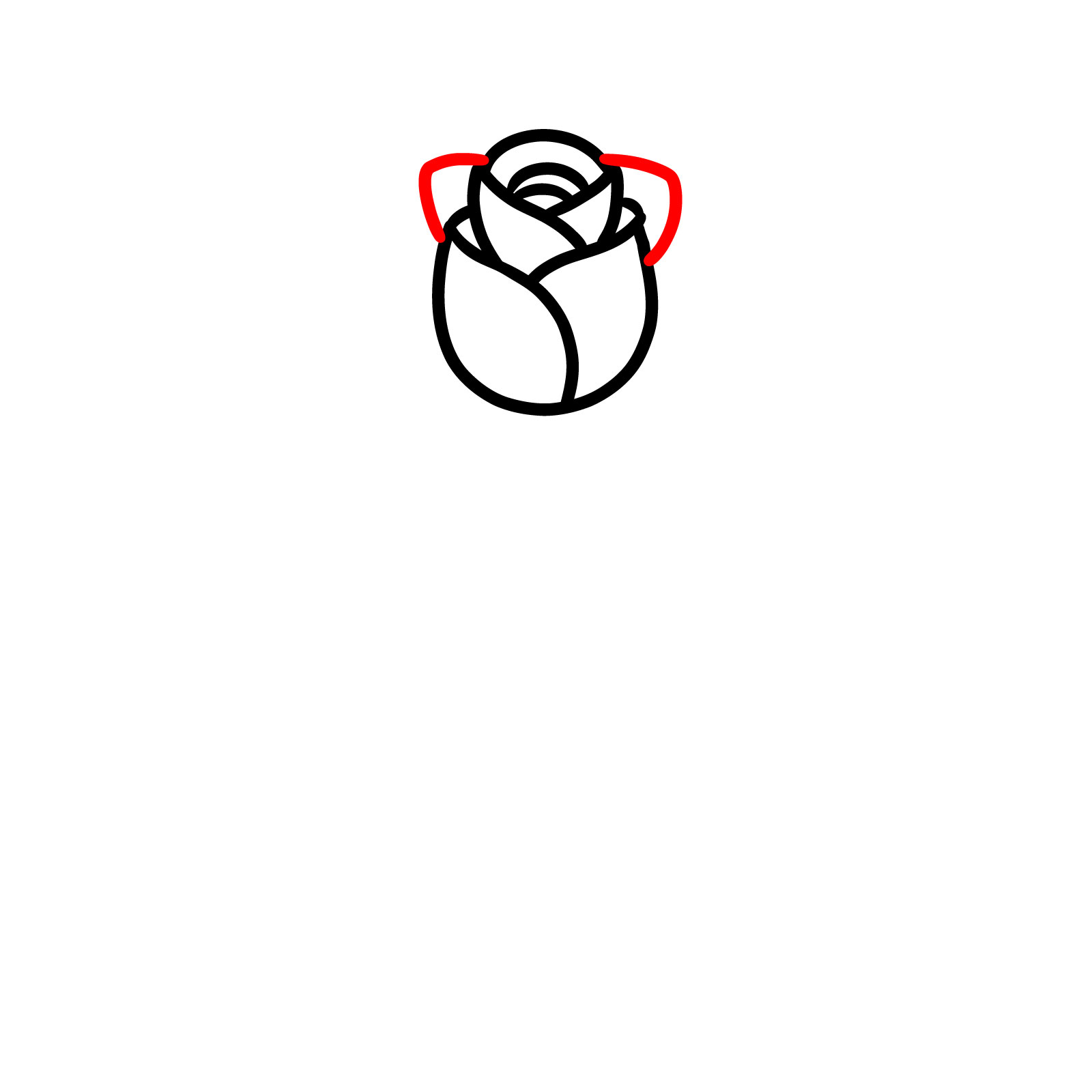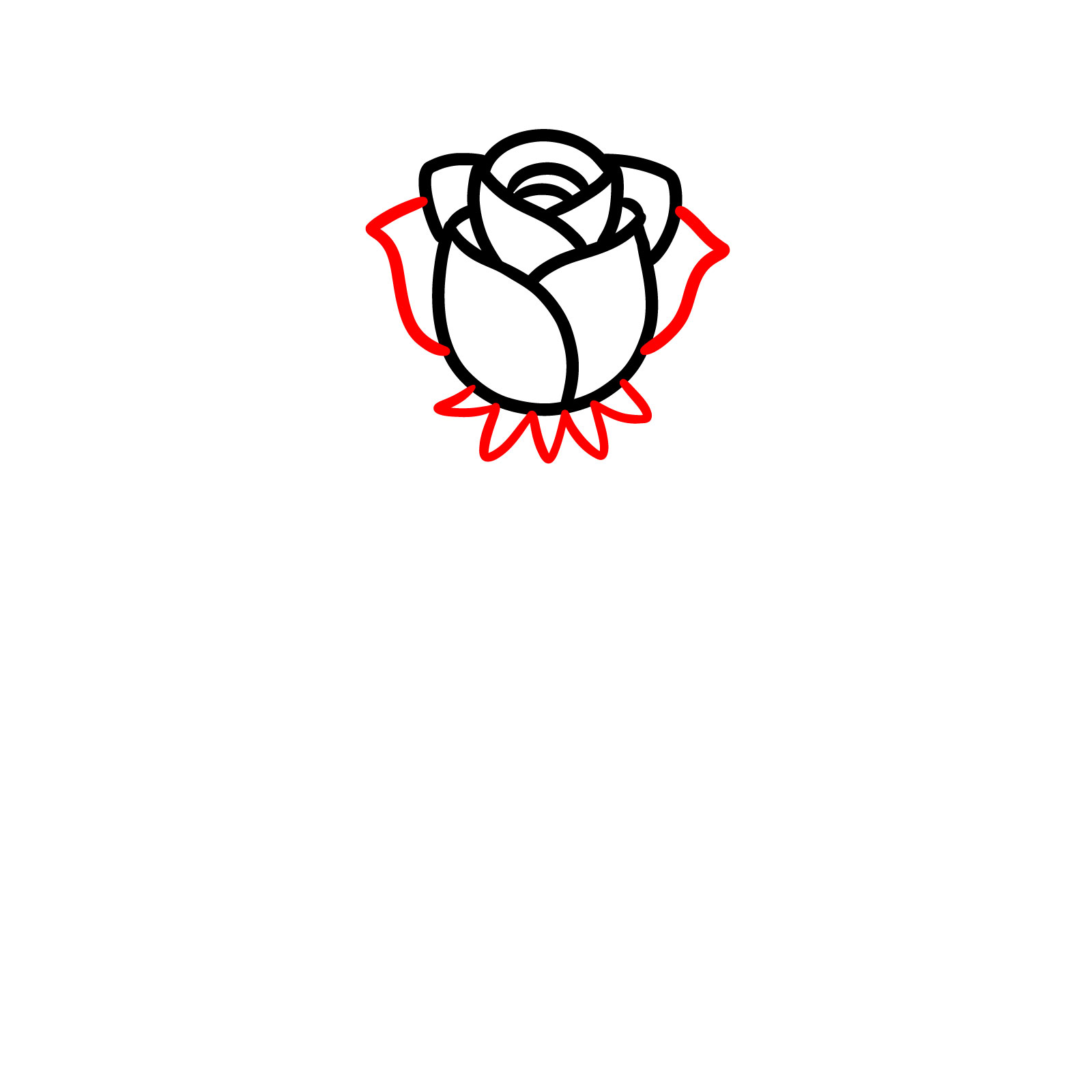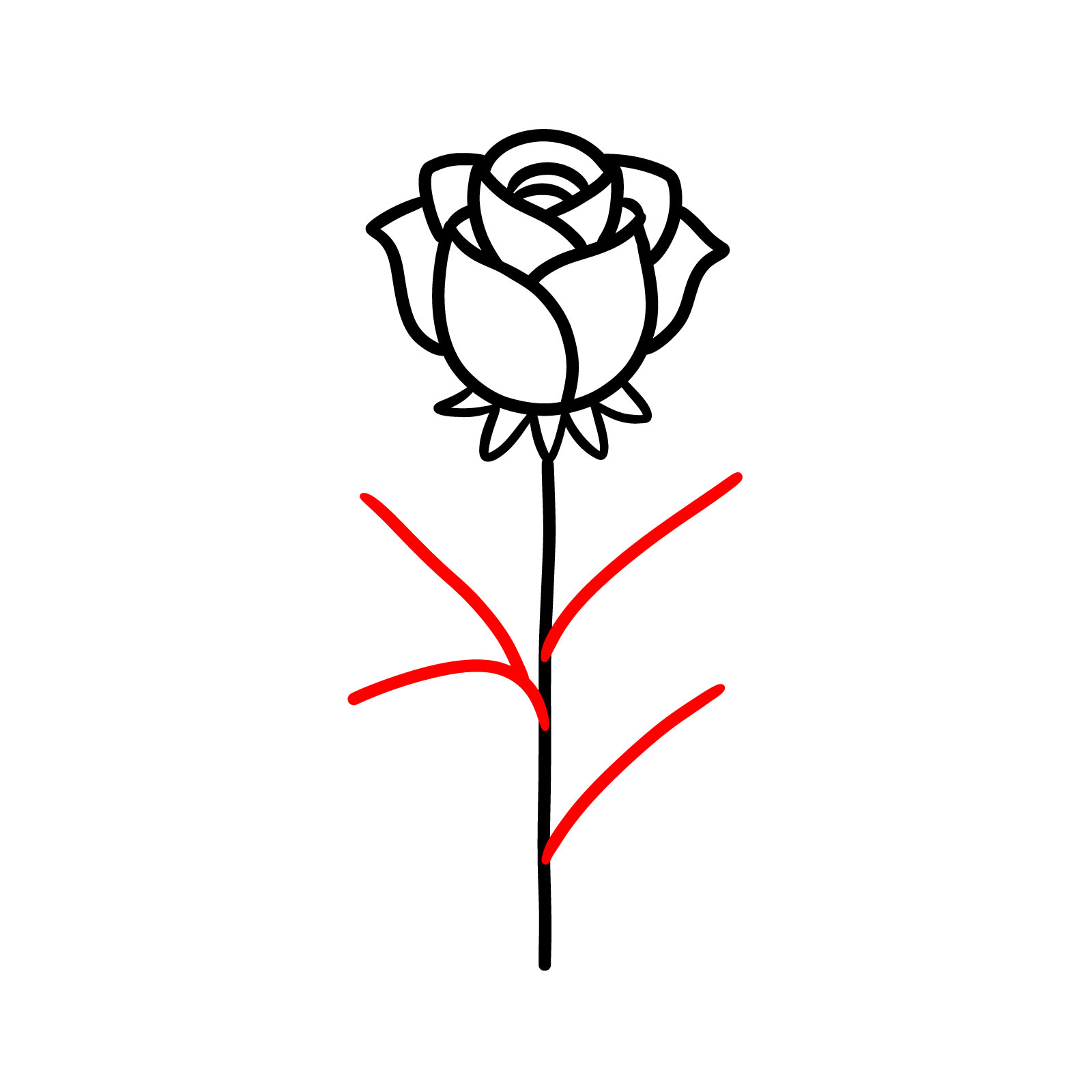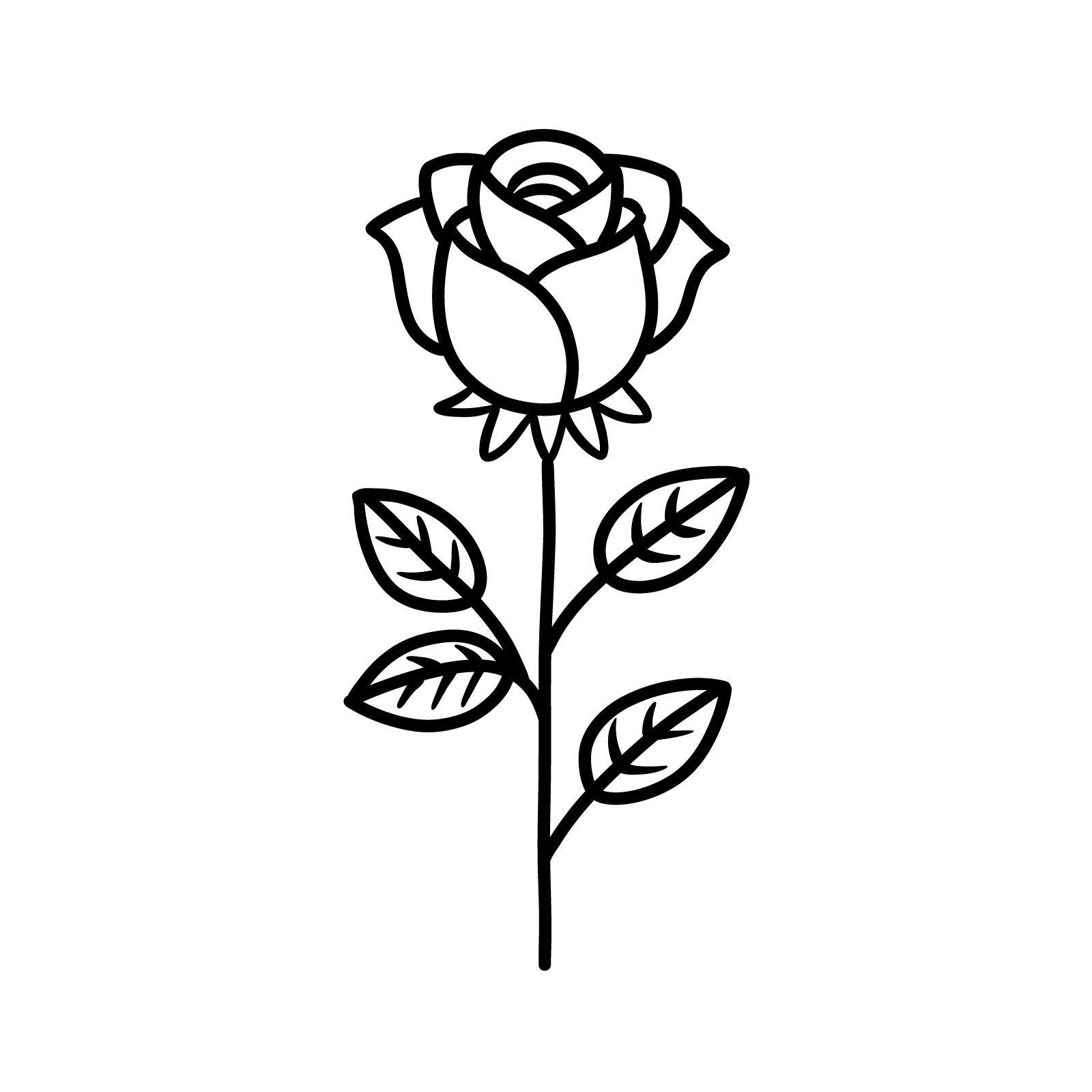 Drawing Guide #2: Easy Rose Drawing in Top View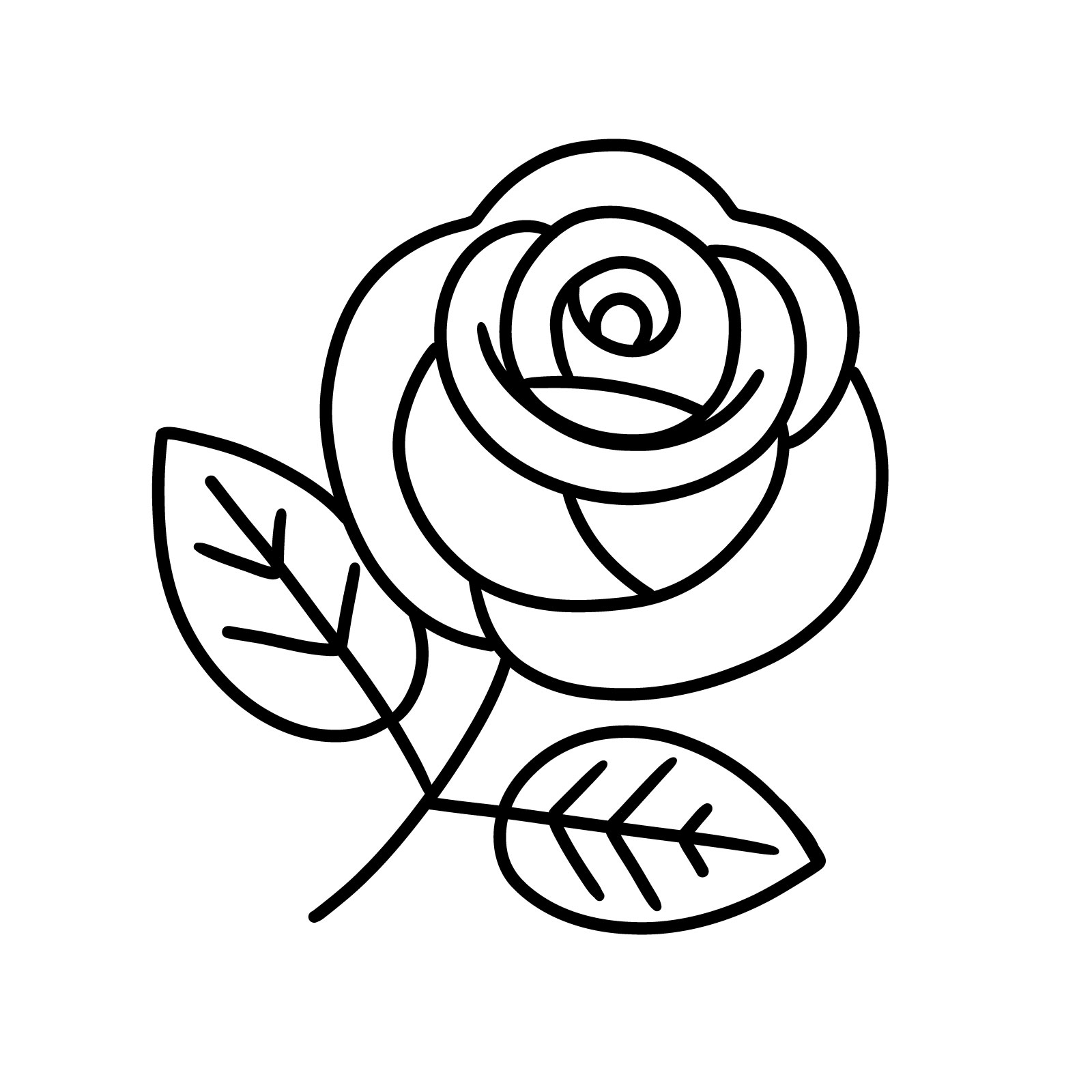 The second tutorial in the "How to Draw Roses" series offers a delightful perspective that's as appealing as it is simple to master. This guide presents a rose in full bloom, viewed from the top, allowing the artist to explore the circular symmetry of its petals. The inclusion of a stem and two simplified leaves adds a touch of realism, while the roundness of the bud embodies the rose's iconic form. It's an excellent step up for those who have mastered the side view and are looking to expand their skills in depicting roses from various angles.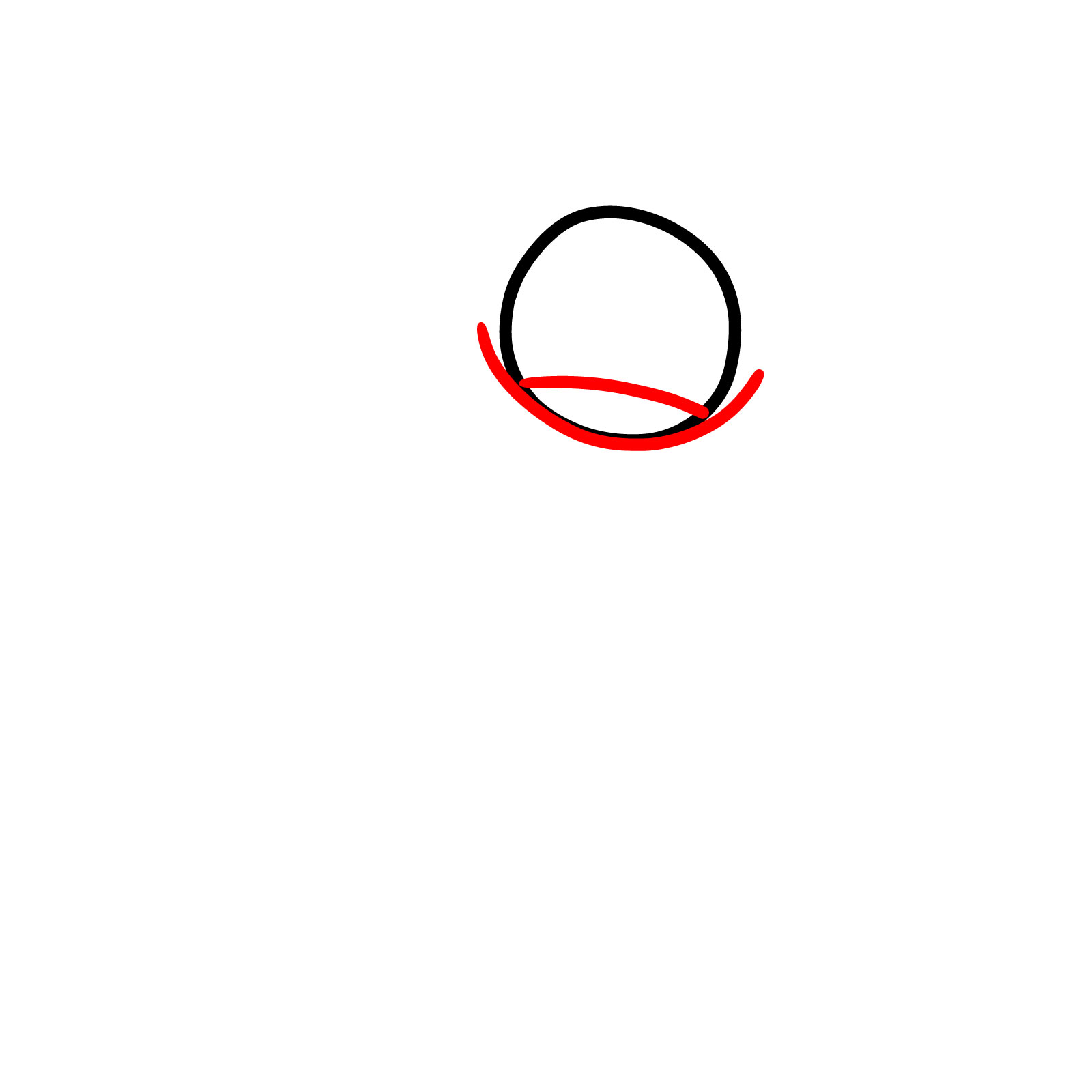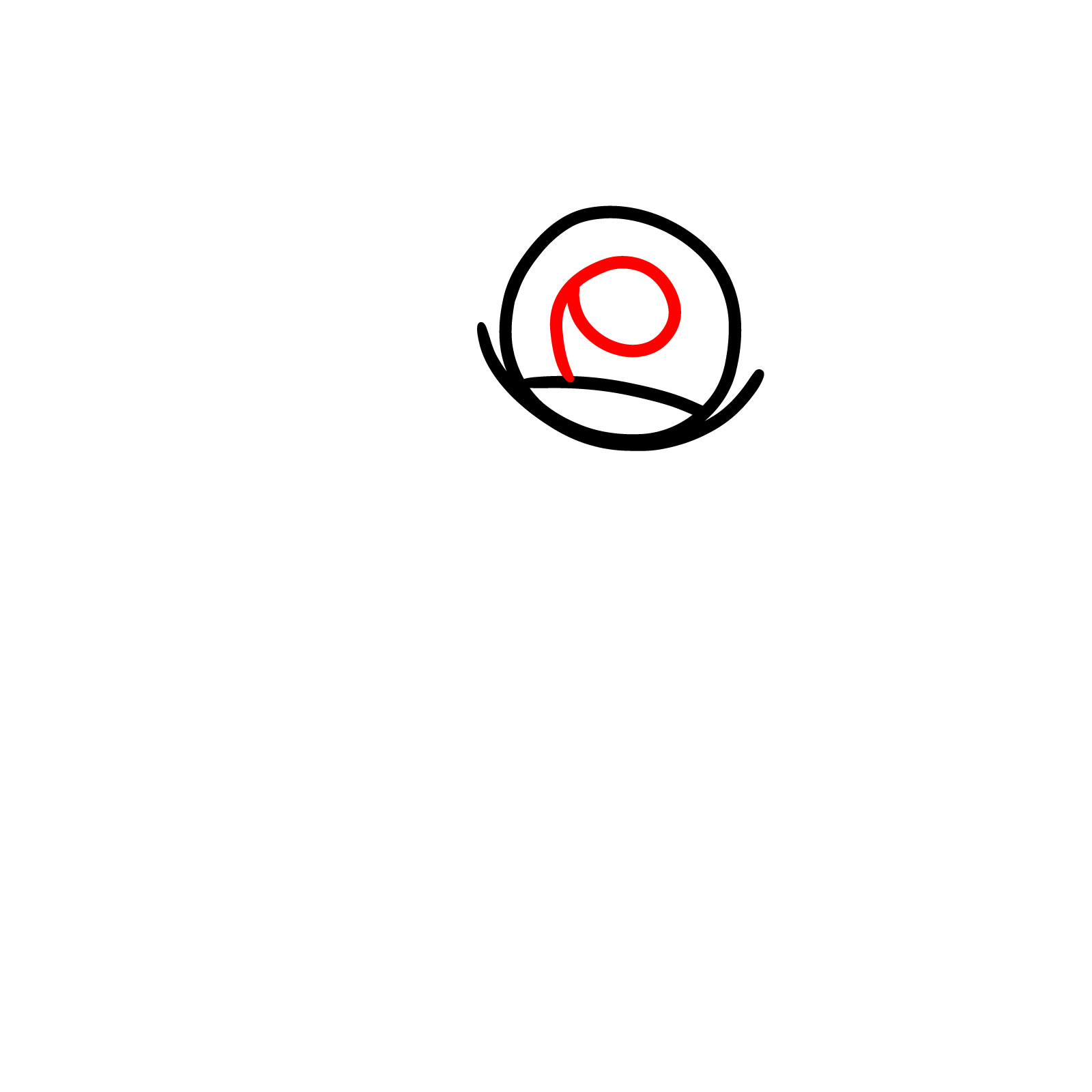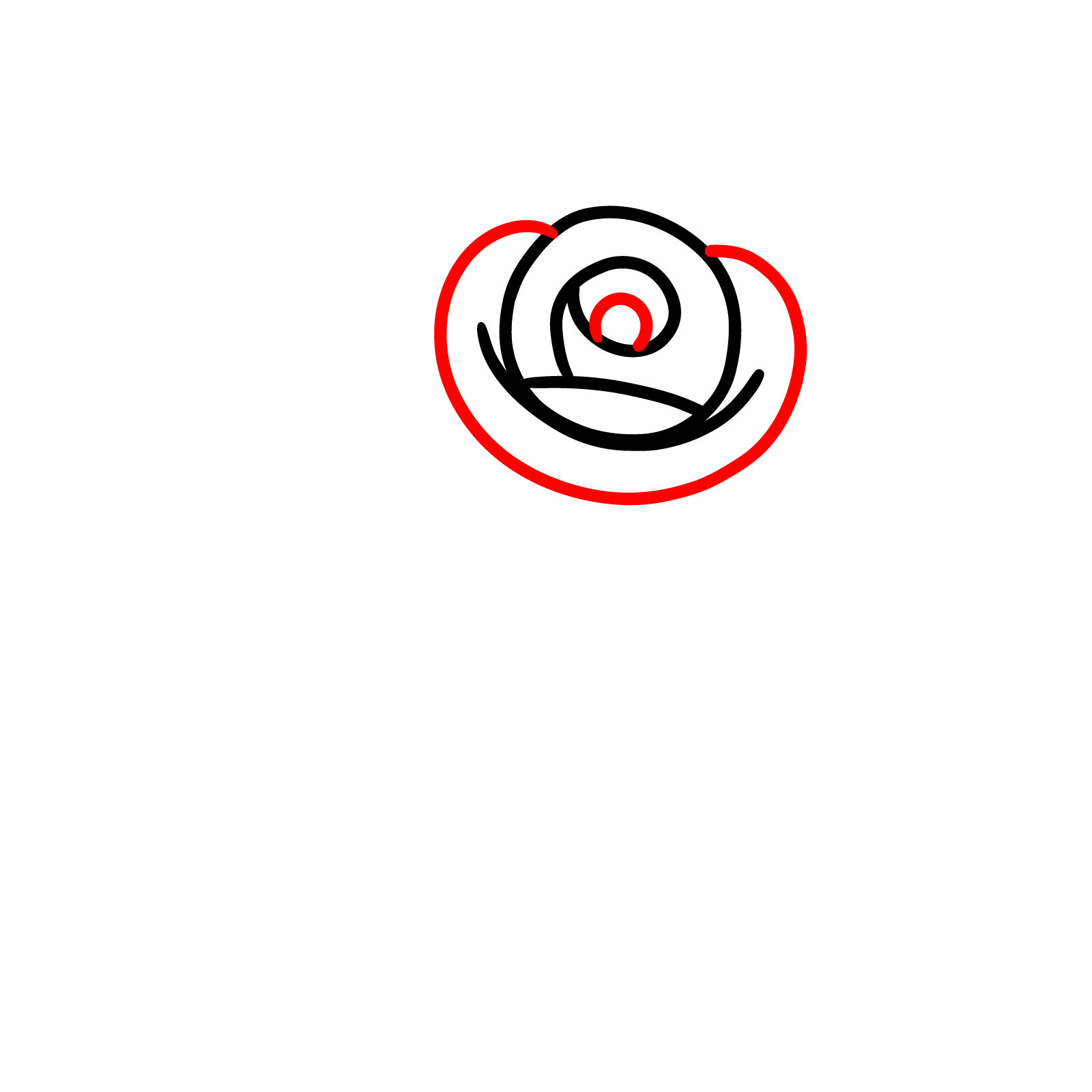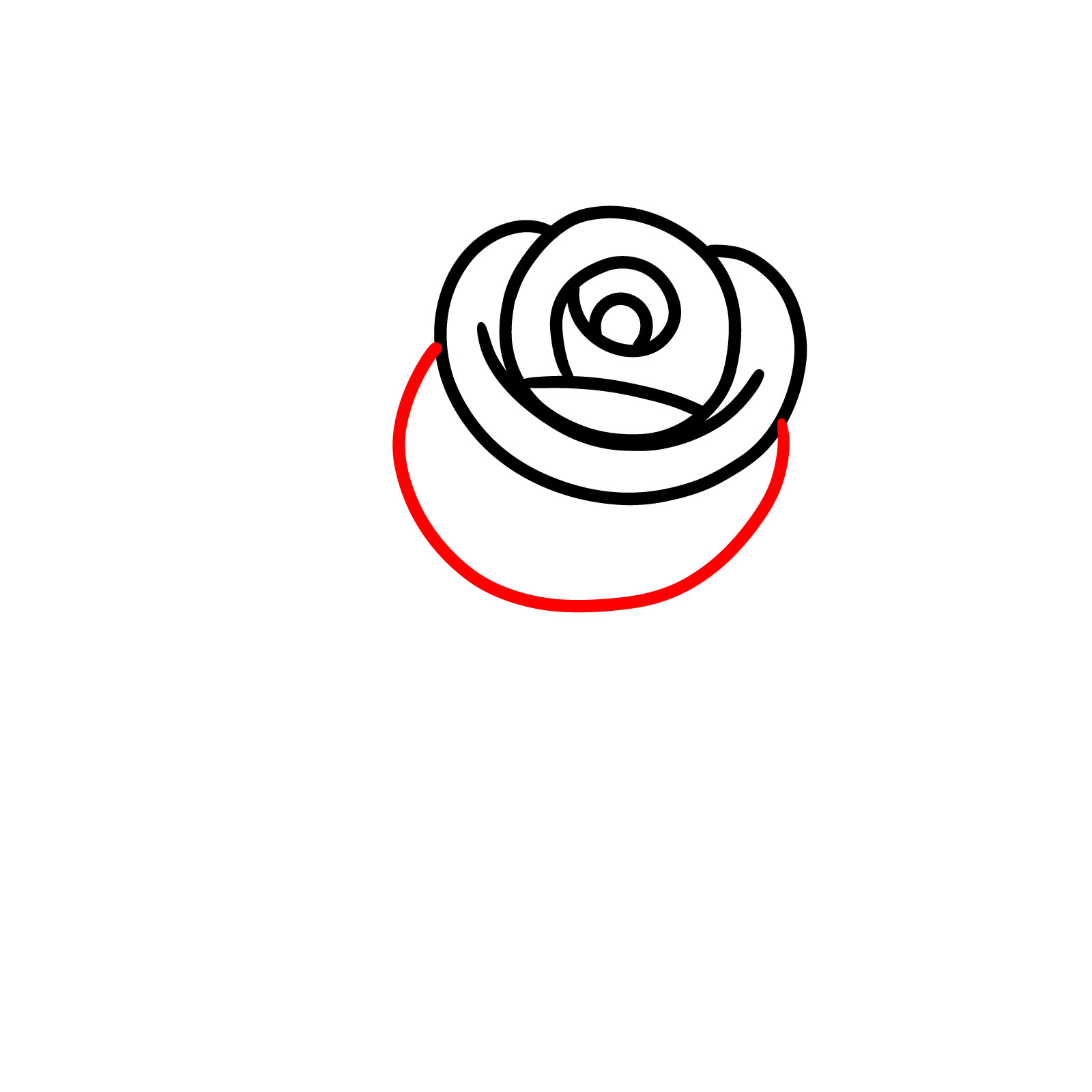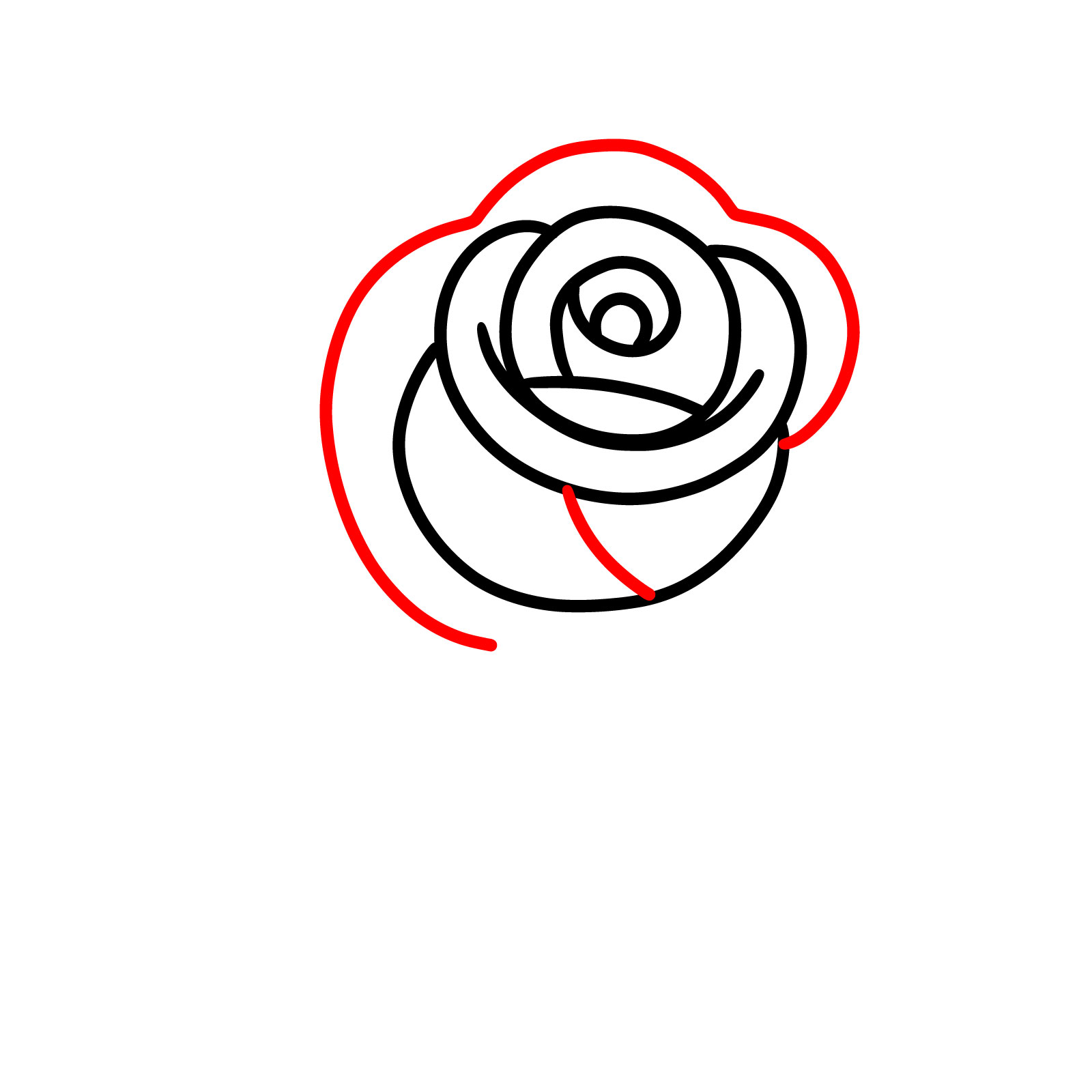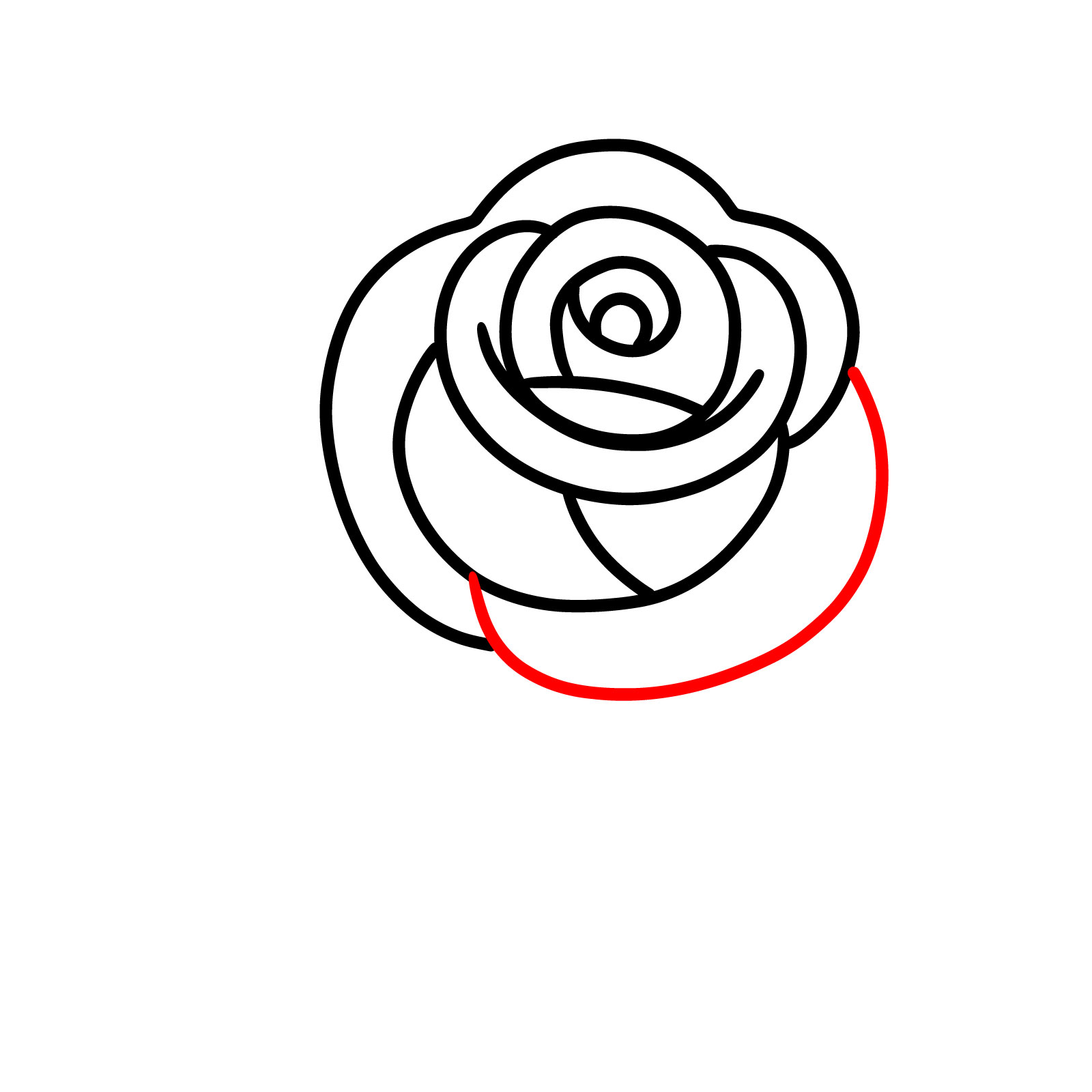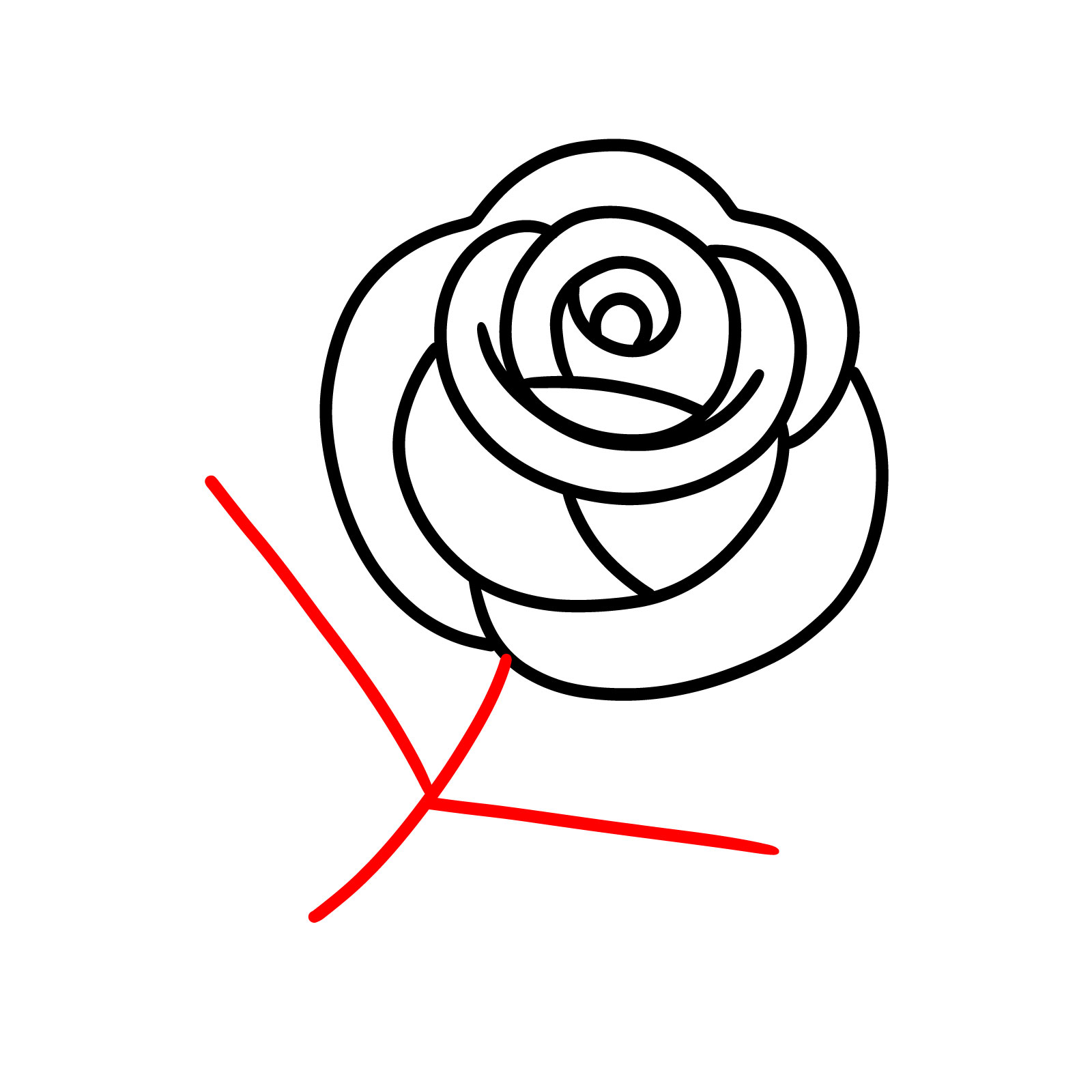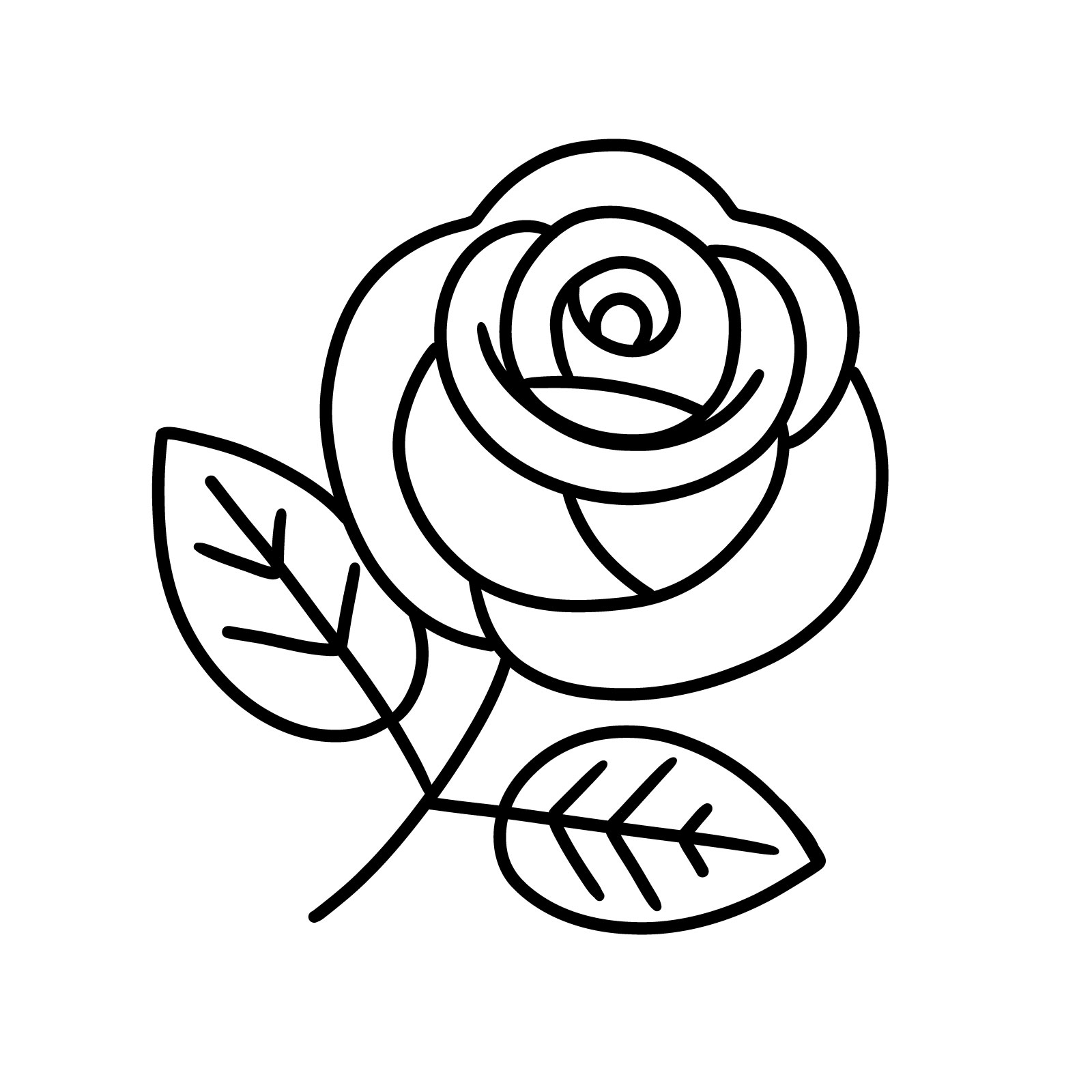 Drawing Guide #3: Simple Tea Rose Illustration
In the third guide, we delve into the charming simplicity of the beloved tea rose. With its prominent bud dominating the composition, this drawing emphasizes the delicate yet substantial nature of the rose's blossom. The thin, short stem, a mere elegant line, is adorned with two leaves that balance the visual weight of the large bud. Added to this are two thorns, bringing a touch of authenticity and edge to the drawing. This 13-step guide is designed for ease and clarity, ensuring that even beginners can achieve a graceful representation of a tea rose with minimal complexity.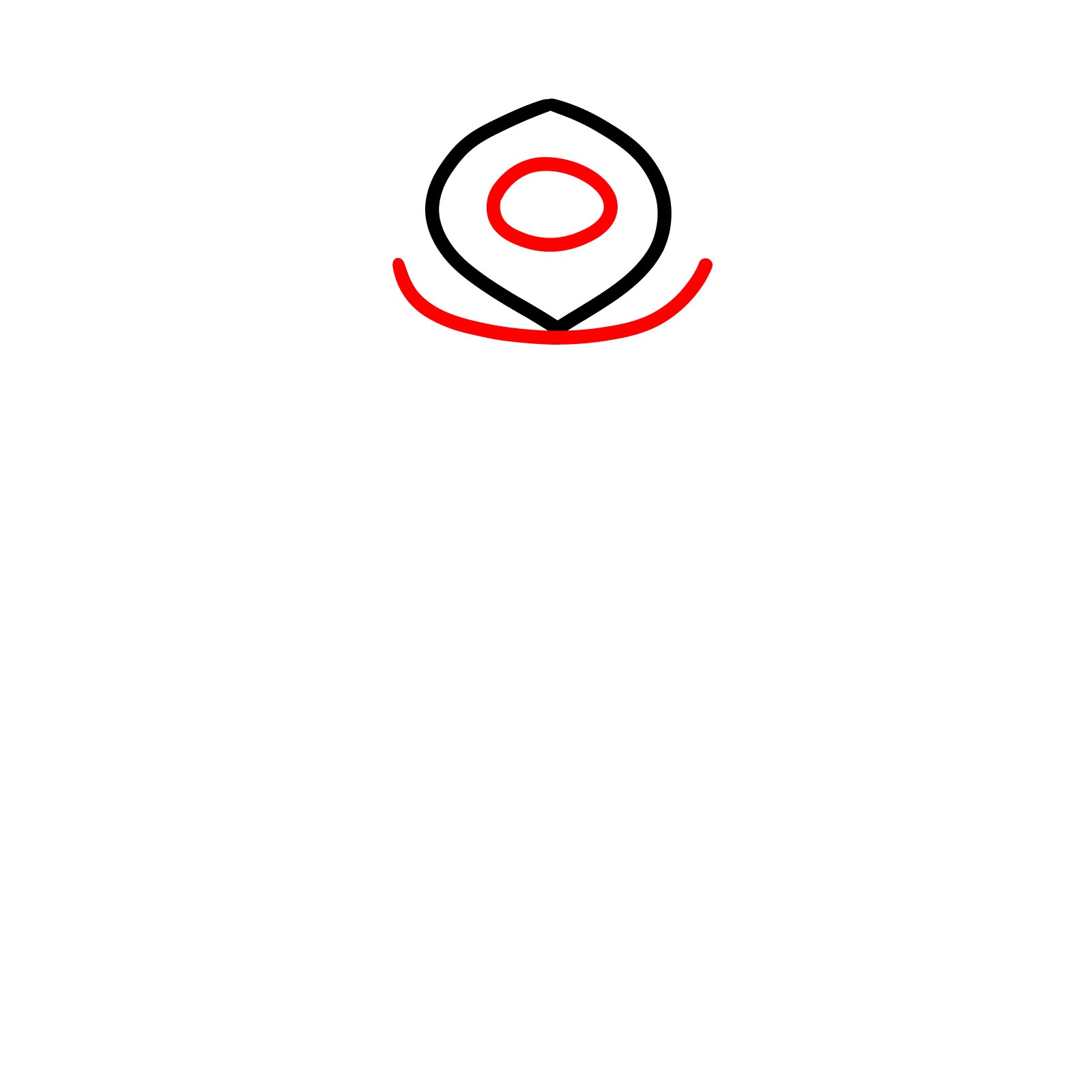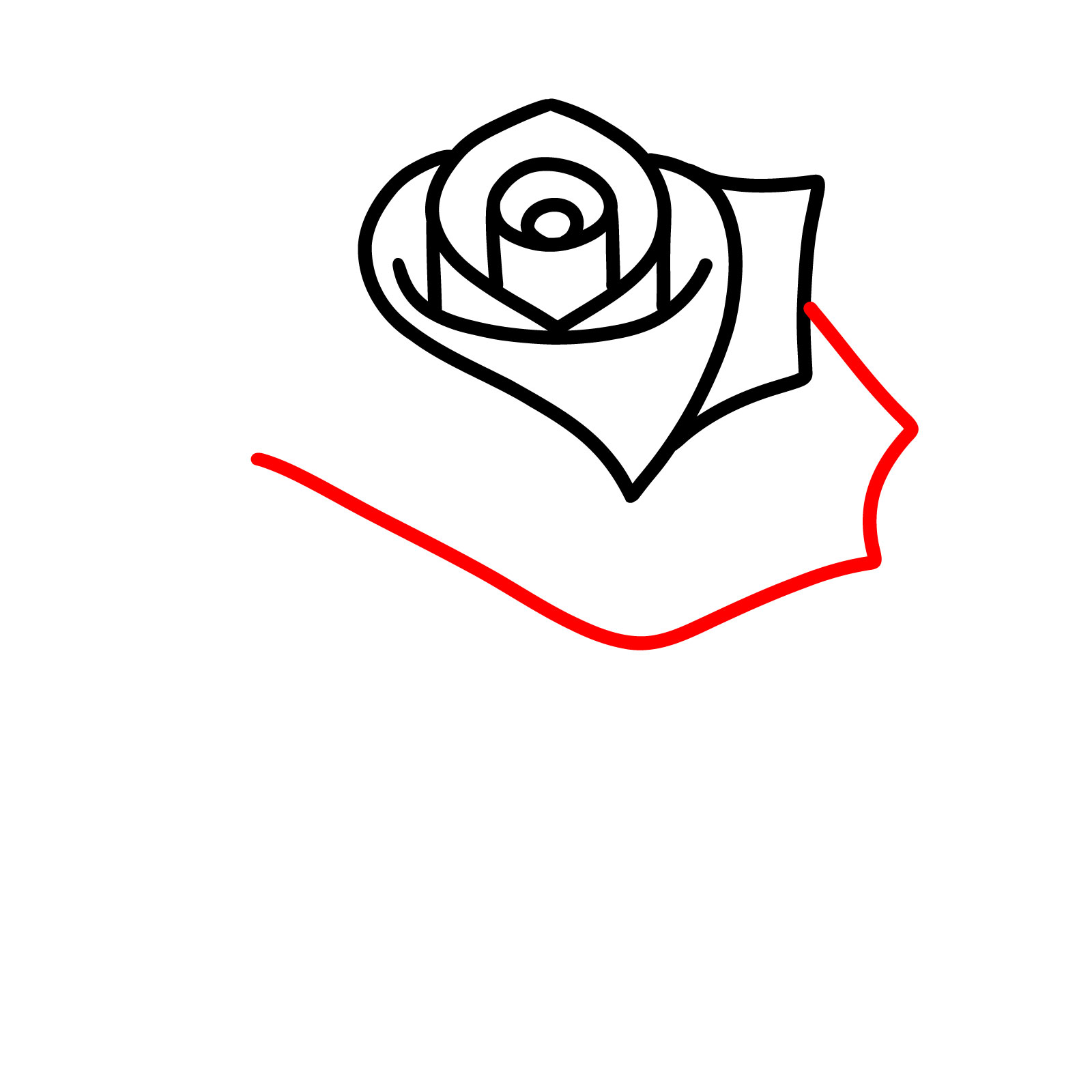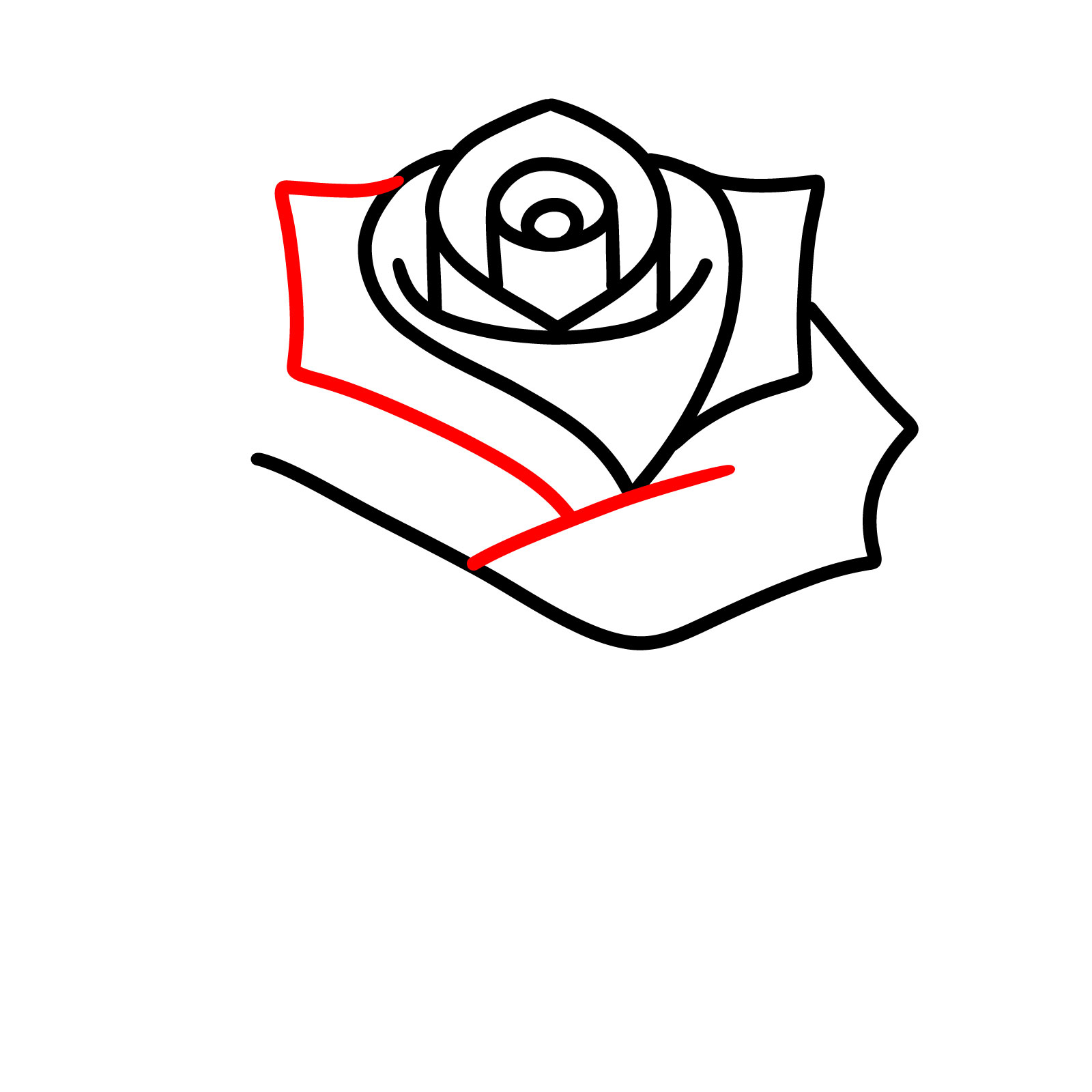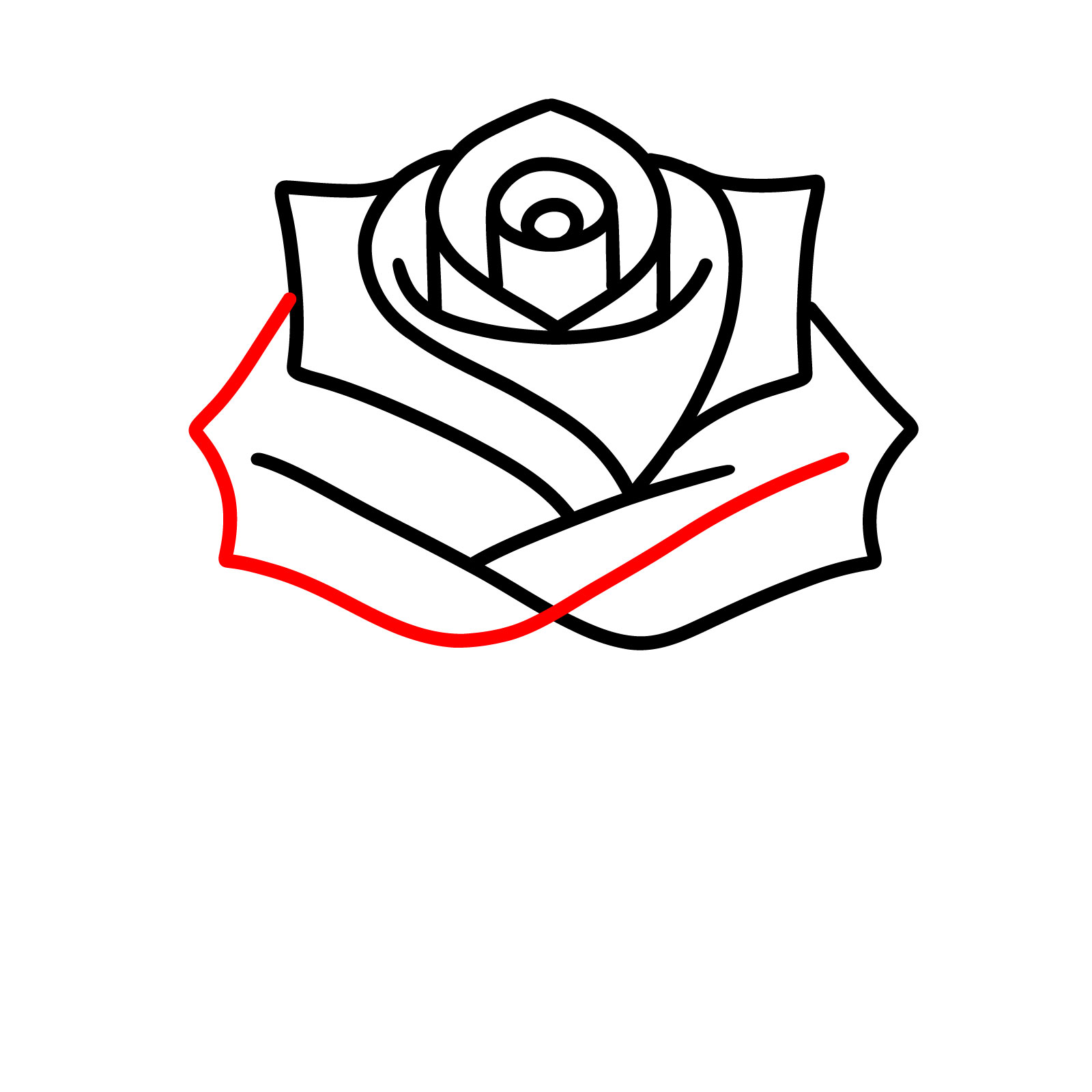 Drawing Guide #4: Easy Geometric Rose Design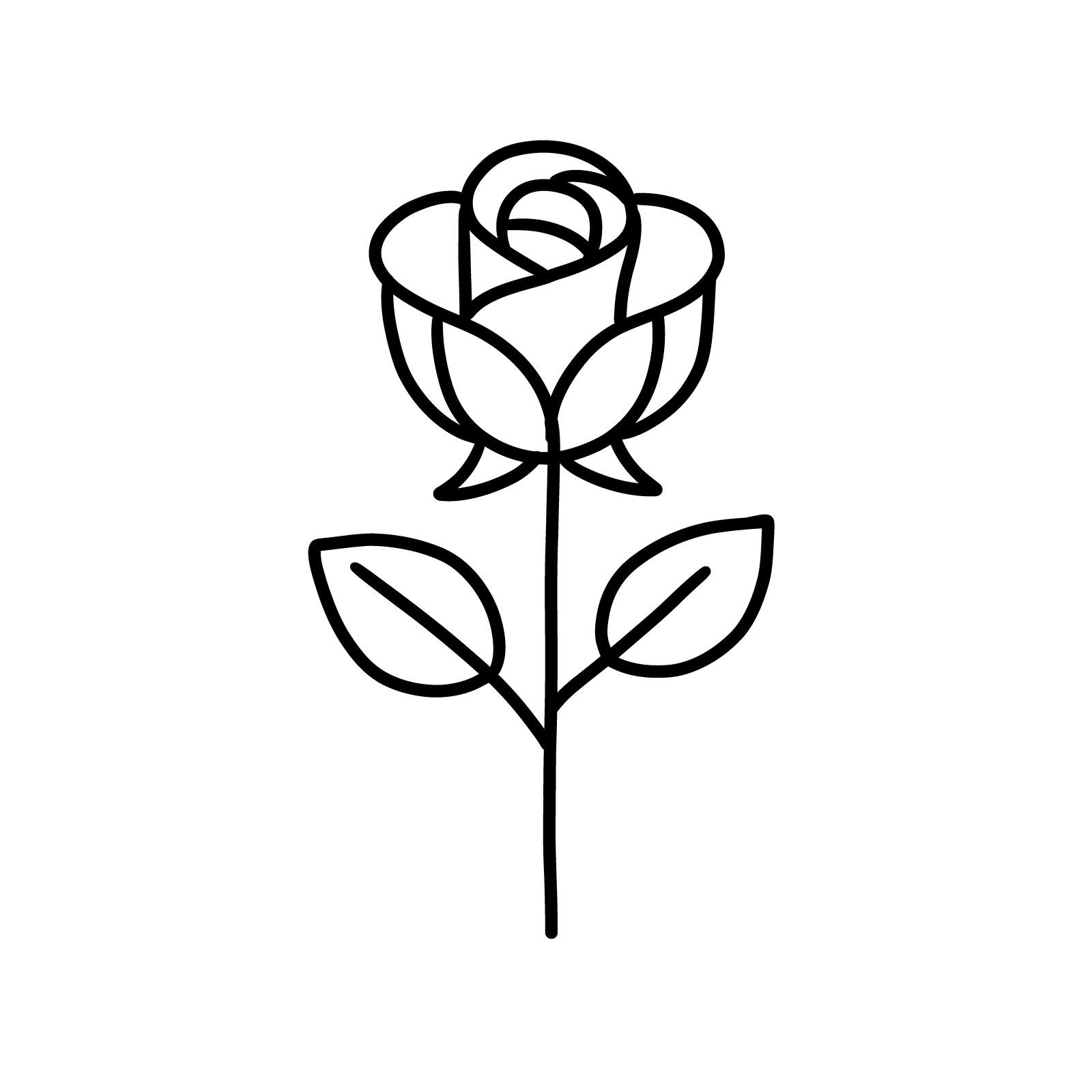 This approach simplifies the rose into essential forms and lines, perfect for those who appreciate the interplay of shape and space. The rose emerges from a series of soft, curving lines that interconnect to form a stylized bloom, reminiscent of the elegant yet mathematical beauty found in nature. With only two leaves to complement the structure, the design retains its clarity and ease. This line-drawing breaks the process down into 9 straightforward steps, making it accessible for all skill levels. The guide is especially suited for learners who favor a visual style that marries the organic with the geometric, resulting in a rose that's both easy to draw and pleasing to the artistic eye.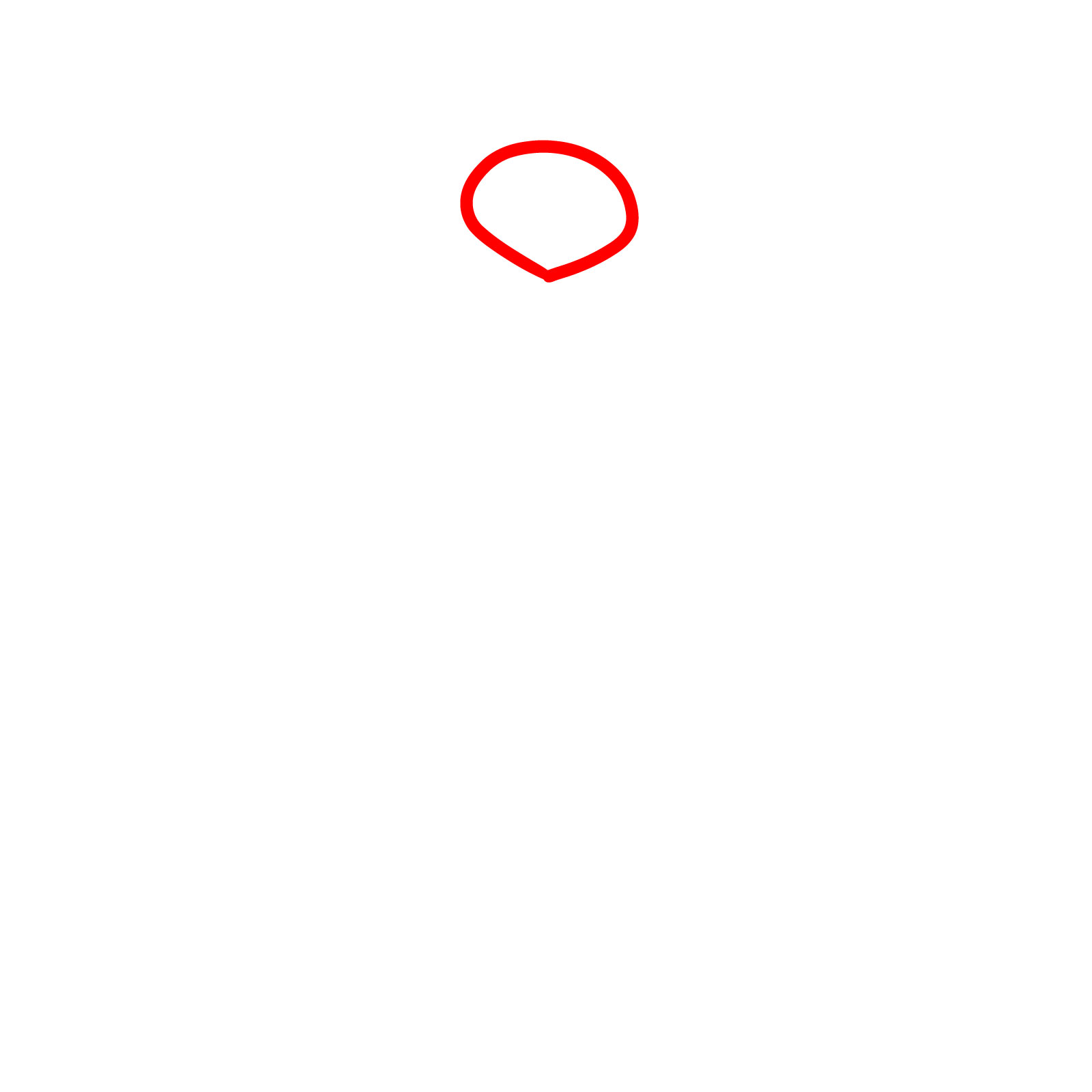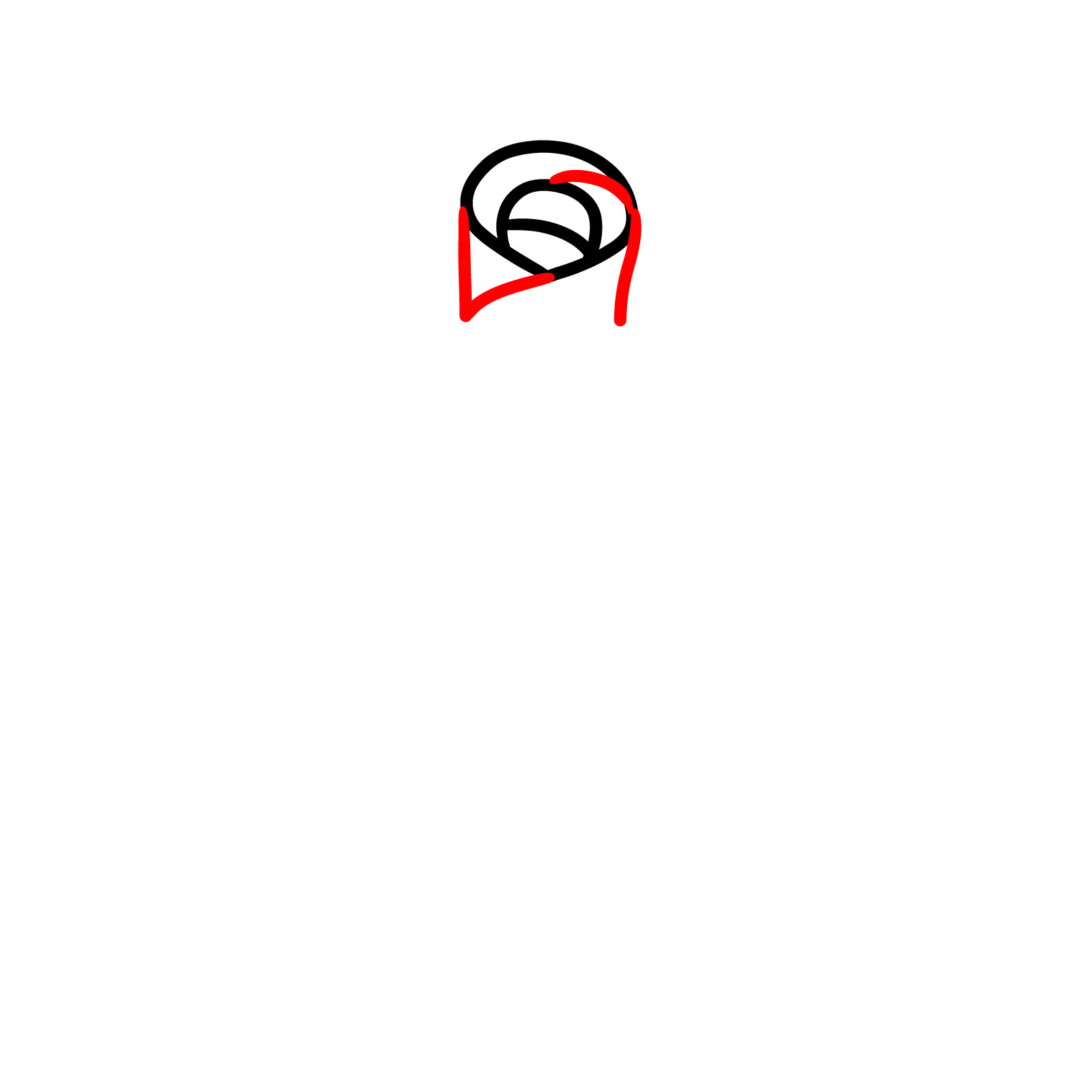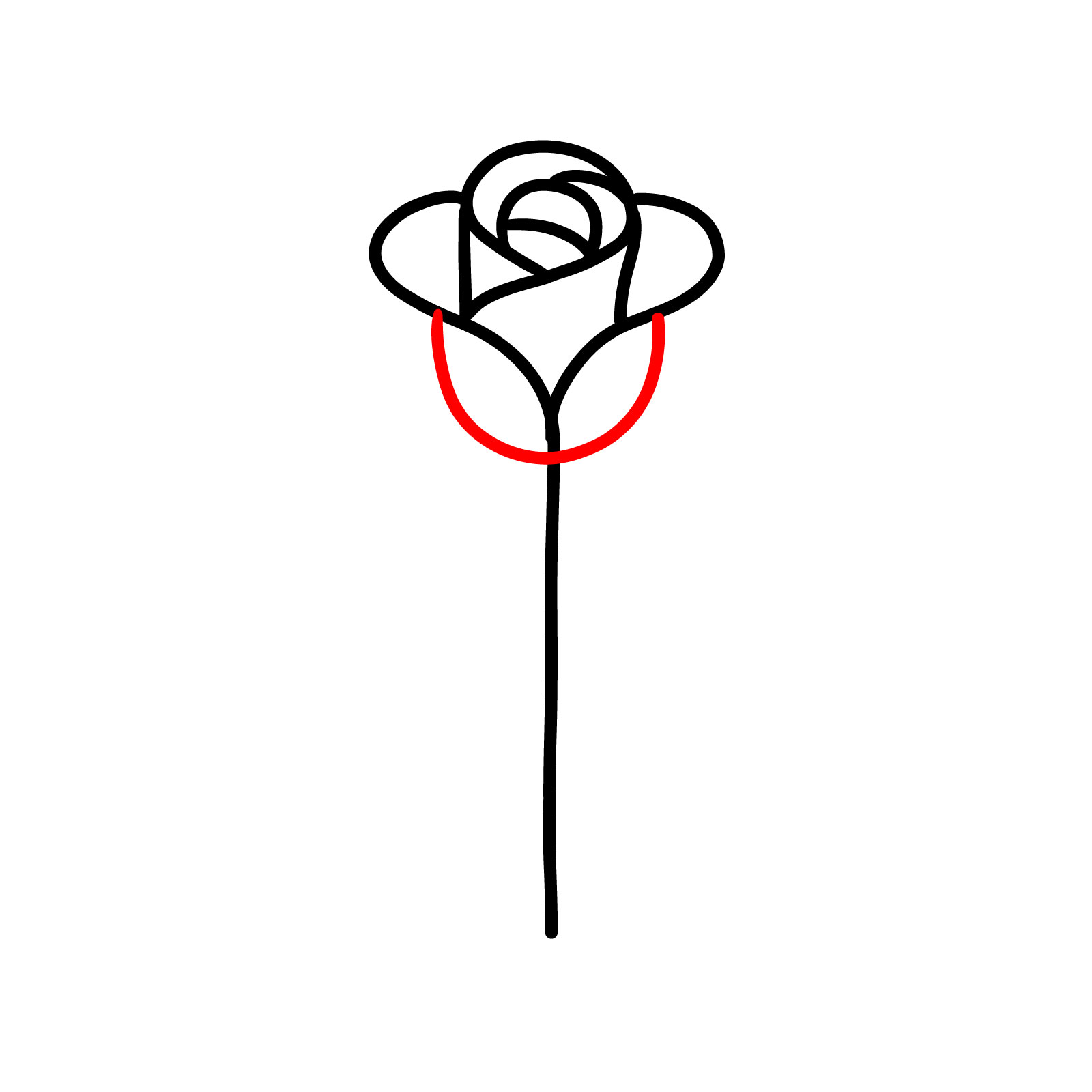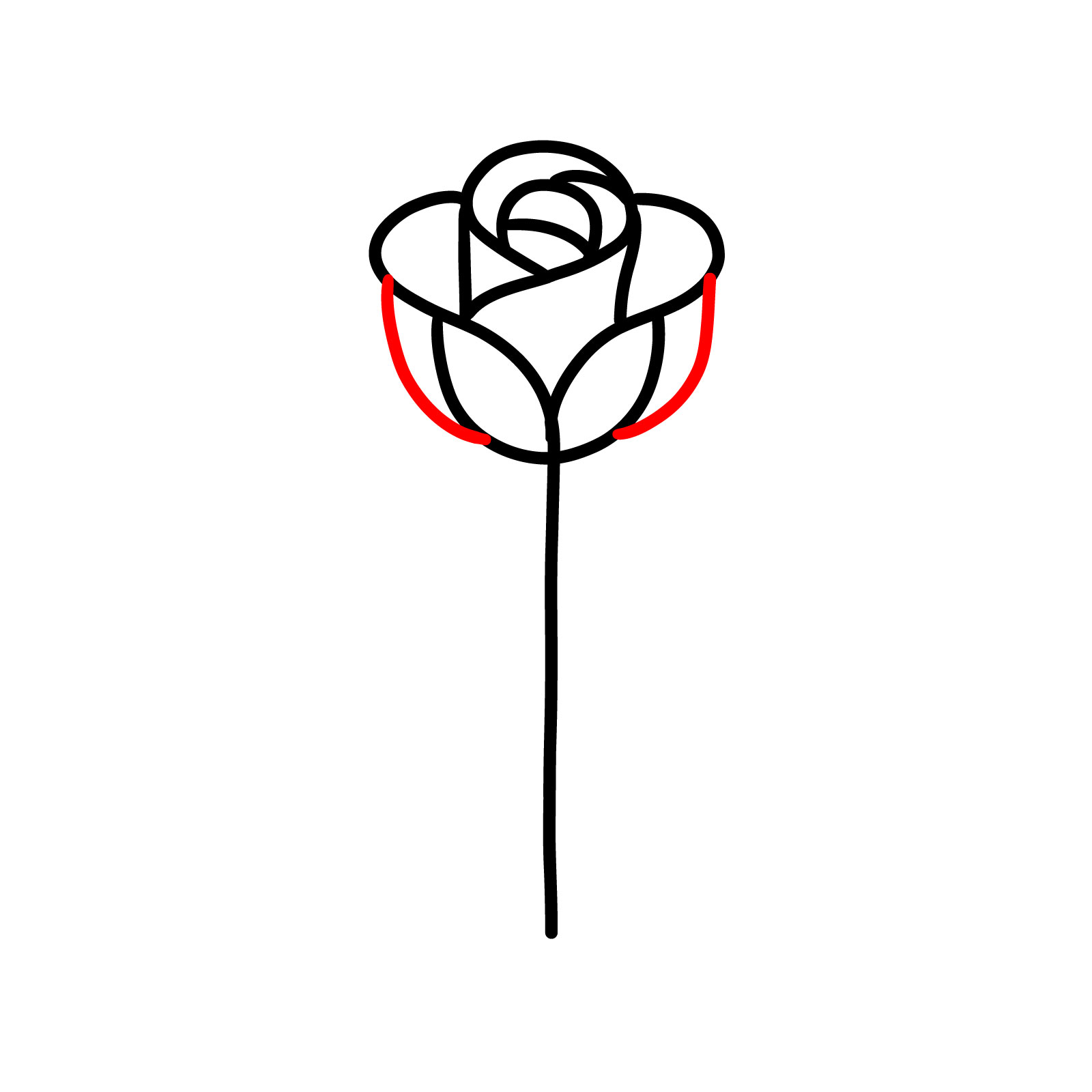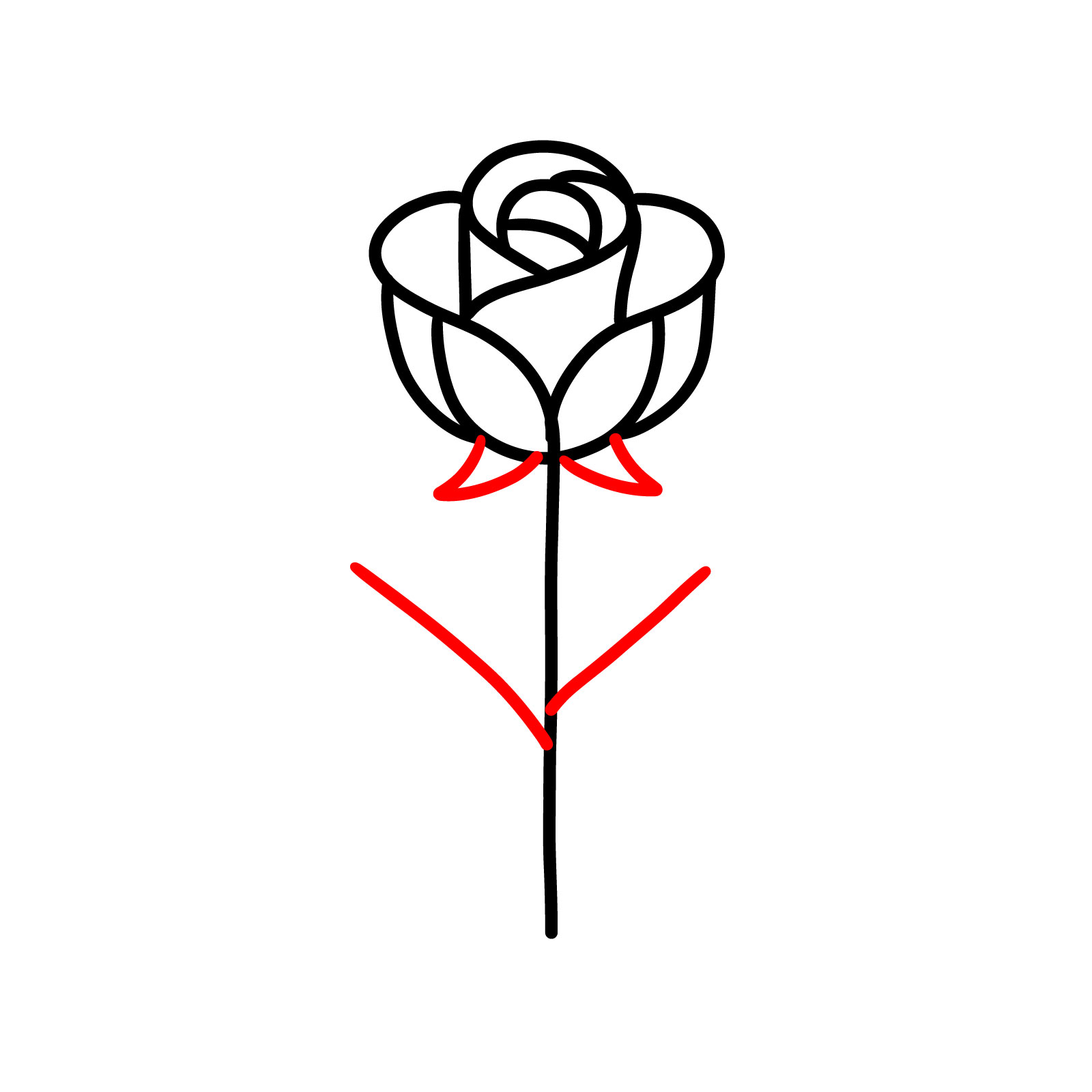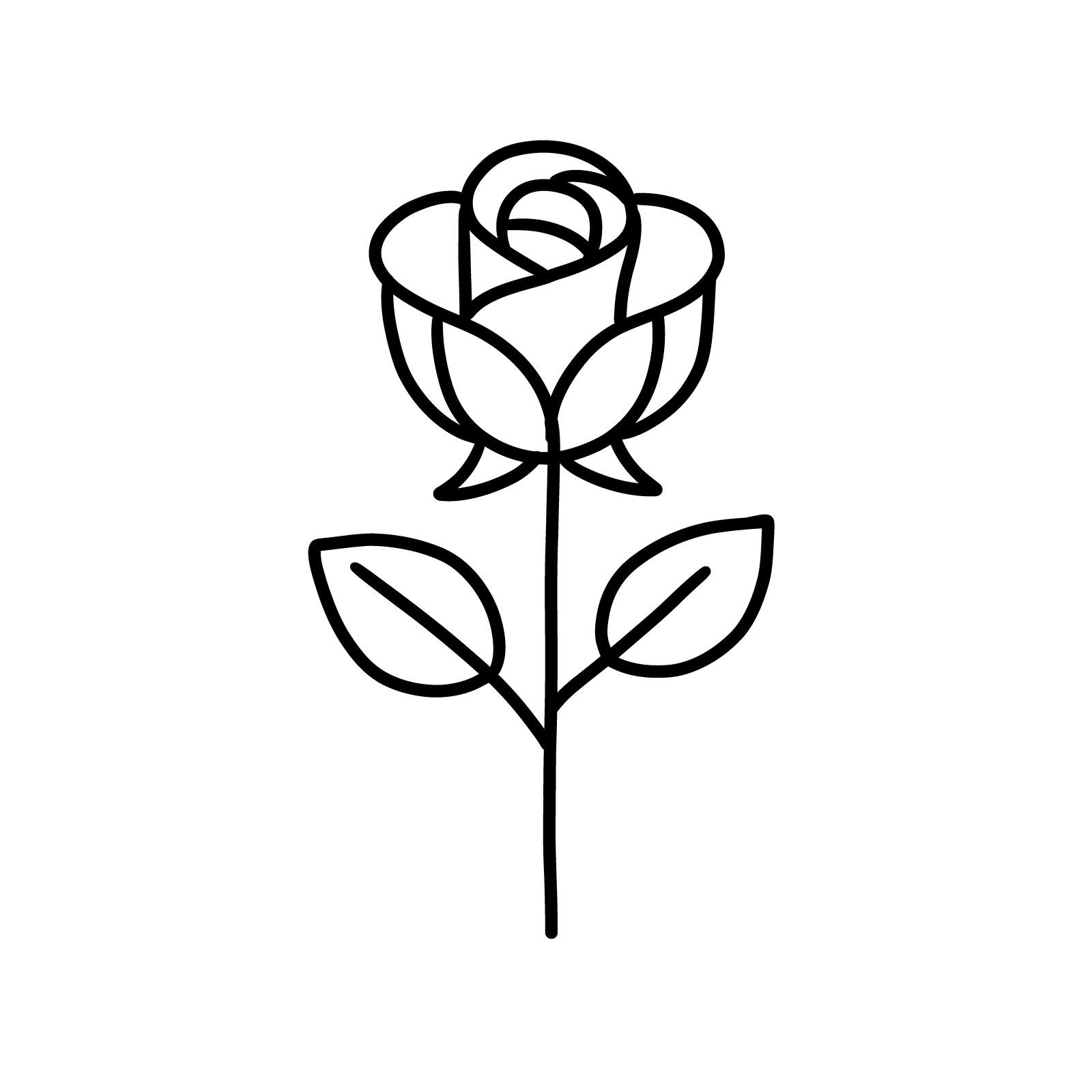 Drawing Guide #5: Simplified Realistic Rose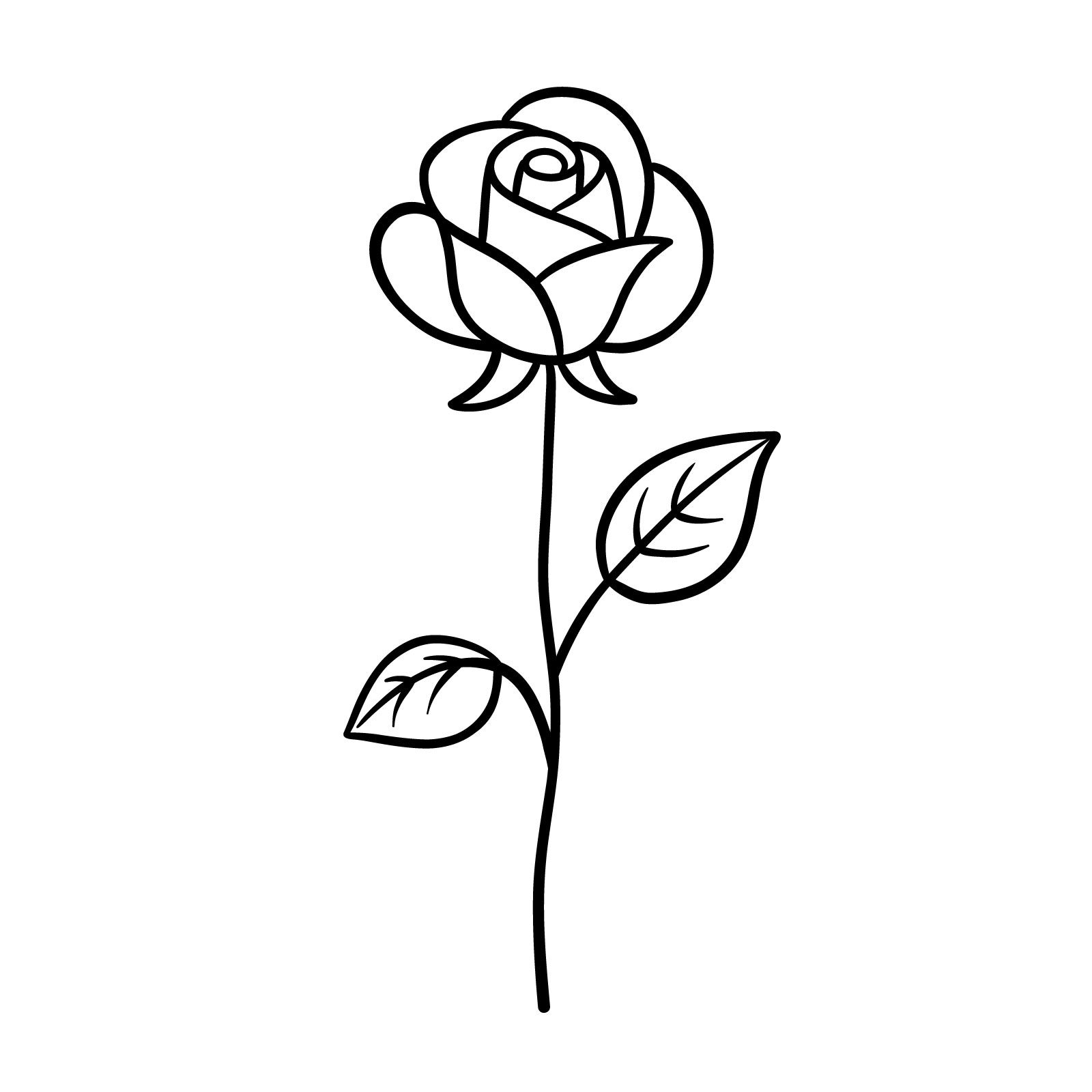 The fifth guide on how to draw a rose offers a harmonious blend of ease and authenticity. This guide invites you to capture the rose's essence with more organic lines and forms, creating a balance between simplicity and naturalism. In just 10 well-structured steps, you'll learn to craft a rose that boasts a realistic appearance while remaining approachable for artists at any level. Each step is designed to build upon the last, gradually adding layers without overwhelming complexity.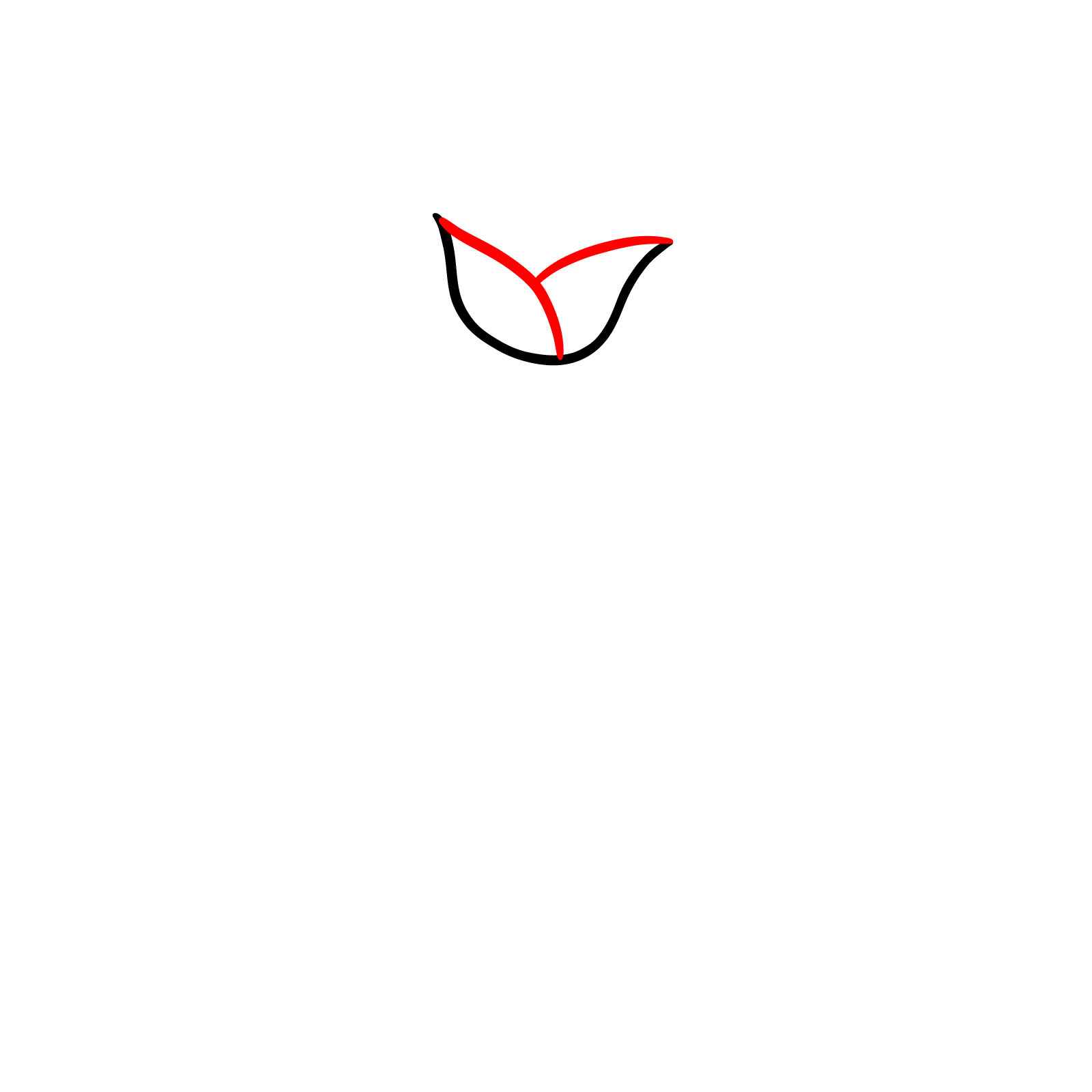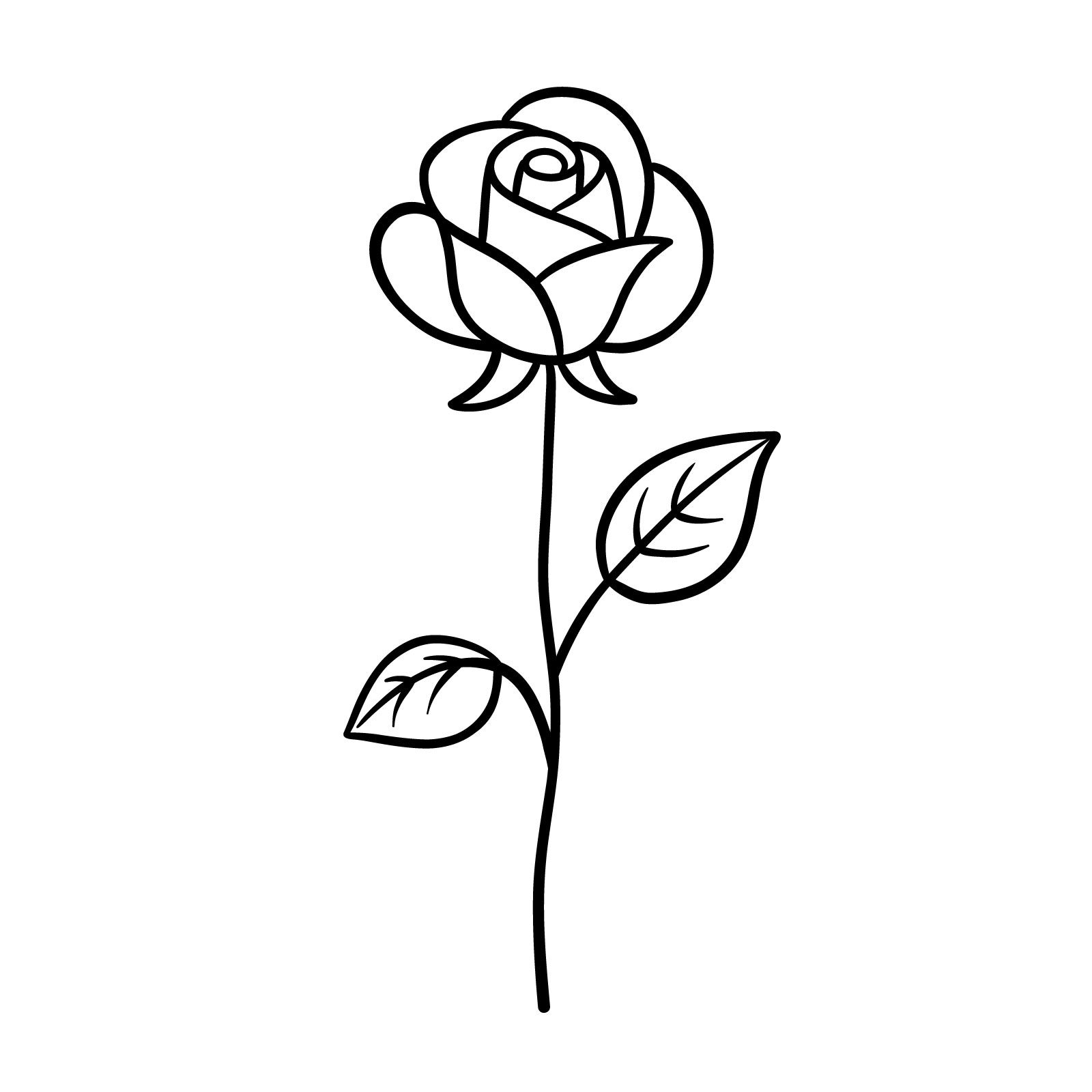 Drawing Guide #6: Easy Rosebud Sketch
The sixth rose drawing guide designed to gently introduce you to the art of rosebud drawing with a charming top side view perspective. This guide simplifies the intricate structure of a rosebud into a friendly spiral with soft, curving lines that capture the essence of its delicate form. Peek at the partially visible leaves that cradle the bud, adding a touch of natural grace. Within just 9 straightforward steps, you'll see your rosebud bloom on the page, perfect for those looking to create lovely botanical sketches without the complexity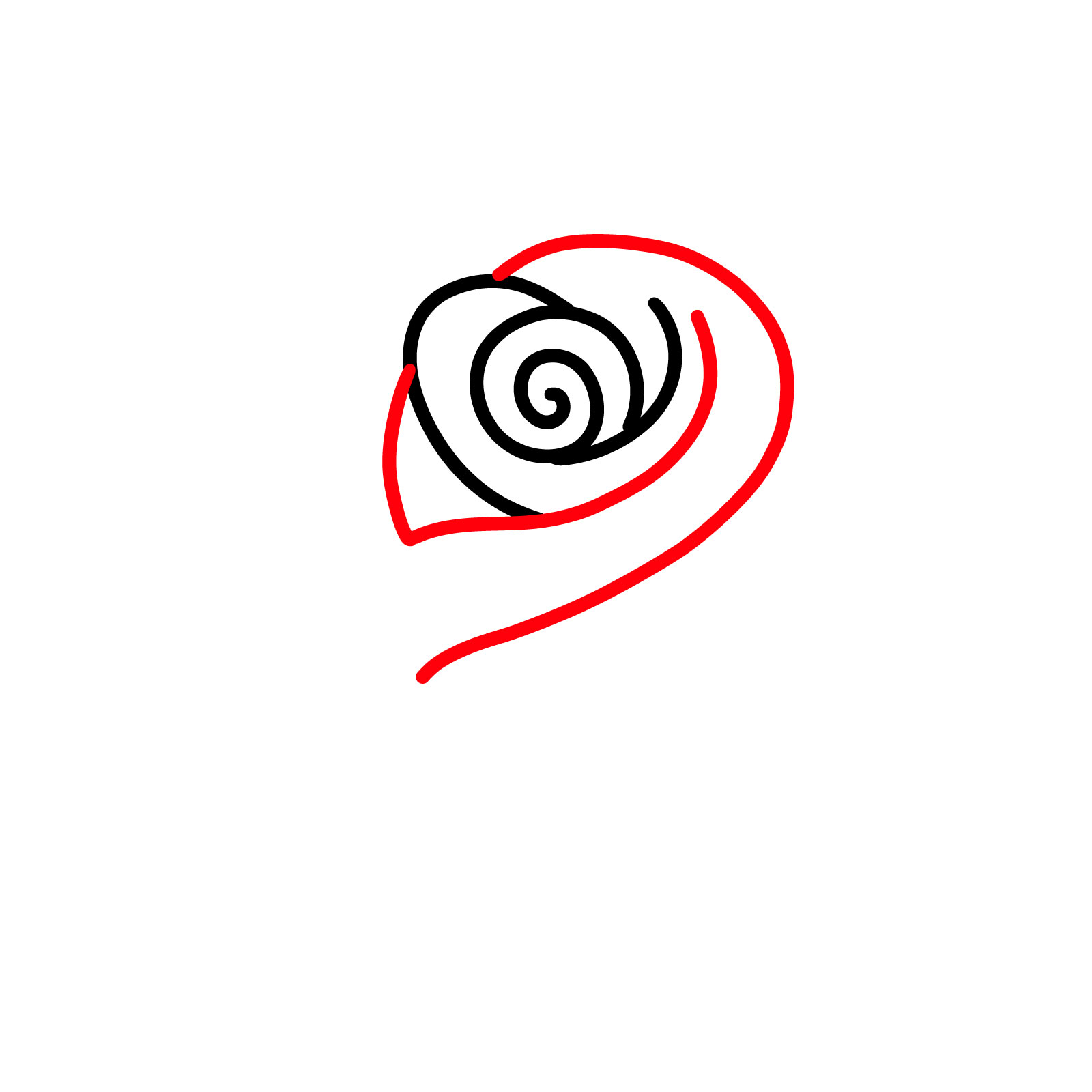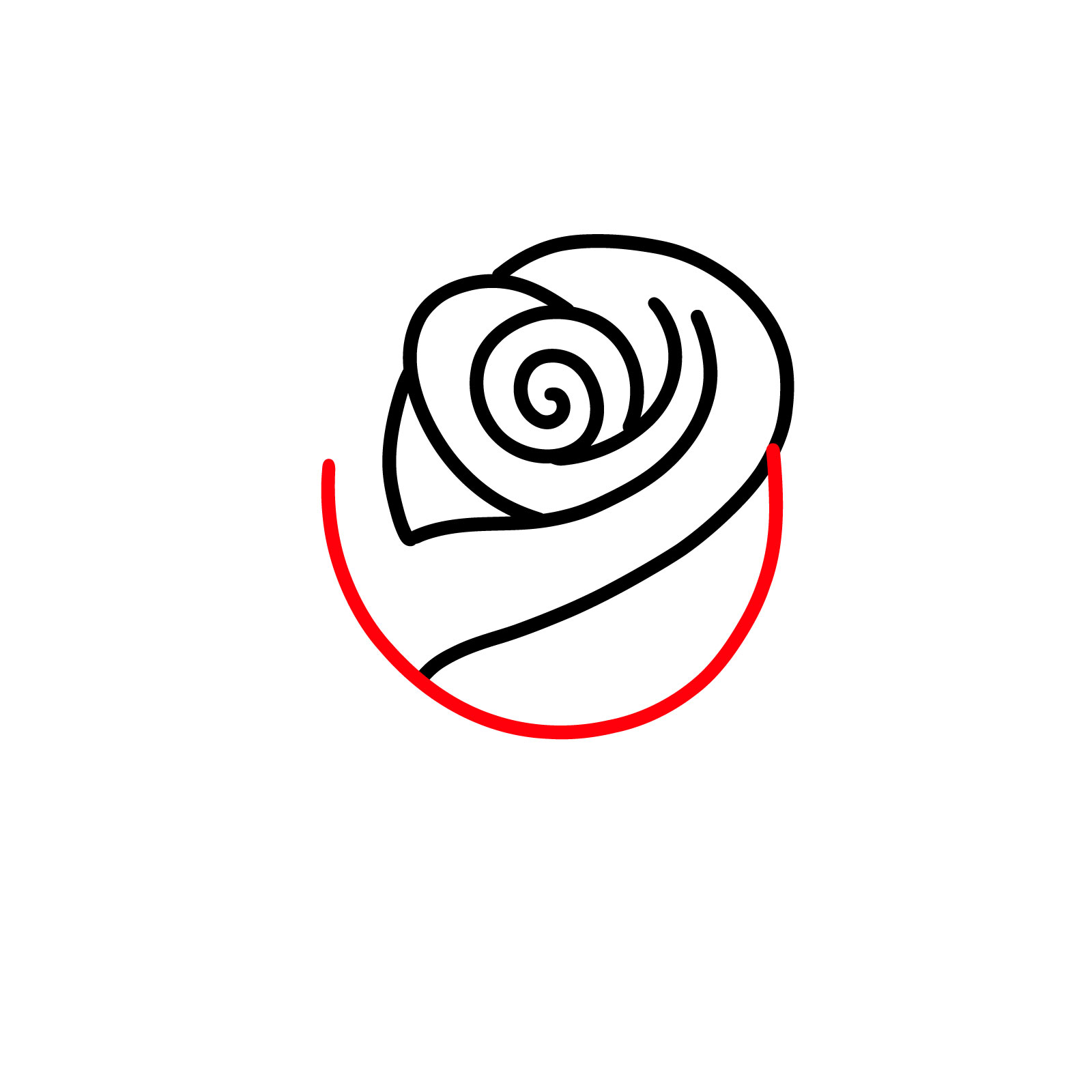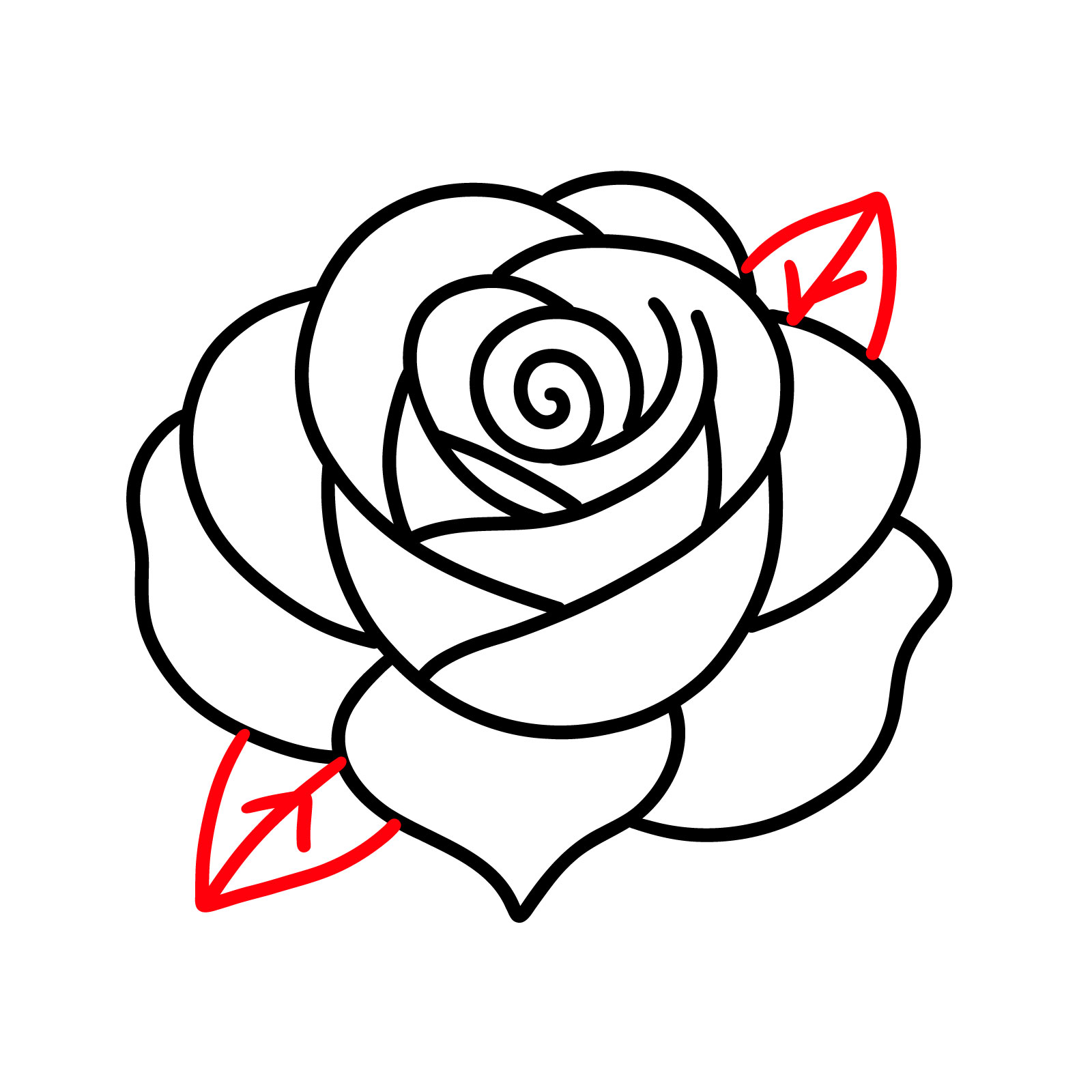 Drawing Guide #7: Realistic Rose Drawing (Advanced)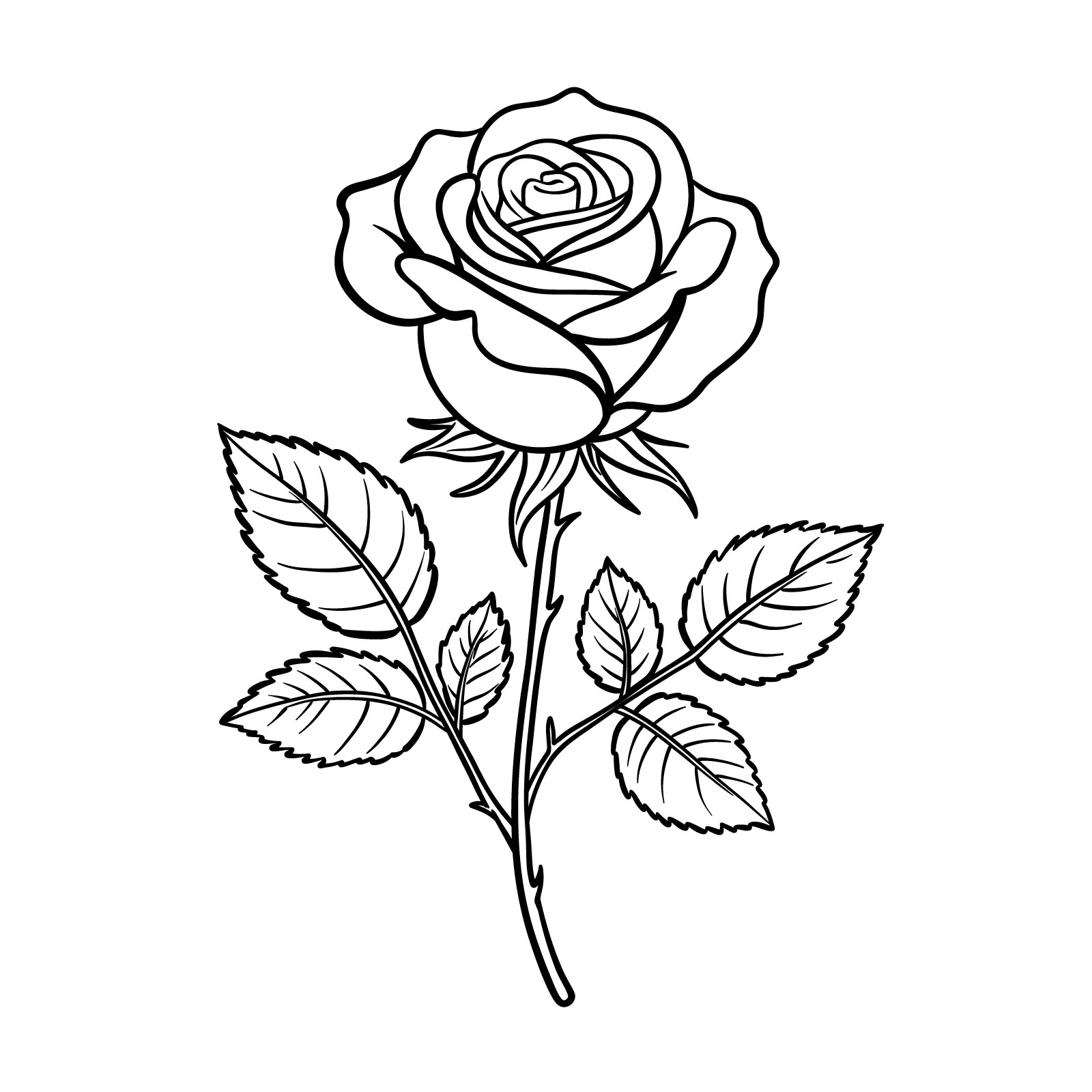 Dive into the next guide, which, despite its advanced tag, remains an approachable challenge for any budding artist. Don't let the label intimidate you; this guide is a natural progression from simple outlines to the rich detail and organic lines that bring a rose to life. Take a little more time to appreciate the intricacies, from a stem natural form and sprouts authentic-looking thorns to the jagged leaves that add texture and depth. The rosebud unfurls with layers that mimic nature's own design. Spread across 19 comprehensive steps, this guide is here to help you easily master drawing more complex roses.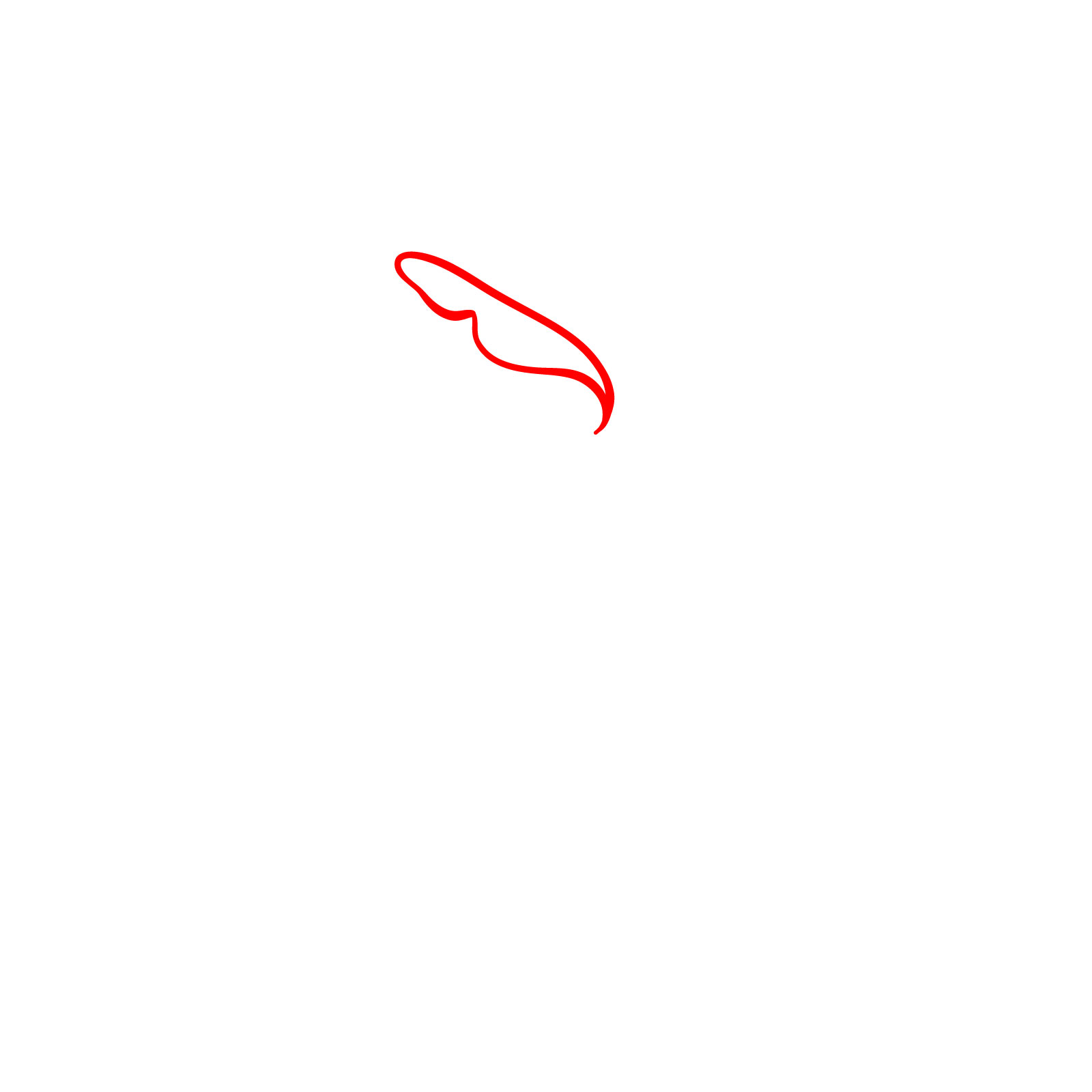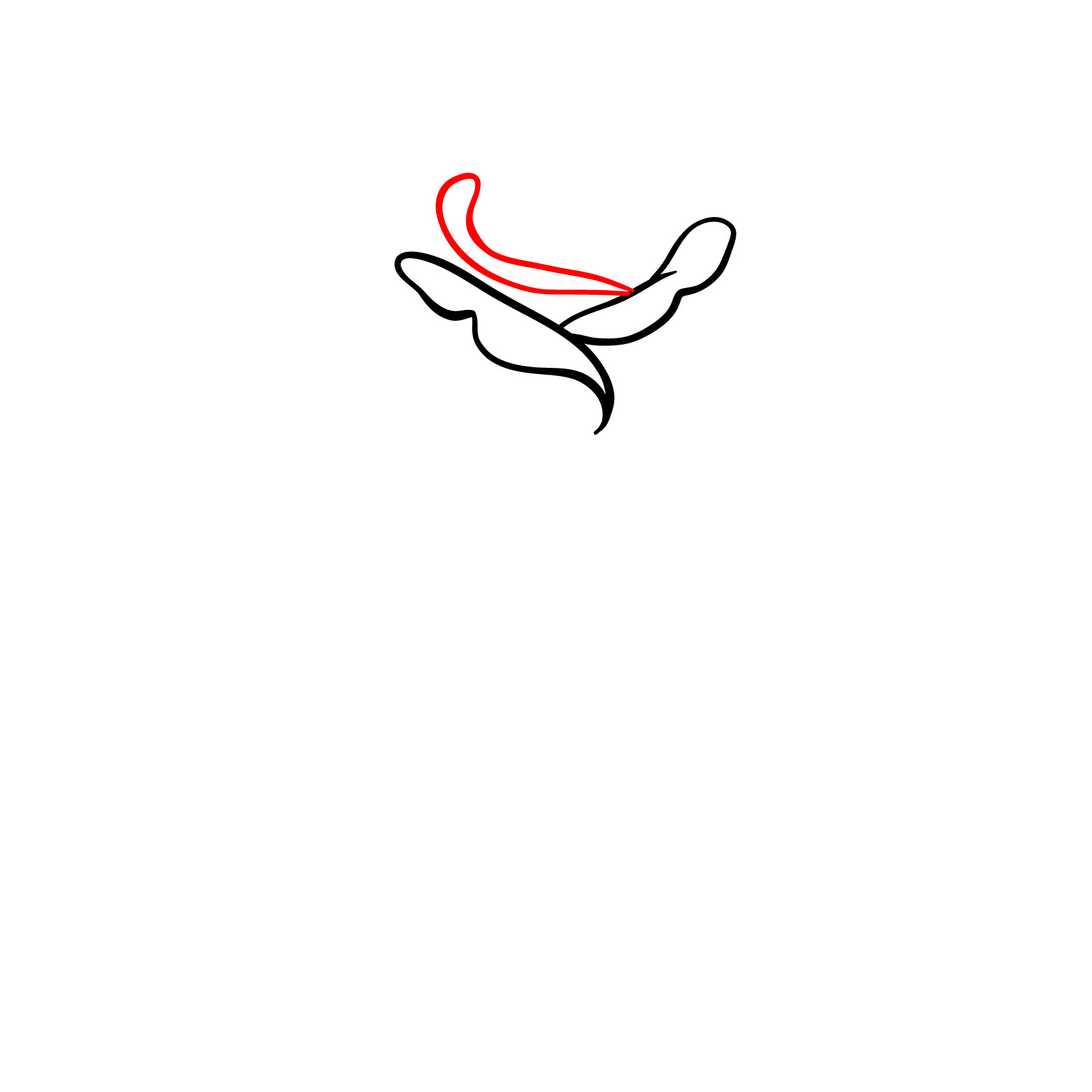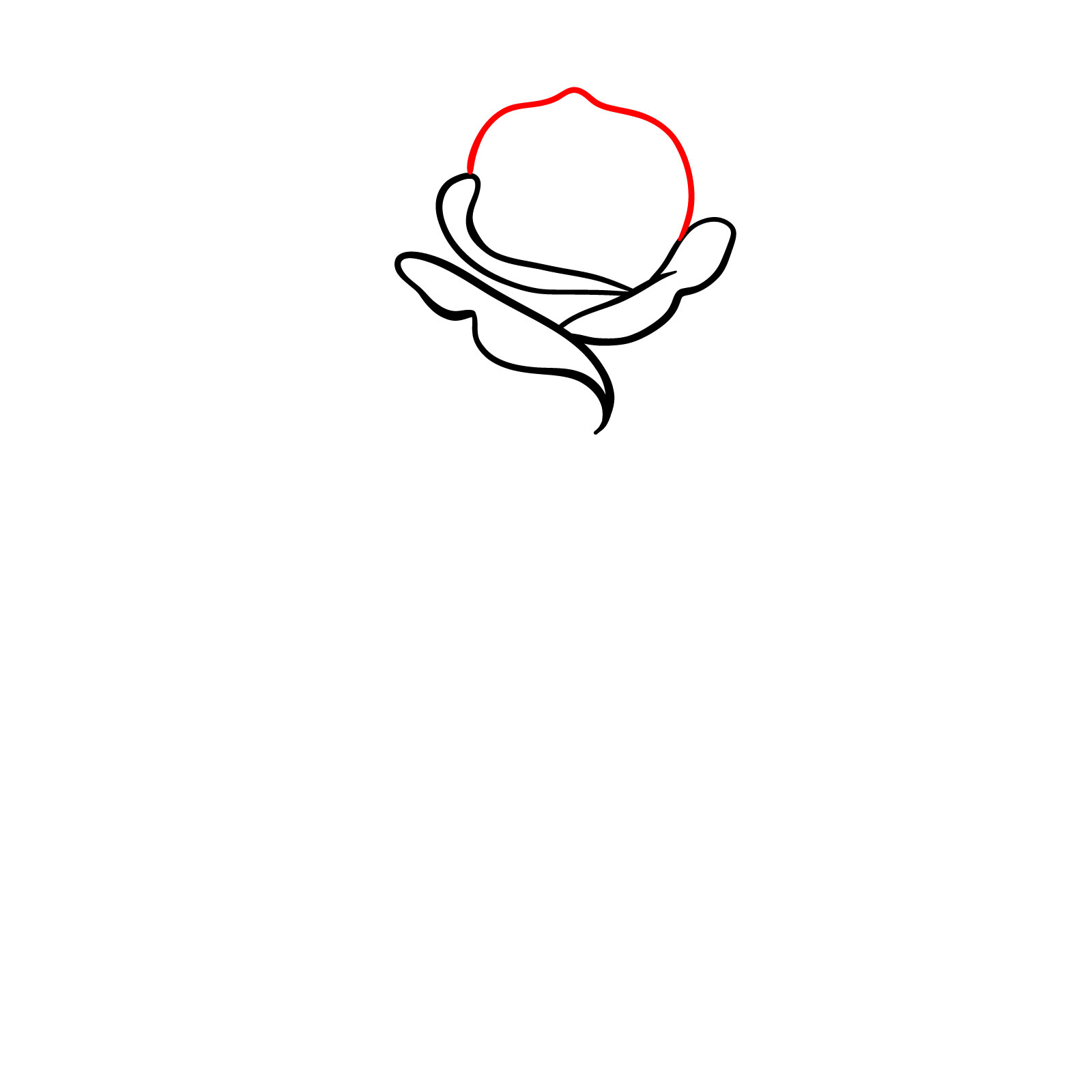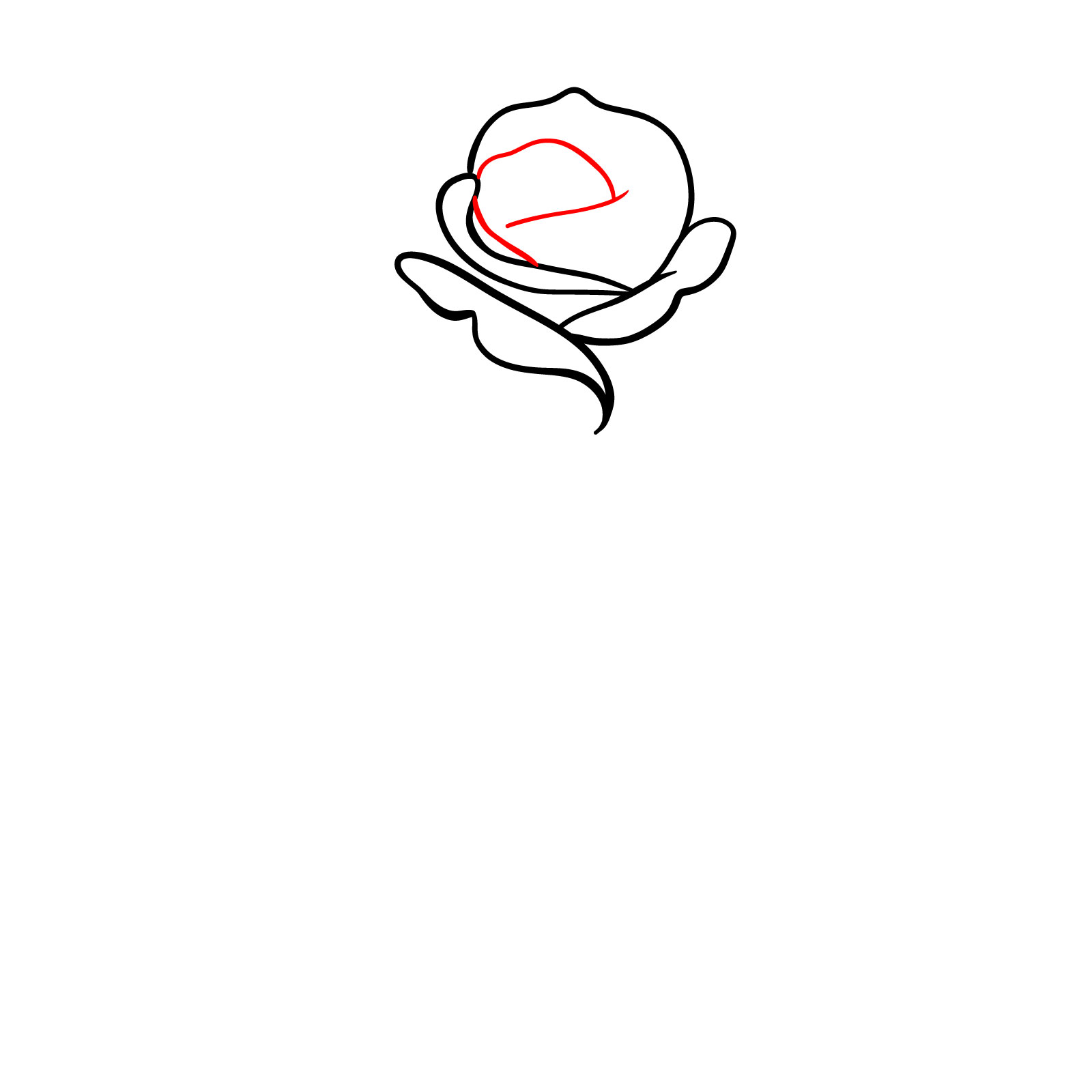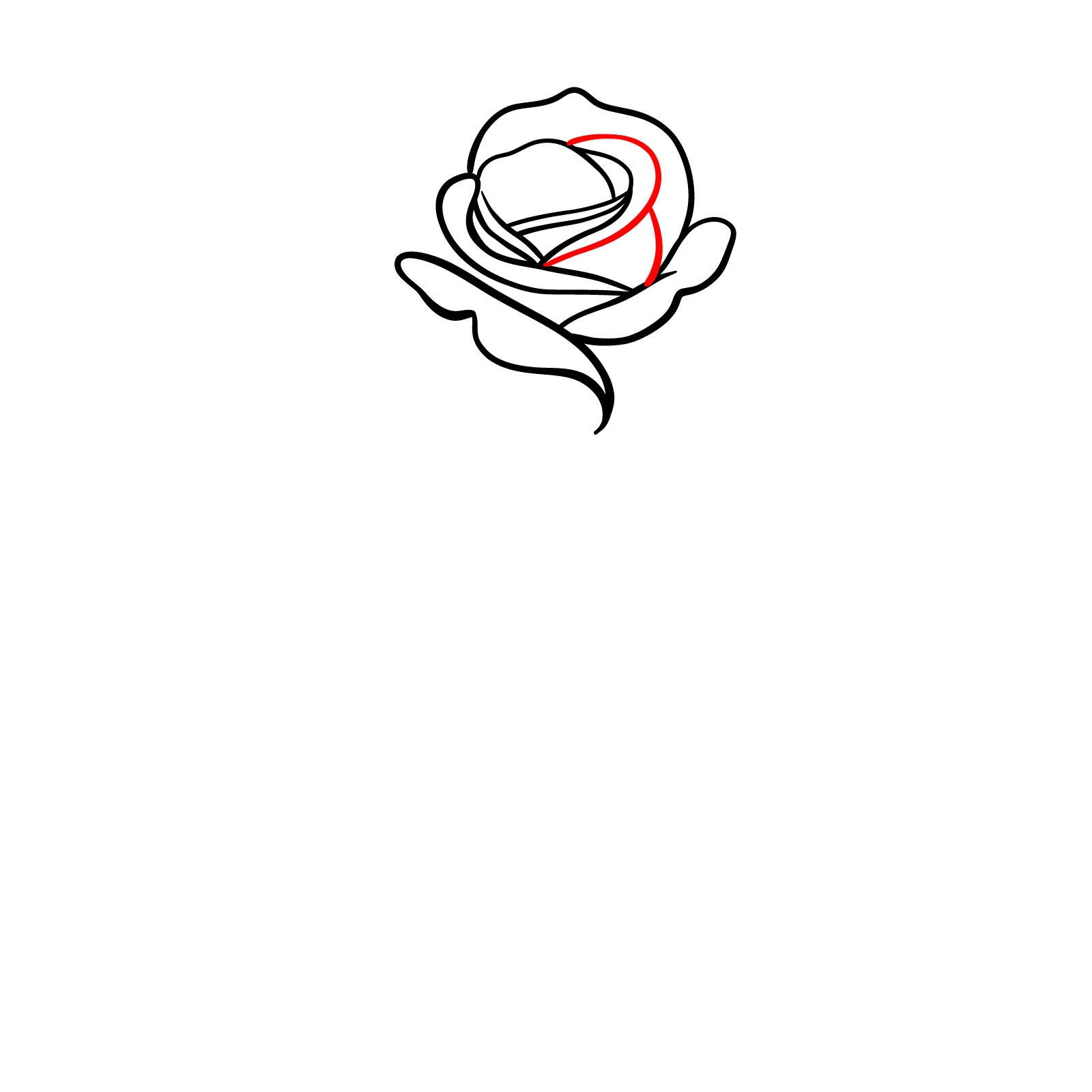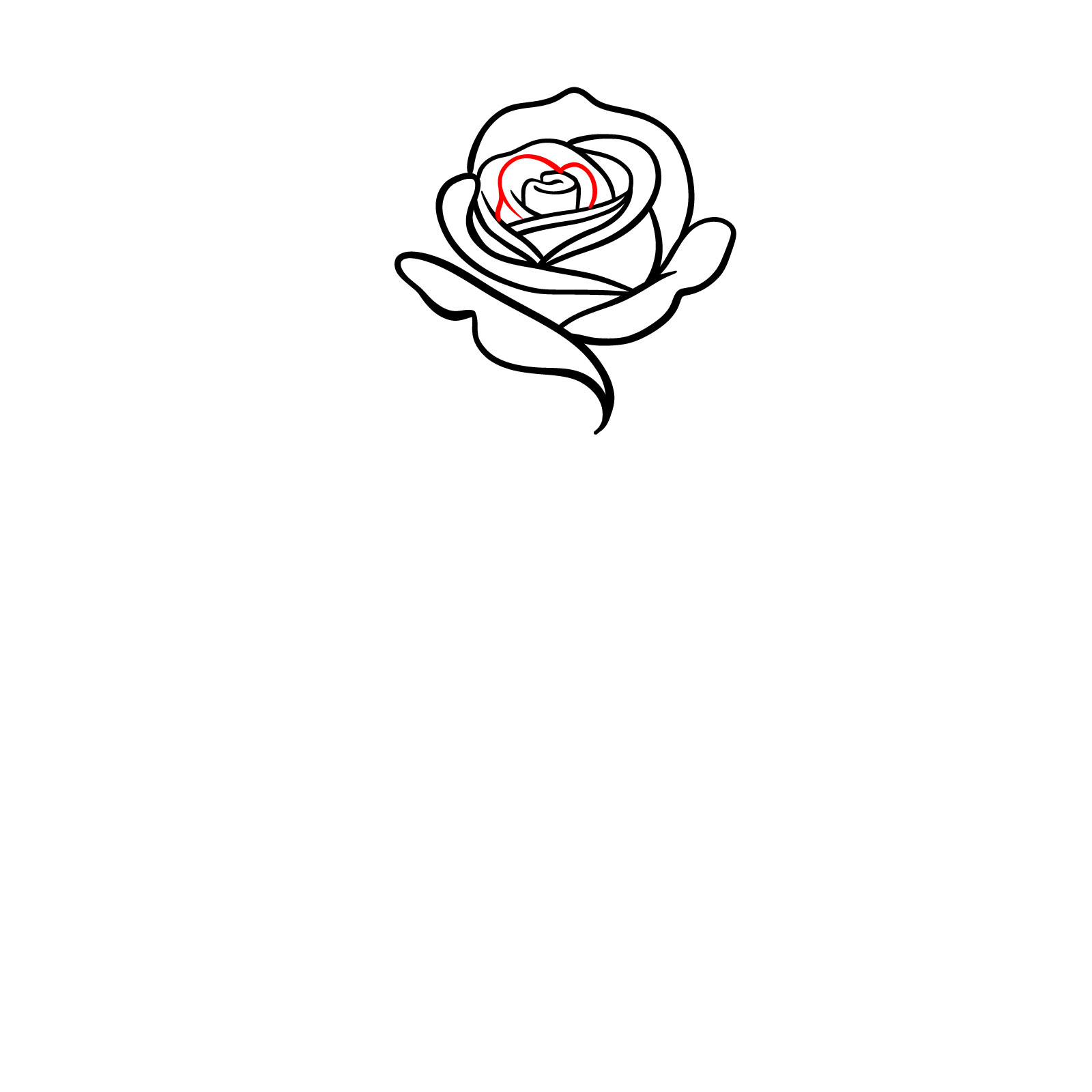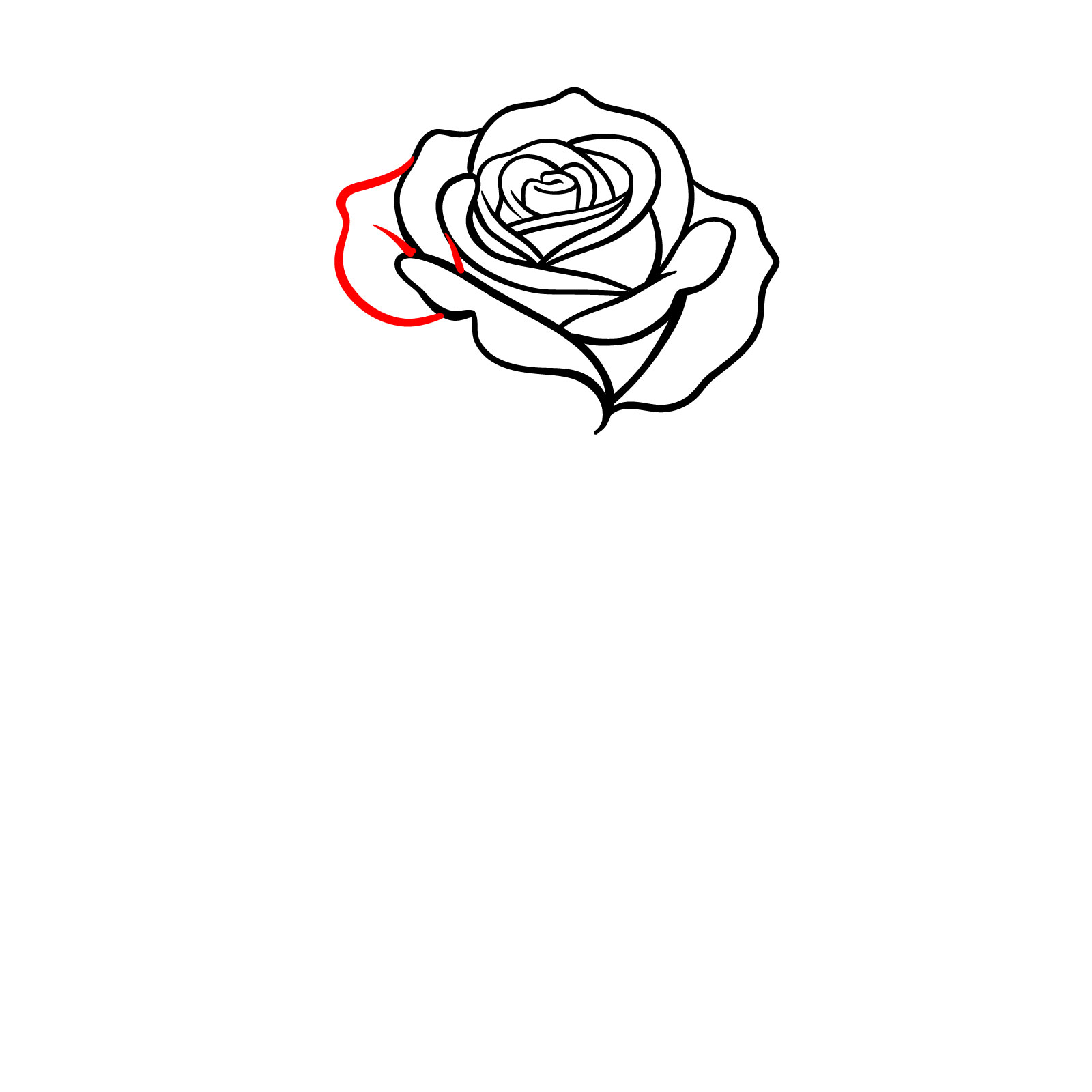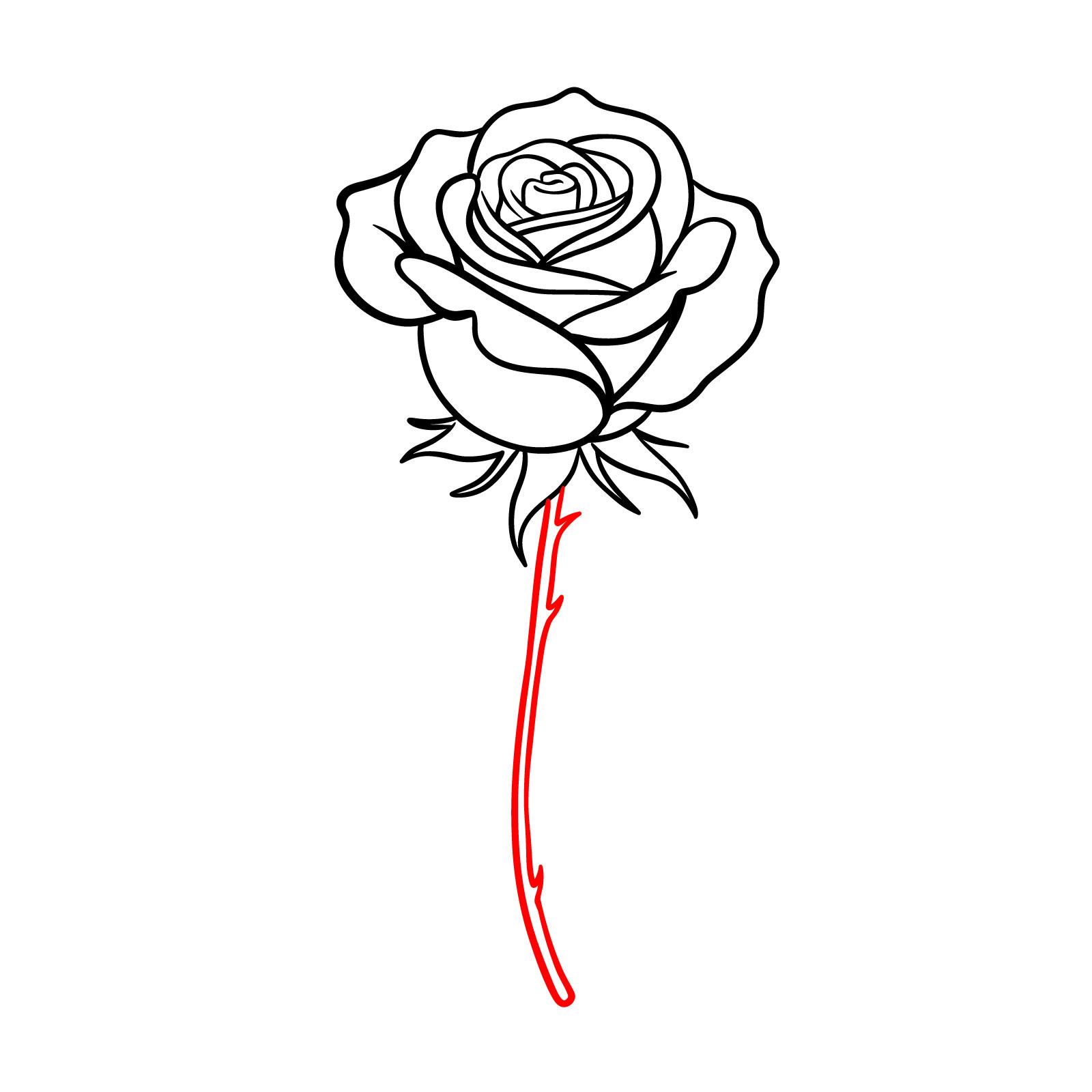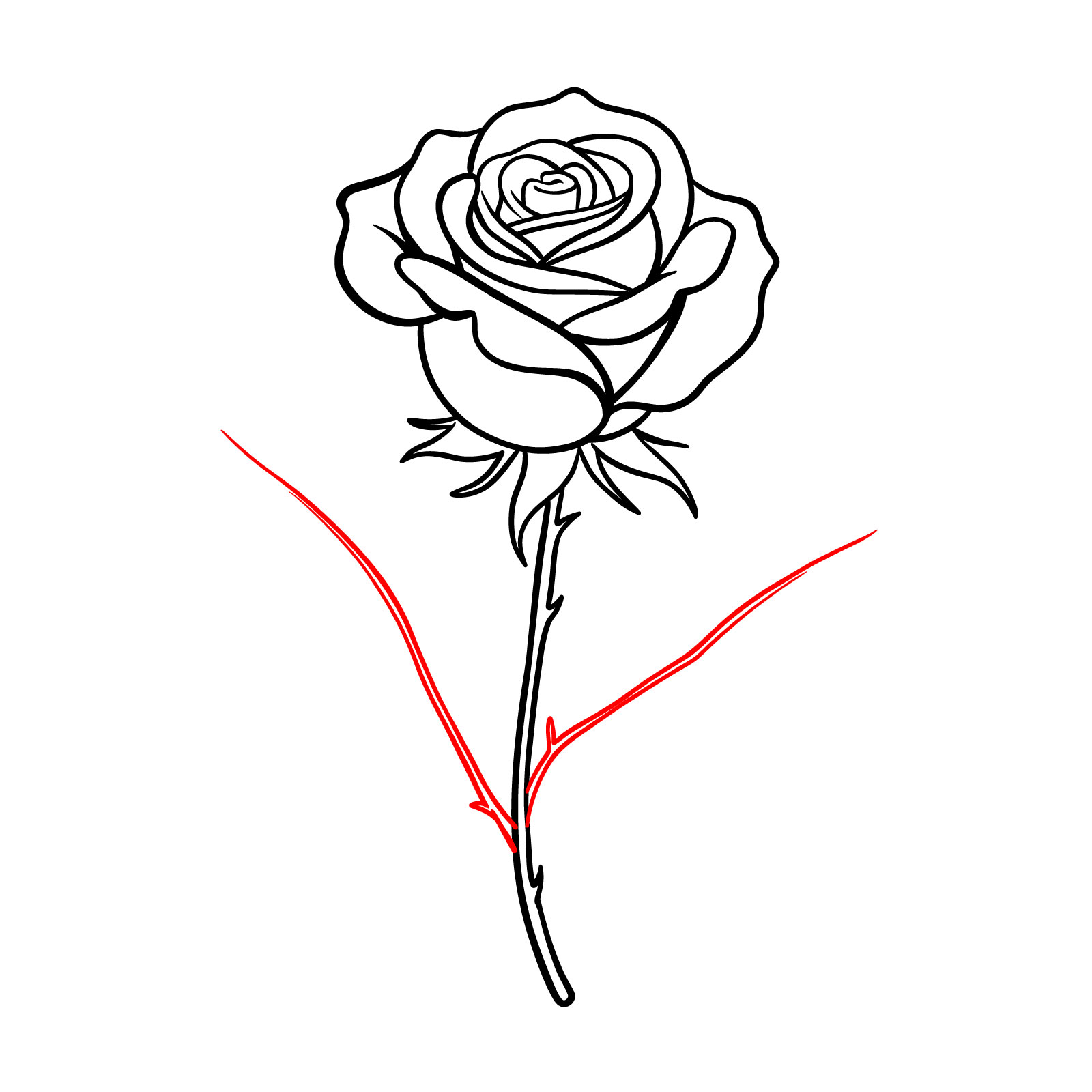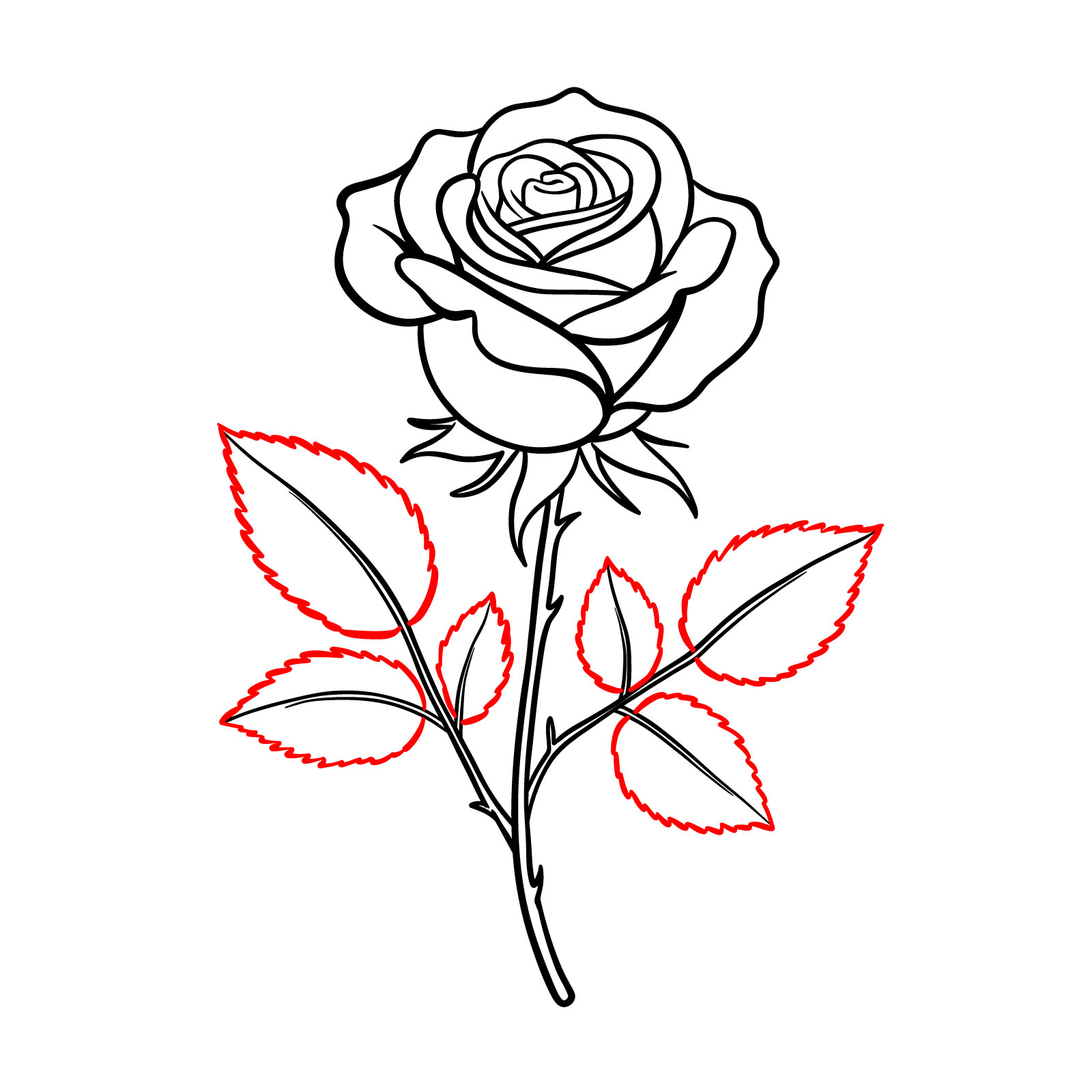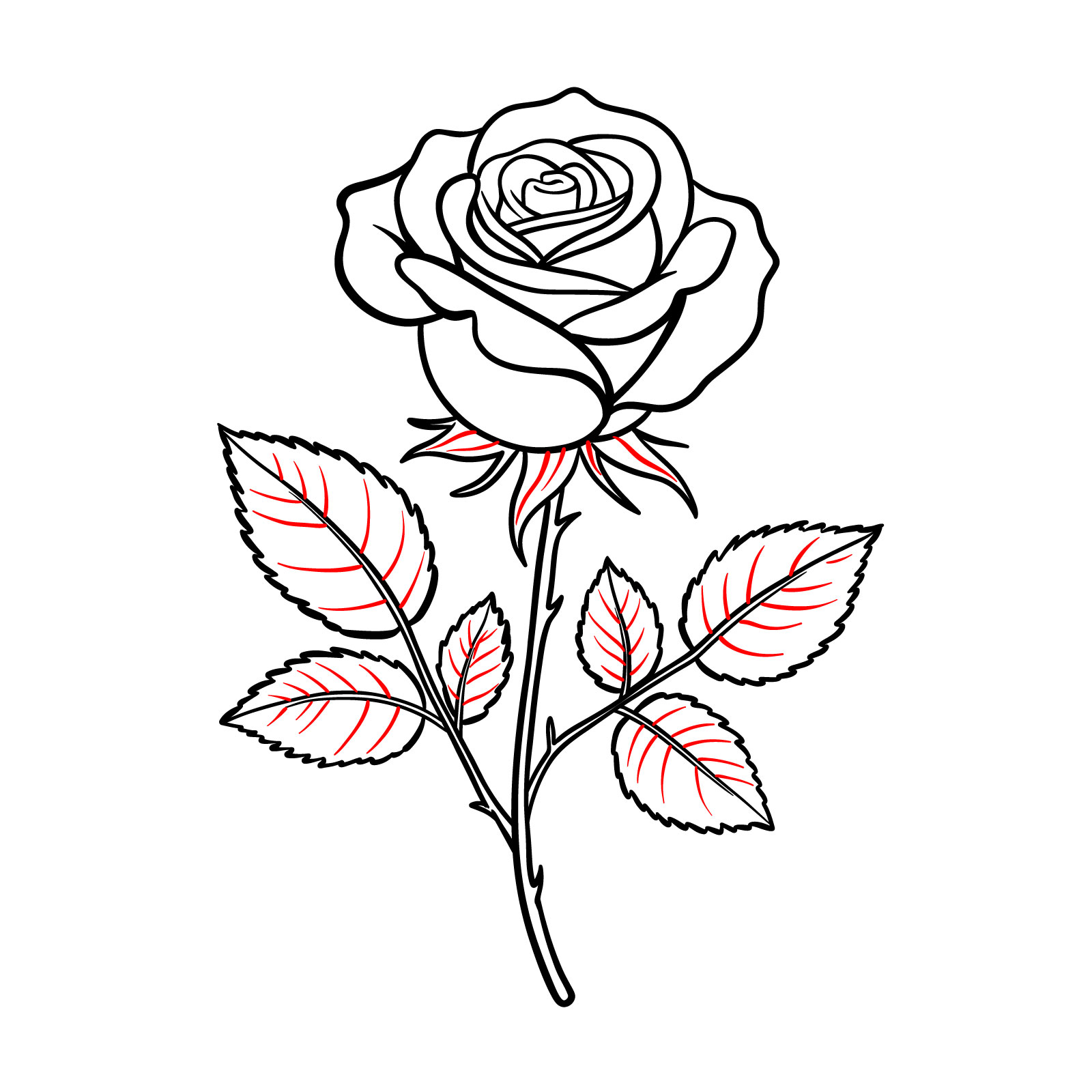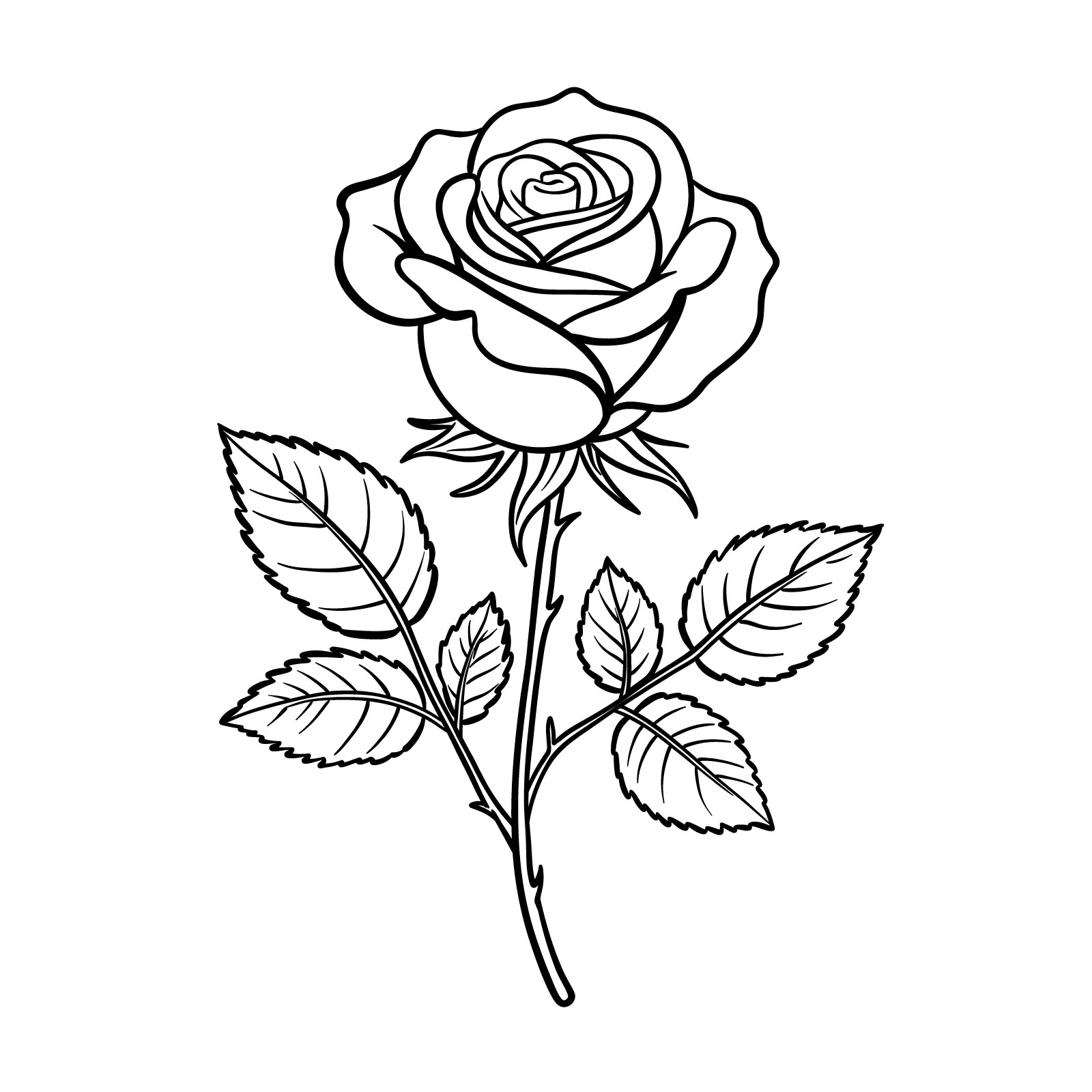 Drawing Guide #8: Realistic Rosebud Rendering (Advanced)
Welcome to the final stretch with the 8th guide of the how to draw roses series. Don't be daunted by its complexity; it's merely a step up from the initial tutorials, perfect for those who've enjoyed the journey so far and are eager for a bit more depth. This guide showcases a rosebud poised and ready to bloom, accompanied by five detailed, jagged leaves that add a touch of wild charm to the composition. Spread over 16 steps, each one is crafted to guide you gently through the process, ensuring that what may seem intricate at first becomes clear and achievable. Let's nurture this bud together, and watch as your skills and confidence flourish.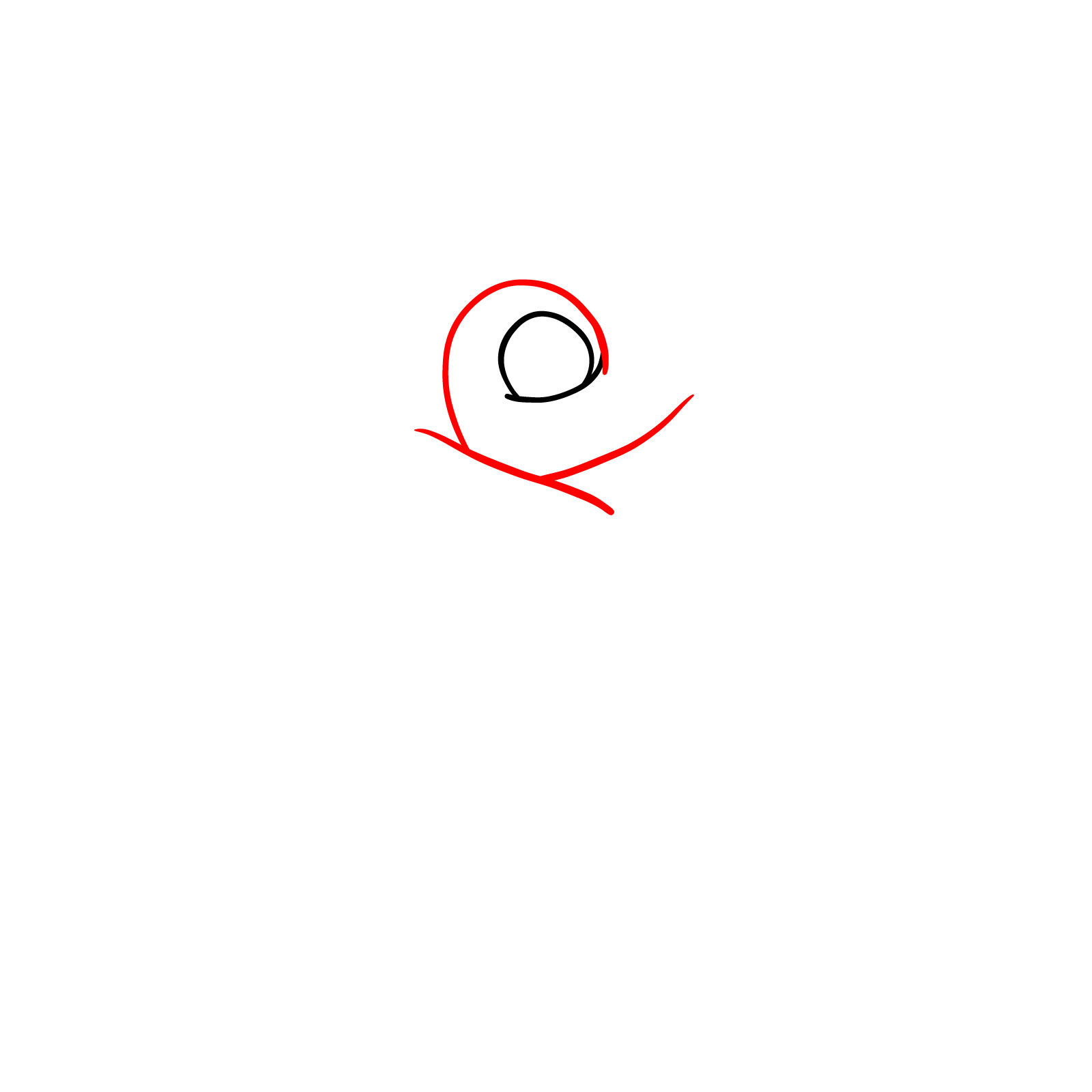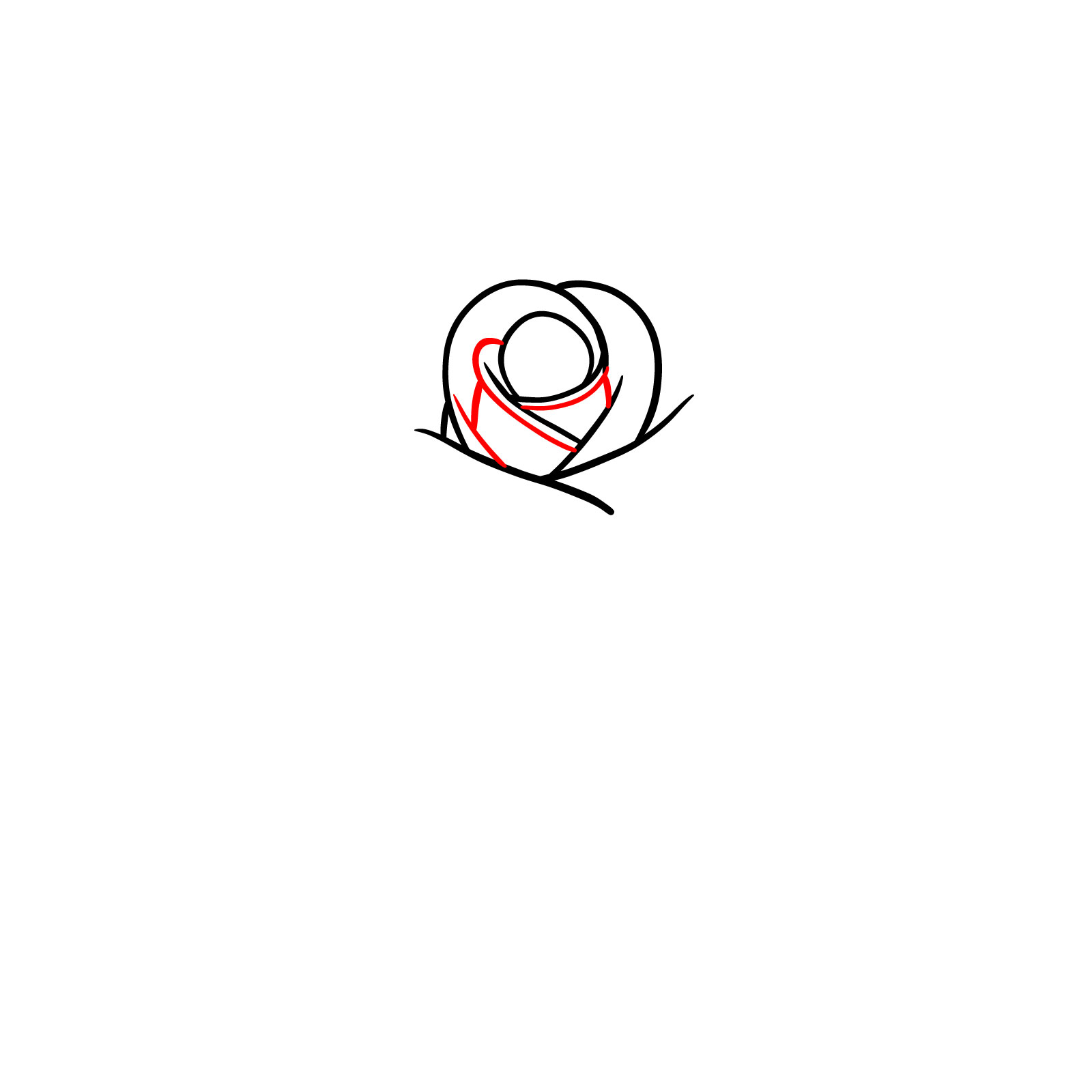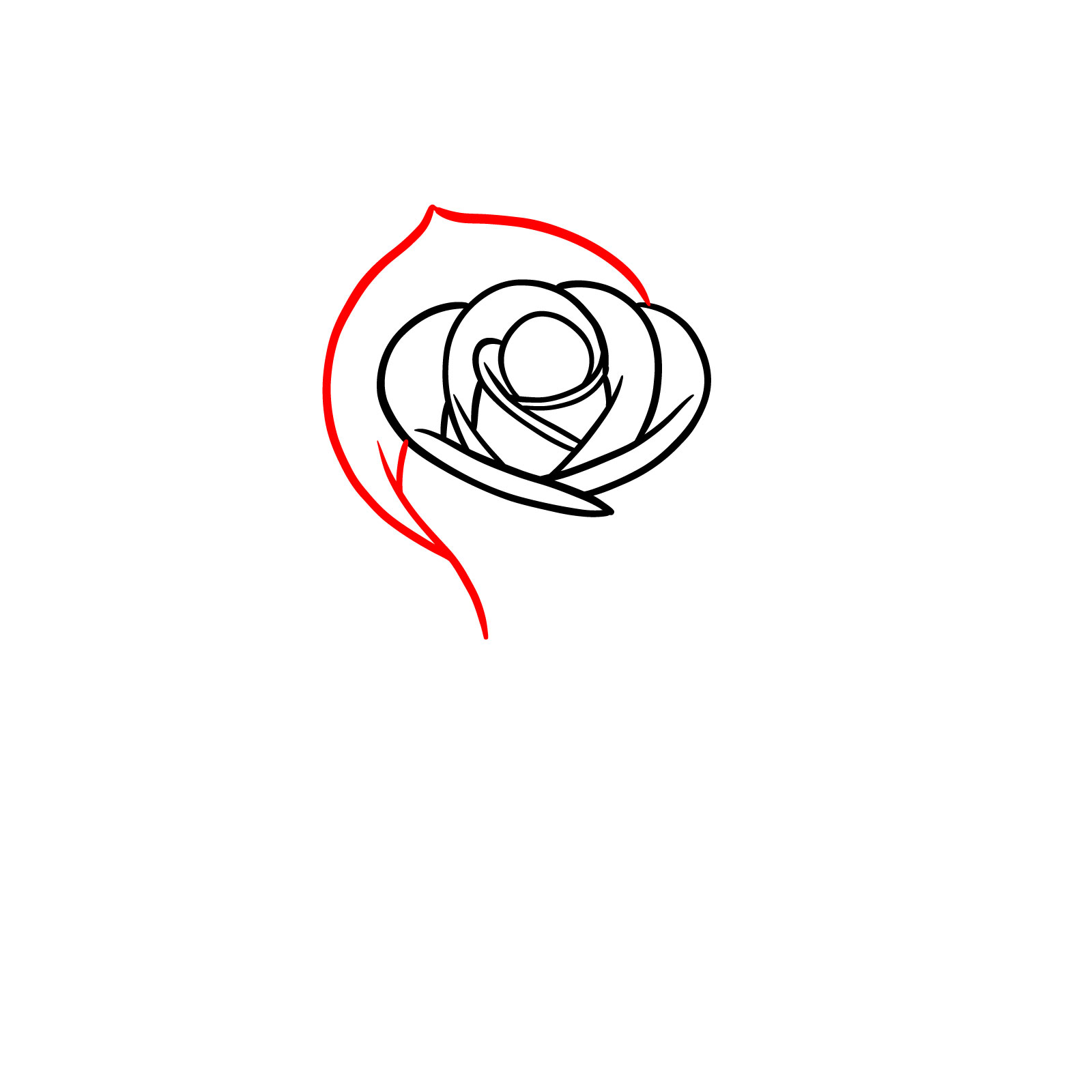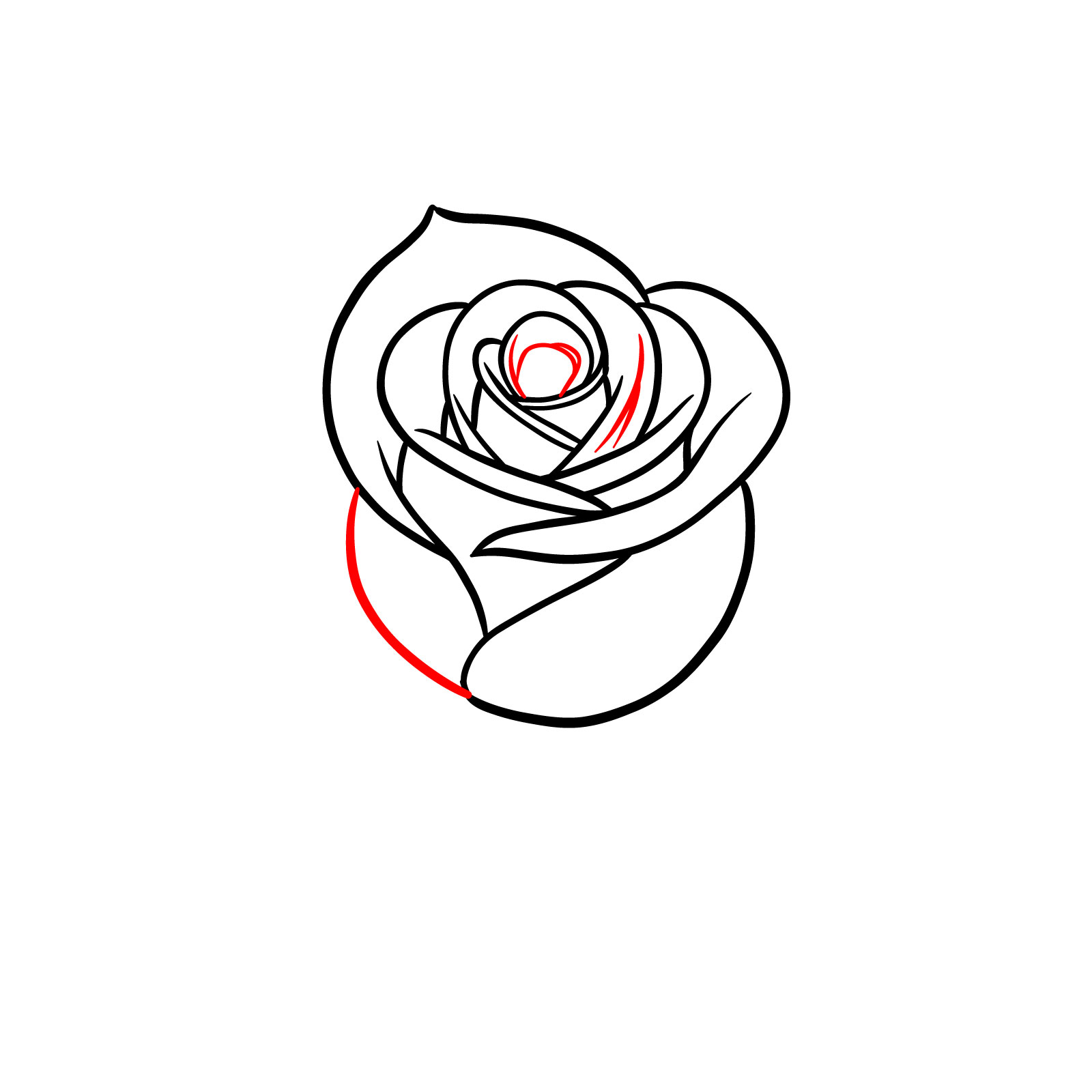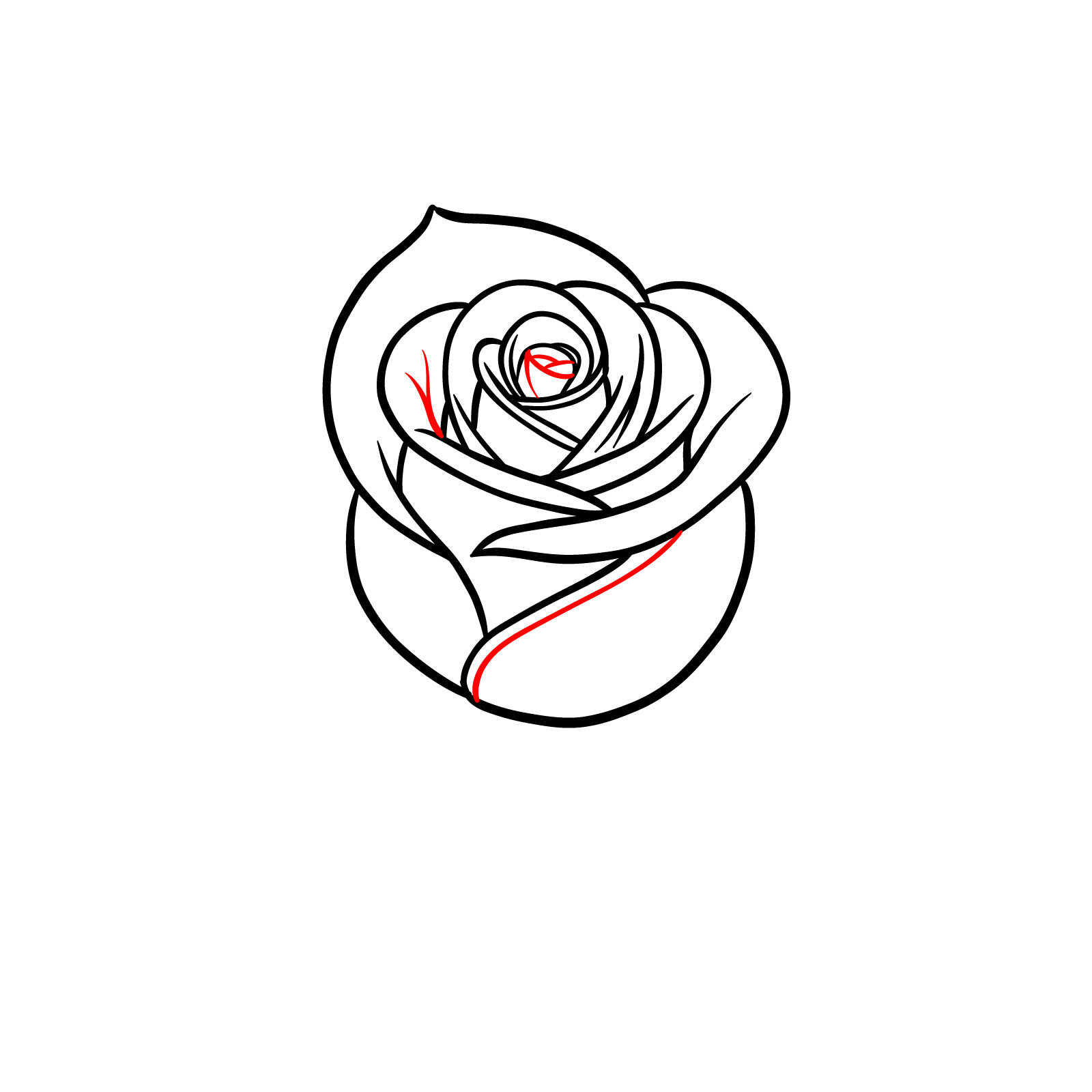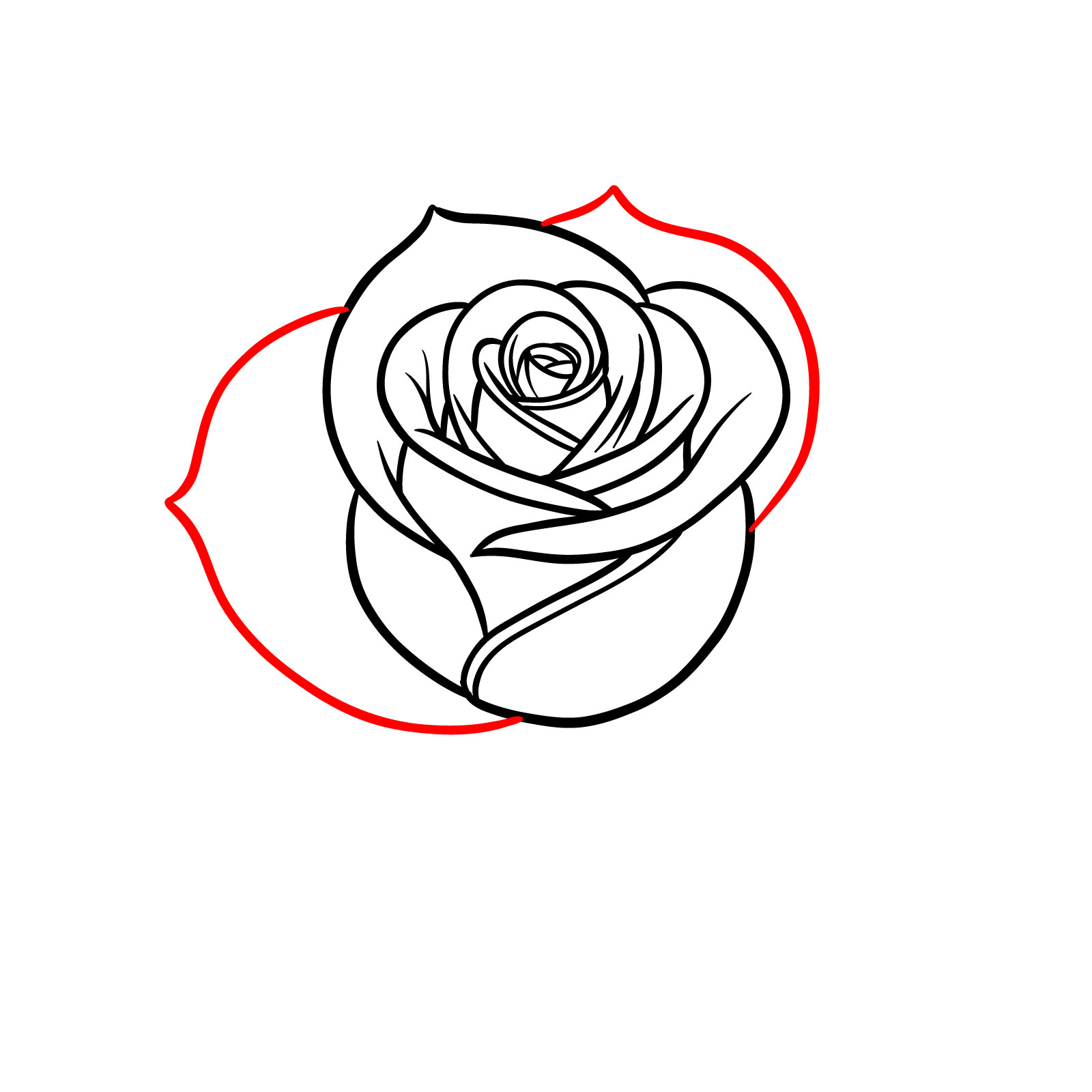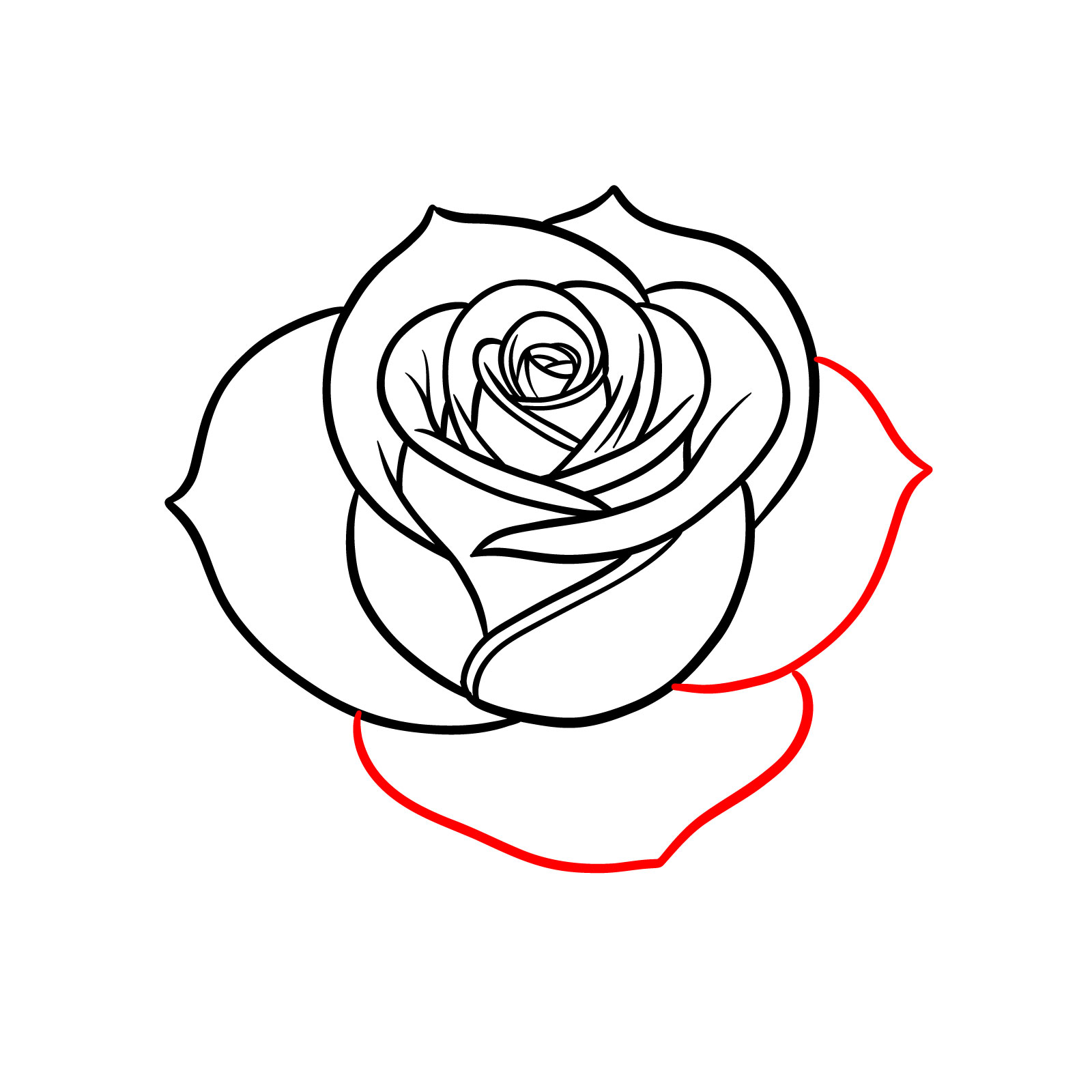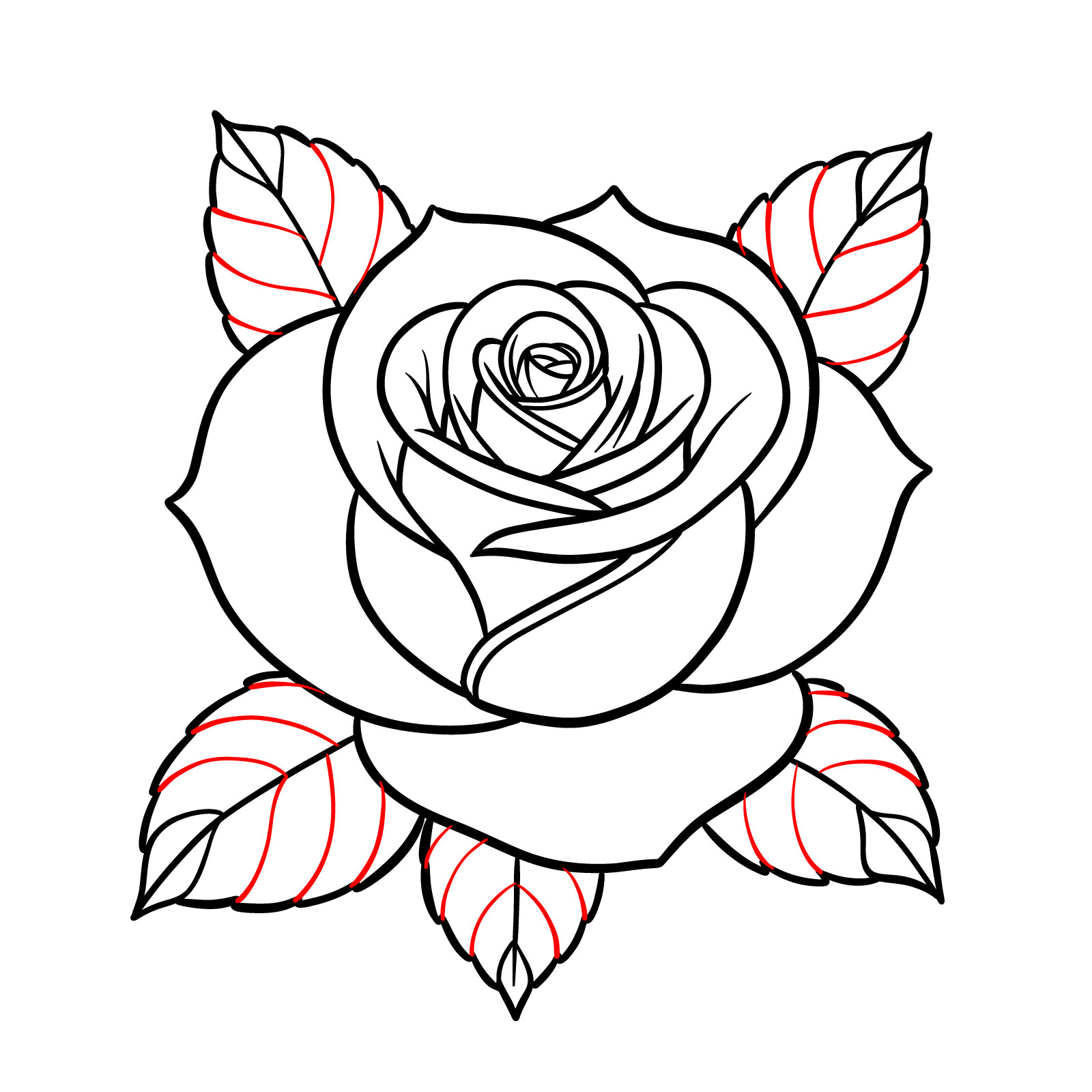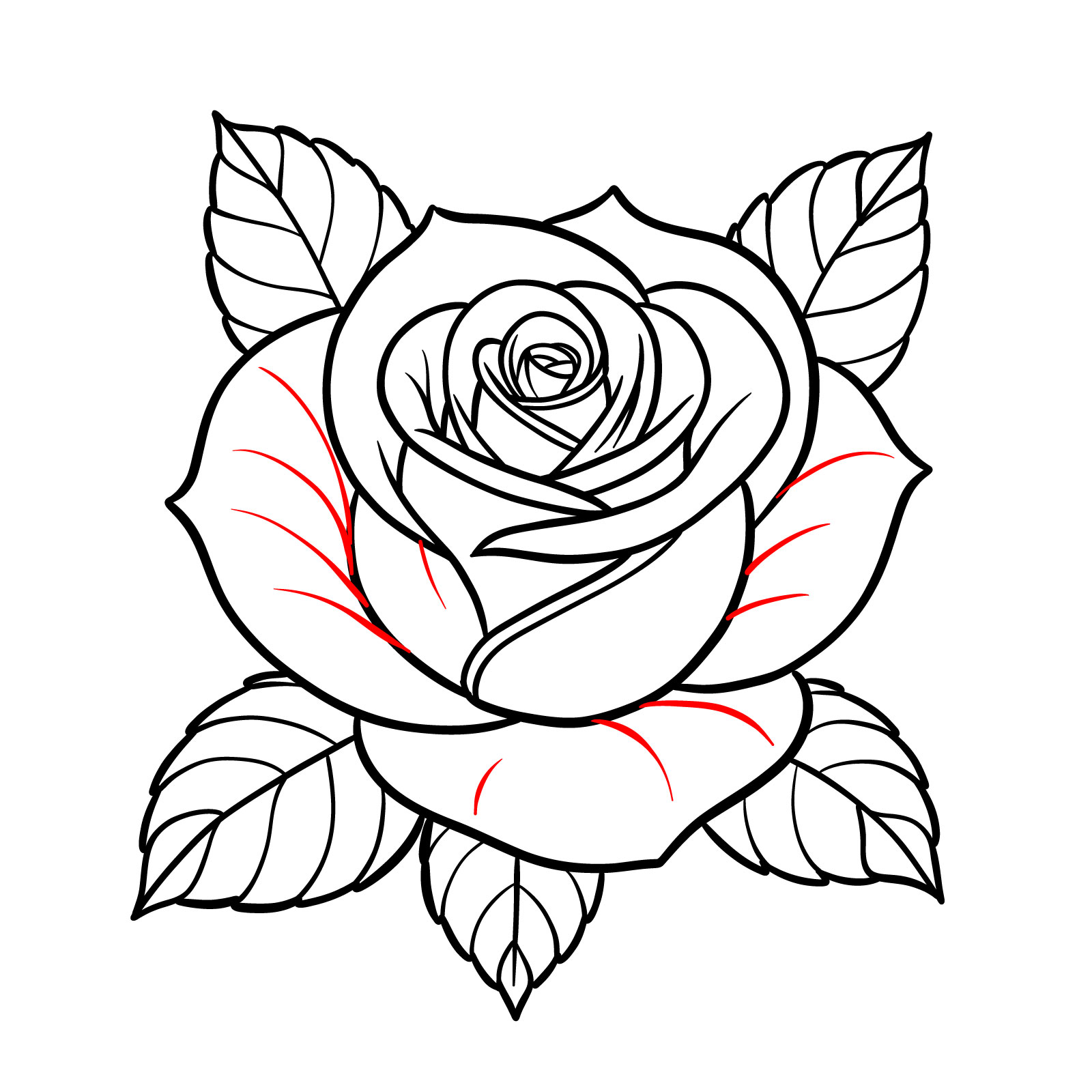 These tutorials on how to draw roses is more than just a set of guides; it's a celebration of artistic growth and the beauty of roses. By the end of this series, you'll not only have a portfolio of beautiful blooms but also a deeper understanding of the artistry behind drawing them. So, grab your pencils, and let's bring the garden to your canvas, one petal at a time.