Welcome to the quest on how to draw Velen, the Prophet of the draenei. In this tutorial, we will explore the steps to sketching this emblematic figure in the Warcraft lore, known for his wisdom and guidance through tumultuous times.
The Visage of Velen
As you prepare to draw Velen, consider these defining aspects of his character:
The benevolent expression and the soft features that reflect his compassion.
His traditional draenei attire, symbolizing both his leadership and his deep connection to the Light.
The iconic staff that serves as a beacon of hope for his people.
To contextualize Velen within the broader narrative, you might add elements or characters related to his storied past, such as Kil'jaeden or Neltharion.
Guidelines for Sketching Velen
Start with a light framework to establish Velen's stature and poise, building up to the intricate details of his robes and the arcane relics he bears.
Guide Through the Artistic Process
The artistic journey to drawing Velen is divided into 14 thoughtful steps, each marked by a helpful color code:
Red Color:

Marks the focus of the current step.

Black Color:

Denotes previously drawn lines.

Grey Color:

Represents the basic underlying sketch.
From the initial sketch to the final inking, take care to let the ink dry to avoid smudging, ensuring a clear and vibrant representation of Velen.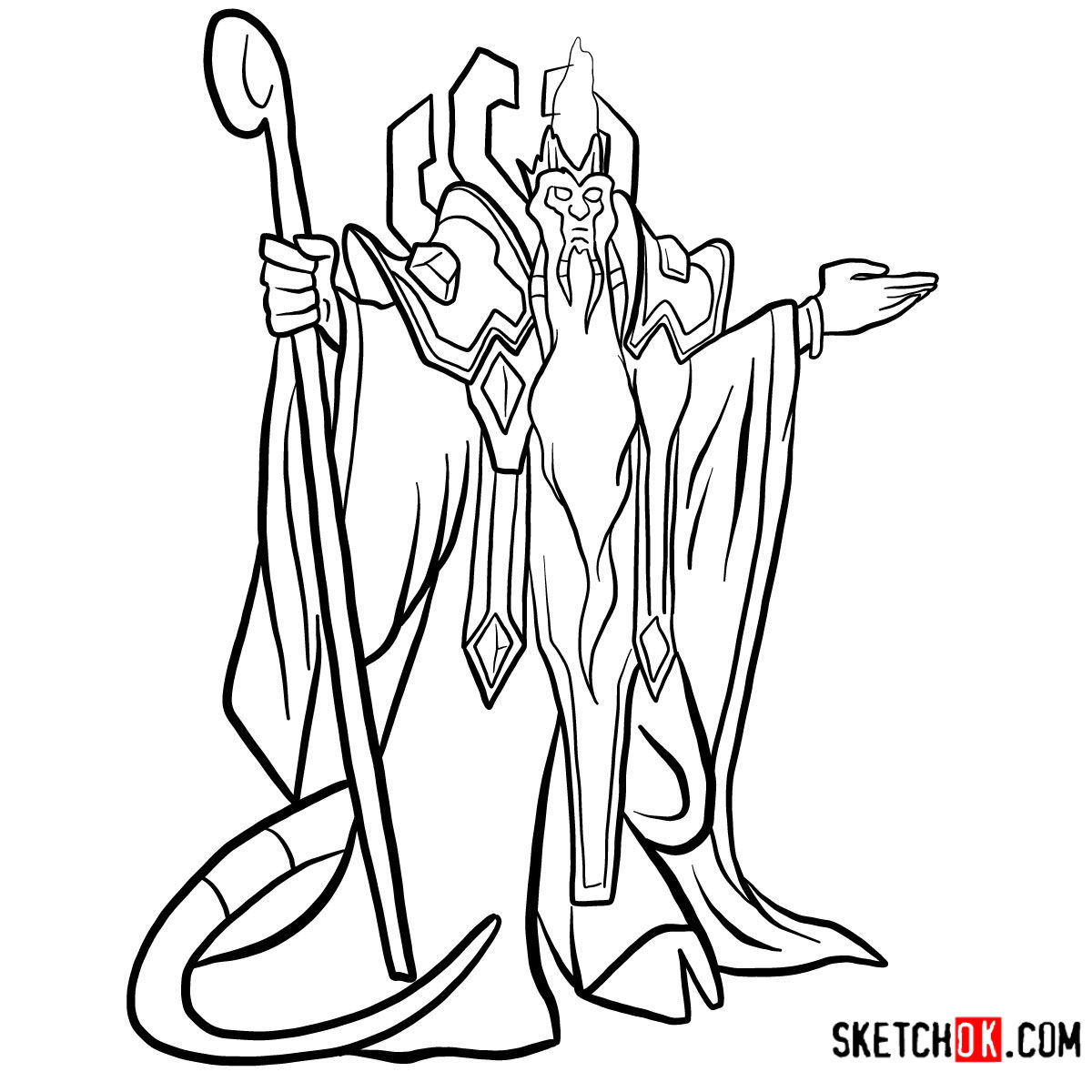 Reflecting on Velen's Journey
Draw inspiration from Velen's long and storied life, from his escape from Argus to his pivotal role in Azeroth's defense, and let these narratives influence your drawing's mood and detail.
Sharing Your Artistic Vision of Velen
As you complete your drawing of Velen, I encourage you to share your vision with the world. Each stroke of your pencil brings his story to life, and your artwork is a testament to his enduring legacy. Connect with others who appreciate your dedication by joining us on Facebook, Instagram, or Pinterest. As the creator of SketchOk, I am constantly inspired by your creativity and am proud to showcase your work. Follow us for more guides and embrace the opportunity to shape your own artistic path alongside a community of talented individuals.