For every Winx Club fan, capturing the essence of Stella Harmonix on paper is a thrilling endeavor. Not just any fairy, Stella exudes a glow that can light up any canvas. In this guide, we'll walk you through how to draw Stella Harmonix, with a particular focus on her distinctive features and her transformation's unique characteristics.
Stella Harmonix: Capturing the Look
Hair and Hairband: Unlike other transformations, Stella chooses a ponytail over pigtails for her Harmonix look. Her hairband is reminiscent of Andrina's hat from Disney's The Little Mermaid, a nod to both characters' blonde locks.
Footwear: Stella's sandals in her Harmonix form are adorned with ribbons, which are similar in hue to Andrina's mermaid tail from the aforementioned Disney movie.
Understanding the Guide
Before we dive into the drawing process, let's get familiar with our guide's color-coding system:
Red Color:

Indicates the current step in the drawing process. Follow along closely!

Black Color:

Represents the lines you've drawn in previous steps.

Grey Color:

Showcases the foundational sketch for proportions. Ensure these lines are light and easily adjustable.
This guide consists of 15 sequential steps, starting with the foundational sketch. Once you've completed your sketch, you can choose to ink it for added precision. Ensure you wait for the ink to dry thoroughly before erasing the pencil lines to avoid any smudges or distortions.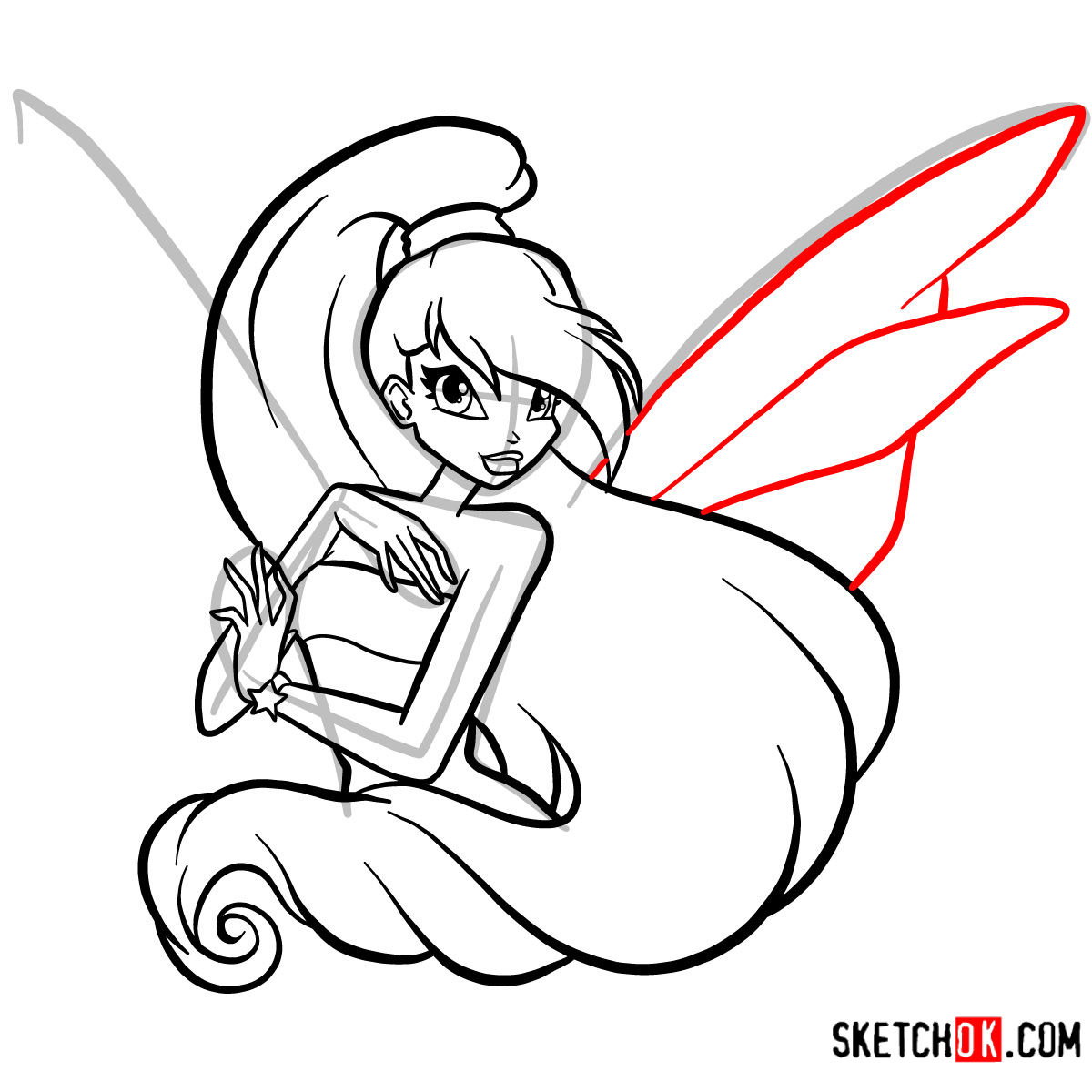 And there you have it! By following this guide, you're well on your way to mastering how to draw Stella Harmonix. If you've found this tutorial beneficial, I invite you to donate to our project. Your support helps us craft more detailed tutorials and allow you provide your suggestions for future drawing guides. The SketchOk community thrives with each share, so spread the word and let's grow together! Your contributions, be it through donations or simply by following us on Instagram or Pinterest, help keep the creative flame alive.