Drawing brings us joy, helps us express ourselves, and develops our imagination. Today, we are going to dive into the world of animated classics and learn how to draw Spike from Rugrats. This loveable family pet is not just a mere character; he's a friend, adventurer, and protective companion to the Rugrats gang.
Getting to Know Spike
When drawing characters like Spike, it's essential to familiarize ourselves with their distinct features. This will help us create a more accurate and expressive sketch. As the Pickles family's lovable pet and Tommy's best "animal" friend, Spike exhibits several notable characteristics.
Spike is a Siberian Tiger Hound, a fictional breed unique to the Rugrats universe.
He's extremely protective and loyal, often embarking on daring adventures to safeguard the babies.
Spike is also very friendly, especially towards his "wife" Fifi.
Despite his age in the All Grown Up! series, Spike's devotion to the Pickles family never wanes.
Understanding Spike's character and physical features will help you infuse your drawing with personality. Consider adding other Rugrats characters like Angelica or Chuckie to create a heartwarming scene.
Navigating the Sketch Guide
Our guide consists of 26 steps that will lead you on your journey to draw Spike. We use a color coding system to simplify the process:
Red:

This color represents the current step in the drawing process. It guides you on what to focus on next.

Black:

Black lines illustrate the lines you have previously drawn. They mark your progress.

Grey:

The grey lines show the basic structure or initial sketch. You will make these in the first 2 steps, using light pencil strokes.
After you've completed the 16 steps, you might choose to ink your sketch. If you do so, remember to wait for the ink to dry before gently erasing the pencil lines. This method prevents smudging and keeps your artwork clean and sharp.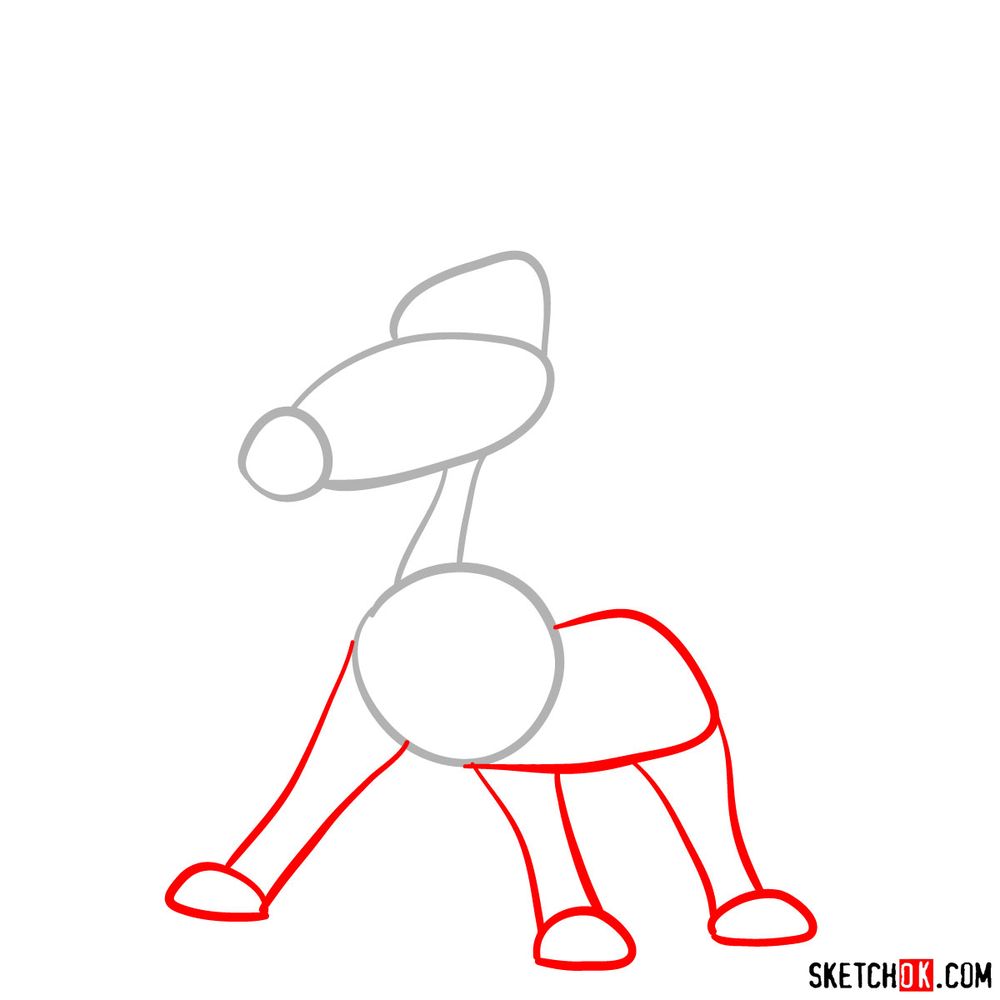 Frequently Asked Questions
Any tips on sketching Spike's posture and pose?
Spike is often depicted in active poses, reflecting his adventurous nature. Start with basic shapes and lines to capture the essence of his pose, then gradually add details. Remember to keep proportions in mind as you sketch.
Concluding Thoughts
Creating art can be a rewarding journey, especially when we draw characters that hold a special place in our hearts, like Spike from Rugrats. By following this guide, you'll not only learn how to draw Spike, but you'll also enhance your overall drawing skills.
Your support is invaluable in keeping the SketchOk project alive and thriving. By donating, you contribute to the creation of more free drawing guides and tutorial materials. Plus, your donations can help shape future tutorials with your suggestions. To support us, visit here.
Don't forget to share the joy of drawing. Share this guide with others, post your artwork on your social media, and tag us on Facebook, Instagram, and Pinterest.
Remember, every drawing journey starts with a simple line. So pick up that pencil, and let's learn how to draw Spike and others from Rugrats together. Happy sketching!